Open Access This article is
freely available
re-usable
Article
Using Expert Driven Machine Learning to Enhance Dynamic Metabolomics Data Analysis
1
Adrem Data Lab, Department of Mathematics and Computer Science, University of Antwerp, 2000 Antwerp, Belgium
2
Department of Genome Sciences, University of Washington, Seattle, WA 98195, USA
3
Natural Products & Food Research and Analysis (NatuRA), Department of Pharmaceutical Sciences, University of Antwerp, 2000 Antwerp, Belgium
4
Toxicological Center, Department of Pharmaceutical Sciences, University of Antwerp, 2000 Antwerp, Belgium
*
Authors to whom correspondence should be addressed.
Received: 18 January 2019 / Accepted: 18 March 2019 / Published: 20 March 2019
Abstract
:
Data analysis for metabolomics is undergoing rapid progress thanks to the proliferation of novel tools and the standardization of existing workflows. As untargeted metabolomics datasets and experiments continue to increase in size and complexity, standardized workflows are often not sufficiently sophisticated. In addition, the ground truth for untargeted metabolomics experiments is intrinsically unknown and the performance of tools is difficult to evaluate. Here, the problem of dynamic multi-class metabolomics experiments was investigated using a simulated dataset with a known ground truth. This simulated dataset was used to evaluate the performance of tinderesting, a new and intuitive tool based on gathering expert knowledge to be used in machine learning. The results were compared to EDGE, a statistical method for time series data. This paper presents three novel outcomes. The first is a way to simulate dynamic metabolomics data with a known ground truth based on ordinary differential equations. This method is made available through the MetaboLouise R package. Second, the EDGE tool, originally developed for genomics data analysis, is highly performant in analyzing dynamic case vs. control metabolomics data. Third, the tinderesting method is introduced to analyse more complex dynamic metabolomics experiments. This tool consists of a Shiny app for collecting expert knowledge, which in turn is used to train a machine learning model to emulate the decision process of the expert. This approach does not replace traditional data analysis workflows for metabolomics, but can provide additional information, improved performance or easier interpretation of results. The advantage is that the tool is agnostic to the complexity of the experiment, and thus is easier to use in advanced setups. All code for the presented analysis, MetaboLouise and tinderesting are freely available.
Keywords:
machine learning; dynamic metabolomics; data simulation
Supplementary Materials
The following are available online at
https://www.mdpi.com/2218-1989/9/3/54/s1
, Figure S1: Generated biological network connectivity distribution, Table S1: Simulation parameters, Figure S2: Metabolomic network example, Figure S3: ROC curves for random forest, SVM and naive Bayes classifiers, Figure S4: Precision-Recall curve for the random forest classifier, Figure S5: Visualization of the full tinderesting app, Figure S6: Two examples from a dynamic metabolomics experiment, Figure S7: Feature scores of EDGE and tinderesting, Table S2: XCMS pre-processing parameter settings, Figure S8: ROC curve for tinderesting on expert-reviewed experimental data.
Author Contributions
Conceptualization, C.B., L.P. (Laura Peeters), K.F., D.C., A.V.d.A.; methodology, C.B., L.P. (Laura Peeters), P.M., W.B.; software, C.B.; validation, C.B., L.P. (Laura Peeters); formal analysis, C.B., L.P. (Laura Peeters); investigation, C.B.; resources, L.P. (Luc Pieters), A.C., K.L.; data curation, L.P. (Laura Peeters), K.F.; writing–original draft preparation, C.B., P.M., L.P. (Laura Peeters), W.B., M.C., A.C., K.L.; writing–review and editing, C.B., P.M., W.B., K.F., K.L.; visualization, C.B.; supervision, P.M., L.P. (Luc Pieters), A.C., K.L.; project administration, L.P. (Luc Pieters), A.C., K.L.; funding acquisition, L.P. (Luc Pieters), A.C., K.L.
Funding
This research was funded by the Special Fund for Research of the University of Antwerp (Concerted Action), project ID no. 30732 and by the Research Foundation (FWO)—Flanders Project no. G032415N.; W.B. is a postdoctoral researcher of the Research Foundation—Flanders (FWO). W.B. was supported by a postdoctoral fellowship of the Belgian American Educational Foundation (BAEF); M.C. was supported by the Research Foundation—Flanders (FWO) grant 11Z3318N; C.B. was supported by the Special Fund for Research of the University of Antwerp (Concerted Research Action).
Conflicts of Interest
The authors declare no conflict of interest.

Figure 2. Visualized simulation setup. Only in the first network there are metabolites that differ between sample and blank as well as between sample and negative control. For the remaining 95% of metabolites, there is only a small difference in level of enzymes between sample and negative control. These enzymes convert one metabolite into the other with a rate dependent on the enzyme quantity. Networks 2–19 for the negative control case contain little enzymes instead because there are always some biotransformations occurring. Not including these would produce too large differences between sample and negative control. For the sample vs. blank case, the only difference is in the starting concentrations caused by the Gaussian noise term.

Figure 3. Illustration of the two steps in the EDGE algorithm for two different features (left, right). Step 1: The null hypothesis states that there is no difference between the groups. A single cubic spline curve is fitted to all data (dashed line). Step 2: In the alternative hypothesis, a curve is fitted to each group separately (dotted and full line). The improvement in goodness of fit is a measure for the difference between the groups.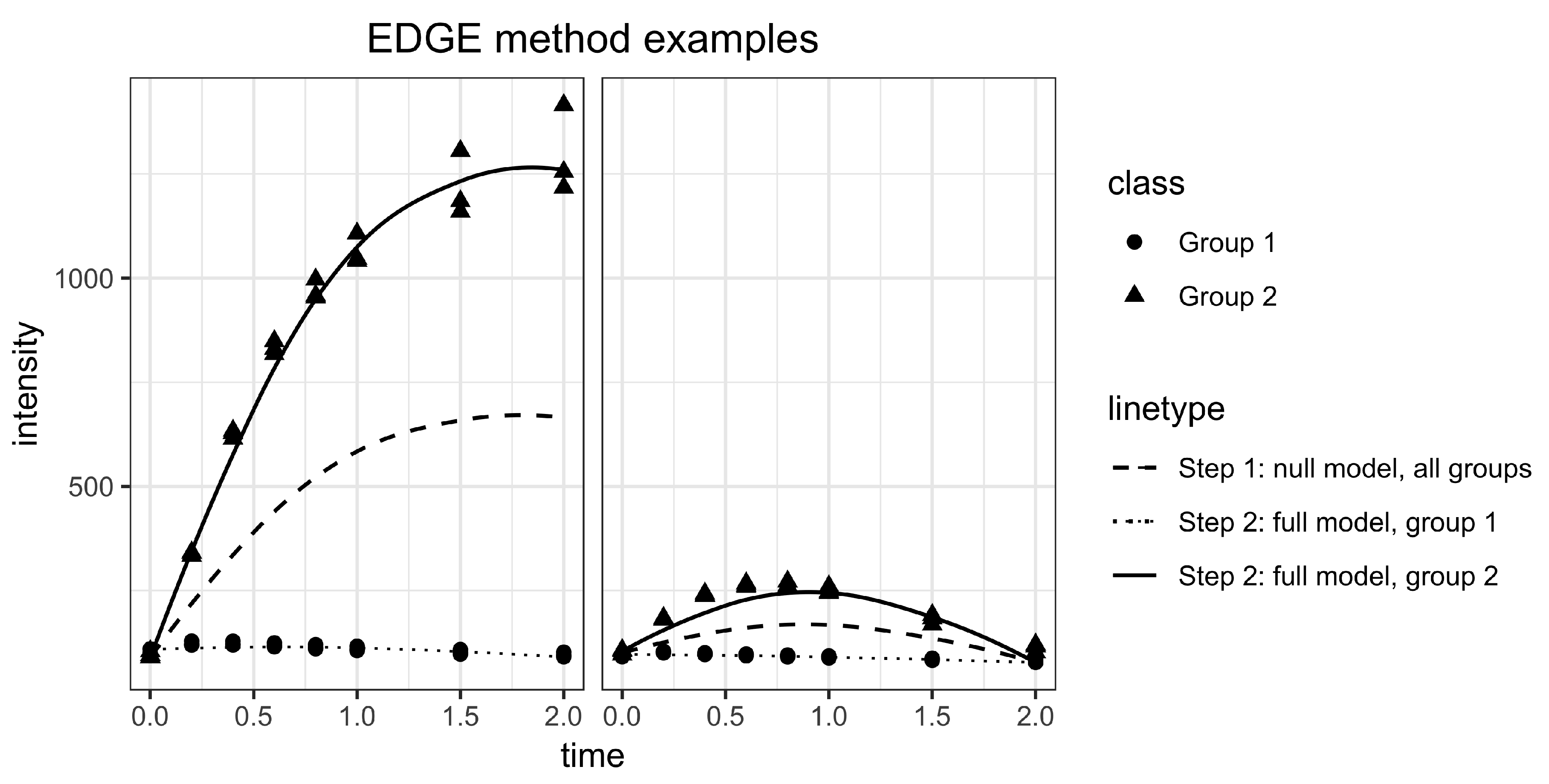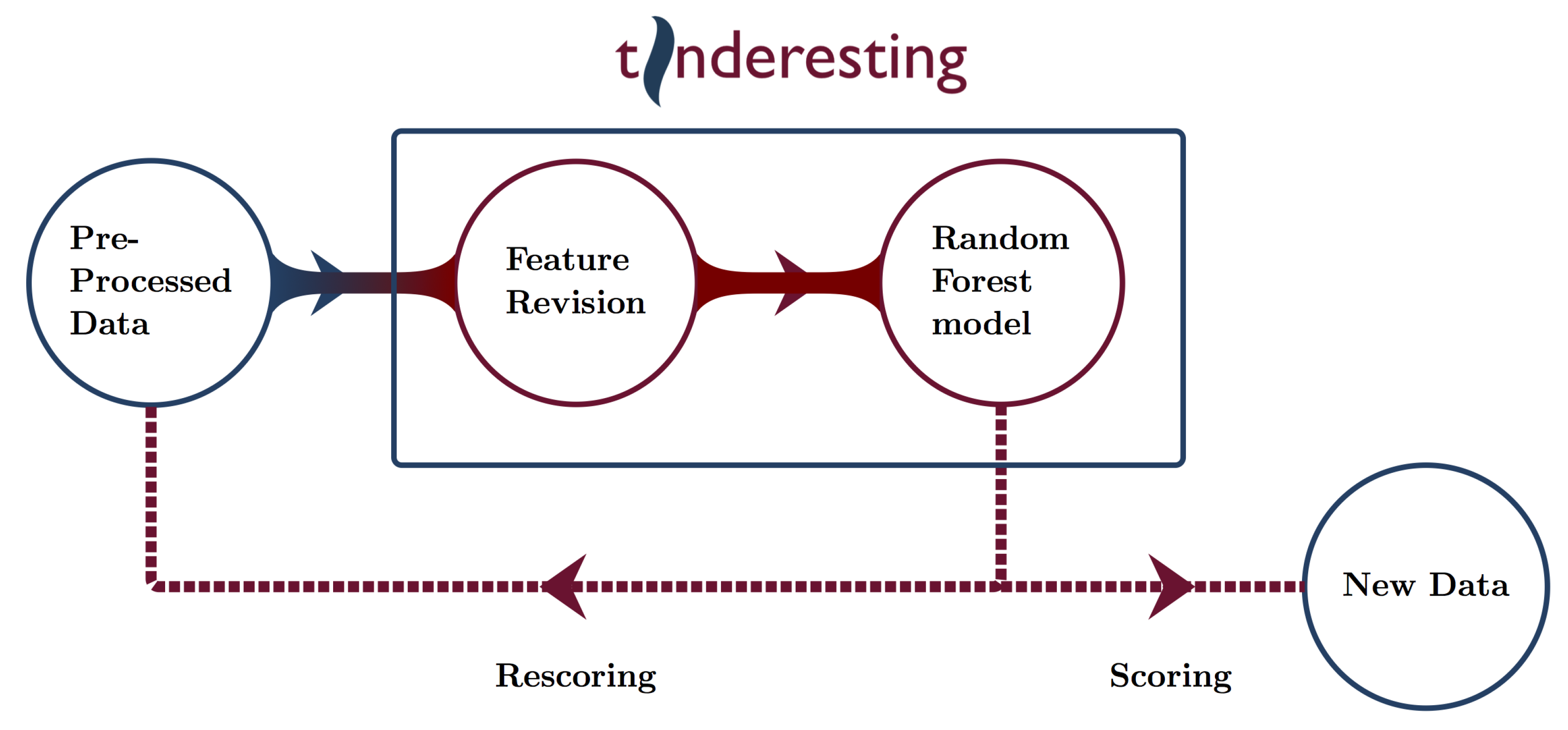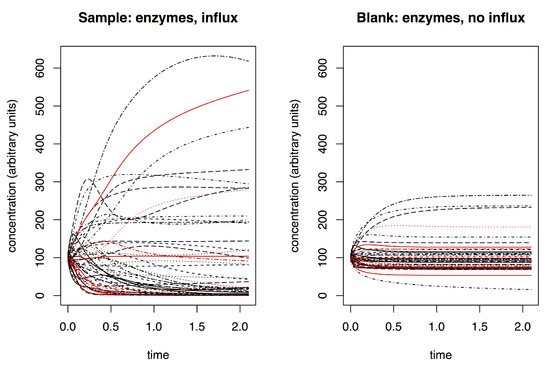 Figure 5. Example of time dynamics in a simulated metabolic network. (left) Example of an influx receiving network (between time 0.0 and 0.5); (right) the same network without external influx. Each line is a single metabolite (node in the network); a red line in the left plot indicates a metabolite (node) that receives an influx, whereas this metabolite does not receive an influx in the right plot. A single metabolic network underlies both plots. The network was initiated with the same starting parameters in each case (fixed starting concentration with Gaussian noise). The inclusion of an external influx results in different dynamics and in a different end state. Note that the units on the time axis correspond to the time units of the system of differential equations. In a way, these are arbitrary as the time scale of the dynamics depend on how the system is set up. Lower enzymatic concentrations will result in slower dynamics and vice versa.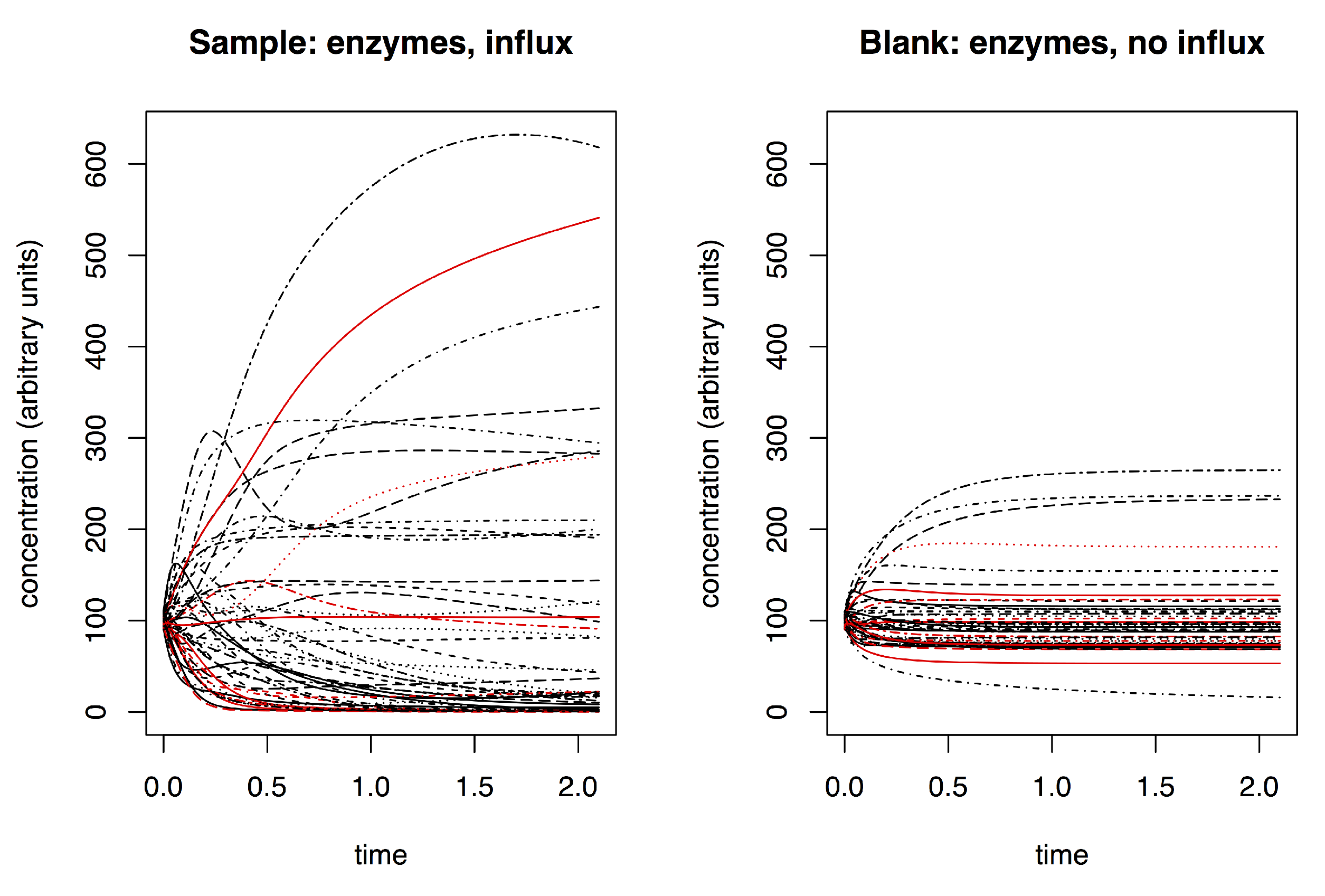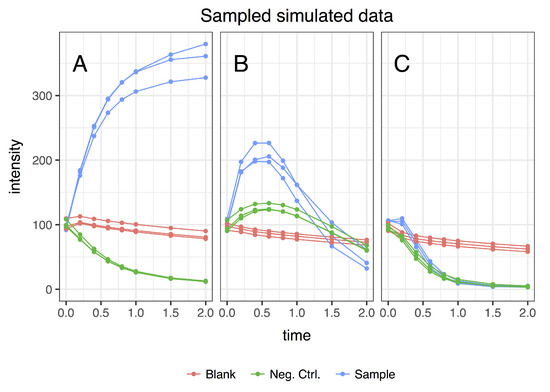 Figure 6.
Three example features of the final simulated dataset. Taking the simulated time dynamics data in
Figure 5
, sampling these data and combining them by sample results in the final dataset to be used for EDGE and tinderesting. A single green line corresponds to the sampled data of a single continuous metabolite concentration signal (one line in the left of
Figure 5
). That same metabolite sampled in the right half of
Figure 5
results in a single red line in this image. The three lines of each class are the replicates (i.e., same network, slightly different starting conditions because of noise). (
A
) A typical curve of metabolite formation; (
B
) an intermediary biotransformation; and (
C
) an uninteresting feature (sample class shows identical behavior as an other class).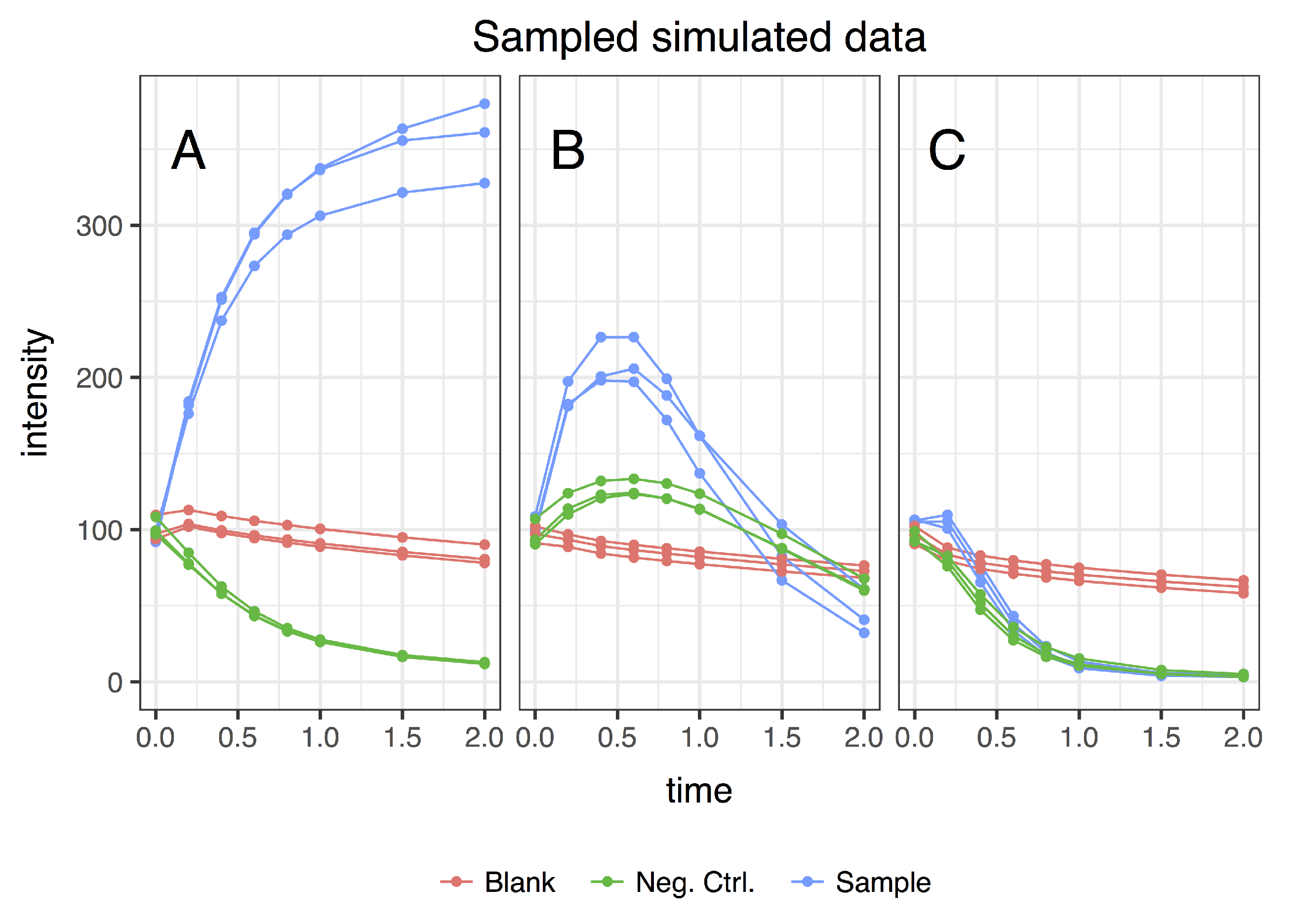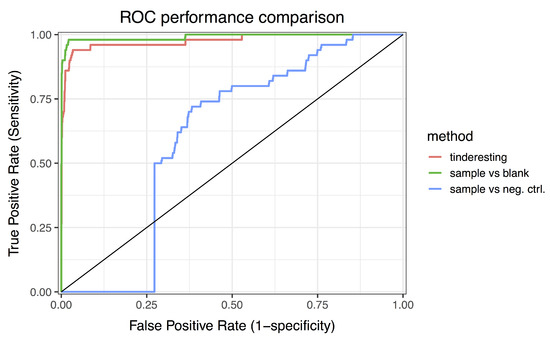 Figure 7. Receiver operator characteristic curves of tinderesting and EDGE. The area under the ROC curve (AUC) values are 0.977, 0.992 and 0.675 for tinderesting, sample vs. blank and sample vs. negative control, respectively.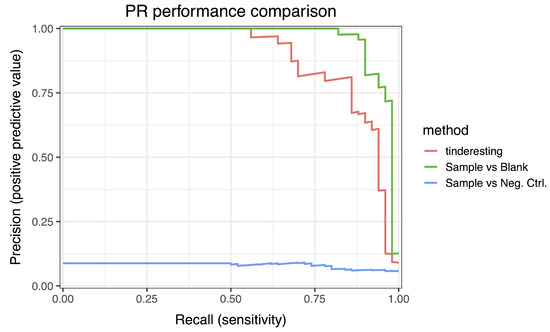 Figure 8. Precision–recall curves of tinderesting and EDGE. The precision–recall curves illustrate the same overall results as the ROC curves. This indicates that the performance is not due to class imbalance artifacts.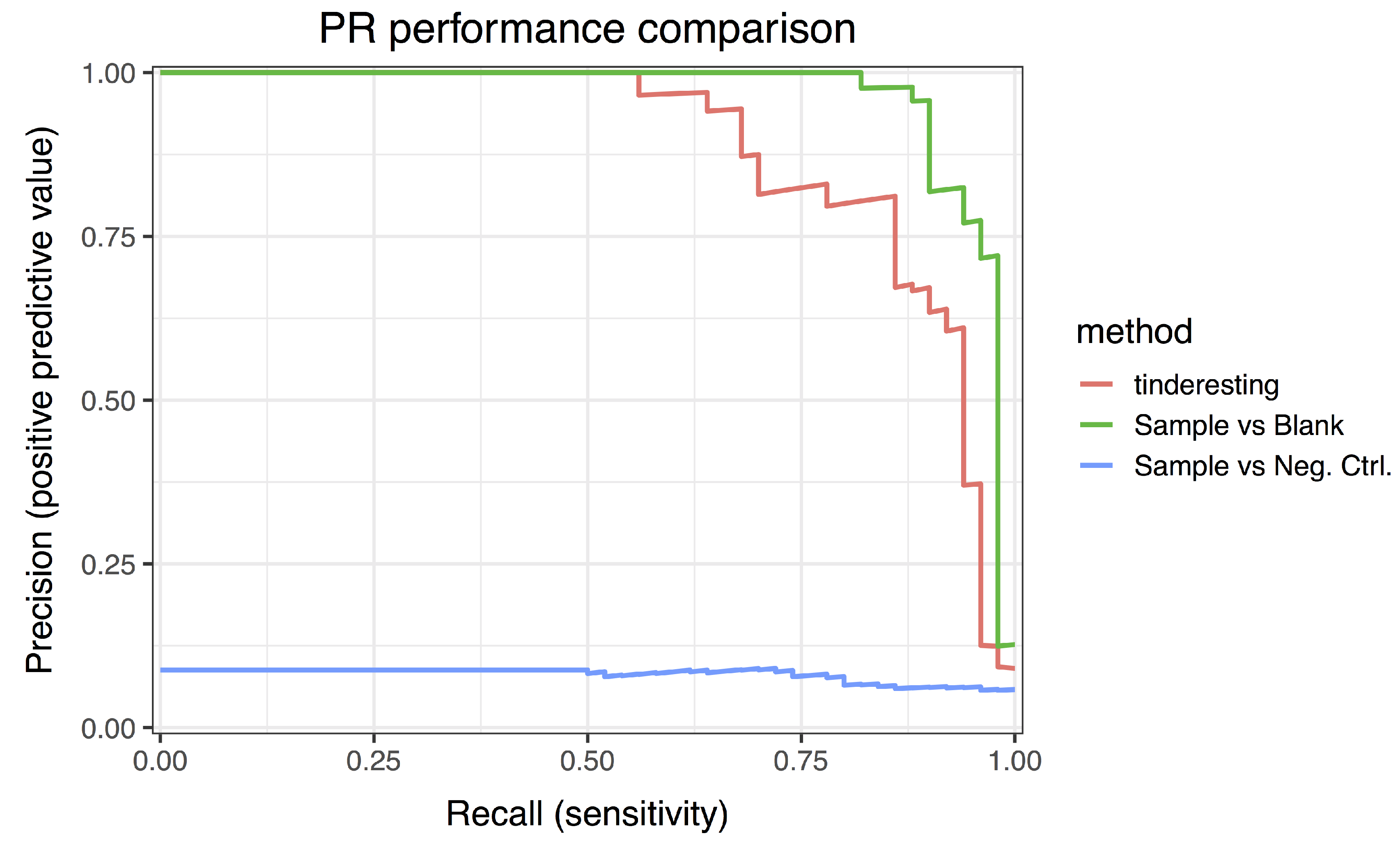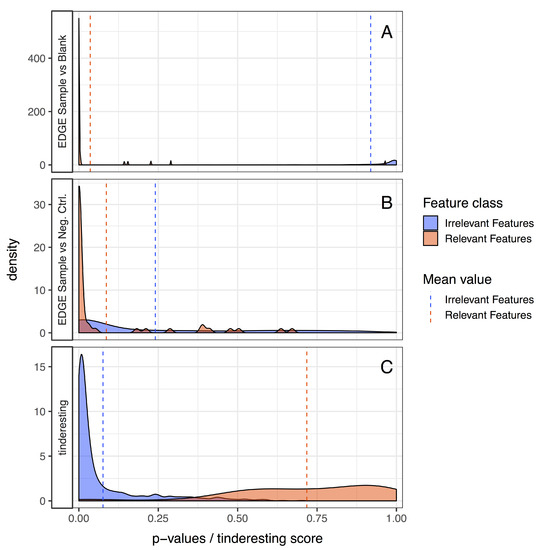 Figure 9.
EDGE vs. tinderesting, comparing densities: (
A
) uncorrected EDGE
p
-values of sample vs. blank; (
B
) uncorrected EDGE
p
-values of sample vs. negative control; and (
C
) tinderesting scores. The relevant features originate from the network containing metabolites with a temporary external influx (50 features). The irrelevant features originate from the other networks (950 features). There is little overlap between the distributions of irrelevant and relevant features for the EDGE analysis of sample vs. blank and tinderesting case. The sample vs. negative control case shows a large overlap.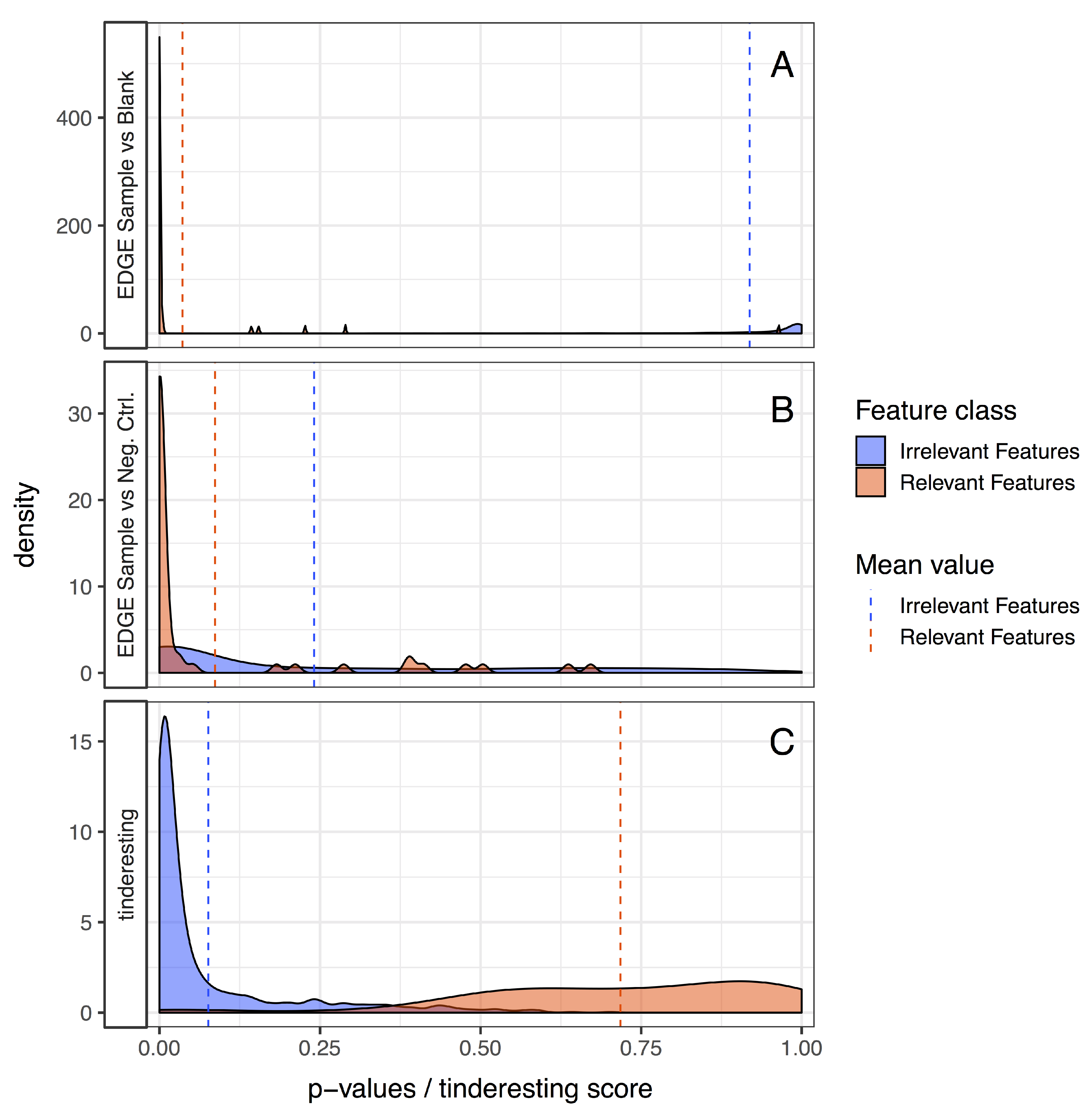 Tinderesting AUC
EDGE AUC
ROC Test

p

-Value
AUC Test

p

-Value
0.977
0.675
< 0.001
< 0.001
0.977
0.992
0.026
0.165

© 2019 by the authors. Licensee MDPI, Basel, Switzerland. This article is an open access article distributed under the terms and conditions of the Creative Commons Attribution (CC BY) license (http://creativecommons.org/licenses/by/4.0/).