Palmitate and Stearate are Increased in the Plasma in a 6-OHDA Model of Parkinson's Disease
1
Institute of Pharmaceutical Science, Faculty of Life Sciences and Medicine, King's College London, London SE19NH, UK
2
Laboratory of Neurodegenerative Diseases, School of Biomedical Sciences, LKS Faculty of Medicine, The University of Hong Kong, Hong Kong, China
3
Institute of Materia Medica, Chinese Academy of Medical Sciences & Peking Union Medical College, Beijing 100006, China
4
State Key Laboratory of Brain and Cognitive Sciences, The University of Hong Kong, Hong Kong, China
5
Steno Diabetes Center Copenhagen, DK-2820 Gentofte, Denmark
*
Authors to whom correspondence should be addressed.
†
These authors contributed equally to this work.
Received: 30 December 2018 / Revised: 6 February 2019 / Accepted: 9 February 2019 / Published: 13 February 2019
Abstract
Introduction: Parkinson's disease (PD) is the second most common neurodegenerative disorder, without any widely available curative therapy. Metabolomics is a powerful tool which can be used to identify unexpected pathway-related disease progression and pathophysiological mechanisms. In this study, metabolomics in brain, plasma and liver was investigated in an experimental PD model, to discover small molecules that are associated with dopaminergic cell loss. Methods: Sprague Dawley (SD) rats were injected unilaterally with 6-hydroxydopamine (6-OHDA) or saline for the vehicle control group into the medial forebrain bundle (MFB) to induce loss of dopaminergic neurons in the substantia nigra pars compacta. Plasma, midbrain and liver samples were collected for metabolic profiling. Multivariate and univariate analyses revealed metabolites that were altered in the PD group. Results: In plasma, palmitic acid (
q
= 3.72 × 10
−2
, FC = 1.81) and stearic acid (
q
= 3.84 × 10
−2
, FC = 2.15), were found to be increased in the PD group. Palmitic acid (
q
= 3.5 × 10
−2
) and stearic acid (
q
= 2.7 × 10
−2
) correlated with test scores indicative of motor dysfunction. Monopalmitin (
q
= 4.8 × 10
−2
, FC = −11.7), monostearin (
q
= 3.72 × 10
−2
, FC = −15.1) and myo-inositol (
q
= 3.81 × 10
−2
, FC = −3.32), were reduced in the midbrain. The liver did not have altered levels of these molecules. Conclusion: Our results show that saturated free fatty acids, their monoglycerides and myo-inositol metabolism in the midbrain and enteric circulation are associated with 6-OHDA-induced PD pathology.
View Full-Text
►

▼

Figures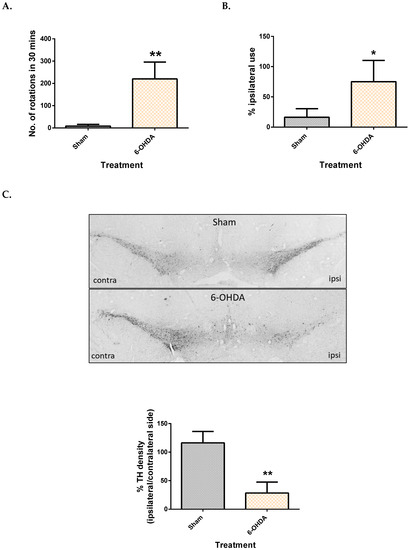 Figure 1
This is an open access article distributed under the
Creative Commons Attribution License
which permits unrestricted use, distribution, and reproduction in any medium, provided the original work is properly cited (CC BY 4.0).

Share & Cite This Article
MDPI and ACS Style
Shah, A.; Han, P.; Wong, M.-Y.; Chang, R. .-C.; Legido-Quigley, C. Palmitate and Stearate are Increased in the Plasma in a 6-OHDA Model of Parkinson's Disease. Metabolites 2019, 9, 31.
Note that from the first issue of 2016, MDPI journals use article numbers instead of page numbers. See further details here.
Related Articles
Comments
[Return to top]