Open Access This article is
freely available
re-usable
Article
Heat Stress-Induced Metabolic Remodeling in
Saccharomyces cerevisiae
1
Centre for Integrative Signalling Analysis (CISA), University of Freiburg, 79104 Freiburg, Germany
2
Institute of Pharmaceutical Science, University of Freiburg, 79104 Freiburg, Germany
3
Institute of Biochemistry and Molecular Biology, ZBMZ, Faculty of Medicine, University of Freiburg, 79104 Freiburg, Germany
4
CIBSS Centre for Integrative Biological Signalling Studies, University of Freiburg, 79104 Freiburg, Germany
5
BIOSS Centre for Biological Signalling Studies, University of Freiburg, 79104 Freiburg, Germany
6
Spemann Graduate School of Biology and Medicine (SGBM), University of Freiburg, 79104 Freiburg, Germany
*
Authors to whom correspondence should be addressed.
Received: 7 October 2019 / Accepted: 30 October 2019 / Published: 5 November 2019
Abstract
:
Yeast cells respond to heat stress by remodeling their gene expression, resulting in the changes of the corresponding proteins and metabolites. Compared to the intensively investigated transcriptome and proteome, the metabolic response to heat stress is not sufficiently characterized. Mitochondria have been recognized to play an essential role in heat stress tolerance. Given the compartmentalization of the cell, it is not clear if the heat stress-induced metabolic response occurs in mitochondria or in the cytosol. Therefore, a compartment-specific metabolite analysis was performed to analyze the heat stress-induced metabolic response in mitochondria and the cytoplasm. In this work, the isolated mitochondria and the cytoplasm of yeast cells grown at permissive temperature and cells adapting to heat stress were subjected to mass spectrometry-based metabolomics. Over a hundred metabolites could be identified, covering amino acid metabolism, energy metabolism, arginine metabolism, purine and pyrimidine metabolism, and others. Highly accumulated citrulline and reduced arginine suggested remodeled arginine metabolism. A stable isotope-labeled experiment was performed to analyze the heat stress-induced metabolic remodeling of the arginine metabolism, identifying activated
de novo
ornithine biosynthesis to support arginine and spermidine synthesis. The short-term increased spermidine and trehalose suggest their important roles as heat stress markers. These data provide metabolic clues of heat stress-induced metabolic remodeling, which helps in understanding the heat stress response.
Keywords:
heat stress; yeast; metabolic remodeling; mitochondria; arginine metabolism; metabolomics
Supplementary Materials
The following are available online at
https://www.mdpi.com/2218-1989/9/11/266/s1
, Table S1: PCA loading values for
Figure 1
, Table S2: MRM transitions of purine and pyrimidine metabolism, and amino acid metabolism, Table S3: data processing GC/LC-MS, Table S4: data of isotope labeling experiment.
Author Contributions
Conceptualization, D.P., N.W. and B.K.; Data curation, D.P.; Formal analysis, D.P.; Funding acquisition, N.W. and B.K.; Methodology, D.P.; Project administration, N.W. and B.K.; Supervision, N.W. and B.K.; Visualization, D.P.; Writing—original draft, D.P.; Writing—review & editing, D.P., N.W. and B.K.
Funding
This work was supported by the European Research Council (ERC) Consolidator Grant 648235, the German Research Foundation (DFG) SFB 1381—Project-ID 403222702 and under Germany's Excellence Strategy (CIBSS—EXC-2189—Project-ID 390939984; BIOSS—EXC-294; Spemann Graduate School—GSC-4). The article processing charge was funded by the German Research Foundation (DFG) and the University of Freiburg in the funding program Open Access Publishing.
Acknowledgments
We thank C. Lindau for discussion and experimental support. Work included in this study has also been performed in partial fulfillment of the requirements for the doctoral thesis of DP at the University of Freiburg.
Conflicts of Interest
The authors declare no conflict of interest.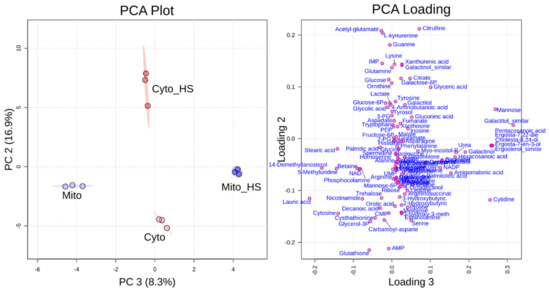 Figure 1. Principal component analysis (PCA) and loading plot. PCA (left) could separate metabolite levels of mitochondria (Mito) from mitochondria isolated after heat stress (Mito_HS) in component 3 and metabolite levels of the cytoplasm (Cyto) from cytoplasm isolated after heat stress (Cyto_HS) in component 2. PCA loading (right) shows how the single metabolites contributed to the separation of each group.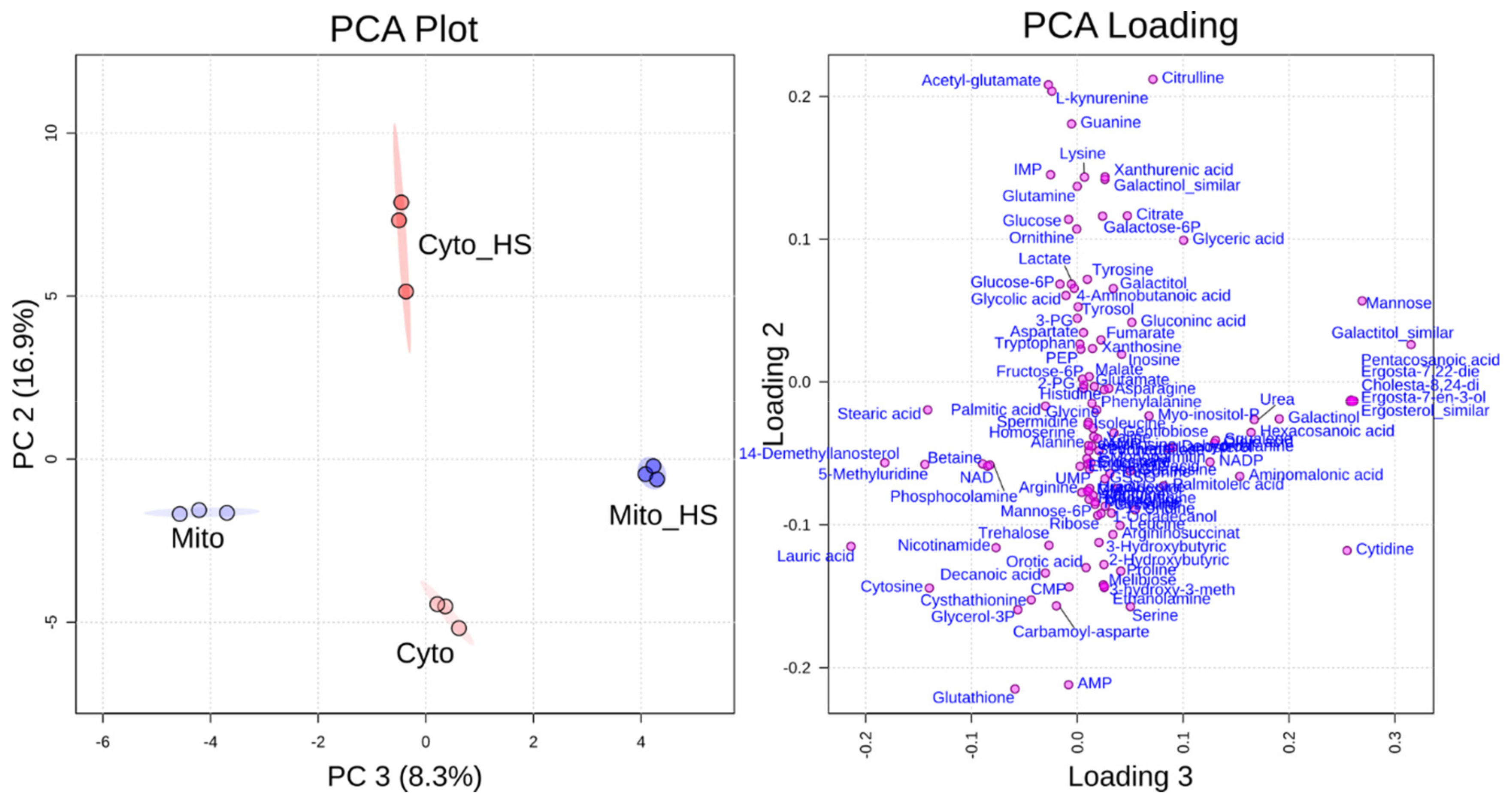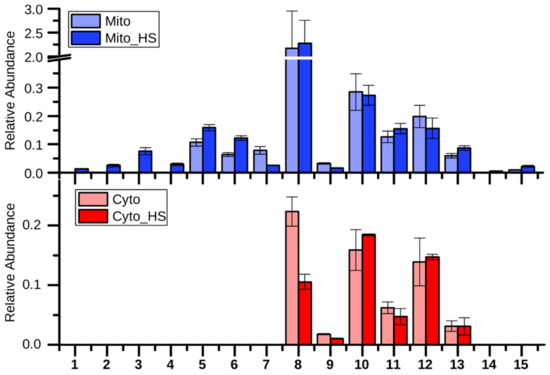 Figure 2. Relative abundance of the detected metabolites of lipid metabolism (mean +/- standard derivation of technical triplicate, applied also to other bar charts). 1. Ergosta-7-en-3-ol; 2. Cholesta-8,24-dien-3-ol, (3β,5α)-; 3. Ergosta-7,22-dien-3-ol, (3β,22E)-; 4. Ergosterol_similar; 5. Lanosterol; 6 Squalene; 7. 14-Demethyllanosterol; 8. Ergosterol; 9. Lauric acid (12:0); 10. Palmitic acid (16:0); 11. Palmitoleic acid (16:1); 12 Stearic acid (18:0); 13. Oleic acid (18:1); 14. Pentacosanoic acid (25:0); 15. Hexacosanoic acid (26:0).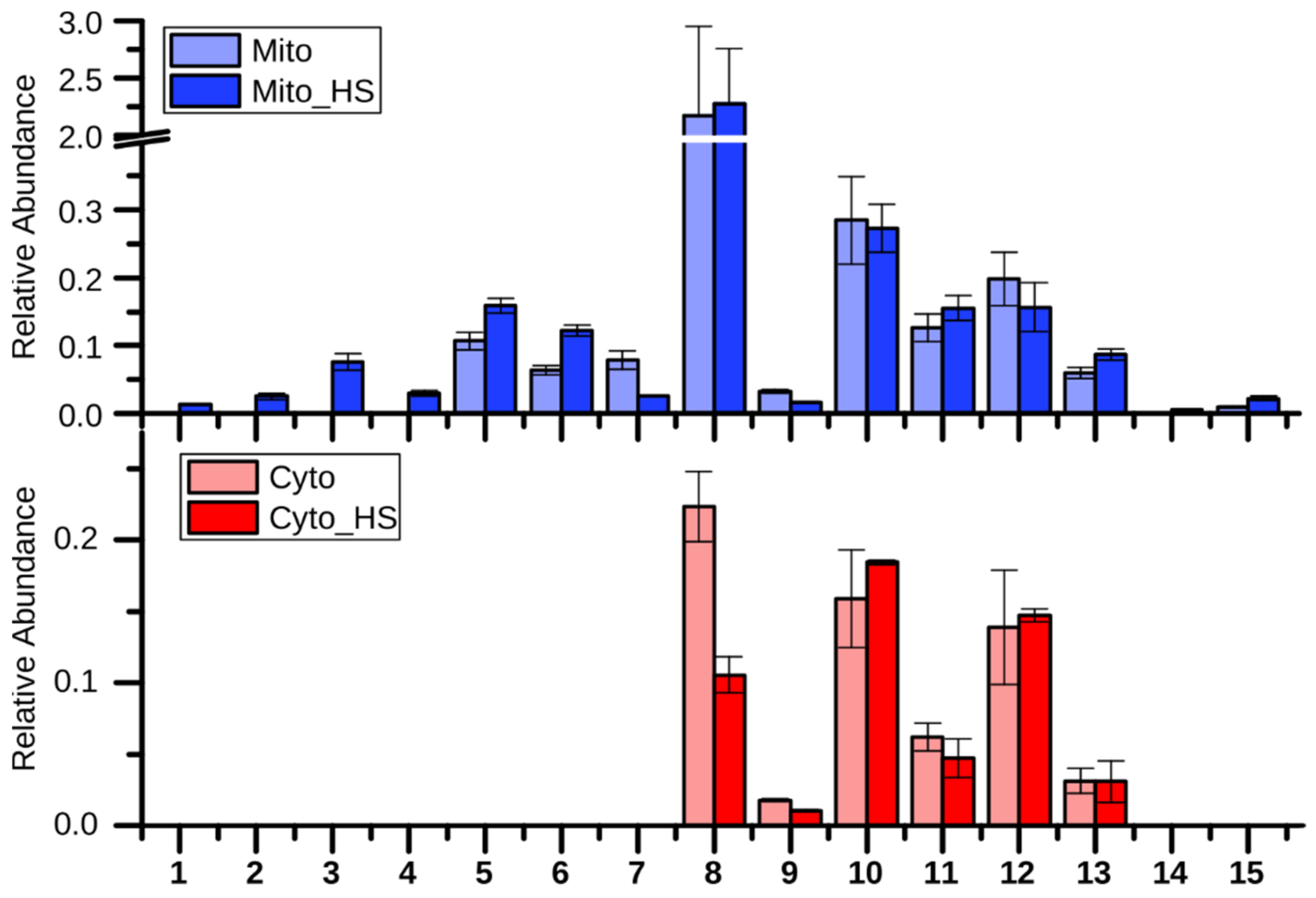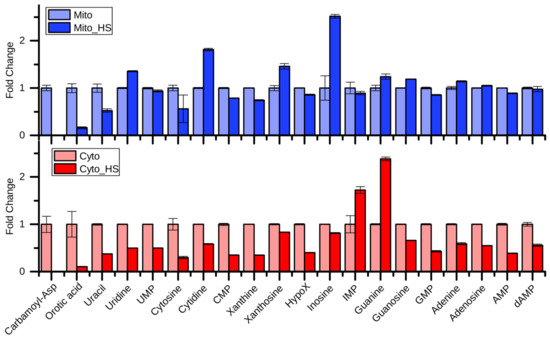 Figure 3. Fold change of purine and pyrimidine metabolism related metabolites after heat stress. Carbamoyl-Asp: carbamoyl-aspartate; HypoX: Hypoxanthine.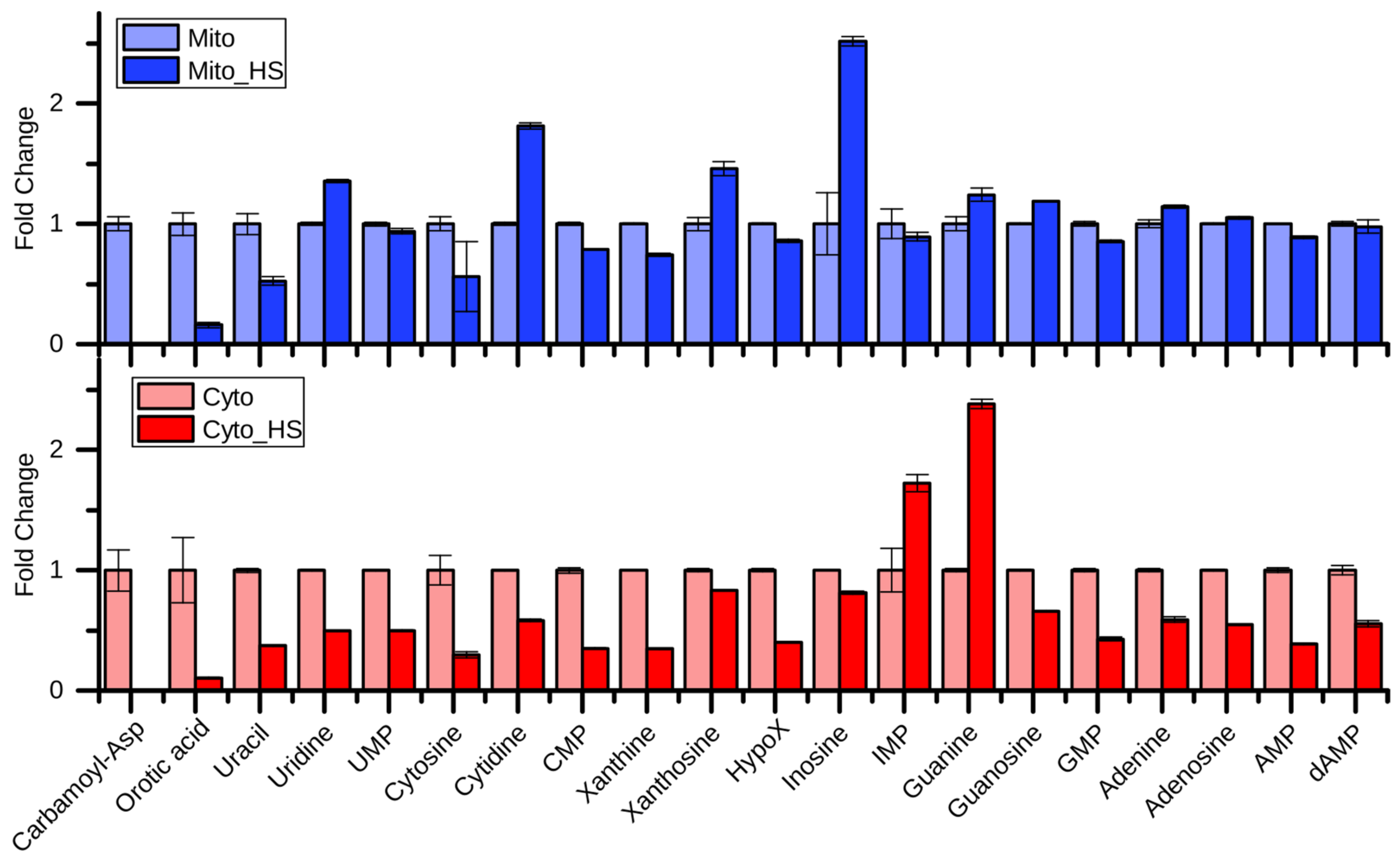 Figure 4. Relative abundance of arginine and related metabolites. The Y-axis indicates the relative abundance of each metabolite. Citrulline was highly accumulated after heat stress, while cytoplasmic argininosuccinate and arginine were reduced, indicating severely impaired arginine metabolism. The reason could be the direct conversion of arginine to citrulline, producing NO and leaving ornithine not dramatically accumulated.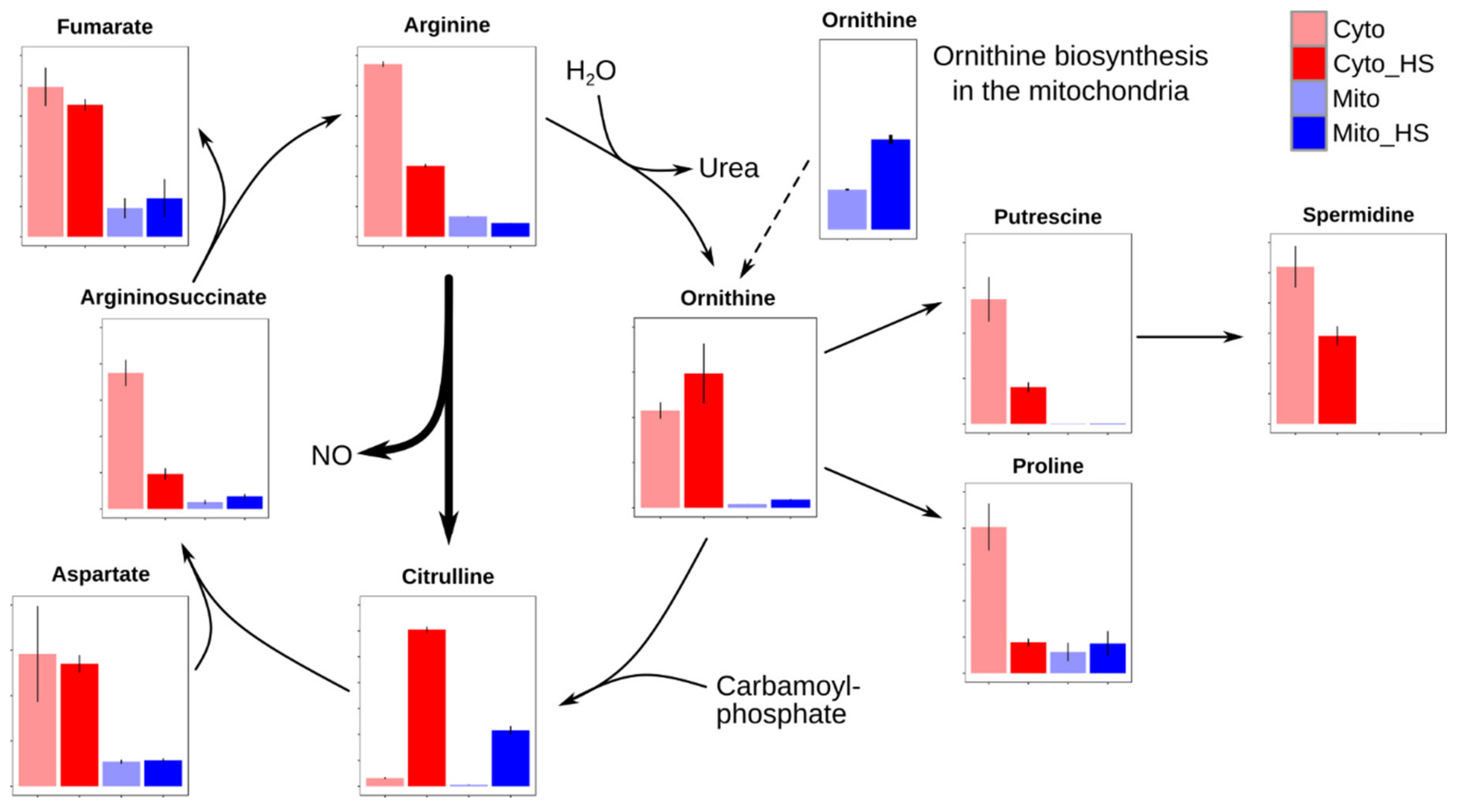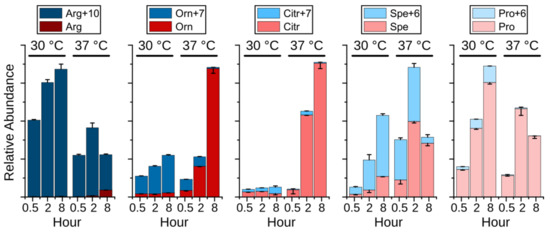 Figure 5. Relative abundance (mean +/- standard derivation, the error bars are displayed for the upper portion in plus and the lower portion in minus) of labeled arginine (Arg+10) and nonlabeled arginine (Arg) and the related metabolites labeled ornithine (Orn+7) and ornithine (Orn), labeled citrulline (Citr+7) and citrulline (Citr), labeled spermidine (Spe+6) and spermidine (Spe), labeled proline (Pro+6) and proline (pro). The cells were grown at either 30 °C or 37 °C for 0.5, 2, or 8 h.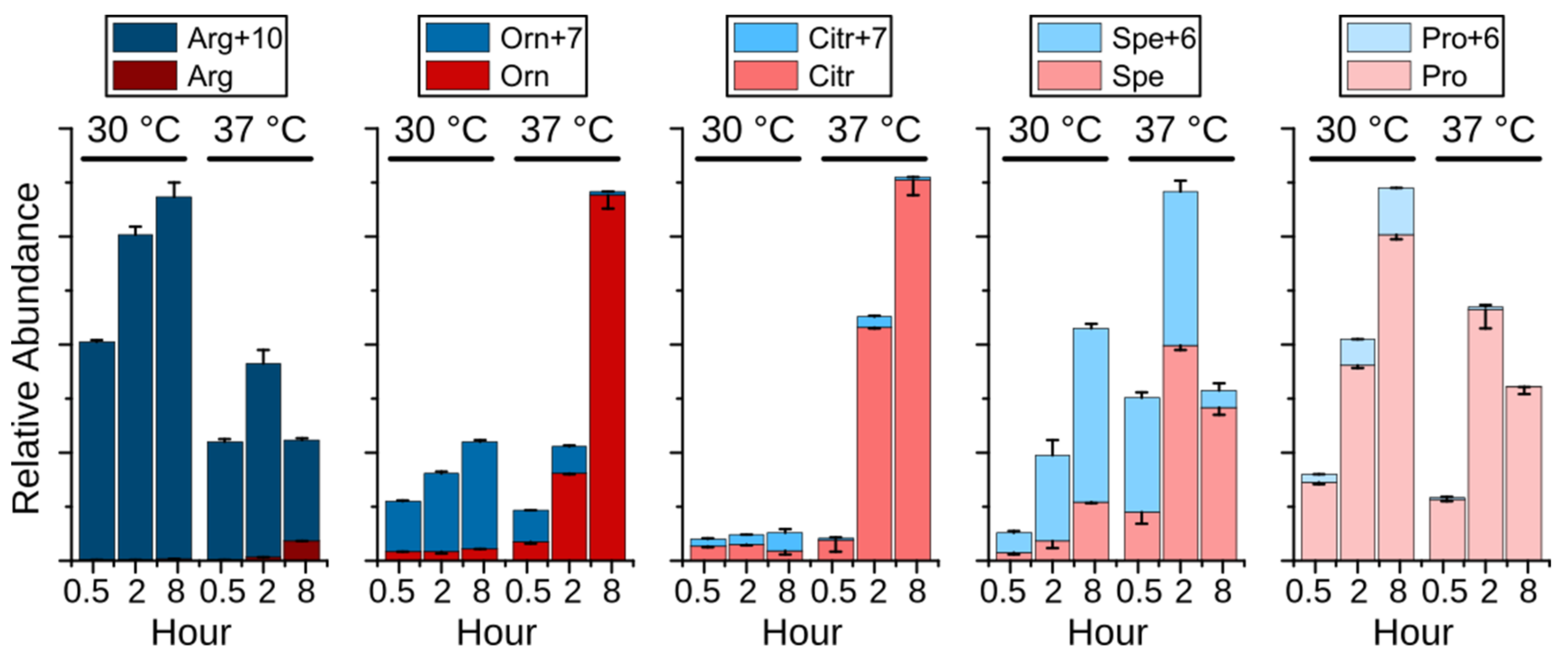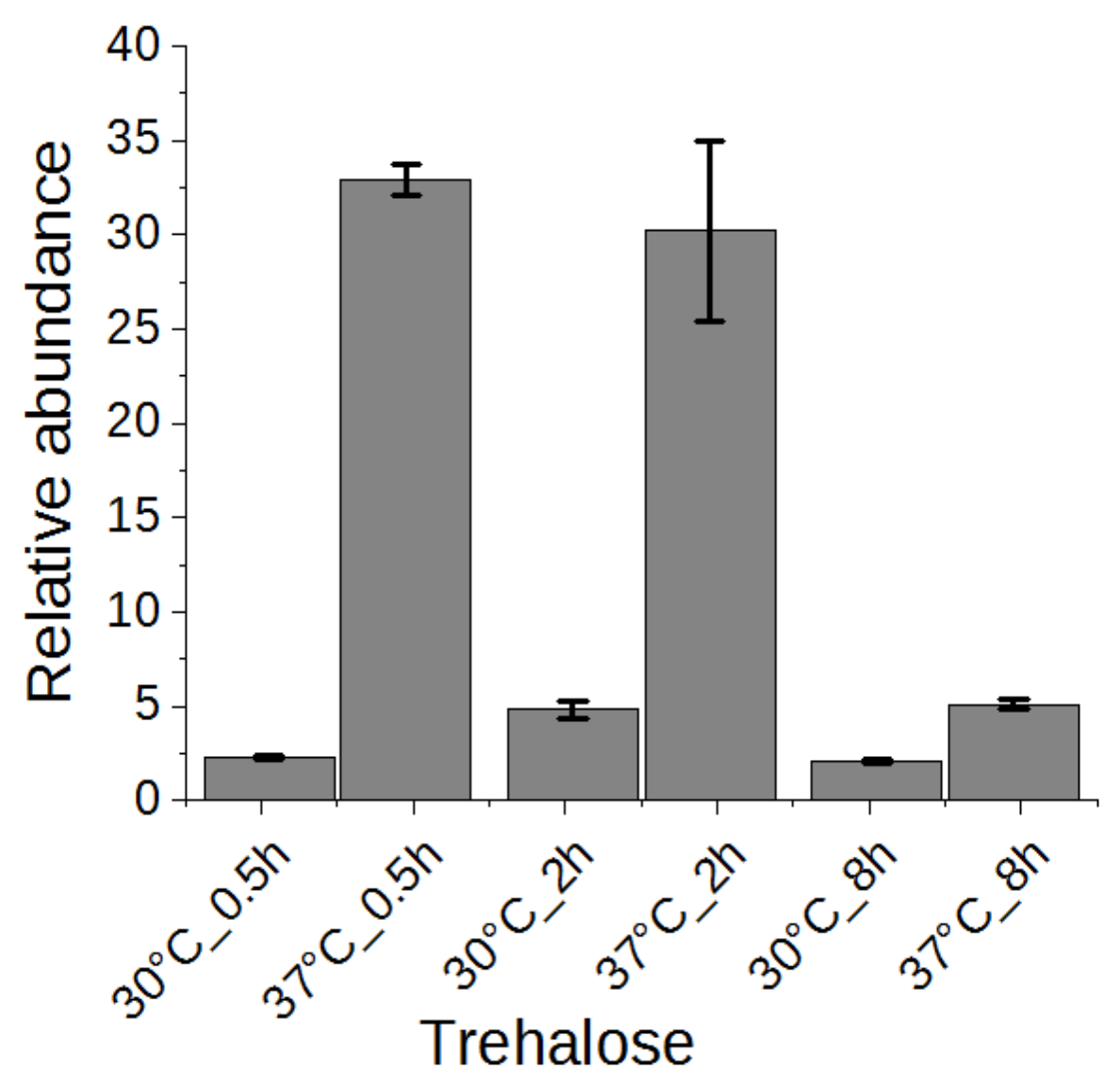 Figure 7.
Remodeling of arginine metabolism pathway of yeast
Saccharomyces cerevisiae
upon heat stress. All labeled metabolites are shown in blue, while nonlabeled in red. The detectable metabolites are highlighted in bold text. Black arrow indicates the flux of a pathway, while grey arrow a putative pathway. Dash arrows indicate inactive pathways.


© 2019 by the authors. Licensee MDPI, Basel, Switzerland. This article is an open access article distributed under the terms and conditions of the Creative Commons Attribution (CC BY) license (http://creativecommons.org/licenses/by/4.0/).