Profiling Redox and Energy Coenzymes in Whole Blood, Tissue and Cells Using NMR Spectroscopy
1
Northwest Metabolomics Research Center, Department of Anesthesiology and Pain Medicine, University of Washington, Seattle, WA 98109, USA
2
Mitochondria and Metabolism Center, Department of Anesthesiology and Pain Medicine, University of Washington, Seattle, WA 98109, USA
Received: 15 April 2018 / Revised: 10 May 2018 / Accepted: 12 May 2018 / Published: 14 May 2018
Abstract
Coenzymes of cellular redox reactions and cellular energy, as well as antioxidants mediate biochemical reactions fundamental to the functioning of all living cells. Conventional analysis methods lack the opportunity to evaluate these important redox and energy coenzymes and antioxidants in a single step. Major coenzymes include redox coenzymes: NAD
+
(oxidized nicotinamide adenine dinucleotide), NADH (reduced nicotinamide adenine dinucleotide), NADP
+
(oxidized nicotinamide adenine dinucleotide phosphate) and NADPH (reduced nicotinamide adenine dinucleotide phosphate); energy coenzymes: ATP (adenosine triphosphate), ADP (adenosine diphosphate) and AMP (adenosine monophosphate); and antioxidants: GSSG (oxidized glutathione) and GSH (reduced glutathione). We show here that a simple
1
H NMR experiment can measure these coenzymes and antioxidants in tissue and whole blood apart from a vast pool of other metabolites. In addition, focused on the goal of identification of coenzymes in subcellular fractions, we demonstrate analysis of coenzymes in the cytoplasm using breast cancer cells. Owing to their unstable nature, or low concentrations, most of the coenzymes either evade detection or lose their integrity when established sample preparation and analysis methods are used. To overcome this challenge, here we describe the development of new methods to detect these molecules without affecting the integrity of other metabolites. We used an array of 1D and 2D NMR methods, chemical shift databases, pH measurements and spiking with authentic compounds to establish the identity of peaks for the coenzymes and antioxidants in NMR spectra. Interestingly, while none of the coenzymes and antioxidants were detected in plasma, they were abundant in whole blood. Considering that the coenzymes and antioxidants represent a sensitive measure of human health and risk for numerous diseases, the presented NMR methods to measure them in one step potentially open new opportunities in the metabolomics field.
View Full-Text
►

▼

Figures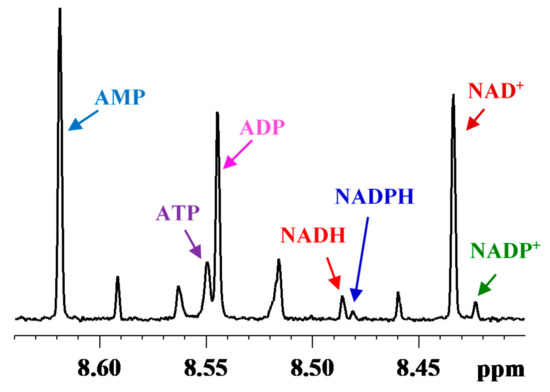 Figure 1
This is an open access article distributed under the
Creative Commons Attribution License
which permits unrestricted use, distribution, and reproduction in any medium, provided the original work is properly cited (CC BY 4.0).

Share & Cite This Article
MDPI and ACS Style
Gowda, G.A.N. Profiling Redox and Energy Coenzymes in Whole Blood, Tissue and Cells Using NMR Spectroscopy. Metabolites 2018, 8, 32.
Note that from the first issue of 2016, MDPI journals use article numbers instead of page numbers. See further details here.
Related Articles
Comments
[Return to top]