Computational Strategies for a System-Level Understanding of Metabolism
1
SYSBIO Centre of Systems Biology, Piazza della Scienza 2, 20126 Milano, Italy
2
Dipartimento di Scienze Umane e Sociali, Università degli Studi di Bergamo, Piazzale S. Agostino 2, 24129 Bergamo, Italy
3
Istituto di Analisi dei Sistemi ed Informatica "Antonio Ruberti", Consiglio Nazionale delle Ricerche, Via dei Taurini 19, 00185 Roma, Italy
4
Dipartimento di Informatica, Sistemistica e Comunicazione, Università degli Studi di Milano-Bicocca, Viale Sarca 336, 20126 Milano, Italy
5
Dipartimento di Informatica, Università degli Studi di Milano, Via Comelico 39, 20135 Milano, Italy
6
Istituto di Bioimmagini e Fisiologia Molecolare, Consiglio Nazionale delle Ricerche, Via F.lli Cervi 93, 20090 Segrate (MI), Italy
7
Dipartimento di Statistica e Metodi Quantitativi, Università degli Studi di Milano-Bicocca, Via Bicocca degli Arcimboldi 8, 20126 Milano, Italy
8
Dipartimento di Biotecnologie e Bioscienze, Università degli Studi di Milano-Bicocca, Piazza della Scienza 2, 20126 Milano, Italy
*
Author to whom correspondence should be addressed.
†
These authors contributed equally to this work.
Received: 1 August 2014 / Revised: 5 November 2014 / Accepted: 12 November 2014 / Published: 24 November 2014
Abstract
Cell metabolism is the biochemical machinery that provides energy and building blocks to sustain life. Understanding its fine regulation is of pivotal relevance in several fields, from metabolic engineering applications to the treatment of metabolic disorders and cancer. Sophisticated computational approaches are needed to unravel the complexity of metabolism. To this aim, a plethora of methods have been developed, yet it is generally hard to identify which computational strategy is most suited for the investigation of a specific aspect of metabolism. This review provides an up-to-date description of the computational methods available for the analysis of metabolic pathways, discussing their main advantages and drawbacks. In particular, attention is devoted to the identification of the appropriate scale and level of accuracy in the reconstruction of metabolic networks, and to the inference of model structure and parameters, especially when dealing with a shortage of experimental measurements. The choice of the proper computational methods to derive in silico data is then addressed, including topological analyses, constraint-based modeling and simulation of the system dynamics. A description of some computational approaches to gain new biological knowledge or to formulate hypotheses is finally provided.
View Full-Text
►

▼

Figures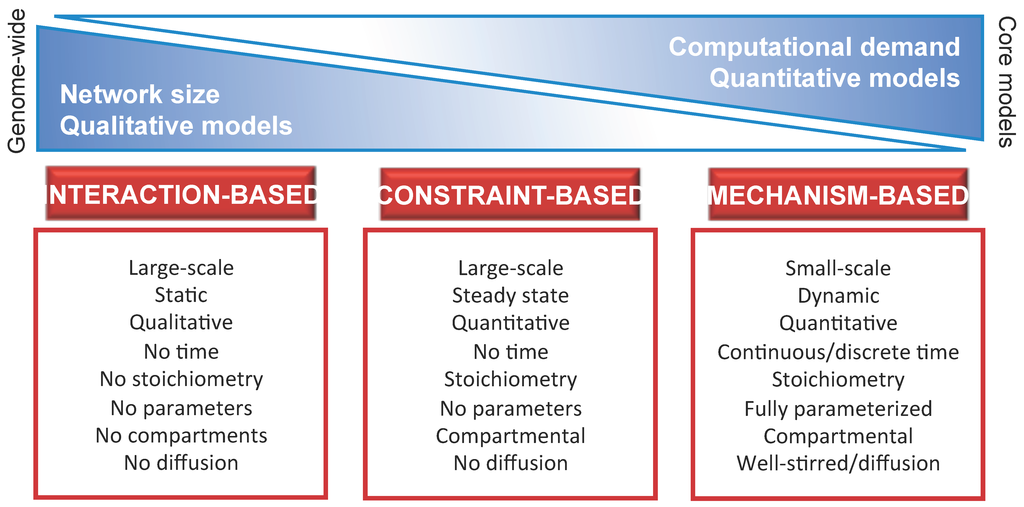 Figure 1
This is an open access article distributed under the
Creative Commons Attribution License
which permits unrestricted use, distribution, and reproduction in any medium, provided the original work is properly cited (CC BY 4.0).

Share & Cite This Article
MDPI and ACS Style
Cazzaniga, P.; Damiani, C.; Besozzi, D.; Colombo, R.; Nobile, M.S.; Gaglio, D.; Pescini, D.; Molinari, S.; Mauri, G.; Alberghina, L.; Vanoni, M. Computational Strategies for a System-Level Understanding of Metabolism. Metabolites 2014, 4, 1034-1087.
Related Articles
Comments
[Return to top]