Open Access This article is
freely available
re-usable
Commentary
Heat Shock Gene Inactivation and Protein Aggregation with Links to Chronic Diseases
1
Centre of Excellence in Alzheimer's Disease Research and Care, Sarich Neuroscience Research Institute, Edith Cowan University, Verdun Street, Nedlands 6009, Australia
2
School of Psychiatry and Clinical Neurosciences, The University of Western Australia, Nedlands 6009, Australia
3
McCusker Alzheimer's Research Foundation, Hollywood Medical Centre, 85 Monash Avenue, Suite 22, Nedlands 6009, Australia
Received: 10 April 2018 / Accepted: 16 May 2018 / Published: 18 May 2018
Abstract
:
The heat shock response involved in protein misfolding is linked to the formation of toxic immunogenic proteins with heat shock proteins (HSP) as regulators of amyloid beta aggregation. The defective amyloid beta trafficking between different intracellular compartments is now relevant to HSPs and autoimmunity. Overnutrition, temperature dysregulation, and stress repress the heat shock gene Sirtuin 1 with the induction of HSP regulated amyloid beta aggregation involved in the autoimmune response. Defective circadian rhythm alterations are connected to inactivation of the peripheral sink amyloid beta clearance pathway and related to insulin resistance, protein aggregation, and autoimmune disease in non-alcoholic fatty liver disease (NAFLD) and various neurodegenerative diseases such as Alzheimer's disease. Nutritional therapy is critical to prevent immunosenescence, and plasma Sirtuin 1 levels should be determined to reverse, stabilize, and prevent protein aggregation with relevance to mitochondrial apoptosis and programmed cell death in chronic diseases.
Keywords:
immunogenic proteins; heat shock proteins; amyloid beta oligomers; temperature regulation; autoimmune disease; Sirtuin 1; heat shock factor 1; mitophagy; NAFLD; neurodegenerative diseases
Funding
APC was sponsored by MDPI.
Acknowledgments
This work was supported by grants from Edith Cowan University, the McCusker Alzheimer's Research Foundation and the National Health and Medical Research Council (NHMRC 595312 & NHMRC 595300).
Conflicts of Interest
The author declares no conflict of interest.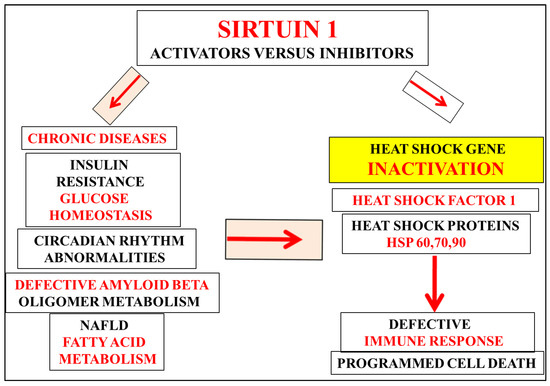 Figure 1. Unhealthy diets are involved with defective Sirt 1 function that determine proteotoxicity and cell death in chronic and neurodegenerative diseases. Temperature dysregulation will inactivate the heat shock gene Sirt 1 and the therapeutic role of Sirt 1 activators that determine circadian rhythm disorders, insulin resistance, non-alcoholic fatty liver disease (NAFLD). Heat shock gene inactivation and the defective immune response is connected to the immunogenic heat shock proteins (HSP) and amyloid beta oligomers with relevance to programmed cell death.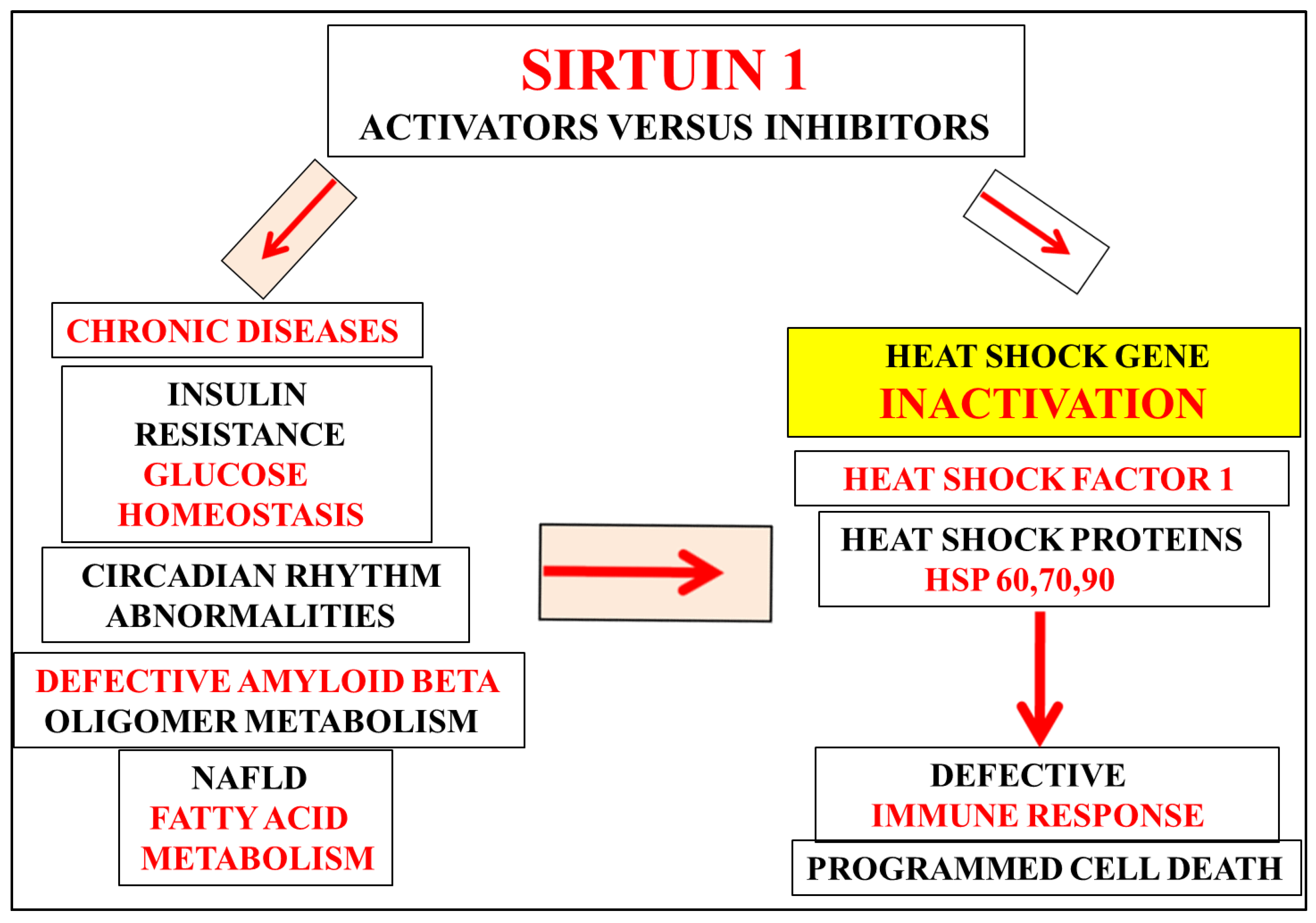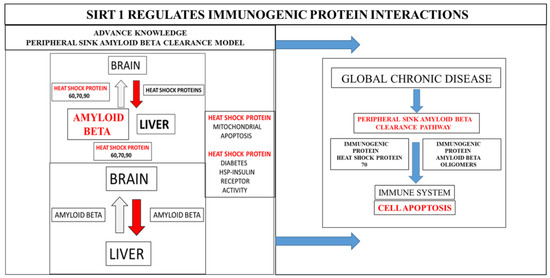 Figure 2. In the peripheral sink amyloid beta clearance pathway experiments from cell culture and in vivo studies indicate from many laboratories that monomeric amyloid beta is cleared from the brain to the liver. Temperature dysregulation and unhealthy diets will corrupt the peripheral amyloid beta clearance pathway linked to immunogenic HSP mediated amyloid beta aggregation relevant to mitophagy, cell apoptosis and autoimmune disease in global chronic disease.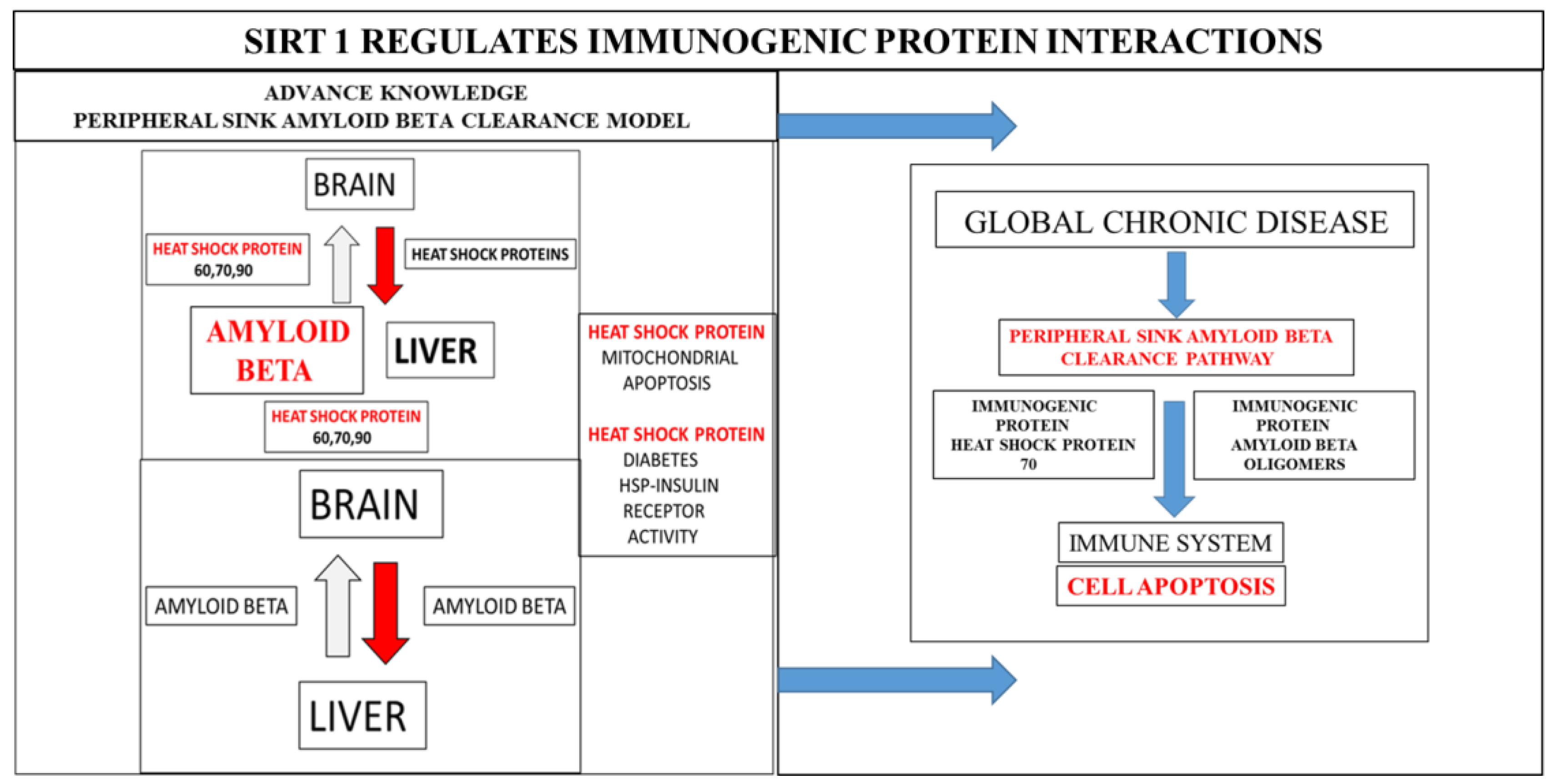 © 2018 by the author. Licensee MDPI, Basel, Switzerland. This article is an open access article distributed under the terms and conditions of the Creative Commons Attribution (CC BY) license (http://creativecommons.org/licenses/by/4.0/).