Open Access This article is
freely available
re-usable
Review
Effect of Dietary Bioactive Compounds on Mitochondrial and Metabolic Flexibility
Department of Experimental Medicine, University of Lleida, Av. Alcalde Rovira Roure 80, Lleida 25198, Spain
*
Author to whom correspondence should be addressed.
Academic Editor: Maurizio Battino
Received: 29 December 2015 / Accepted: 7 March 2016 / Published: 10 March 2016
Abstract
:
Metabolic flexibility is the capacity of an organism to adequately respond to changes in the environment, such as nutritional input, energetic demand,
etc.
An important player in the capacity of adaptation through different stages of metabolic demands is the mitochondrion. In this context, mitochondrial dysfunction has been attributed to be the onset and center of many chronic diseases, which are denoted by an inability to adapt fuel preferences and induce mitochondrial morphological changes to respond to metabolic demands, such as mitochondrial number, structure and function. Several nutritional interventions have shown the capacity to induce changes in mitochondrial biogenesis/degradation, oxidative phosphorylation efficiency, mitochondrial membrane composition, electron transfer chain capacity,
etc.
, in metabolic inflexibility states that may open new target options and mechanisms of action of bioactive compounds for the treatment of metabolic diseases. This review is focused in three well-recognized food bioactive compounds that modulate insulin sensitivity, polyphenols, ω-3 fatty acids and dietary fiber, by several mechanism of action, like caloric restriction properties and inflammatory environment modulation, both closely related to mitochondrial function and dynamics.
Keywords:
metabolism; mitochondria; polyphenols; ω-3; fiber; insulin resistance
2. Mitochondria Dynamic Regulation
Acute mechanisms affect the intrinsic ability of mitochondria to generate ATP per molecule of nutrient or per unit of time. The energy requirements fluctuate constantly, and the metabolism of ATP is regulated to avoid futile energy expenditure and to cater to the specific needs of different tissues. Short-term regulators of oxidative phosphorylation exert their control in response to sudden changes of ATP demand.
In addition to defining mitochondrial dynamics, it is important to give an overview about the possible mechanism by which impairments in mitochondrial oxidative metabolism are observed. The decrease in substrate oxidation may affect electron flow through the ETC, causing electron leakage towards oxygen and the formation of superoxide. Superoxide and other ROS may damage several mitochondrial and cellular components and potentially result in either mitophagy (removal of damaged mitochondria) or, under high stress levels, apoptosis. The removal of mitochondria through mitophagy or the accumulation of damaged mitochondria in the case where mitophagy is suppressed could reduce the number of functioning mitochondria, resulting in decreased substrate oxidation. The reduced oxidation of fuels, particularly fatty acids, results in lipid accumulation, including deposition of metabolically-active lipid mediators, such as diacylglycerols and ceramides. Both have been shown to inhibit insulin signaling, inducing an insulin resistance state that may affect other organs.
However, there is no consensus in the assessment of mitochondrial function. In this review, the effects of polyphenols, ω-3 fatty acids and dietary fiber on mitochondrial function included studies that assessed mitochondrial function by changes in mRNA levels of mitochondrial markers, alterations in mitochondrial protein levels, enzymatic activity of key components of mitochondria-driven oxidation, substrate oxidation, as well as changes in mitochondrial size and shape. Although, since there is not a unique biomarker of its function, contradictory results are observed in the literature.
3. Polyphenols and Mitochondria
Polyphenols are plant-derived compounds with pleiotropic biological activities. Currently, over five hundred different polyphenols have been described in regularly-consumed foods. Although they exhibit far more activities than antioxidant ones, they are most widely known as antioxidants and therefore protector biomolecules against oxidative damage.
As mitochondria are the major cellular source of ROS, redox-active compounds can be targeted to those organelles to modulate the levels of ROS and the processes they induce. However, as antioxidants, it should be clear if the mechanism of action is derived by a direct interaction with oxidizing species (redox potential) or by indirect pathways that may modulate metabolism or mitochondrial functioning, therefore regulating the redox environment.
4. ω-3 Fatty Acids and Mitochondria
5. Dietary Fiber, Gut Microbiota and Derived Colonic Fermentation Metabolites and Mitochondria
Dietary fiber is defined as all food matrix components resistant to the action of digestive enzymes and, therefore, are not absorbed in the small intestine and could serve as substrates for fermentation by the colonic microbiota. Epidemiological evidence suggests that populations who follow a fiber-rich, traditional diet are likely to have a lower body weight and improved metabolic parameters than their Western-diet counterparts. Dietary fiber could play a role in the management of metabolic syndrome through its ability to control body weight evolution through its effect on satiety; to modulate glucose homeostasis/insulin sensitivity and to positively affect factors implicated in cardiovascular diseases. Recent experimental data suggest that the modification of gut peptides (involved in appetite and glucose homeostasis) could constitute a 'metabolic relay', allowing specific dietary fiber to act on appetite and other components of metabolic syndrome [
53
]. The efficacy of dietary fiber differs according to its dietary sources (fruits, legumes or cereals), but also to its specific chemical structure, responsible for its physical properties (
i.e.
, gel-forming capacity) or for its fermentation capacity in the lower part of the gut.
The plausible mechanism of action of fiber on mitochondrial function could be derived by its ability to reduce energy intake by the inhibition of intestinal absorption of nutrients, the neuronal and satiety effects induced by its fermentation and bulking effect, the colonic fermentation by-products, mainly short-chain fatty acids (SCFA), that could serve as substrates for ATP synthesis and by the type of microbiota and microbiota metabolism.
The first evidence about the role of gut microbiota on the development of obesity came from studies conducted on germ-free mice (GF-mice) compared to conventionally-raised mice [
54
]. In basal conditions, the latter have a 40% higher body fat content than GF-mice, and this phenomenon was independent of food intake. In a subsequent study, it was observed that GF-mice, fed with a "high sugar-high-fat Western diet", do not seem to develop obesity. The main mechanisms explaining GF resistance to diet-induced obesity are the enhanced fatty acids oxidation, uncoupled with decreased lipoprotein lipase activity and fatty acids storage [
55
]. The lean phenotype was associated with increased skeletal muscle and liver levels of phosphorylated AMPK and its downstream targets involved in fatty acid oxidation (acetyl-CoA carboxylase; carnitine-palmitoyltransferase). Other studies have reported specific changes of gut microbiota composition in genetically obese mice, compared to lean counterparts, showing a 50% reduction in the abundance of
Bacteroidetes
and a proportional increase in
Firmicutes
[
56
]. These specific changes could contribute to the increased SCFA production and energy harvest [
57
]. From another point of view, it is suggested that gut microbial ecology is to a large extent modulated by diet in humans; a high intake of fat and proteins is associated with increased levels of
Bacteroides
, whereas high fiber intake is associated with increased levels of
Prevotella
[
58
,
59
]. Recently, metagenomic analysis showed that the gut microbiota of responders of a dietary fiber treatment was enriched in
Prevotella copri
and had increased potential to ferment complex polysaccharides [
60
]. In the same study, the microbiota enriched in
Prevotella
was transplanted to germ-free mice in a high-fat diet; compared to non-responder microbiota, the
Prevotella-
transplanted mice contained higher amounts of glycogen in the liver. However, it is not clear how and why, in obese subjects, gut microbiota seems to extract more energy from ingested food. To identify metabolic pathways associated with obesity, metabolic reconstructions of the "core" microbiome revealed significant enrichment in phosphotransferase systems involved in microbial processing of carbohydrates and in genes involved in carbohydrate, lipid and amino acid metabolism [
61
]. Therefore, except for the cases of bacterial translocation, the main effects of fiber intake in metabolic inflexibility may be derived from the actions of colonic fermentation products.
The main colonic bacterial fermentation products of dietary fiber are SCFAs, such as acetate, propionate and butyrate. SCFAs can be used for
de novo
synthesis of lipids and glucose, which are the main energy sources for the host. SCFAs are good candidates for explaining the biological effects of fiber consumption in metabolic syndrome, since their bioavailability is almost complete, and they can serve as substrates for obtaining energy in the mitochondria.
Recently, two orphan G-protein-coupled receptors (GPCR), GPR41 and GPR43, were reported to be activated by SCFAs. For example, in adipose tissue, SCFA-mediated GPR43 activation suppressed adipose insulin signaling, leading to inhibition of fat accumulation, and unincorporated lipids and glucose were primarily utilized in muscles where the expression of energy expenditure, glycolysis and β-oxidation-related genes was increased [
62
]. In another study, the incorporation of sodium butyrate (5%
wt
/
wt
in a high-fat diet) induced higher energy expenditure and oxygen consumption during the night in mice. The calorie intake was also higher without a difference in body weight compared to the control group, suggesting an increase in fatty acid oxidation that was confirmed by monitoring
14
C-labeled palmitic acid, and a 200% increase in
14
C-labeled CO
2
in butyrate-treated mice was observed. In the same study, an obesity treatment experiment was performed, where after five weeks of treatment with butyrate, the obese mice lost 10.2% of their body weight, reduced their fasting glucose by 30% and their HOMA-IR by 50%. The authors explain the observed effects by PGC-1α activation properties in brown fat, skeletal muscle and liver [
63
].
6. Conclusions
There is ample evidence of the positive effects of several classes of polyphenols, ω-3 fatty acids and dietary fiber on the reversion of a metabolic inflexibility condition. Although the mechanism of action is not well establish, in some cases, an indirect interaction with mitochondrial metabolism is expected, where most of the described studies suggest the activation of NRF-1, AMPKα, SIRT or PGC-1α as the main mechanism of action. In the case of polyphenols, due to their reduced bioavailability, a direct interaction with mitochondrial metabolism is not expected. However, indirect activation of pathways involved in energy metabolism may induce function and morphological changes in mitochondria. ω-3 fatty acids have been demonstrated to be directly interacting with mitochondria, since their incorporation in the phospholipids of the mitochondrial membrane is observed. However, their incorporation does not induce changes in mitochondrial activity, suggesting that the mechanism of action could be the indirect stimulation of fatty acids' β-oxidation, possibly by the activation of PPAR transcriptional factors. Dietary fiber is a bioactive compound for which it is more difficult to explain its mechanism of action, since it is not absorbed due to its molecular weight, and several fermentation by-products could be produced during its fermentation in the colon, each one with pleiotropic effects in metabolism. The most plausible mechanism of action could be due to its energy restriction properties and the production of SCFAs, which may induce fatty acids' β-oxidation. In all cases, it should be taken into account that the main problem in metabolic inflexibility is the accumulation of energy due to its high intake, and the main treatment objective should be addressed toward a reduction in energy intake. The use of bioactive compounds, such as the ones included in this review, could facilitate the treatment, and they should not be considered as complete problem-solving agents.
Acknowledgments
This study was supported by grants from the Spanish Ministry of Science and Innovation (CENIT MET-DEV-FUN).
Conflicts of Interest
The authors declare no conflict of interest.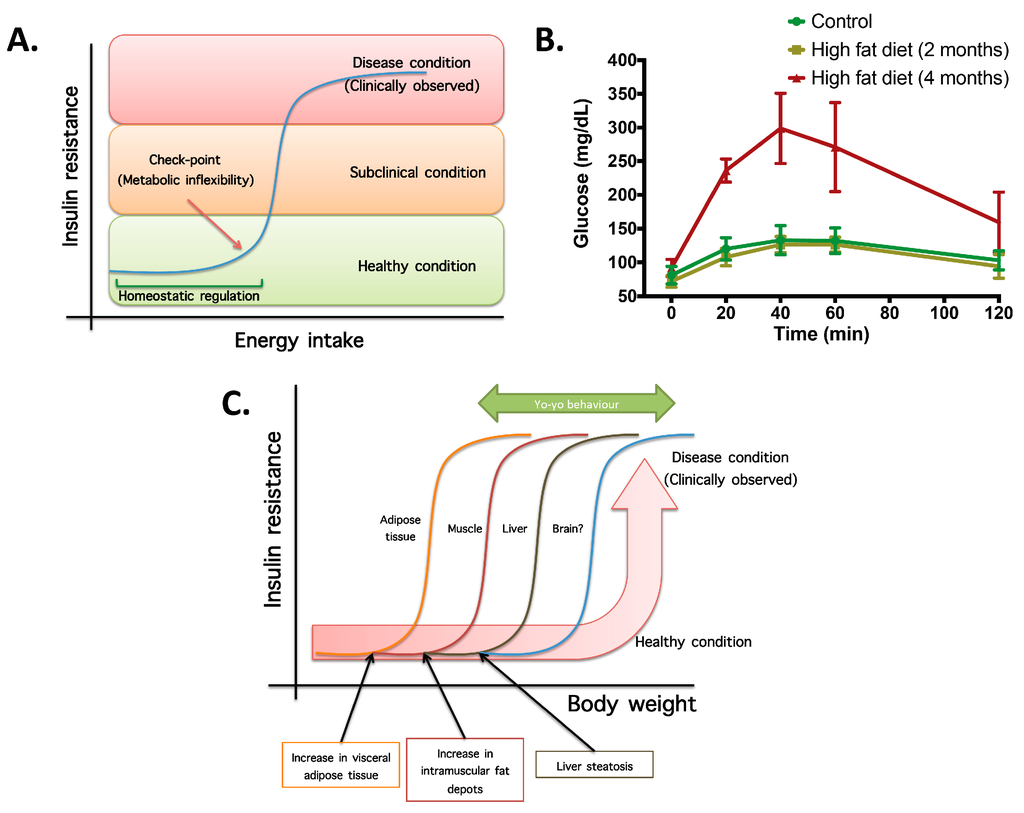 Figure 1. The concept of metabolic inflexibility and disease related outcomes. (A) Scheme of high-energy intake homeostatic regulation until a checkpoint, where energy storage systems are overloaded and subclinical and pathological conditions are observed. (B) Plasma glucose levels during a sub-cutaneous glucose tolerance test (2 g glucose/kg body weight) in controls and mice fed with a high-fat diet (34%) for two and four months. Insulin resistance, measured by means of blood glucose, is observed at four months of high-fat intake, whereas at two months, homeostatic compensation is still observed (unpublished observations). (C) Scheme of metabolic flexibility checkpoints in different organs for which, after passing organ-specific conditions, pathological features are observed. This explains the rapid change in metabolic flexibility after a weight reduction program and the yo-yo effect if the weight reduction is not maintained.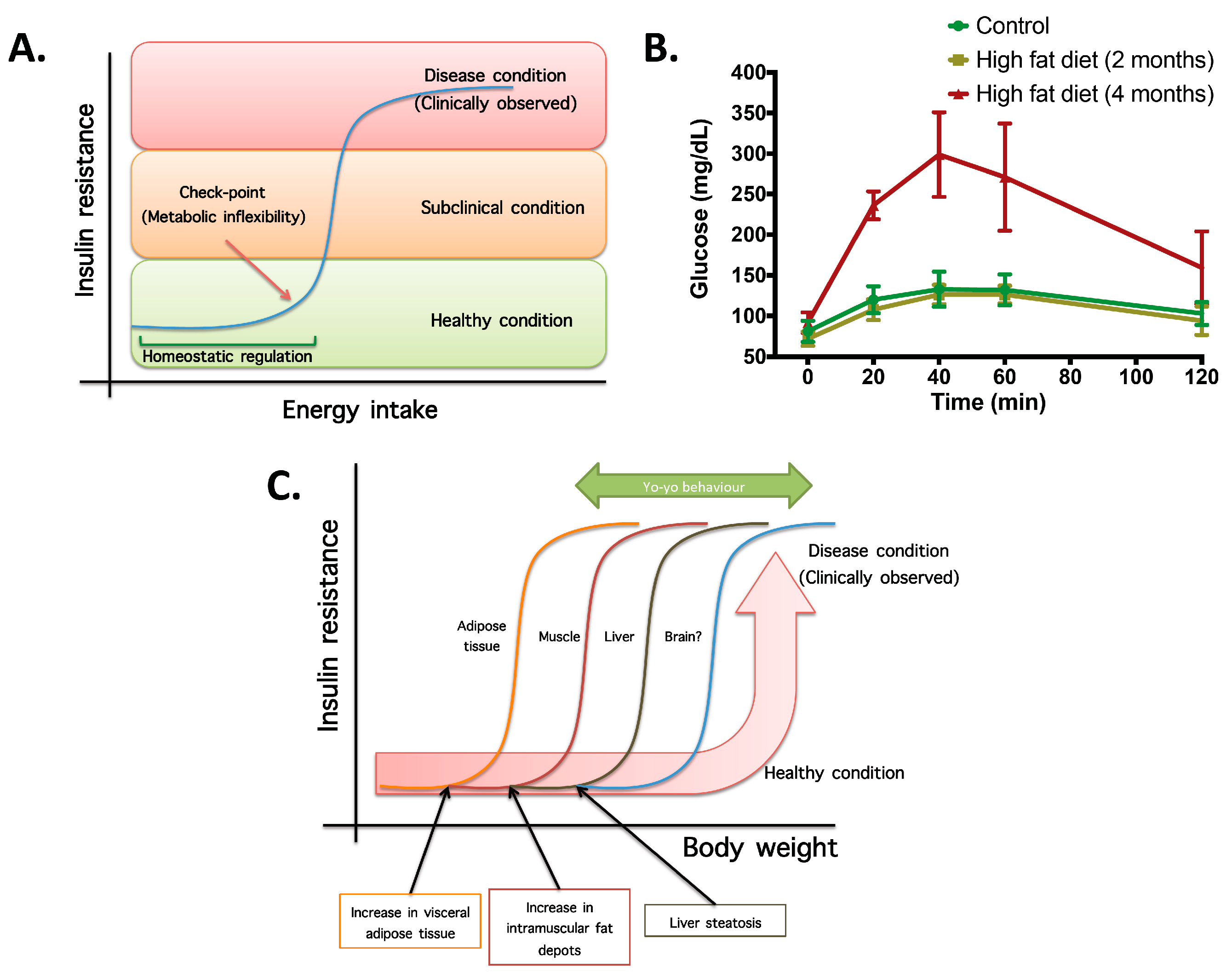 Table 1. Described effects of dietary phenolic compounds in mitochondria and metabolic flexibility.
Compound
Effect
Mechanism
Type of Study
Reference
Resveratrol
Increased number of mitochondria in liver and muscle
SIRT1 and PGC-1α activation
Animal model
[22]
Quercetin
Increased mtDNA and cytochrome

c

content in muscle and brain
SIRT1 and PGC-1α activation
Animal model
[23]
Epicatechin-rich cocoa
Mitochondrial biogenesis stimulation in muscle
SIRT1 and PGC-1α activation
Human study
[24]
Coumestrol
Increased mitochondrial content in muscle cells
SIRT1 activation
Cell culture
[25]
Quercetin, kaempferol, epicatechin
Inhibitors of H2O2 production by mitochondria
Inhibition of complex I activity
Cell culture
[26]
Grape seed proanthocyanidin extract
Enhanced thermogenic capacity and improvement in mitochondrial function in brown and adipose tissue
Not described
Animal model
[27]
Anthocyanins
Complex I activity recovery and increase in the rate of ATP synthesis
Functioning as electron carriers in a similar way as coenzyme Q1
Isolated mitochondria
[28]
Galangin
Modulation of the mitochondrial permeability transition pore
Decreased fluidity of the mitochondrial membrane
Isolated mitochondria
[29]
Epigallocatechin
Modification in mitochondrial architecture
AMPKα activation
Animal model
[30]
Table 2. Described effects of dietary phenolic compounds in mitochondria and metabolic flexibility.

| Product | Effect | Mechanism | Type of Study | Reference |
| --- | --- | --- | --- | --- |
| Fish oil | Improvement in mitochondrial efficiency | Increased content or enhanced kinetics of ETC | Animal model | [38] |
| Fish oil | Reduced body fat mass | Stimulation of lipid oxidation | Human study | [39] |
| Fish oil | Decrease in insulinemia | Increased lipid oxidation | Human study | [40] |
| DHA + EPA | Improve in mitochondrial ADP kinetics | Incorporation in mitochondrial membranes, displacing ω-6 species in several phospholipids population | Human study | [44] |
| DHA + EPA | Decrease in H2O2 production | Increased tolerance to Ca2+-induced MPTP opening | Isolated mitochondria | [47] |
| Fish oil | Improvement in ATP production in brain | Improvement in membrane fluidity | Animal model | [49] |
| EPA and DHA | Increase in ATP and reduction in ROS levels in hepatocytes | Increase in the length of mitochondrial tubes by an increase in Mfn2 mRNA levels | Cell culture | [50] |
| EPA | Restoration of skeletal muscle mitochondrial capacity | Increase in coupling efficiency of the ETC | Animal model | [51] |
© 2016 by the authors; licensee MDPI, Basel, Switzerland. This article is an open access article distributed under the terms and conditions of the Creative Commons by Attribution (CC-BY) license (http://creativecommons.org/licenses/by/4.0/).