The Use of Myelinating Cultures as a Screen of Glycomolecules for CNS Repair
1
Institute of Infection, Immunity and Inflammation, College of Medical, Veterinary and Life Sciences, University of Glasgow, Glasgow G12 8TA, UK
2
GlycoMar Limited, Malin House, European Marine Science Park, Dunbeg, Oban Argyll, Scotland PA37 1SZ, UK
*
Author to whom correspondence should be addressed.
Received: 25 April 2019 / Revised: 11 June 2019 / Accepted: 21 June 2019 / Published: 28 June 2019
Abstract
In vitro cell-based assays have been fundamental in modern drug discovery and have led to the identification of novel therapeutics. We have developed complex mixed central nervous system (CNS) cultures, which recapitulate the normal process of myelination over time and allow the study of several parameters associated with CNS damage, both during development and after injury or disease. In particular, they have been used as a reliable screen to identify drug candidates that may promote (re)myelination and/or neurite outgrowth. Previously, using these cultures, we demonstrated that a panel of low sulphated heparin mimetics, with structures similar to heparan sulphates (HSs), can reduce astrogliosis, and promote myelination and neurite outgrowth. HSs reside in either the extracellular matrix or on the surface of cells and are thought to modulate cell signaling by both sequestering ligands, and acting as co-factors in the formation of ligand-receptor complexes. In this study, we have used these cultures as a screen to address the repair potential of numerous other commercially available sulphated glycomolecules, namely heparosans, ulvans, and fucoidans. These compounds are all known to have certain characteristics that mimic cellular glycosaminoglycans, similar to heparin mimetics. We show that the N-sulphated heparosans promoted myelination. However, O-sulphated heparosans did not affect myelination but promoted neurite outgrowth, indicating the importance of structure in HS function. Moreover, neither highly sulphated ulvans nor fucoidans had any effect on remyelination but CX-01, a low sulphated porcine intestinal heparin, promoted remyelination in vitro. These data illustrate the use of myelinating cultures as a screen and demonstrate the potential of heparin mimetics as CNS therapeutics.
View Full-Text
►

▼

Figures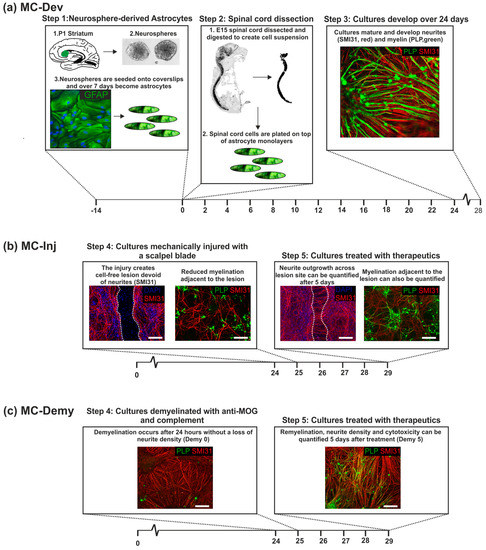 Figure 1
This is an open access article distributed under the
Creative Commons Attribution License
which permits unrestricted use, distribution, and reproduction in any medium, provided the original work is properly cited (CC BY 4.0).

Share & Cite This Article
MDPI and ACS Style
McCanney, G.A.; Lindsay, S.L.; McGrath, M.A.; Willison, H.J.; Moss, C.; Bavington, C.; Barnett, S.C. The Use of Myelinating Cultures as a Screen of Glycomolecules for CNS Repair. Biology 2019, 8, 52.
Note that from the first issue of 2016, MDPI journals use article numbers instead of page numbers. See further details here.
Related Articles
Comments
[Return to top]