Two-Component FAD-Dependent Monooxygenases: Current Knowledge and Biotechnological Opportunities
1
Institute of Biosciences, Environmental Microbiology, TU Bergakademie Freiberg, Leipziger Str. 29, 09599 Freiberg, Germany
2
Laboratory of Biochemistry, Wageningen University & Research, Stippeneng 4, 6708 WE Wageningen, The Netherlands
3
Department of Chemistry and Biochemistry, San Francisco State University, 1600 Holloway Avenue, San Francisco, CA 94132, USA
4
Allgemeine Biochemie, Technische Universität Dresden, 01062 Dresden, Germany
5
Microbial Biotechnology, Ruhr University Bochum, Universitätsstr. 150, 44780 Bochum, Germany
*
Author to whom correspondence should be addressed.
Received: 31 May 2018 / Revised: 31 July 2018 / Accepted: 1 August 2018 / Published: 2 August 2018
Abstract
Flavoprotein monooxygenases create valuable compounds that are of high interest for the chemical, pharmaceutical, and agrochemical industries, among others. Monooxygenases that use flavin as cofactor are either single- or two-component systems. Here we summarize the current knowledge about two-component flavin adenine dinucleotide (FAD)-dependent monooxygenases and describe their biotechnological relevance. Two-component FAD-dependent monooxygenases catalyze hydroxylation, epoxidation, and halogenation reactions and are physiologically involved in amino acid metabolism, mineralization of aromatic compounds, and biosynthesis of secondary metabolites. The monooxygenase component of these enzymes is strictly dependent on reduced FAD, which is supplied by the reductase component. More and more representatives of two-component FAD-dependent monooxygenases have been discovered and characterized in recent years, which has resulted in the identification of novel physiological roles, functional properties, and a variety of biocatalytic opportunities.
View Full-Text
►

▼

Figures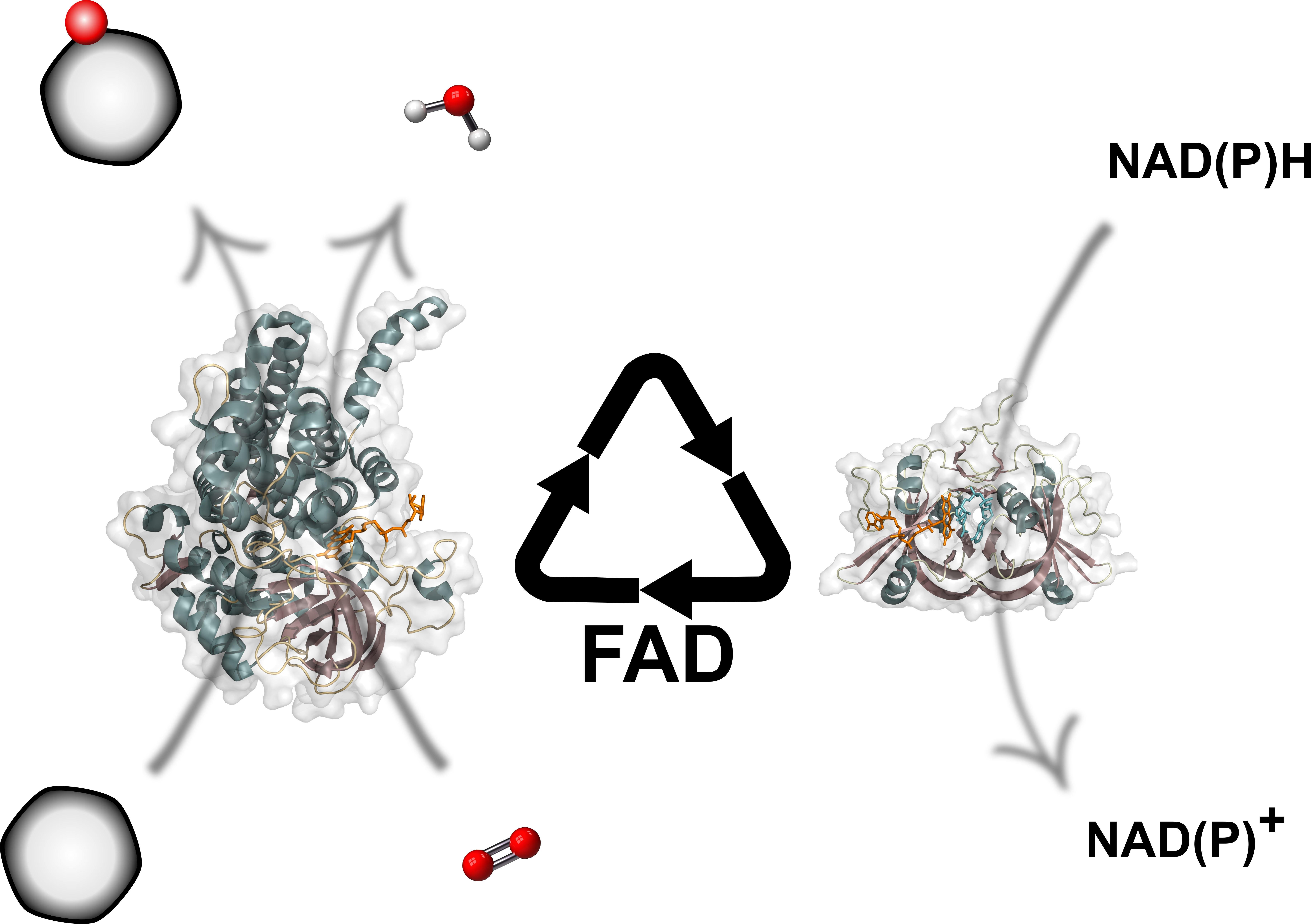 Graphical abstract
This is an open access article distributed under the
Creative Commons Attribution License
which permits unrestricted use, distribution, and reproduction in any medium, provided the original work is properly cited (CC BY 4.0).

Share & Cite This Article
MDPI and ACS Style
Heine, T.; Van Berkel, W.J.H.; Gassner, G.; Van Pée, K.-H.; Tischler, D. Two-Component FAD-Dependent Monooxygenases: Current Knowledge and Biotechnological Opportunities. Biology 2018, 7, 42.
Note that from the first issue of 2016, MDPI journals use article numbers instead of page numbers. See further details here.
Related Articles
Comments
[Return to top]