Electrochemical Characterisation of Bio-Bottle-Voltaic (BBV) Systems Operated with Algae and Built with Recycled Materials
1
Department of Biochemical Engineering, UCL Bernard Katz Building, London WC1H 0AH, UK
2
Department of Biochemistry, University of Cambridge, Hopkins Building, Downing Site, Cambridge CB2 1QW, UK
3
Institute for Advanced Architecture of Catalonia, Pujades 102, Poble Nou, 08005 Barcelona, Spain
4
ICREA-Complex Systems Laboratory, Universitat Pompeu Fabra (UPF), 08018 Barcelona, Spain
*
Author to whom correspondence should be addressed.
Received: 5 January 2018 / Revised: 5 April 2018 / Accepted: 10 April 2018 / Published: 17 April 2018
Abstract
Photobioelectrochemical systems are an emerging possibility for renewable energy. By exploiting photosynthesis, they transform the energy of light into electricity. This study evaluates a simple, scalable bioelectrochemical system built from recycled plastic bottles, equipped with an anode made from recycled aluminum, and operated with the green alga
Chlorella sorokiniana
. We tested whether such a system, referred to as a bio-bottle-voltaic (BBV) device, could operate outdoors for a prolonged time period of 35 days. Electrochemical characterisation was conducted by measuring the drop in potential between the anode and the cathode, and this value was used to calculate the rate of charge accumulation. The BBV systems were initially able to deliver ~500 mC·bottle
−1
·day
−1
, which increased throughout the experimental run to a maximum of ~2000 mC·bottle
−1
·day
−1
. The electrical output was consistently and significantly higher than that of the abiotic BBV system operated without algal cells (~100 mC·bottle
−1
·day
−1
). The analysis of the rate of algal biomass accumulation supported the hypothesis that harvesting a proportion of electrons from the algal cells does not significantly perturb the rate of algal growth. Our finding demonstrates that bioelectrochemical systems can be built using recycled components. Prototypes of these systems have been displayed in public events; they could serve as educational toolkits in schools and could also offer a solution for powering low-energy devices off-grid.
View Full-Text
►

▼

Figures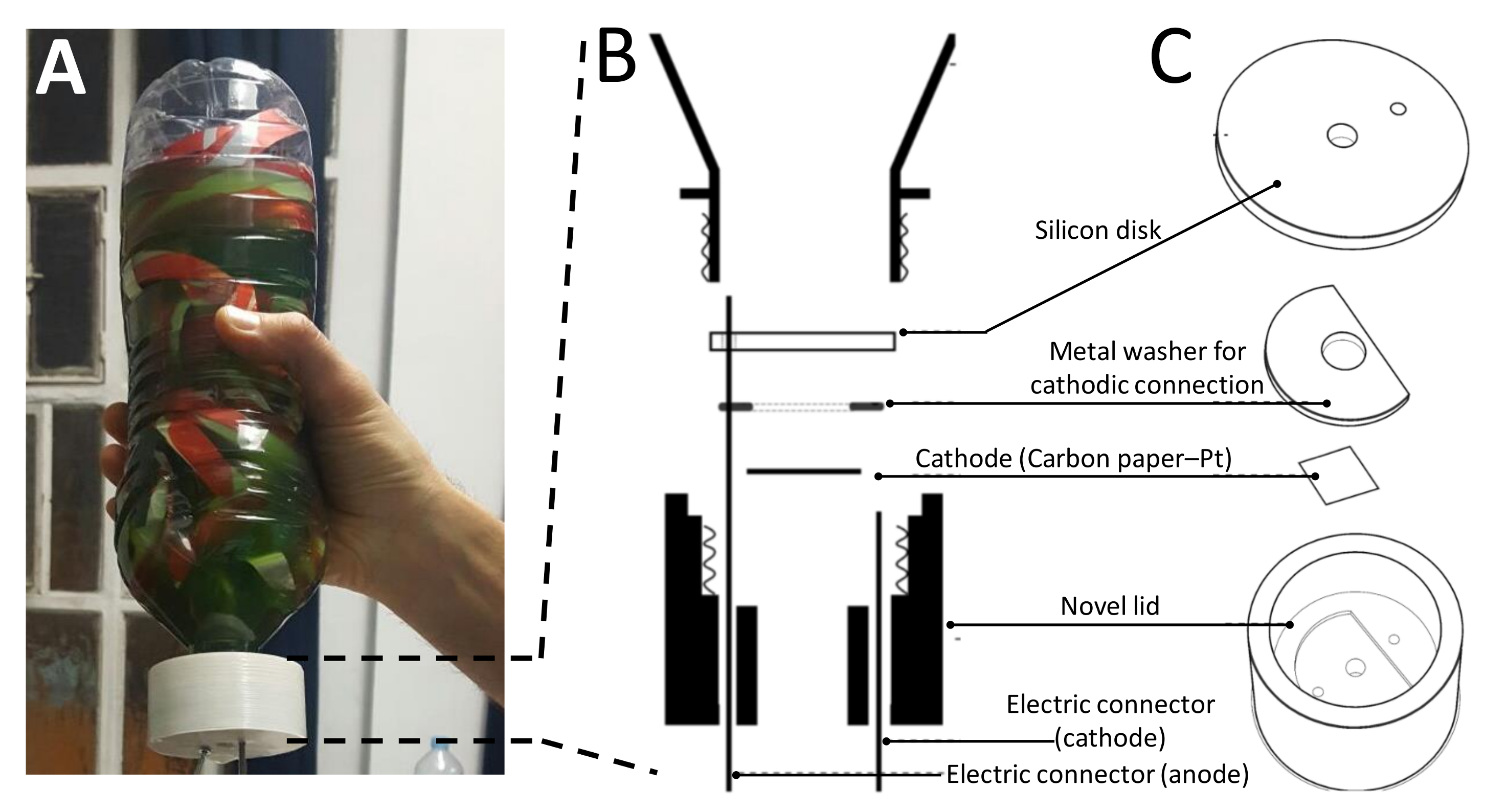 Figure 1
This is an open access article distributed under the
Creative Commons Attribution License
which permits unrestricted use, distribution, and reproduction in any medium, provided the original work is properly cited (CC BY 4.0).

Share & Cite This Article
MDPI and ACS Style
Bateson, P.; Fleet, J.E.H.; Riseley, A.S.; Janeva, E.; Marcella, A.S.; Farinea, C.; Kuptsova, M.; Conde Pueyo, N.; Howe, C.J.; Bombelli, P.; Parker, B.M. Electrochemical Characterisation of Bio-Bottle-Voltaic (BBV) Systems Operated with Algae and Built with Recycled Materials. Biology 2018, 7, 26.
Note that from the first issue of 2016, MDPI journals use article numbers instead of page numbers. See further details here.
Related Articles
Comments
[Return to top]