In Vivo Effects of Lipopolysaccharide on Peroxisome Proliferator-Activated Receptor Expression in Juvenile Gilthead Seabream (
Sparus Aurata

)

1

Department of Zoology, School of Biology, Aristotle University of Thessaloniki, 54124 Thessaloniki, Greece

2

Department of Cell Biology, Physiology and Immunology, School of Biology, University of Barcelona, 08028 Barcelona, Spain

*

Authors to whom correspondence should be addressed.

Academic Editor: Jukka Finne

Received: 14 August 2017 / Revised: 11 September 2017 / Accepted: 21 September 2017 / Published: 25 September 2017
Abstract
Fish are constantly exposed to microorganisms in the aquatic environment, many of which are bacterial pathogens. Bacterial pathogens activate the innate immune response in fish involving the production of pro-inflammatory molecules that, in addition to their immune-related role, can affect non-immune tissues. In the present study, we aimed at investigating how inflammatory responses can affect metabolic homeostasis in the gilthead seabream (
Sparus aurata
), a teleost of considerable economic importance in Southern European countries. Specifically, we mimicked a bacterial infection by in vivo administration of lipopolysaccharide (LPS, 6 mg/kg body weight) and measured metabolic parameters in the blood and, importantly, the mRNA expression levels of the three isotypes of peroxisome proliferator activated receptors (PPARα, β, and γ) in metabolically-relevant tissues in seabream. PPARs are nuclear receptors that are important for lipid and carbohydrate metabolism in mammals and that act as biological sensors of altered lipid metabolism. We show here that LPS-induced inflammatory responses result in the modulation of triglyceride plasma levels that are accompanied most notably by a decrease in the hepatic mRNA expression levels of PPARα, β, and γ and by the up-regulation of PPARγ expression only in adipose tissue and the anterior intestine. In addition, LPS-induced inflammation results in an increase in the hepatic mRNA expression and protein activity levels of members of the mitogen-activated protein kinase (MAPK) family, known in mammals to regulate the transcription and activity of PPARs. Our results provide evidence for the involvement of PPARs in the metabolic response to inflammatory stimuli in seabream and offer insights into the molecular mechanisms underlying the redirection of metabolic activities under inflammatory conditions in vertebrates.
View Full-Text
►

▼

Figures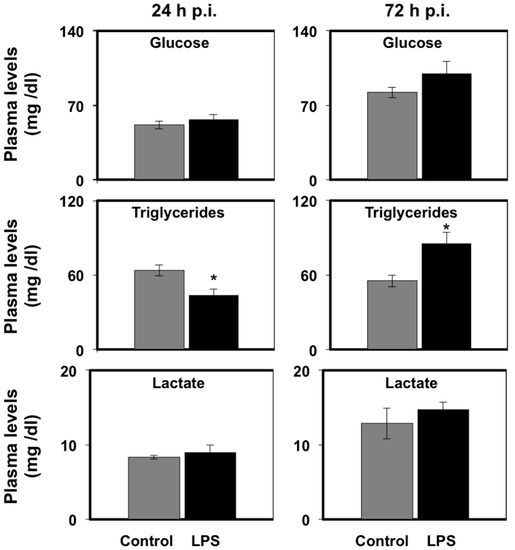 Figure 1
This is an open access article distributed under the
Creative Commons Attribution License
which permits unrestricted use, distribution, and reproduction in any medium, provided the original work is properly cited (CC BY 4.0).

Share & Cite This Article
MDPI and ACS Style
Antonopoulou, E.; Kaitetzidou, E.; Castellana, B.; Panteli, N.; Kyriakis, D.; Vraskou, Y.; Planas, J.V. In Vivo Effects of Lipopolysaccharide on Peroxisome Proliferator-Activated Receptor Expression in Juvenile Gilthead Seabream (Sparus Aurata). Biology 2017, 6, 36.
Note that from the first issue of 2016, MDPI journals use article numbers instead of page numbers. See further details here.
Related Articles
Comments
[Return to top]