Protein Phosphatase-1 Regulates Expression of Neuregulin-1
1
Center for Sickle Cell Disease, Howard University, Washington, DC 20059, USA
2
Department of Medicine, Howard University, Washington, DC 20059, USA
3
Yakut Science Center for Complex Medical Problems, Yakutsk 677019, Russia
4
Department of Human Genetics, Howard University, Washington, DC 20059, USA
5
Department of Microbiology, Howard University, Washington, DC 20059, USA
*
Author to whom correspondence should be addressed.
†
These authors contributed equally to this work.
Academic Editor: Chris O'Callaghan
Received: 30 June 2016 / Revised: 27 November 2016 / Accepted: 29 November 2016 / Published: 2 December 2016
Abstract
Protein phosphatase 1 (PP1), a cellular serine/threonine phosphatase, is targeted to cellular promoters by its major regulatory subunits, PP1 nuclear targeting subunit, nuclear inhibitor of PP1 (NIPP1) and RepoMan. PP1 is also targeted to RNA polymerase II (RNAPII) by NIPP1 where it can dephosphorylate RNAPII and cycle-dependent kinase 9 (CDK9). Here, we show that treatment of cells with a small molecule activator of PP1 increases the abundance of a neuregulin-1 (NRG-1)-derived peptide. NRG-1 mRNA and protein levels were increased in the cells stably or transiently expressing mutant NIPP1 (mNIPP1) that does not bind PP1, but not in the cells expressing NIPP1. Expression of mNIPP1 also activated the
NRG-1
promoter in an NF-κB-dependent manner. Analysis of extracts from mNIPP1 expressing cells by glycerol gradient centrifugation showed a redistribution of PP1 and CDK9 between large and small molecular weight complexes, and increased CDK9 Thr-186 phosphorylation. This correlated with the increased CDK9 activity. Further, RNAPII co-precipitated with mNIPP1, and phosphorylation of RNAPII C-terminal domain (CTD) Ser-2 residues was greater in cells expressing mNIPP1. In mNIPP1 expressing cells, okadaic acid, a cell-permeable inhibitor of PP1, did not increase Ser-2 CTD phosphorylation inhibited by flavopiridol, in contrast to the NIPP1 expressing cells, suggesting that PP1 was no longer involved in RNAPII dephosphorylation. Finally, media conditioned with mNIPP1 cells induced the proliferation of wild type 84-31 cells, consistent with a role of neuregulin-1 as a growth promoting factor. Our study indicates that deregulation of PP1/NIPP1 holoenzyme activates NRG-1 expression through RNAPII and CDK9 phosphorylation in a NF-κB dependent manner.
View Full-Text
►

▼

Figures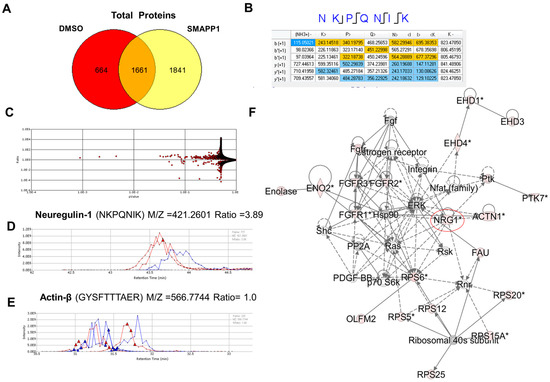 Figure 1
This is an open access article distributed under the
Creative Commons Attribution License
which permits unrestricted use, distribution, and reproduction in any medium, provided the original work is properly cited (CC BY 4.0).

Share & Cite This Article
MDPI and ACS Style
Ammosova, T.; Washington, K.; Rotimi, J.; Kumari, N.; Smith, K.A.; Niu, X.; Jerebtsova, M.; Nekhai, S. Protein Phosphatase-1 Regulates Expression of Neuregulin-1. Biology 2016, 5, 49.
Note that from the first issue of 2016, MDPI journals use article numbers instead of page numbers. See further details here.
Related Articles
Comments
[Return to top]