Decreased STAT3 Phosphorylation Mediates Cell Swelling in Ammonia-Treated Astrocyte Cultures
1
Department of Pathology, Miller School of Medicine, University of Miami, Miami, FL 33101, USA
2
South Florida Foundation for Research and Education Inc., Miami VA Healthcare System, Miami, FL 33125, USA
3
Veterans Affairs Medical Center, U.S. Department of Veterans Affairs, Miami, FL 33125, USA
4
Department of Biochemistry & Molecular Biology, Miller School of Medicine, University of Miami, Miami, FL 33101, USA
5
Geriatric Research Education and Clinical Center, U.S. Department of Veterans Affairs, Miami, FL 33125, USA
6
Department of Urology, Miller School of Medicine, University of Miami, Miami, FL 33101, USA
*
Authors to whom correspondence should be addressed.
Academic Editors: Arthur J.L. Cooper and Thomas M. Jeitner
Received: 20 September 2016 / Revised: 18 November 2016 / Accepted: 24 November 2016 / Published: 2 December 2016
Abstract
Brain edema, due largely to astrocyte swelling, and the subsequent increase in intracranial pressure and brain herniation, are major complications of acute liver failure (ALF). Elevated level of brain ammonia has been strongly implicated in the development of astrocyte swelling associated with ALF. The means by which ammonia brings about astrocyte swelling, however, is incompletely understood. Recently, oxidative/nitrosative stress and associated signaling events, including activation of mitogen-activated protein kinases (MAPKs), as well as activation of the transcription factor, nuclear factor-kappaB (NF-κB), have been implicated in the mechanism of ammonia-induced astrocyte swelling. Since these signaling events are known to be regulated by the transcription factor, signal transducer and activator of transcription 3 (STAT3), we examined the state of STAT3 activation in ammonia-treated cultured astrocytes, and determined whether altered STAT3 activation and/or protein expression contribute to the ammonia-induced astrocyte swelling. STAT3 was found to be dephosphorylated (inactivated) at Tyrosine705 in ammonia-treated cultured astrocytes. Total STAT3 protein level was also reduced in ammonia-treated astrocytes. We also found a significant increase in protein tyrosine phosphatase receptor type-1 (PTPRT-1) protein expression in ammonia-treated cultured astrocytes, and that inhibition of PTPRT-1 enhanced the phosphorylation of STAT3 after ammonia treatment. Additionally, exposure of cultured astrocytes to inhibitors of protein tyrosine phosphatases diminished the ammonia-induced cell swelling, while cultured astrocytes over-expressing STAT3 showed a reduction in the astrocyte swelling induced by ammonia. Collectively, these studies strongly suggest that inactivation of STAT3 represents a critical event in the mechanism of the astrocyte swelling associated with acute liver failure.
View Full-Text
►

▼

Figures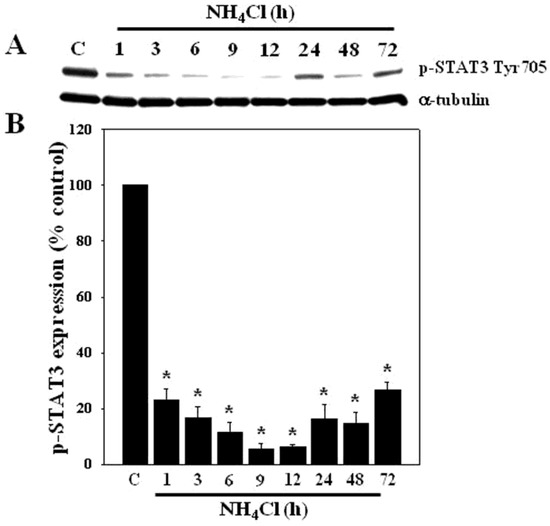 Figure 1
This is an open access article distributed under the
Creative Commons Attribution License
which permits unrestricted use, distribution, and reproduction in any medium, provided the original work is properly cited (CC BY 4.0).

Share & Cite This Article
MDPI and ACS Style
Jayakumar, A.R.; Curtis, K.M.; Panickar, K.S.; Shamaladevi, N.; Norenberg, M.D. Decreased STAT3 Phosphorylation Mediates Cell Swelling in Ammonia-Treated Astrocyte Cultures. Biology 2016, 5, 48.
Note that from the first issue of 2016, MDPI journals use article numbers instead of page numbers. See further details here.
Related Articles
Comments
[Return to top]