Individual Differences in the Post-Illumination Pupil Response to Blue Light: Assessment without Mydriatics
1
Department of Sleep and Cognition, Netherlands Institute for Neuroscience, Amsterdam 1105 BA, The Netherlands
2
Sleep Disorders Center, CHU and FMTS, CNRS-UPR 3212, Institute of Cellular and Integrative Neurosciences, University of Strasbourg, Strasbourg 67084, France
3
Center for Chronobiology, Psychiatric Hospital of the University of Basel, Basel CH-4012, Switzerland
4
PsyQ Psycho-Medical Programs, Expertise Center Adult ADHD, The Hague 2593 HR, The Netherlands
5
Departments of Integrative Neurophysiology and Psychiatry GGZ InGeest, Center for Neurogenomics and Cognitive Research (CNCR), Neuroscience Campus Amsterdam, VU University and Medical Center, Amsterdam 1081 HV, The Netherlands
*
Author to whom correspondence should be addressed.
Academic Editors: Christian Cajochen, Christina Schmidt and Sarah L. Chellappa
Received: 31 May 2016 / Revised: 25 August 2016 / Accepted: 30 August 2016 / Published: 9 September 2016
Abstract
Melanopsin-containing retinal ganglion cells play an important role in the non-image forming effects of light, through their direct projections on brain circuits involved in circadian rhythms, mood and alertness. Individual differences in the functionality of the melanopsin-signaling circuitry can be reliably quantified using the maximum post-illumination pupil response (PIPR) after blue light. Previous protocols for acquiring PIPR relied on the use of mydriatics to dilate the light-exposed eye. However, pharmacological pupil dilation is uncomfortable for the participants and requires ophthalmological expertise. Hence, we here investigated whether an individual's maximum PIPR can be validly obtained in a protocol that does not use mydriatics but rather increases the intensity of the light stimulus. In 18 participants (5 males, mean age ± SD: 34.6 ± 13.6 years) we evaluated the PIPR after exposure to intensified blue light (550 µW/cm
2
) provided to an undilated dynamic pupil. The test-retest reliability of the primary PIPR outcome parameter was very high, both between day-to-day assessments (Intraclass Correlation Coefficient (ICC) = 0.85), as well as between winter and summer assessments (ICC = 0.83). Compared to the PIPR obtained with the use of mydriatics and 160 µW/cm
2
blue light exposure, the method with intensified light without mydriatics showed almost zero bias according to Bland-Altman plots and had moderate to strong reliability (ICC = 0.67). In conclusion, for PIPR assessments, increasing the light intensity is a feasible and reliable alternative to pupil dilation to relieve the participant's burden and to allow for performance outside the ophthalmological clinic.
View Full-Text
►

▼

Figures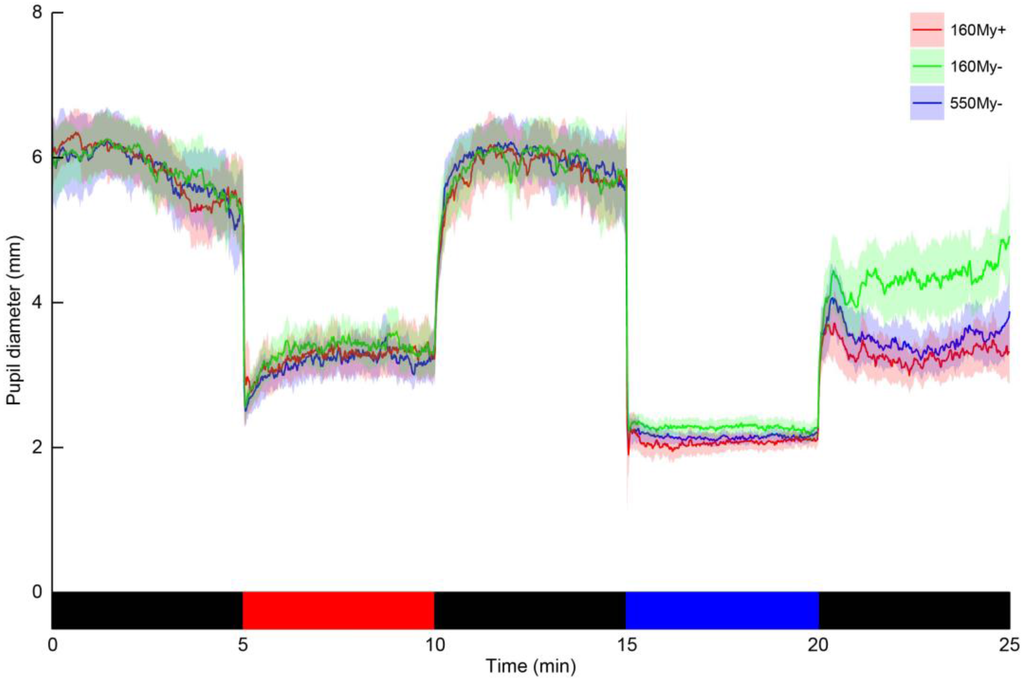 Figure 1
This is an open access article distributed under the
Creative Commons Attribution License
which permits unrestricted use, distribution, and reproduction in any medium, provided the original work is properly cited (CC BY 4.0).

Share & Cite This Article
MDPI and ACS Style
Bruijel, J.; Van der Meijden, W.P.; Bijlenga, D.; Dorani, F.; Coppens, J.E.; Te Lindert, B.H.W.; Kooij, J.J.S.; Van Someren, E.J.W. Individual Differences in the Post-Illumination Pupil Response to Blue Light: Assessment without Mydriatics. Biology 2016, 5, 34.
Note that from the first issue of 2016, MDPI journals use article numbers instead of page numbers. See further details here.
Related Articles
Comments
[Return to top]