Open Access This article is
freely available
re-usable
Review
Circadian Regulation of Synaptic Plasticity
Department of Biomedical Sciences, Elson S. Floyd College of Medicine, Washington State University Spokane, Pharmaceutical and Biomedical Science Building 213, 412 E. Spokane Falls Blvd., Spokane, WA 99202, USA
Academic Editors: Christian Cajochen, Christina Schmidt and Sarah L. Chellappa
Received: 2 June 2016 / Accepted: 4 July 2016 / Published: 13 July 2016
Abstract
:
Circadian rhythms refer to oscillations in biological processes with a period of approximately 24 h. In addition to the sleep/wake cycle, there are circadian rhythms in metabolism, body temperature, hormone output, organ function and gene expression. There is also evidence of circadian rhythms in synaptic plasticity, in some cases driven by a master central clock and in other cases by peripheral clocks. In this article, I review the evidence for circadian influences on synaptic plasticity. I also discuss ways to disentangle the effects of brain state and rhythms on synaptic plasticity.
Keywords:
circadian; clock; plasticity; sleep; state-clock model
1. Introduction
Synaptic plasticity can be defined as changes in the strength of existing synapses, changes in synapse number or size, or changes in morphological structures that contain or form synapses (e.g., dendritic spines and synaptic boutons). Traditionally, three physiological factors are recognized to trigger or influence synaptic plasticity in vivo: Waking experience, developmental programs and sleep (neurodegenerative synaptic changes are not included as they reflect pathological processes). Experience-dependent plasticity is triggered by changes in sensory input ranging from olfaction to vision. It has been demonstrated in a wide variety of sensory, motor and higher-order circuits in vertebrates and invertebrates [
1
,
2
]. Developmental programs include changes in synapses that operate independently of experience. An example of the latter is the early formation of visual circuits, which occurs according to innate instructions and proceeds even in the absence of vision [
3
].
The roles of experience and development are increasingly well understood, but the precise role of sleep remains mysterious. This is because the effects of sleep on synaptic plasticity vary across species, brain region and ontogenetic status and are partly determined by the kinds of experience that precede sleep [
4
]. Consequently, the role of sleep in synaptic plasticity is debated [
5
,
6
,
7
,
8
]. One possible explanation for these disparate results is that some of the plastic changes ascribed to sleep are instead driven by biological clocks. In the following sections, I summarize the evidence that biological clocks constitute a fourth factor in synaptic plasticity. I also present experiments that may disentangle the effects of brain state and rhythms on synaptic plasticity. This article thus extends and further develops topics I have discussed elsewhere [
4
]. This includes a more detailed investigation of how circadian processes can alter synapse number or strength [
4
] (for a discussion of clock mechanisms themselves, see [
9
]).
2. Circadian Rhythms in Synaptic Plasticity: Electrophysiological Measures
In mammals, evoked neuronal responses and the ability to induce Hebbian long-term potentiation (LTP) vary across the circadian day. There are diurnal/nocturnal rhythms in rat and monkey hippocampal excitatory post-synaptic potentials (EPSPs) [
10
] and hippocampal LTP is easier to induce (or is of greater magnitude) in hippocampal slices obtained from rodents sacrificed in the dark (active) phase (relative to the light phase) [
11
,
12
,
13
,
14
]. Interestingly, deletion of canonical clock genes (
Per1
and
Bmal
) reduces the magnitude of hippocampal LTP in situ [
15
,
16
,
17
]. These findings indicate that peripheral clocks regulate plasticity in the hippocampus. This is consistent with demonstrations of circadian rhythms in hippocampal kinase activity and hippocampal based learning [
18
,
19
]. Although less well studied, there is also evidence of circadian rhythms in excitability elsewhere in the brain. Hanada and Kawamura reported circadian rhythms in rat visual circuits in vivo that were independent of vigilance states and abolished by lesions of the mammalian central clock (suprachiasmatic nucleus: SCN) [
20
]. Circadian rhythms also appear to regulate neuronal firing rates in several reward circuits in the hypothalamus and noradrenergic neurons in the brainstem [
21
].
Circadian rhythms in neuronal excitability and activity have also been observed in invertebrates. Electroantennograms recorded in
Drosophila
[
22
] and the cockroach [
23
] exhibit a circadian rhythm in the response to specific odorants. This rhythm requires normal clock gene function and is driven from a peripheral clock mechanism resident in olfactory neurons [
24
]. Similarly, the resting membrane potential of large lateral-ventral neurons (LNv) neurons in
Drosophila
is more depolarized at the end of the night and more hyperpolarized at the end of the day [
25
,
26
]. In one study, these rhythms persisted in brain explants obtained from flies kept in constant conditions (continuous darkness: DD) [
26
].
3. Circadian Rhythms in Synaptic Plasticity: Morphological Measures
4. Mechanisms: Central and Peripheral Clocks
Circadian regulation of synaptic plasticity can involve central or peripheral clocks (
Figure 1
). Central clocks refer to dedicated cells or nuclei that impose rhythmicity on target structures. The mammalian SCN is one example. Peripheral clocks refer to oscillators that express canonical clock genes, are often synchronized by central clocks, but can operate independently from central clocks [
46
,
47
]. An example is the peripheral clock in the Drosophila MN5 motor neuron. Central clocks can influence plasticity in three ways. These are the production of 24-h rhythms in brain temperature, hormone and neuromodulator release and GABAergic inhibition. Peripheral clocks may influence plasticity via signaling pathways downstream of cycling clock genes. I discuss these topics below.
6. Conclusions
The role of central and peripheral clocks in synaptic plasticity is relatively unexplored. Not surprisingly, there are a number of important future directions and unanswered questions. One important future direction is to test predictions of the SCM. One way would be to remove circadian rhythms in hormone secretion or temperature. For example, if circadian rhythms in glucocorticoid secretion play an essential role, then eliminating such rhythms (via adrenalectomy [
83
]) should eliminate reported global sleep-wake differences in synaptic markers and plasticity [
78
]. There may also be ways to "clamp" core temperature in mammals [
48
], which would also eliminate the influence of circadian temperature cycles on synaptic efficacy and morphology. In mammals, this can be done via implantation of thermocouples to control the activity of temperature-sensitive neurons in the hypothalamus that regulate global brain temperature [
48
]. Alternatively, discrete regions of cortex or hippocampus could be cooled or warmed using a similar approach. A second important test would be to dissociate circadian rhythms from the sleep-wake cycle using forced-desynchrony protocols [
84
]. A prediction of the SCM is that global synaptic changes will remain in phase with the circadian cycle and not depend on changes in brain state. This prediction has been partially borne out in human studies of the electroencephalogram (EEG) [
85
]. In this study, the slope of EEG slow-waves (which is considered a measure of synaptic strength [
86
]) was shown to vary with circadian phase. In some cases, the circadian influence was equal or greater to the influence of sleep pressure. Inducible deletion of clock genes both centrally and peripherally would also provide an interesting test of the role of rhythms in plasticity. This would avoid potential confounds that arise from embryonic deletions, as it has been shown that clock genes may govern important aspects of brain development independent of their circadian time-keeping roles [
87
,
88
].
There are also a number of interesting questions that must await future investigation. One puzzling aspect of the SCN is that its outputs can preserve their sign regardless of whether species are diurnal or nocturnal. The secretion of melatonin for example is always maximal during the dark period even in nocturnal rodents. This seems counter-intuitive as melatonin appears to inhibit neural excitation and synaptic potentiation; processes that are generally promoted during the rodent active phase. The cycle of melatonin secretion also seems to work at cross-purposes with rhythms of brain temperature and glucocorticoid secretion that promote global increases in synaptic strength. It is possible that this may one day be explained by regional brain differences in the response to these factors, but to date this seeming paradox is unexplained. Another interesting question concerns peripheral clocks. Only a handful of studies have explored the role of core clock genes in synaptic plasticity. Consequently, we know very little about how they might influence receptor trafficking, the transcription of plasticity related mRNAs, protein synthesis and other essential processes in synaptic remodeling. A related question is how do central and peripheral clocks interact? As proposed by Mohawk et al. [
9
], core temperature rhythms driven by the SCN reset and entrain peripheral clocks in organs. Could a similar relationship exist between central clocks and peripheral clocks in extra-SCN neurons? It will also be important to re-examine the relationship between mammalian network events that occur during sleep (e.g., hippocampal sharp-waves and ripples), plasticity and circadian phase. Although these events can occur at the millisecond scale, they may be modulated by the slower envelope of changes in brain temperature and hormone release. A final important question to address is the functional significance of circadian rhythms in plasticity. Although one can, as I have, present plausible explanations for why this should occur, the fact remains that we know very little about how such rhythms impact essential neural function.
Acknowledgments
This work was supported by National Institutes of Health EY019022 and HL114161 to M.G.F.
Conflicts of Interest
The author declares no conflict of interest. The founding sponsors had no role in the design of the study; in the collection, analyses, or interpretation of data; in the writing of the manuscript, and in the decision to publish the results.
Abbreviations
The following abbreviations are used in this manuscript:
| | |
| --- | --- |
| AMPAR | α-amino-3-hydroxy-5-methyl-4-isoxazolepropionic acid receptor |
| Cam | calmodulin |
| LTP | Long-term potentiation |
| LTD | Long-term depression |
| SCN | Suprachiasmatic Nucleus |
| SCM | State-Clock Model |
| LNv | Lateral-Ventral Neuron |
| LD | Light-Dark |
| DD | Dark-Dark |
| TRP | transient receptor potential |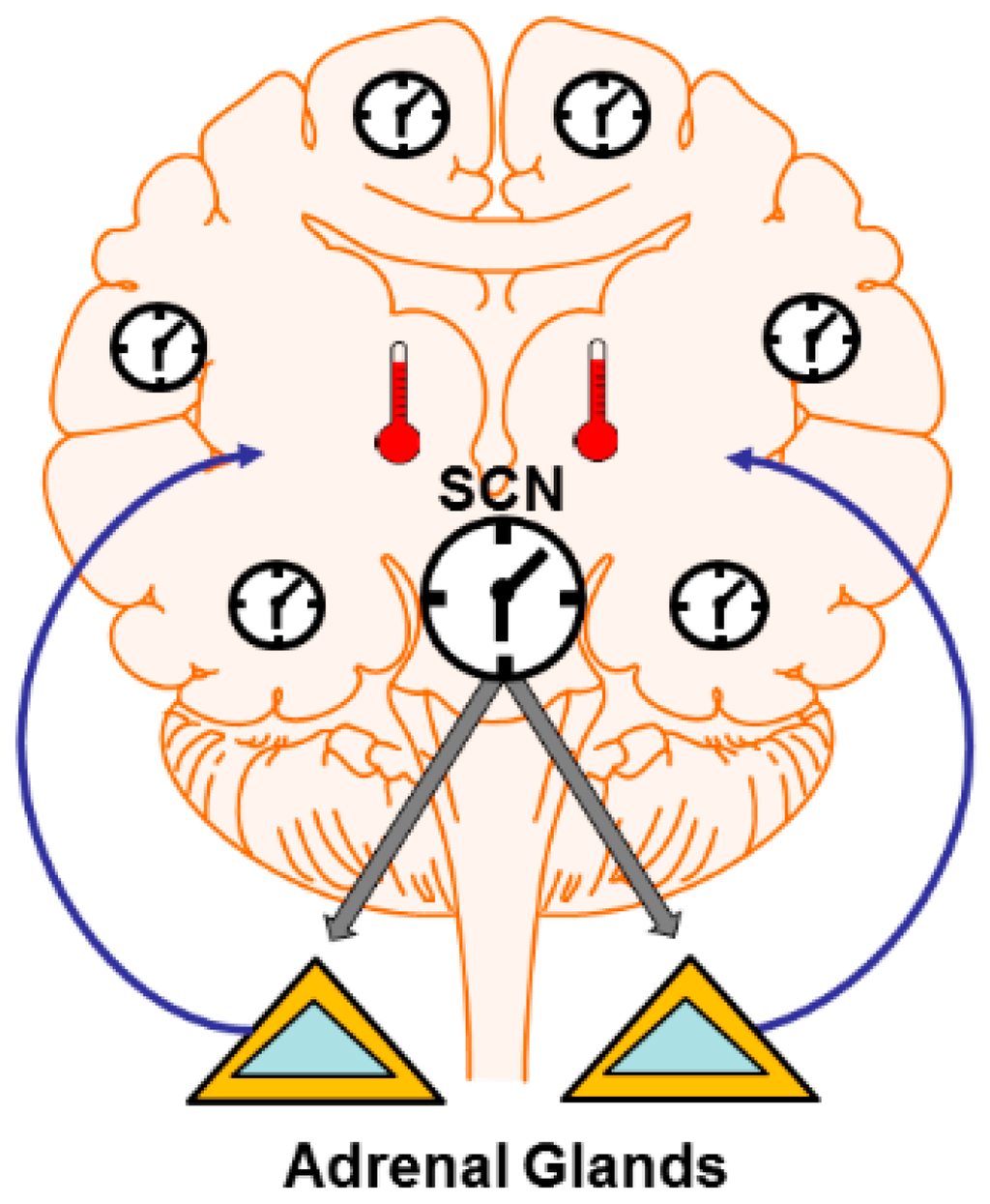 Figure 1. Central and peripheral clocks influence synaptic plasticity. Central clocks like the mammalian suprachiasmatic nucleus (SCN) can impose rhythms in non-clock circuits via several mechanisms. These include rhythms in hormonse and neuromodulator output (e.g., cycles of glucocorticoid release from the adrenal glands) which can alter synapses widely throughout the brain. The SCN also directly drives rhythms in core and brain temperature. Temperature profoundly influences neural function and synaptic plasticity. Temperature may also operate to entrain peripheral clocks in non-SCN neurons. Peripheral clocks themselves can direct plastic changes due to the expression of cannonical clock genes outside central clocks.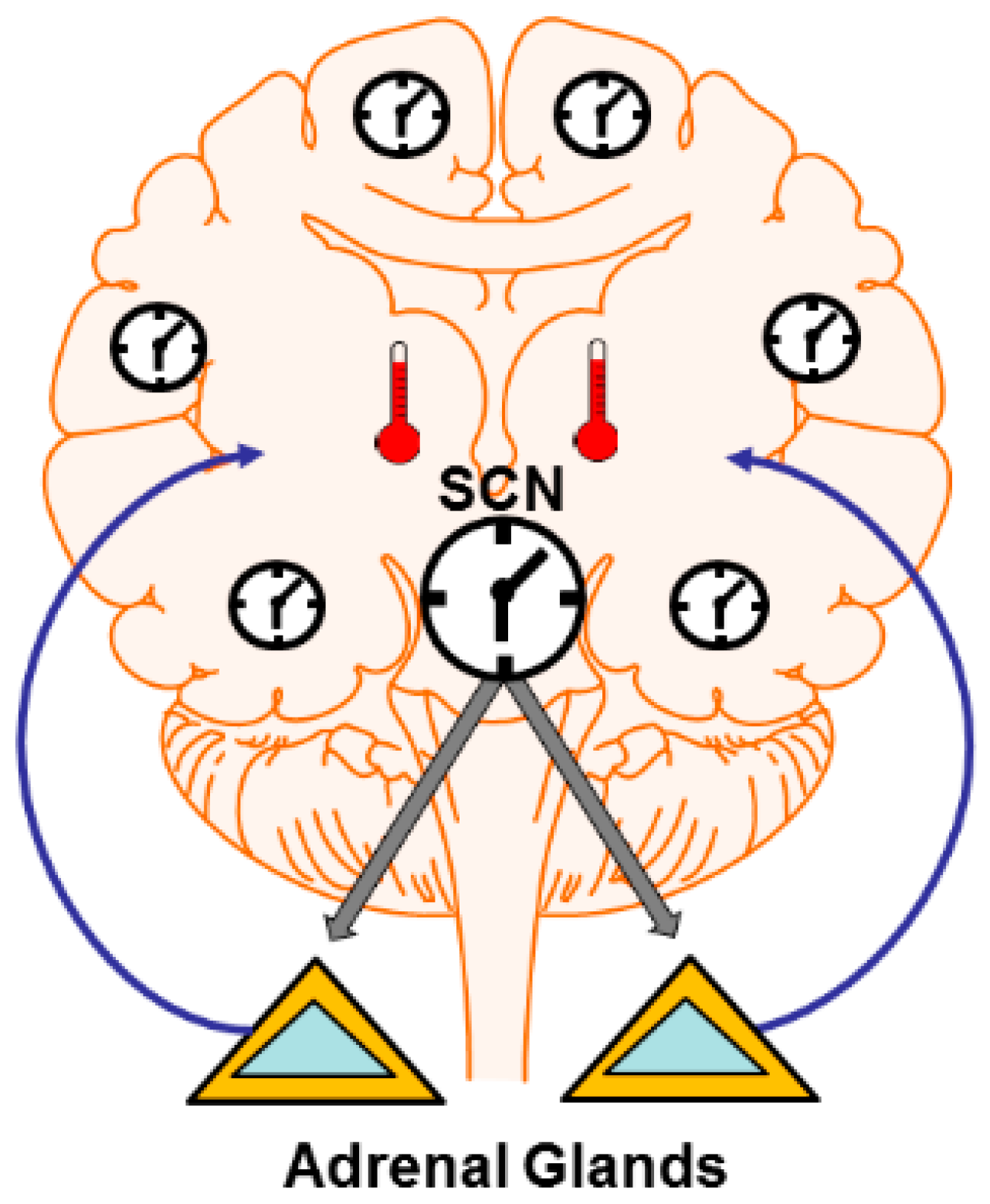 Figure 2. A State-Clock Model (SCM) of sleep and circadian regulation of synaptic plasticity. According to the SCM, biological clocks produce circuit-specific, 24-h rhythms in synaptic efficacy and morphology. It proposes that global synaptic changes observed across sleep and wake are driven by clocks and not brain state. This ensures that an organism's nervous system is optimized to encode experience during wakefulness and separates the induction and consolidation of plastic changes across the 24-h day. The latter process would then be expected to coincide with brain states conducive for consolidation (sleep). HPA = Hypothalamic-Pituitary-Adrenal axis.

© 2016 by the author; licensee MDPI, Basel, Switzerland. This article is an open access article distributed under the terms and conditions of the Creative Commons Attribution (CC-BY) license (http://creativecommons.org/licenses/by/4.0/).