Endocrine and Local IGF-I in the Bony Fish Immune System
1
Institute of Anatomy, University of Zurich, Winterthurerstrasse 190, Zurich 8057, Switzerland
2
Study Group "Magdeburger Arbeitsgemeinschaft für Forschung unter Raumfahrt- und Schwerelosigkeitsbedingungen" (MARS), Otto-von Guericke-University Magdeburg, Universitätsplatz 2, Magdeburg 39106, Germany
3
Friedrich-Loeffler-Institute, Federal Research Institute for Animal Health, Greifswald-Insel Riems 17493, Germany
4
Institute of Evolutionary Medicine, University of Zurich, Winterthurerstrasse 190, Zurich 8057, Switzerland
5
Institute for Fish and Wildlife Health, University of Bern, Länggassstrasse 122, Bern 3012, Switzerland
6
Fish Physiology and Genomics, UMR ISEM—Institut des Sciences de l'Evolution de Montpellier, Département Conservation et Domestication, CIRAD, Campus International de Baillarguet, TA B-116/A, Montpellier cedex 5, Montpellier 34398, France
7
Institute of Anatomy, University of Basel, Pestalozzistrasse 20, Basel 4056, Switzerland
8
Institute of Anatomy II, University of Erlangen-Nürnberg, Universitätsstraße 19, Erlangen 91054, Germany
*
Author to whom correspondence should be addressed.
Academic Editor: Brian Dixon
Received: 24 November 2015 / Revised: 14 January 2016 / Accepted: 18 January 2016 / Published: 26 January 2016
Abstract
A role for GH and IGF-I in the modulation of the immune system has been under discussion for decades. Generally, GH is considered a stimulator of innate immune parameters in mammals and teleost fish. The stimulatory effects in humans as well as in bony fish often appear to be correlated with elevated endocrine IGF-I (liver-derived), which has also been shown to be suppressed during infection in some studies. Nevertheless, data are still fragmentary. Some studies point to an important role of GH and IGF-I particularly during immune organ development and constitution. Even less is known about the potential relevance of local (autocrine/paracrine) IGF-I within adult and developing immune organs, and the distinct localization of IGF-I in immune cells and tissues of mammals and fish has not been systematically defined. Thus far, IGF-I has been localized in different mammalian immune cell types, particularly macrophages and granulocytes, and in supporting cells, but not in T-lymphocytes. In the present study, we detected IGF-I in phagocytic cells isolated from rainbow trout head kidney and, in contrast to some findings in mammals, in T-cells of a channel catfish cell line. Thus, although numerous analogies among mammals and teleosts exist not only for the GH/IGF-system, but also for the immune system, there are differences that should be further investigated. For instance, it is unclear whether the primarily reported role of GH/IGF-I in the innate immune response is due to the lack of studies focusing on the adaptive immune system, or whether it truly preferentially concerns innate immune parameters. Infectious challenges in combination with GH/IGF-I manipulations are another important topic that has not been sufficiently addressed to date, particularly with respect to developmental and environmental influences on fish growth and health.
View Full-Text
►

▼

Figures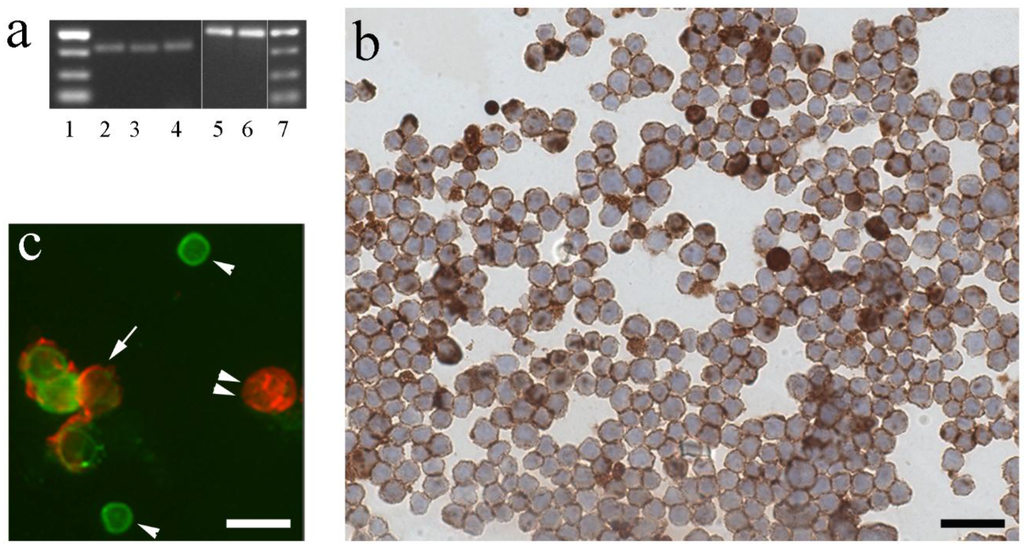 Figure 1
This is an open access article distributed under the
Creative Commons Attribution License
which permits unrestricted use, distribution, and reproduction in any medium, provided the original work is properly cited (CC BY 4.0).

Share & Cite This Article
MDPI and ACS Style
Franz, A.-C.; Faass, O.; Köllner, B.; Shved, N.; Link, K.; Casanova, A.; Wenger, M.; D'Cotta, H.; Baroiller, J.-F.; Ullrich, O.; Reinecke, M.; Eppler, E. Endocrine and Local IGF-I in the Bony Fish Immune System. Biology 2016, 5, 9.
Note that from the first issue of 2016, MDPI journals use article numbers instead of page numbers. See further details here.
Related Articles
Comments
[Return to top]