MALDI Mass Spectrometry Imaging of Lipids and Gene Expression Reveals Differences in Fatty Acid Metabolism between Follicular Compartments in Porcine Ovaries
1
INRA, UMR INRA 85-CNRS 7247-Université de Tours-IFCE, Physiologie de la Reproduction et des Comportements, F-37540 Nouzilly, France
2
INRA, Plate-Forme d'Analyse Intégrative des Biomolécules, Laboratoire de Spectrométrie de Masse, F-37380 Nouzilly, France
3
INRA, UMR 1282 Infectiologie et Santé Publique, F-37380 Nouzilly, France
*
Author to whom correspondence should be addressed.
Academic Editor: Annette Graham
Received: 25 September 2014 / Revised: 18 February 2015 / Accepted: 27 February 2015 / Published: 6 March 2015
Abstract
In mammals, oocytes develop inside the ovarian follicles; this process is strongly supported by the surrounding follicular environment consisting of cumulus, granulosa and theca cells, and follicular fluid. In the antral follicle, the final stages of oogenesis require large amounts of energy that is produced by follicular cells from substrates including glucose, amino acids and fatty acids (FAs). Since lipid metabolism plays an important role in acquiring oocyte developmental competence, the aim of this study was to investigate site-specificity of lipid metabolism in ovaries by comparing lipid profiles and expression of FA metabolism-related genes in different ovarian compartments. Using MALDI Mass Spectrometry Imaging, images of porcine ovary sections were reconstructed from lipid ion signals for the first time. Cluster analysis of ion spectra revealed differences in spatial distribution of lipid species among ovarian compartments, notably between the follicles and interstitial tissue. Inside the follicles analysis differentiated follicular fluid, granulosa, theca and the oocyte-cumulus complex. Moreover, by transcript quantification using real time PCR, we showed that expression of five key genes in FA metabolism significantly varied between somatic follicular cells (theca, granulosa and cumulus) and the oocyte. In conclusion, lipid metabolism differs between ovarian and follicular compartments.
View Full-Text
►

▼

Figures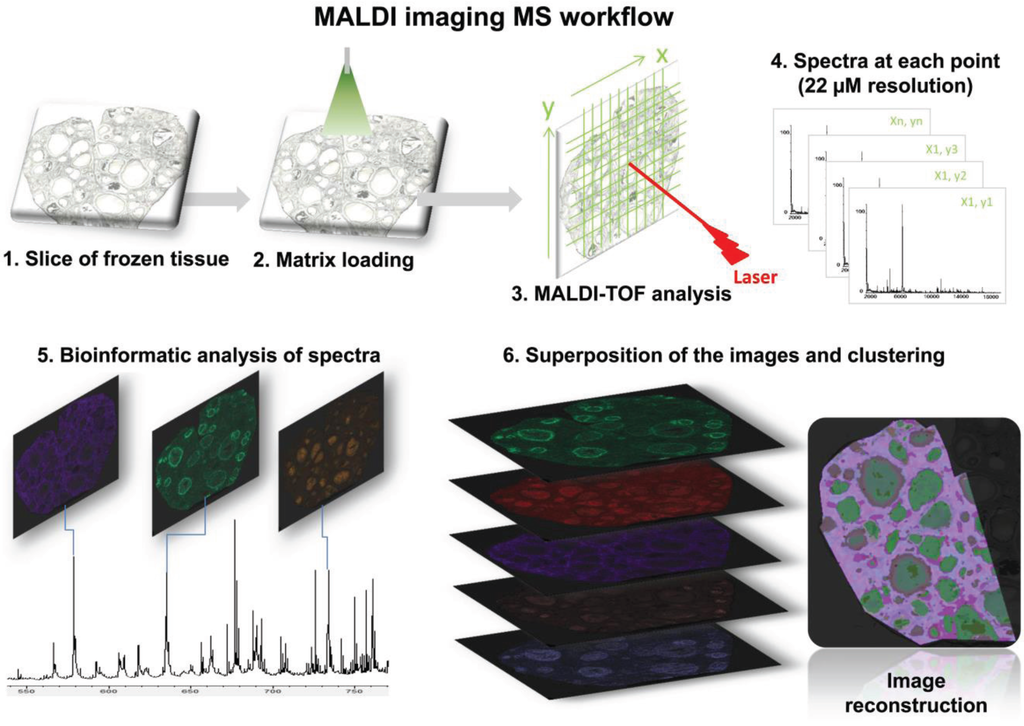 Figure 1
This is an open access article distributed under the
Creative Commons Attribution License
which permits unrestricted use, distribution, and reproduction in any medium, provided the original work is properly cited (CC BY 4.0).

Share & Cite This Article
MDPI and ACS Style
Uzbekova, S.; Elis, S.; Teixeira-Gomes, A.-P.; Desmarchais, A.; Maillard, V.; Labas, V. MALDI Mass Spectrometry Imaging of Lipids and Gene Expression Reveals Differences in Fatty Acid Metabolism between Follicular Compartments in Porcine Ovaries. Biology 2015, 4, 216-236.
Related Articles
Comments
[Return to top]