Open Access This article is
freely available
re-usable
Article
Bio-Polyamide 11 Hybrid Composites Reinforced with Basalt/Flax Interwoven Fibers: A Tough Green Composite for Semi-Structural Applications
1
Institute for Polymers, Composites and Biomaterials—National Council of Research, 80078 Pozzuoli, Naples, Italy
2
Department of Chemical, Materials and Production Engineering, University of Naples Federico II, 80125 Naples, Italy
*
Authors to whom correspondence should be addressed.
Received: 11 March 2019 / Accepted: 29 April 2019 / Published: 6 May 2019
Abstract
:
Intraply hybrid green composites were prepared by film stacking and hot-pressing of bio-based polyamide 11 (PA11) sheets and commercial hybrid fabrics made by interweaving flax and basalt fibers (2/2 twill structure). Two matrices were considered, one of them containing a plasticizing agent. After preliminary thermal and rheological characterizations of the neat matrices, the laminates were studied in terms of flexural properties at low and high deformation rates, and the results were interpreted in the light of morphological analyses (scanning electron and optical microscopy). Despite the poor interfacial adhesion detected for all investigated composite samples, the latter exhibited a good combination of flexural strength, modulus, and impact resistance. Such well-balanced mechanical properties make the studied samples potential candidates for semi-structural applications, e.g., in the transportation sector.
Keywords:
polyamide 11; interweaving flax-basalt fibers; hybrid composites; flexural properties
2. Materials and Methods
2.1. Materials
Two extrusion grade polyamide 11 (PA11) Besno Rilsan
®
from Arkema S.A. (Puteaux, France): a non-plasticised TL (density: 1.03 g/cm
3
,
[email protected]
°C/2.16 kg = 4.38 ± 1.25 g/10 min) and a plasticized P40 TL (density: 1.04 g/cm
3
,
[email protected]
°C/2.16 kg = 4.06 ± 0.61 g/10 min), were considered as matrices.
A hybrid fabric constituted by the interweaving of flax and basalt fibers in equal proportion and purchased at Lincore® (Bourguebus, France) with nominal areal weight 360 g/m2 and an architecture twill 2/2 type was used as the reinforcement.
2.2. Laminates Preparation
Films with a thickness approximately equal to 80 μm were prepared using a Collin flat die extruder Teach-Line E20T equipped with a calender CR72T (Collin GmbH, Ebersberg, Germany). In detail, filming was conducted at a screw speed of 60 rpm, setting the temperature profile along the screw at 170–210–220–220–200 °C.
Composite laminates were obtained by the film stacking technique according to which PA11 films and hybrid fiber fabrics were alternately stacked and hot-pressed with a lab press Mod. P400E (Collin GmbH, Ebersberg, Germany) under pre-optimized conditions with a maximum temperature of 225 °C. The molding cycle is shown in
Figure 1
.
Operating in this way, laminated samples were prepared by stacking four plies with plastic films. The final samples had a thickness approximately equal to 1.95 mm and volume fiber content of about 34%.
2.3. Calorimetric Tests
Differential scanning calorimetry (DSC) tests have been performed using a Q20 (TA Instruments, Milan, Italy) set-up on films of investigated matrices, at a rate of 10 °C/min and on the temperature range from 0 °C to 250 °C. The collected data permitted to assess the glass transition temperature of matrices and their degree of crystallinity according to the following Equation (1):
where Δ
Hm
is the measured melting enthalpy while Δ
Hm0
is the melting enthalpy of the PA11 fully crystallized (189 J/g) [
19
].
2.4. Rheological Analysis
The flow behavior of the polymer matrices was investigated through rotational rheometry using a stress-controlled rotational rheometer (AR-G2 by TA Instruments) (Milan, Italy). Oscillatory shear experiments (frequency scans) were carried out to get the elastic (G') and viscous (G'') moduli in the linear viscoelastic regime, whose limits were assessed through preliminary strain amplitude shear tests. The frequency scans were performed in air atmosphere from frequency ω = 102 rad/s down to ω = 10−1 rad/s. The strain amplitude was γ = 5% for both PA11 TL and PA11 P40 TL resins. The testing temperatures were T = 220 °C for the PA11 TL and T = 205 °C for the PA11 P40 TL. This enabled to compare the rheological behavior of the two matrices at the same reduced temperature θ = Ttest–Tm-c ≈ 10 °C (Tm-c being the temperature of melting peak closing). Note that lower temperatures were not explored because of the excessive viscosity of the selected matrices.
2.5. Morphological Observations
Morphological analysis was conducted on cryo-fractured surfaces of composite samples to highlight any interfacial feature useful to support mechanical results. In this regard, observations were captured with a field emission scanning electron microscope (mod. FEI QUANTA 200 F) (Zurich, Switzerland) operating in high vacuum conditions at the voltage of 20 kV. Analyzed surfaces were previously coated with a thin layer of a gold-palladium alloy.
2.6. Static-Mechanical Tests
Tensile and flexural tests were conducted with a Tensometer 2020 (Alpha Technologies, Cinisello Balsamo, Milan, Italy).
In particular, tensile measurements on the neat polymer matrices were performed on dog-bone shaped specimens, obtained by compression molding, according to the ASTM D638-14. Five specimens were tested at room temperature, with a displacement rate of 5 mm/min and using a load cell of 10 kN.
Flexural tests were carried out on both neat matrices and laminates. The measurements were performed loading each specimen up to 5% of strain, according to the ASTM D790-03, by using a load-cell of 500 N. The reported results represent average values computed from five independent measurements per each sample.
2.7. Charpy-Like Tests
High-velocity flexural properties of the laminates were estimated by means of an instrumented Charpy impact testing machine CEAST 9500 (ITW Test and Measurements, Pianezza, Turin, Italy). Three-point bending tests were performed on five specimens with a length approximately equal to 100 mm and using a span width of 62 mm, at a load application speed of 3.8 m/s. Results are reported in terms of stress-deformation curves.
3. Results
First of all, the results indicate that all specimens did not break during the high-speed flexural test. This further proves the high toughness of the investigated samples, which bend without breaking eventually slipping away. An estimate of the maximum deformation experienced by the samples can be computed through simple geometrical considerations, which lead to a limit deflection of about 39 mm. When properly converted with Equation (2), this value corresponds to about 12% of percentage strain. From a qualitative point of view, the two samples share the same behavior: the stress sharply increases until a maximum at about 4% of strain, and then it gradually decreases. No consideration can be made about the comparison between the rigidity of investigated composite systems, given the usual noise of this kind of curves. However, the performance of the composite based on PA11 P40 TL is only slightly lower than those of the sample based on the PA11 TL in spite of the big differences in terms of the flexural properties of the two matrices.
4. Conclusions
Hybrid composite laminates constituted by embedding an interweaved flax and basalt fibers fabric in two polyamide 11 resins, pure and plasticized, were prepared by film stacking and hot-pressing techniques under processing conditions preliminarily optimized by thermal and rheological analyses of the matrices. Specimens of appropriate size, cut from both pure matrix sheets and composite laminates, were subjected to mechanical tests. Specifically, pure resin specimens were studied by quasi-static tensile and flexural tests, while composite specimens were subjected to flexural measurements carried out at both low and high strain rate.
The plasticized matrix exhibited lower stiffness compared to its not plasticized counterpart, but its toughness was more than 50% higher. SEM investigations highlighted a poor polymer-fibers interfacial adhesion in both composites, with detrimental effects in terms of stress transfer ability, but with possible benefits in terms of dissipative phenomena under large deformations. The latter were explored through flexural tests performed at both low and high velocity. When tested under quasi-static conditions, the composites exhibited flexural stiffness and strength higher than those reported in the literature for green composites, and comparable with those of glass-fiber reinforced laminates. Good flexural properties were maintained even under high-velocity conditions, especially for the sample with a plasticized matrix. Overall, the present study demonstrates the suitability of the investigated green composites based on hybrid reinforcement for the manufacturing of items that must meet at least semi-structural requirements, e.g., for panels in the transportation field.
Author Contributions
Conceptualization, P.R. and G.F.; Methodology, P.R.; Formal analysis, P.R. and G.F.; Investigation, L.V. and G.S.; Writing—original draft preparation, P.R. and G.F.; Writing—review and editing, P.R. and G.F.; Supervision, P.R. and G.F.
Funding
This research received no external funding.
Conflicts of Interest
The authors declare no conflict of interest.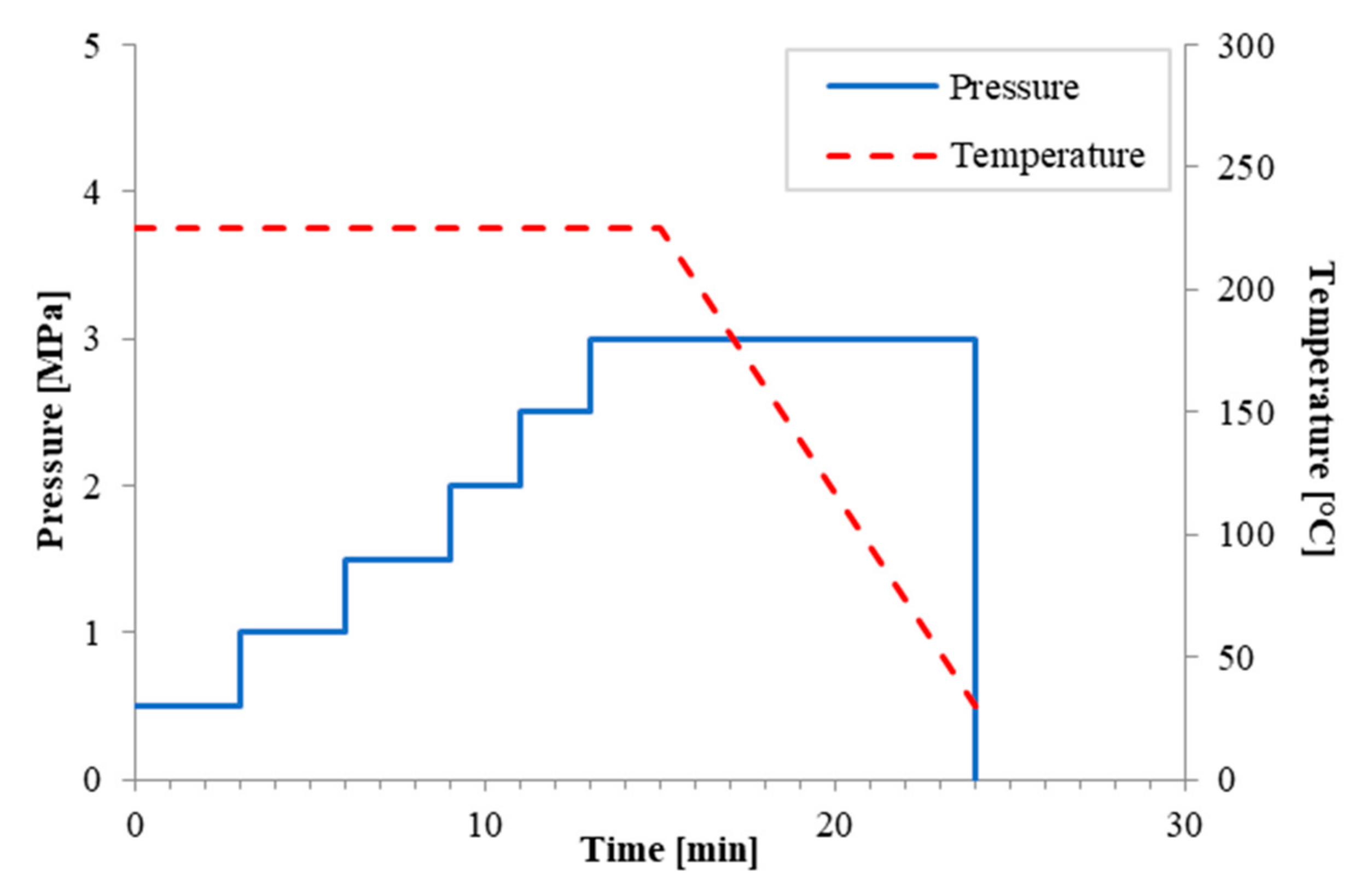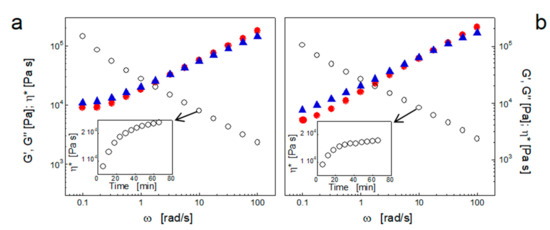 Figure 2. Frequency dependence of G' (red circles), G'' (blue triangles), and η * (empty circles) for PA11 TL (a) and PA11 P40 TL (b) at θ ≈ 10 °C. The time evolution of G' (red circles) and G'' (blue triangles) at ω = 10 rad/s is shown in the insets.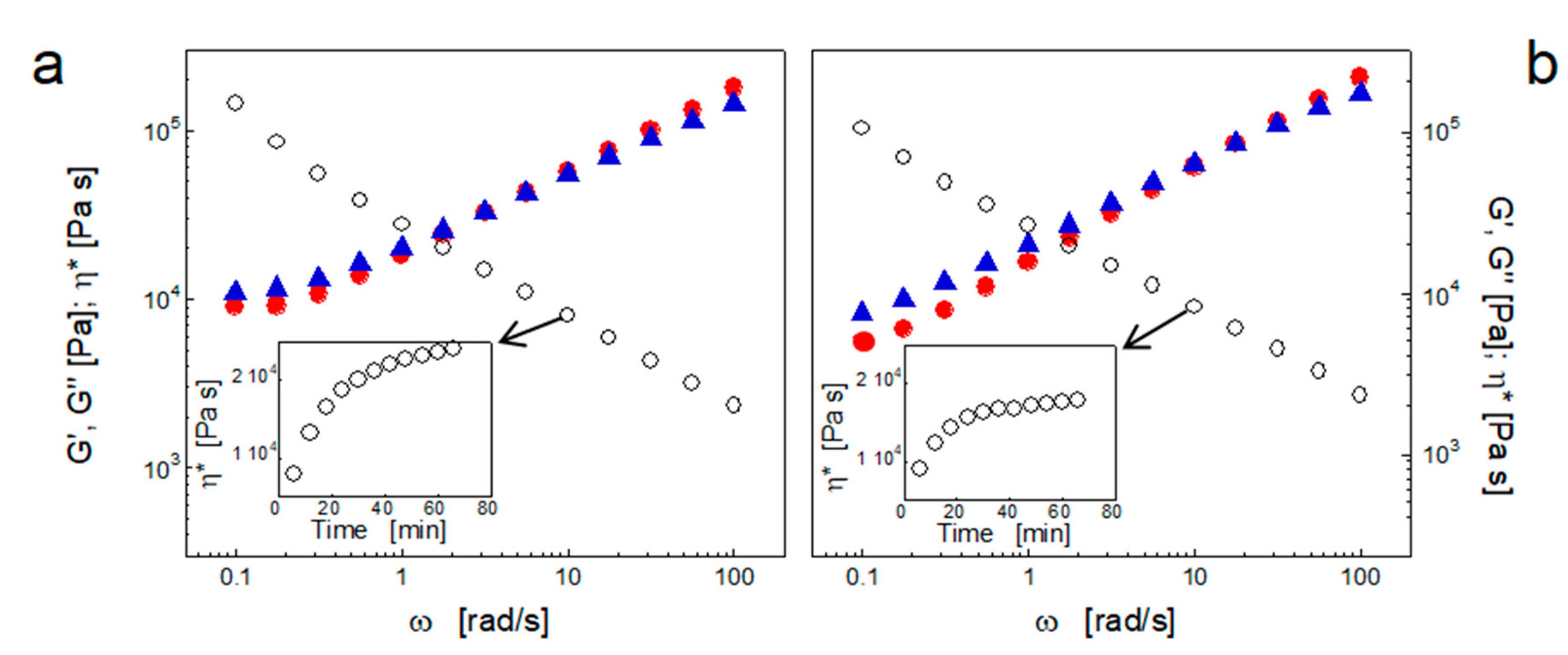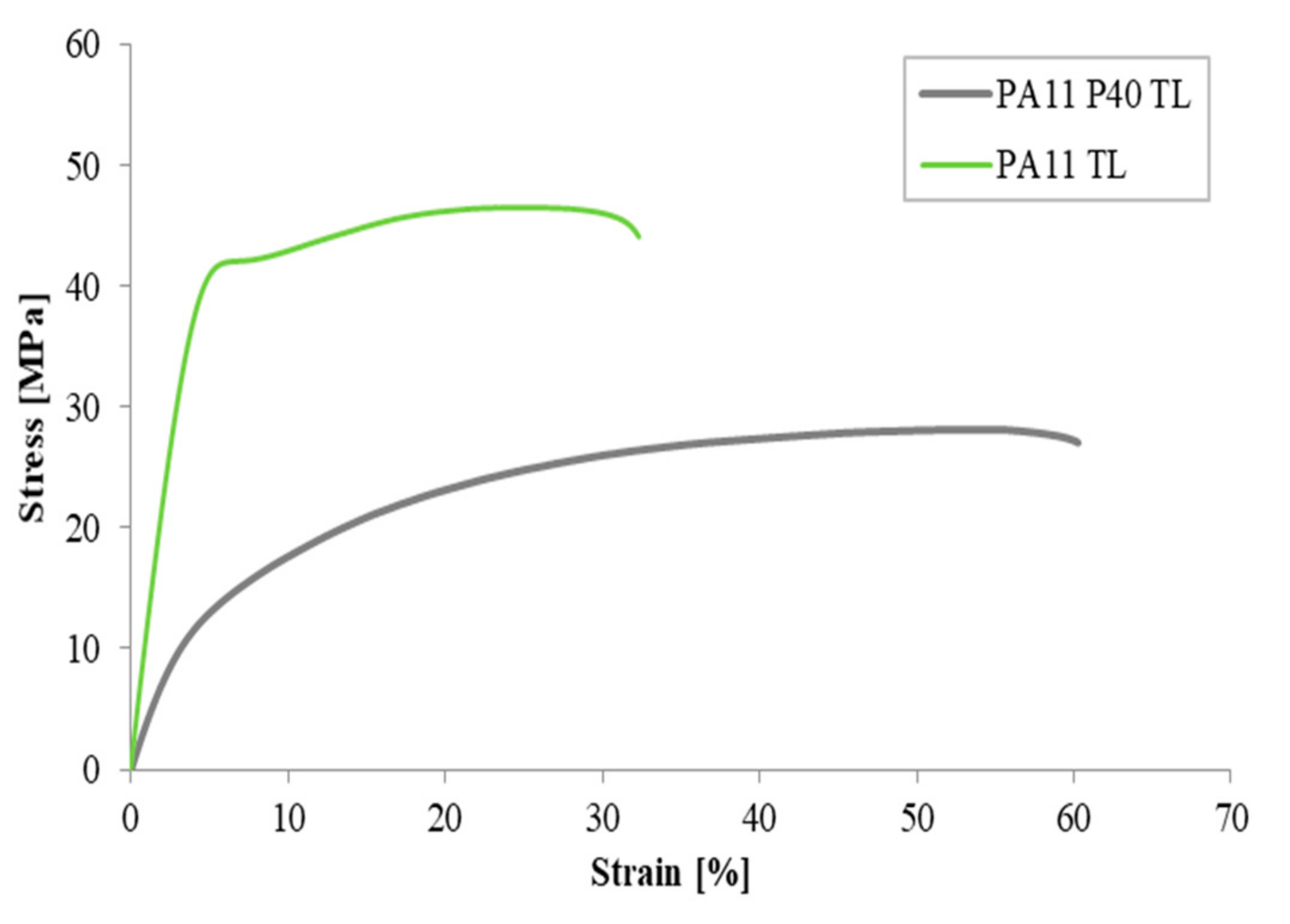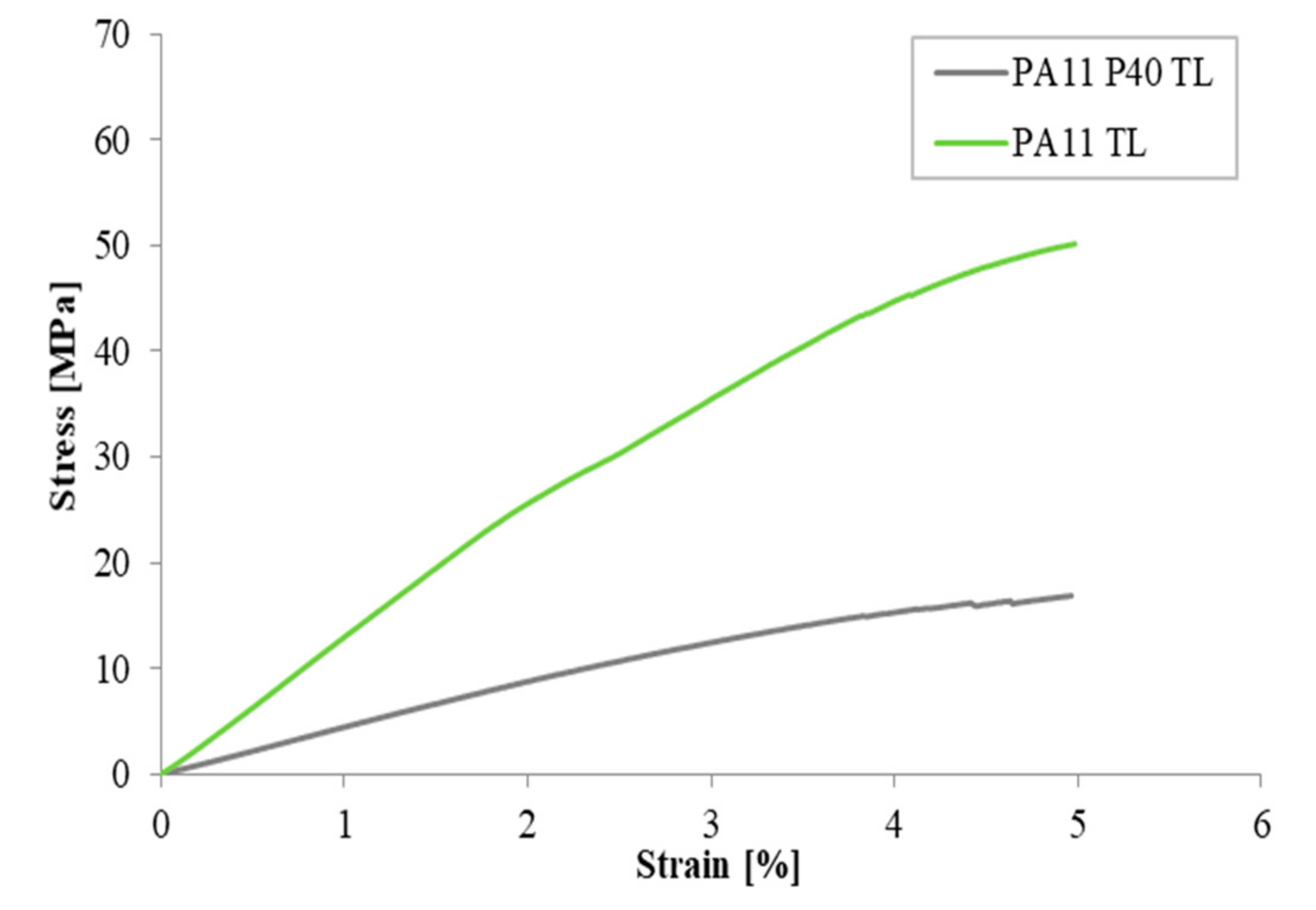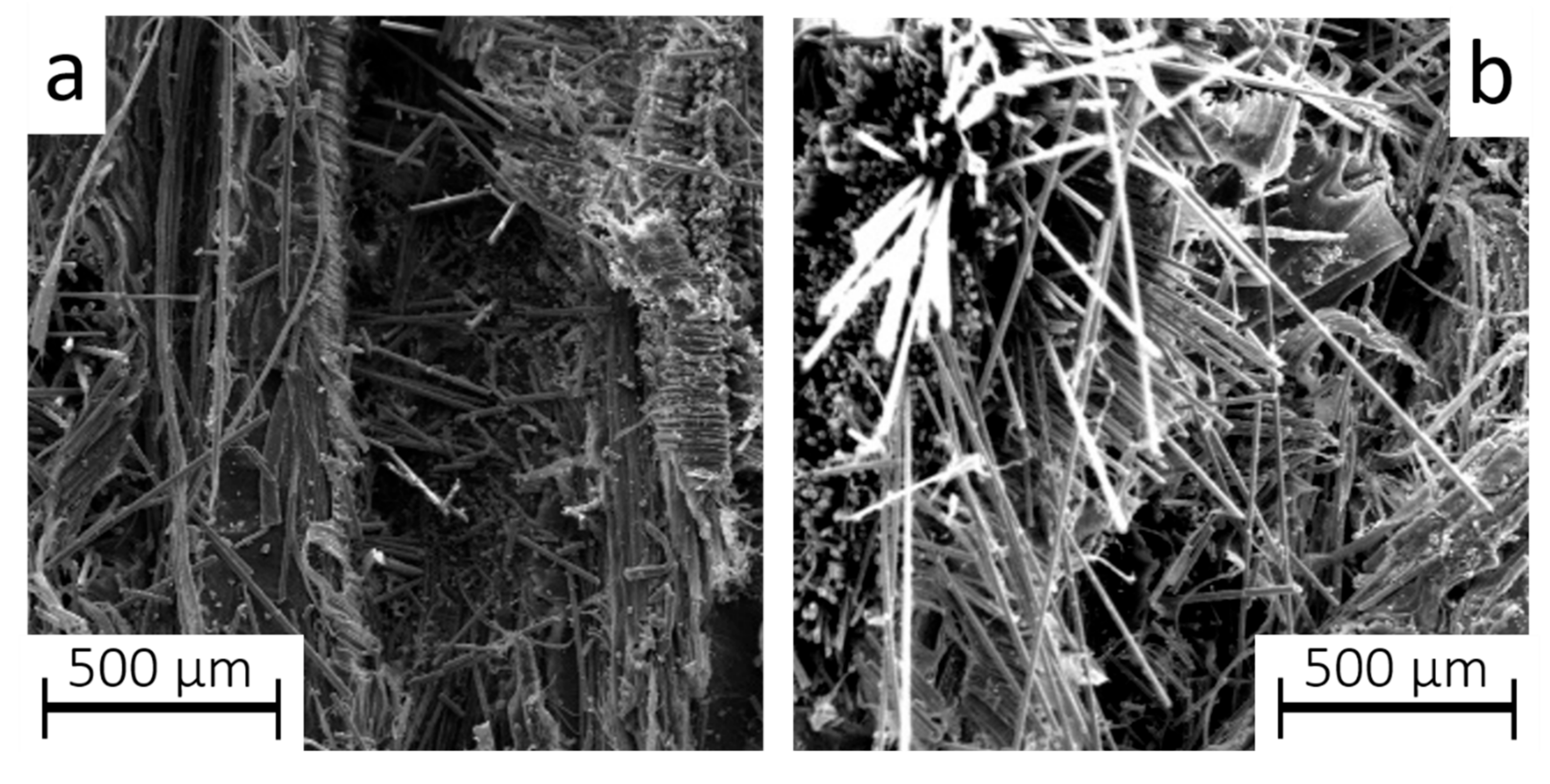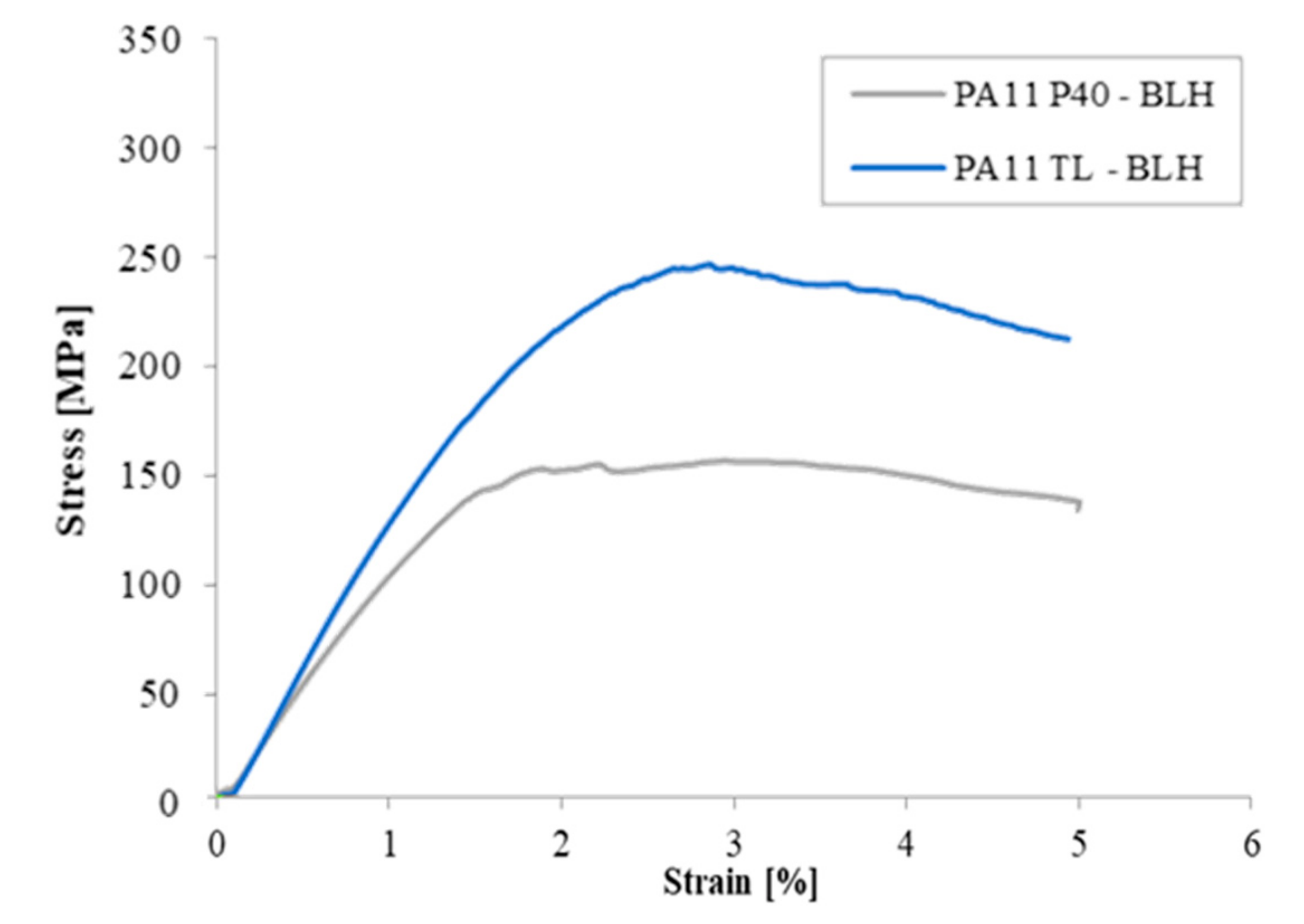 Figure 7. (a) Experimental set-up for the Charpy-like tests. (b) High speed-flexural stress-strain curves of the investigated PA11 composite laminates.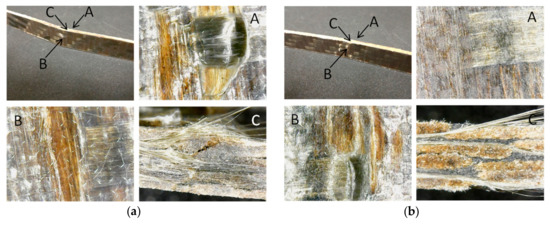 Figure 8. Optical micrographs showing the composite samples based on the not plasticizes PA11 TL (a) and plasticized PA11 P40 (b) after the Charpy-like tests. For both figures, the sub figures A, B and C represent the top view, the bottom view and the side view, respectively.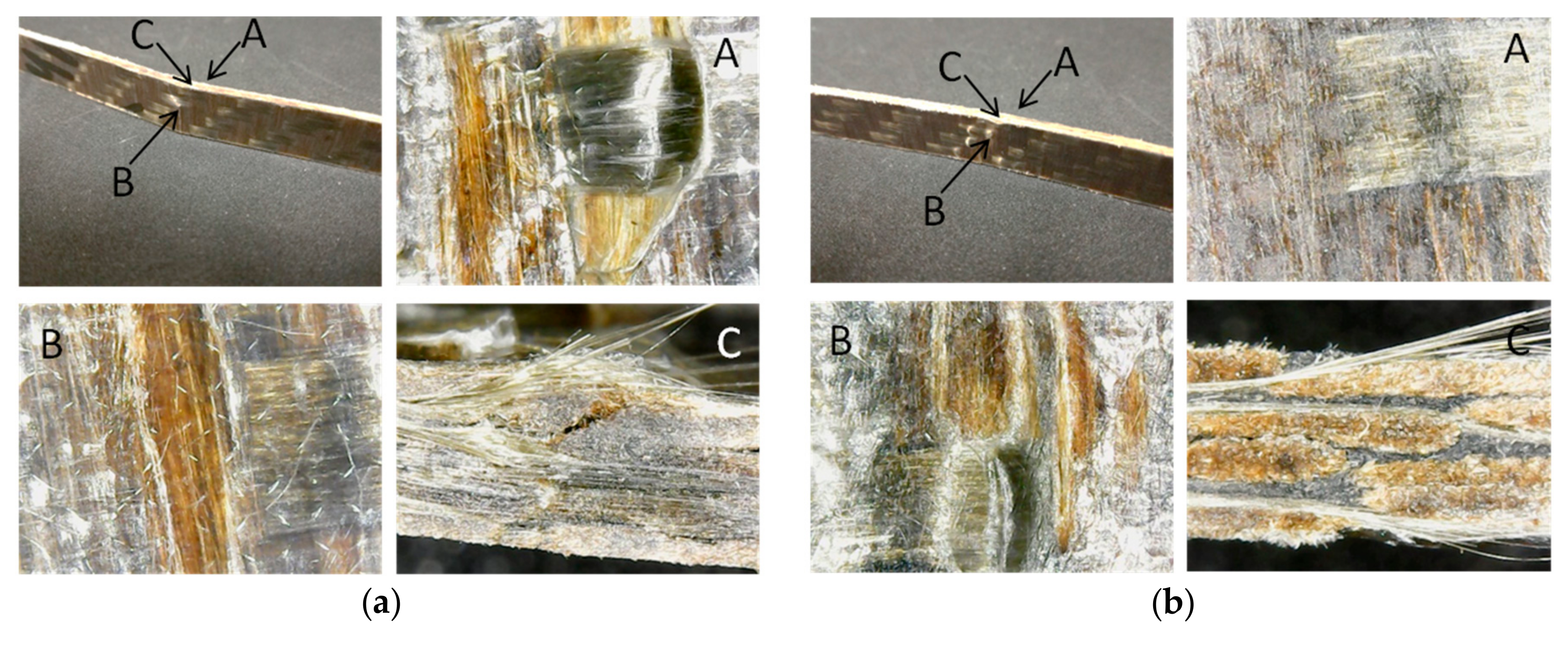 | Parameter | PA11 TL | PA11 P40 TL |
| --- | --- | --- |
| Glass transition temperature, Tg in °C | 50.5 | 37.7 |
| Melting temperature, Tm (onset/peak/peak closing) in °C | 182.6/193.8/210.2 | 164.7/182.5/195.5 |
| Melting enthalpy, ΔHm in J/g | 50.6 | 51.3 |
| Degree of crystallinity, χ in % | 26.7 | 27.1 |
| Parameter | PA11 TL | PA11 P40 TL |
| --- | --- | --- |
| Young modulus, in GPa | 1.01 ± 0.02 | 0.39 ± 0.02 |
| Yield stress (0.2% offset), in MPa | 38.8 ± 3.6 | 15.5 ± 0.4 |
| Yield strain (0.2% offset), in % | 4.9 ± 0.5 | 7.5 ± 0.5 |
| Tensile strength, in MPa | 44.9 ± 0.5 | 29.4 ± 1.1 |
| Stress at break, in MPa | 43.3 ± 2.4 | 28.8 ± 1.5 |
| Strain at break, in % | 26.9 ± 6.6 | 66.0 ± 5.8 |
| Toughness, in MPa | 10.7 ± 3.4 | 15.9 ± 1.6 |
| Resilience, in MPa | 1.56 ± 0.01 | 0.74 ± 0.08 |
| Parameter | PA11 TL | PA11 P40 TL |
| --- | --- | --- |
| Flexural modulus, in GPa | 1.31 ± 0.11 | 0.45 ± 0.06 |
| Flexural offset yield strength (0.2% offset), in MPa | 30.2 ± 2.4 | 11.8 ± 1.5 |
| Yield strain (0.2% offset), in % | 2.55 ± 0.13 | 2.72 ± 0.11 |
| Flexural strength, in MPa | >50.3 | >17.3 |
| | PA11 TL-BLH | PA11 P40 TL-BLH |
| --- | --- | --- |
| Flexural modulus, in GPa | 9.1 ± 0.4 | 7.5 ± 0.2 |
| Flexural offset yield strength (0.2% offset), in MPa | 173 ± 8.2 | 90 ± 7.4 |
| Yield strain (0.2% offset), in % | 1.46 ± 0.24 | 0.82 ± 0.16 |
| Flexural strength, in MPa | 250.1 ± 9.4 | 159.3 ± 6.1 |

© 2019 by the authors. Licensee MDPI, Basel, Switzerland. This article is an open access article distributed under the terms and conditions of the Creative Commons Attribution (CC BY) license (http://creativecommons.org/licenses/by/4.0/).