Design of [email protected]3O4 Core–Shell Materials and the Fe3O4 Shell Prevents Leaching of Arsenic from Scorodite in Neutral and Alkaline Environments
1
College of Chemistry and Chemical Engineering, Central South University, Changsha 410083, China
2
School of Light Industry and Engineering, Qilu University of Technology, Jinan 250353, China
*
Authors to whom correspondence should be addressed.
Received: 17 July 2019 / Revised: 13 August 2019 / Accepted: 14 August 2019 / Published: 16 August 2019
Abstract
In recent years, arsenic pollution has seriously harmed human health. Arsenic-containing waste should be treated to render it harmless and immobilized to form a stable, solid material. Scorodite (iron arsenate) is recognized as the best solid arsenic material in the world. It has the advantages of high arsenic content, good stability, and a low iron/arsenic molar ratio. However, scorodite can decompose and release arsenic in a neutral and alkaline environment. Ferroferric oxide (Fe
3
O
4
) is a common iron oxide that is insoluble in acid and alkali solutions. Coating a Fe
3
O
4
shell that is acid- and alkali-resistant on the surface of scorodite crystals will improve the stability of the material. In this study, a
[email protected]
3
O
4
core–shell structure material was synthesized. The synthesized core–shell material was detected by X-ray diffraction (XRD), scanning electron microscopy (SEM), X-ray photoelectron spectroscopy (XPS), Raman, and energy-dispersive X-ray spectroscopy (EDS) techniques, and the composition and structure were confirmed. The synthesis condition and forming process were analyzed. Long-term leaching tests were conducted to evaluate the stability of the synthesized
[email protected]
3
O
4
. The results indicate that the
[email protected]
3
O
4
had excellent stability after 20 days of exposure to neutral and weakly alkaline solutions. The inert Fe
3
O
4
shell could prevent the scorodite core from corrosion by the external solution. The
[email protected]
3
O
4
core–shell structure material was suitable for the immobilization of arsenic and has potential application prospects for the treatment of arsenic-containing waste.
View Full-Text
►

▼

Figures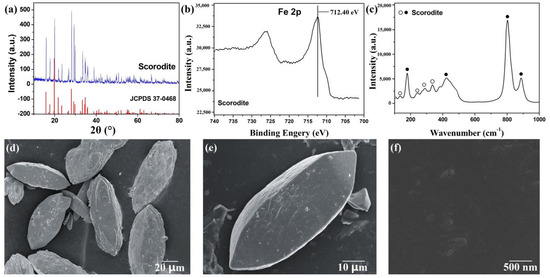 Figure 1
This is an open access article distributed under the
Creative Commons Attribution License
which permits unrestricted use, distribution, and reproduction in any medium, provided the original work is properly cited (CC BY 4.0).

Share & Cite This Article
MDPI and ACS Style
Wang, Y.; Rong, Z.; Tang, X.; Cao, S. Design of [email protected]3O4 Core–Shell Materials and the Fe3O4 Shell Prevents Leaching of Arsenic from Scorodite in Neutral and Alkaline Environments. Coatings 2019, 9, 523.
Note that from the first issue of 2016, MDPI journals use article numbers instead of page numbers. See further details here.
Related Articles
Comments
[Return to top]