Extrusion Coating of Paper with Poly(3-hydroxybutyrate-co-3-hydroxyvalerate) (PHBV)—Packaging Related Functional Properties
1
Fraunhofer Institute for Process Engineering and Packaging IVV, Giggenhauser Strasse 35, 85354 Freising, Germany
2
TUM School of Life Sciences Weihenstephan, Chair of Food Packaging Technology, Technical University of Munich, Weihenstephaner Steig 22, 85354 Freising, Germany
*
Author to whom correspondence should be addressed.
†
These authors contributed equally to this work.
Received: 6 June 2019 / Revised: 9 July 2019 / Accepted: 17 July 2019 / Published: 22 July 2019
Abstract
Taking into account the current trend for environmentally friendly solutions, paper coated with a biopolymer presents an interesting field for future packaging applications. This study covers the application of the biopolymer poly(3-hydroxybutyrate-co-3-hydroxyvalerate) (PHBV) on a paper substrate via extrusion coating. The intention of this study is to analyse the effect of a plasticiser on the processability (melting point, film thickness) and the final properties (crystallinity, elongation at break) of PHBV. Up to 15 wt.% of the plasticisers triethyl citrate (TEC) and polyethylene glycol (PEG) were used as additive. The processing (including melt flow rate) as well as the structural properties (melting and crystallisation temperature, surface structure by atomic force microscopy (AFM), polarisation microscopy, scanning electron microscopy (SEM)), mechanical properties (elongation at break, tensile strength, elastic modulus, adhesion), and barrier properties (grease) of these blends and their coating behaviour (thickness on paper), were tested at different extrusion temperatures. The melting temperature (
Tm
) of PHBV was reduced by the plasticisers (from 172 °C to 164 resp. 169 °C with 15 wt.% TEC resp. PEG). The minimal achieved PHBV film thickness on paper was 30 µm owing to its low melt strength. The elastic modulus decreased with both plasticisers (from 3000 N/mm
2
to 1200 resp. 1600 N/mm
2
with 15 wt.% TEC resp. PEG). At 15 wt.% TEC, the elongation at break increased to 2.4 length-% (pure PHBV films had 0.9 length-%). The grease barrier (staining) was low owing to cracks in the PHBV layers. The extrusion temperature correlated with the grease barrier, mechanical properties, and bond strength. The bond strength was higher for films extruded with a temperature profile for constant melt flow rate at different plasticiser concentrations. The bond strength was max. 1.2 N/15 mm. Grease staining occurs because of cracks induced by the low elongation at break and high brittleness. Extrusion coating of the used specific PHBV on paper is possible. In further studies, the minimum possible PHBV film thickness needs to be reduced to be cost-effective. The flexibility needs to be increased to avoid cracks, which cause migration and staining.
View Full-Text
►

▼

Figures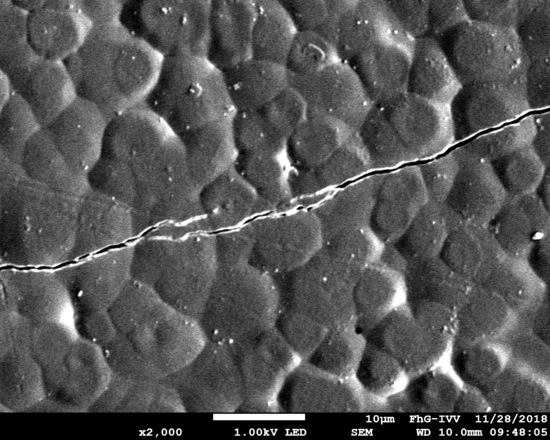 Graphical abstract
This is an open access article distributed under the
Creative Commons Attribution License
which permits unrestricted use, distribution, and reproduction in any medium, provided the original work is properly cited (CC BY 4.0).

Share & Cite This Article
MDPI and ACS Style
Sängerlaub, S.; Brüggemann, M.; Rodler, N.; Jost, V.; Bauer, K.D. Extrusion Coating of Paper with Poly(3-hydroxybutyrate-co-3-hydroxyvalerate) (PHBV)—Packaging Related Functional Properties. Coatings 2019, 9, 457.
Note that from the first issue of 2016, MDPI journals use article numbers instead of page numbers. See further details here.
Related Articles
Comments
[Return to top]