Chemical Modification of Novel Glycosidases from
Lactobacillus plantarum

Using Hyaluronic Acid: Effects on High Specificity against 6-Phosphate Glucopyranoside

1

Department of Biocatalysis, Institute of Catalysis (CSIC), Marie Curie 2, Campus UAM, Cantoblanco, E-28049 Madrid, Spain

2

Department of Microbial Biotechnology, Institute of Food Science, Technology and Nutrition (ICTAN-CSIC), José Antonio Novais 10, 28040 Madrid, Spain

3

Institute of Medicinal Chemistry (CSIC), Juan de la Cierva 3, E-28006 Madrid, Spain

*

Author to whom correspondence should be addressed.

Received: 9 April 2019 / Revised: 30 April 2019 / Accepted: 7 May 2019 / Published: 9 May 2019
Abstract
Three novel glycosidases produced from
Lactobacillus plantarum
, so called Lp_0440, Lp_2777, and Lp_3525, were isolated and overexpressed on
Escherichia coli
containing a His-tag for specific purification. Their specific activity was evaluated against the hydrolysis of
p
-nitrophenylglycosides and
p
-nitrophenyl-6-phosphate glycosides (glucose and galactose) at pH 7. All three were modified with hyaluronic acid (HA) following two strategies: A simple coating by direct incubation at alkaline pH or direct chemical modification at pH 6.8 through preactivation of HA with carbodiimide (EDC) and N-hydroxysuccinimide (NHS) at pH 4.8. The modifications exhibited important effect on enzyme activity and specificity against different glycopyranosides in the three cases. Physical modification showed a radical decrease in specific activity on all glycosidases, without any significant change in enzyme specificity toward monosaccharide (glucose or galactose) or glycoside (C-6 position free or phosphorylated). However, the surface covalent modification of the enzymes showed very interesting results. The glycosidase Lp_0440 showed low glycoside specificity at 25 °C, showing the same activity against
p
-nitrophenyl-glucopyranoside (
p
NP-Glu) or
p
-nitrophenyl-6-phosphate glucopyranoside (
p
NP-6P-Glu). However, the conjugated cHA-Lp_0440 showed a clear increase in the specificity towards the
p
NP-Glu and no activity against
p
NP-6P-Glu. The other two glycosidases (Lp_2777 and Lp_3525) showed high specificity towards
p
NP-6P-glycosides, especially to the glucose derivative. The HA covalent modification of Lp_3525 (cHA-Lp_3525) generated an enzyme completely specific against the
p
NP-6P-Glu (phosphoglycosidase) maintaining more than 80% of the activity after chemical modification. When the temperature was increased, an alteration of selectivity was observed. Lp_0440 and cHA-Lp_0440 only showed activity against
p
-nitrophenyl-galactopyranoside (
p
NP-Gal) at 40 °C, higher than at 25 °C in the case of the conjugated enzyme.
View Full-Text
►

▼

Figures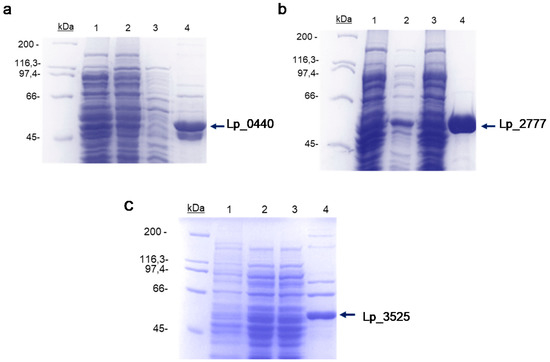 Figure 1
This is an open access article distributed under the
Creative Commons Attribution License
which permits unrestricted use, distribution, and reproduction in any medium, provided the original work is properly cited (CC BY 4.0).

Share & Cite This Article
MDPI and ACS Style
Perez-Rizquez, C.; Lopez-Tejedor, D.; Plaza-Vinuesa, L.; de las Rivas, B.; Muñoz, R.; Cumella, J.; Palomo, J.M. Chemical Modification of Novel Glycosidases from Lactobacillus plantarum Using Hyaluronic Acid: Effects on High Specificity against 6-Phosphate Glucopyranoside. Coatings 2019, 9, 311.
Note that from the first issue of 2016, MDPI journals use article numbers instead of page numbers. See further details here.
Related Articles
Comments
[Return to top]