Open Access This article is
freely available
re-usable
Article
Kinetically Deposited Copper Antimicrobial Surfaces
1
Army Research Laboratory, Aberdeen Proving Ground, MD 21005-5201, USA
2
Worcester Polytechnic Institute, Worcester, MA 01609, USA
3
Survice Engineering, Aberdeen, MD 21017, USA
*
Author to whom correspondence should be addressed.
Received: 13 February 2019 / Accepted: 11 April 2019 / Published: 17 April 2019
Abstract
:
Bacterial and viral contamination of contact surfaces increases the risk of infection. A great deal of work has been done on the capabilities of copper and its alloys to protect against a variety of microorganisms endangering public health, particularly in healthcare and food processing applications. This work has conclusively shown the effectiveness of copper for touch surface disinfection; however, the optimum microstructural characteristics of the copper surface have not been established. The sterilization effectiveness of three kinetically sprayed copper surfaces and two copper feedstocks were examined. The surfaces were inoculated with methicillin-resistant
Staphylococcus aureus
(MRSA) and influenza A virus. After a two-hour exposure to the surfaces, the surviving microorganisms were assayed, and the results contrasted. These tests showed substantial antimicrobial differences between the coatings generated by the spray techniques and those obtained by different feedstock powders. The significance of the copper spray application was demonstrated, and the application-dependent mechanism for antimicrobial effectiveness was explained.
Keywords:
antimicrobial; surface; copper; powder; spray
2. Materials and Methods
Surfaces that make contact with people and foods should be composed of copper or copper alloys, which can be achieved with solid copper or through a copper surface coating. Copper coatings are favored over solid structural copper because of cost considerations. Several metal spray methods can be used for depositing a copper surfaces, and an optimum deposition method should be identified.
2.1. Antibacterial Surface Coating
Three metal spray techniques were evaluated regarding the antibacterial activity of the copper surfaces produced by each. The commercial metal spray techniques evaluated were cold spray (high speed, kinetically deposited solid-state powder particles), plasma spray, and wire arc spray (moderate speed, kinetically deposited molten particles). The copper powder used for the antibacterial tests was ACuPowder 500A (mean diameter 16.9 µm, ACuPowder, Union, NJ, USA) for cold spray. The plasma arc used Praxair Cu-159 (−31/+5 µm, Praxair, Danbury, CT, USA), and the wire arc spray used copper wire as feedstock.
Approximately 0.3 mm-thick coatings were sprayed onto stainless steel coupons.
Table 1
gives the estimated particle impact conditions for the three processes, as well as the porosity and oxide ranges of the resulting deposits. Ranges for particle velocities and temperatures result from the range of particle diameters present in the powders. Porosity and oxide ranges are typical for the three spray methods.
Figure 1
shows cross sections of the deposits generated by the three spray methods. Differences in microstructures can be expected on the basis of the large differences experienced by impacting particles for the three methods. These differences in microstructure suggest that a variance in microbial destruction may also occur. Particle melting can be seen for the high-temperature plasma and wire arc processes. Large voids can be seen in the wire arc process cross-section.
2.2. Antiviral Surface Coating
Antiviral effectiveness was compared for cold-sprayed conventional copper powder feedstock and nanometer-particle-diameter feedstock powder. The nano copper powder was composed of micron-sized agglomerates (mean 25 µm) of nanoscale particles. The conventional (Praxair Cu-159) and nano (Eltron Research and Development Inc., Boulder, CO, USA) copper powder feedstocks used for cold sprays are shown in
Figure 2
.
Cross sections of the deposits generated by cold spray for antiviral tests are shown in
Figure 3
. The deposits produced by both powders formed dense coatings. The nano-structured deposit was non-uniform, exhibiting microstructural differences. This may be representative of the non-uniform nature of the nano feedstock. The variance in microstructures implies a difference in biological activity between conventional and nano copper surfaces.
2.3. Microbiological Procedure
The copper-coated coupons generated by the thermal spray devices in
Section 2.1
, as well as structural copper coupons, were inoculated with MRSA. The copper-coated coupons produced by cold spray for the conventional and nanoscale feedstock powders were inoculated with influenza A virus. Stainless-steel coupons were used as control substrates for both bacterial and viral tests. The inoculated coupons were then kept at room temperature for a given time period, after which survivors were re-suspended and cultured. The EPA Protocol, "Test Method for Efficacy of Copper Alloy Surfaces as a Sanitizer" was followed for the bacteria tests [
18
]. The EPA antimicrobial procedure was used with some changes for the influenza A tests as there is no EPA copper surface procedure for virus. The reduction of inoculated microbes was normalized by the results of the control exposure to a stainless-steel surface. The bacterial measurements were taken after 2 h of continuous exposure to the surfaces. The viral measurements were taken after several intermediate exposures up to 2 h. The full details of the procedures are given in reference [
19
,
20
].
3. Results
Figure 4
shows the percent of surviving
S. aureus
after 2 h of surface exposure. The results for cold-sprayed and structural copper were below the measurement thresholds and are thus reported as "less than". A three order of magnitude difference in disinfection efficiency between the plasma and wire arc methods and the cold spray method was observed. Differentiating between the results for the cold-sprayed surface and the structural copper surface was not possible, because of the measurement limit.
The results for viral killing are shown in
Figure 5
. As opposed to expectations, the result for the conventional copper cold-sprayed surface was very similar to that of the nano copper cold-sprayed surface, so it is not shown. The results obtained for the inactivation of influenza A on structural (wrought) copper (C1100) [
21
] were added to the graph for comparison. The difference in procedure between this current work and that of Noyce et al. is that this work utilized the TCID
50
Assay Protocol, while Noyce, et al. used a fluorescent dye that illuminated viral particles that were still infectious and counted virus particles recovered from the coupons under a microscope. Measurements were taken after 10, 30, 45, 60, 90, and 120 min exposures for the current work, while measurements were made after 60 and 360 min exposures for wrought copper. In both cases, the number of survivors on stainless-steel controls were orders of magnitude higher than on the copper surfaces. For clarity, the end points of the cold-sprayed copper data and the wrought copper were 0.13% at 120 min and 0.03% at 360 min, respectively.
4. Discussion
The antimicrobial effectiveness obtained with sprayed copper deposition methods in comparison with that achieved with copper feedstocks needed an examination to determine the effects of powder feedstock and deposition process on the copper surface. In order to relate the nature of the deposit to its antimicrobial effectiveness, we needed to know the mechanism by which contact killing occurred.
Thus, the process of cold-spraying copper can improve copper antibacterial activity through the generation of dislocations. The known effect of work hardening by cold spray is also a result of dislocation density growth.
5. Conclusions
The significant anti-microbiological differences between copper coatings originating as powders or as wrought material and the differences between powder application techniques demonstrate the importance of the deposition structure. The cold spray method showed greater antimicrobial effectiveness relative to the other two thermal spray methods, due to the much greater impact velocity of the sprayed particles which resulted in high dislocation density and high ionic copper diffusivity.
Cold spray is a commercial process, used for a variety of applications requiring metal coatings. The cold spray process can thus apply effective anti-microbial copper coatings onto touch surfaces and will not damage heat-sensitive substrates. For example, a hospital tray and its entire metal support structure was coated with cold-sprayed pure copper at the Army Research Cold Spray Center.
Author Contributions
Conceptualization, V.C. and D.H.; Methodology, K.S. and D.H.; Formal Analysis, V.C.; Investigation, D.H. and K.S.; Writing—Original Draft Preparation, D.H.; Writing—Review and Editing, V.C.; Supervision, V.C.; Project Administration, V.C.
Funding
This research received no external funding.
Acknowledgments
The sanitizer testing conducted against MRSA and influenza A virus and reported in this paper was carried out under contract by ATS Labs at Eagan MN. The work was performed by Amy Jeske, Becky Lien, and Shanen Conway.
Conflicts of Interest
The authors declare no conflict of interest.

Figure 1. Deposited copper cross sections. Plasma (a), wire arc (b), cold spray (c). Stainless steel substrates can be seen at the bottom.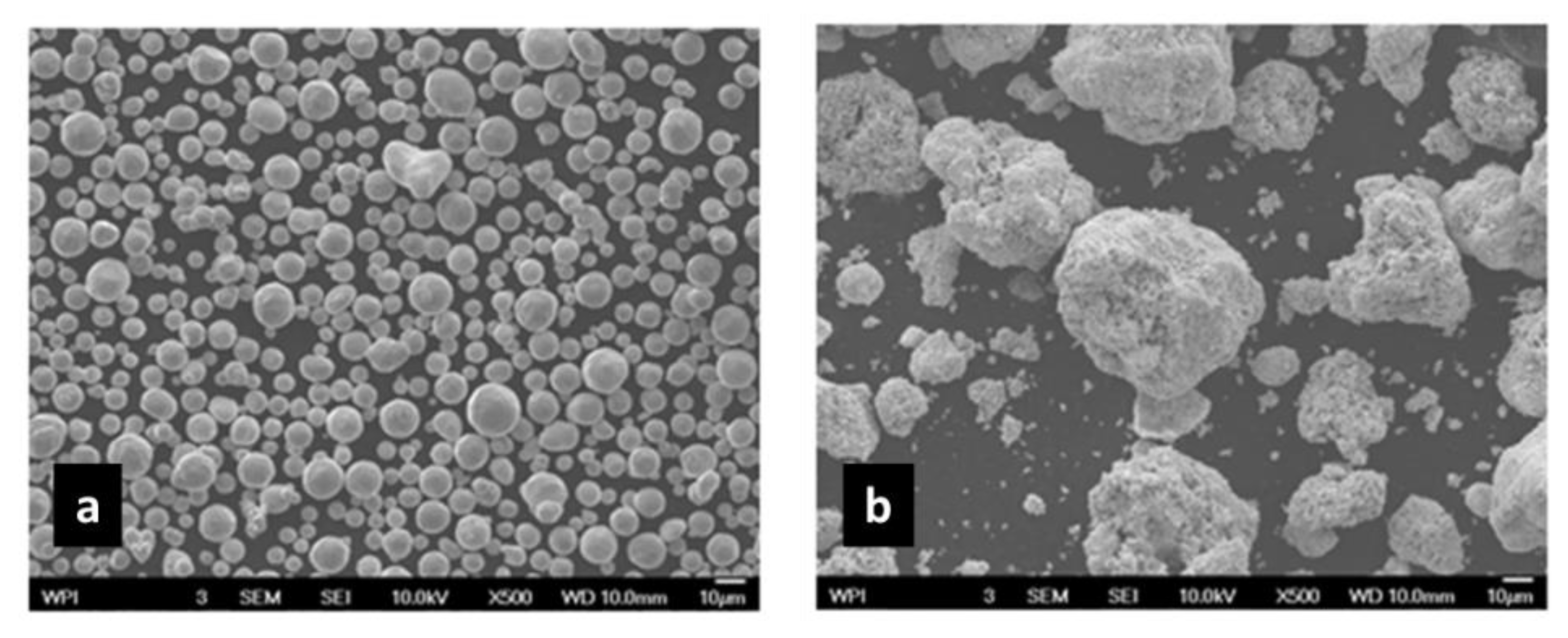 Figure 3. Cross-sectional views of the conventional powder (a) and the nanoscale powder (b) cold-sprayed deposits.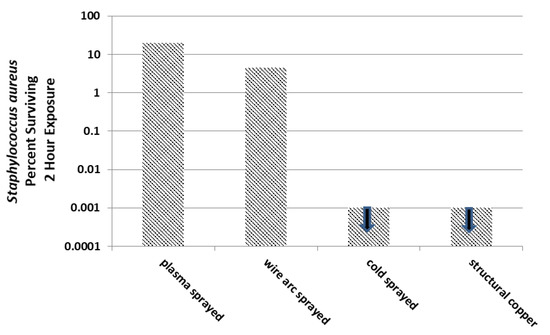 Figure 4.
Percent methicillin-resistant
Staphylococcus aureus
(MRSA) surviving after a two-hour exposure to copper surfaces.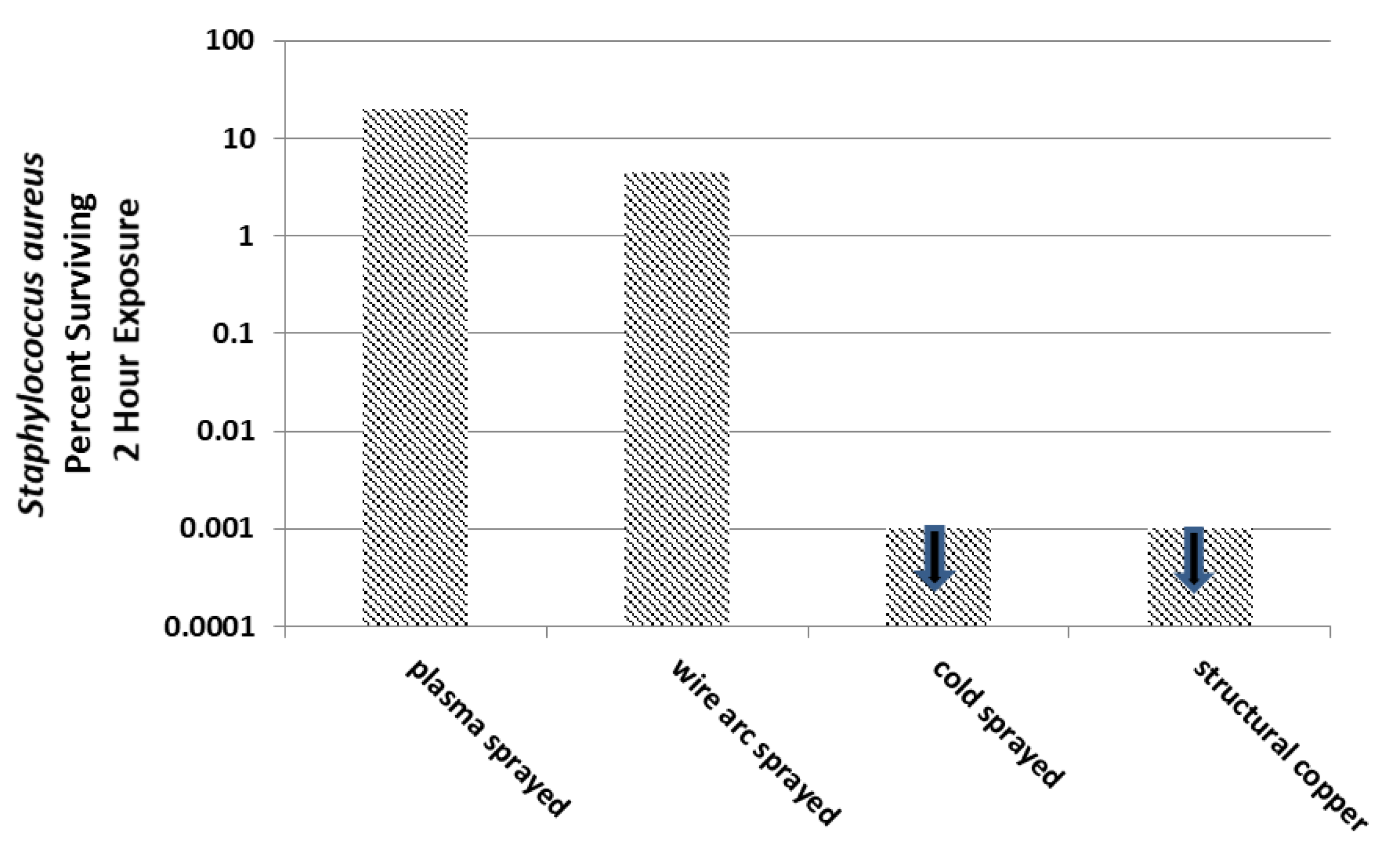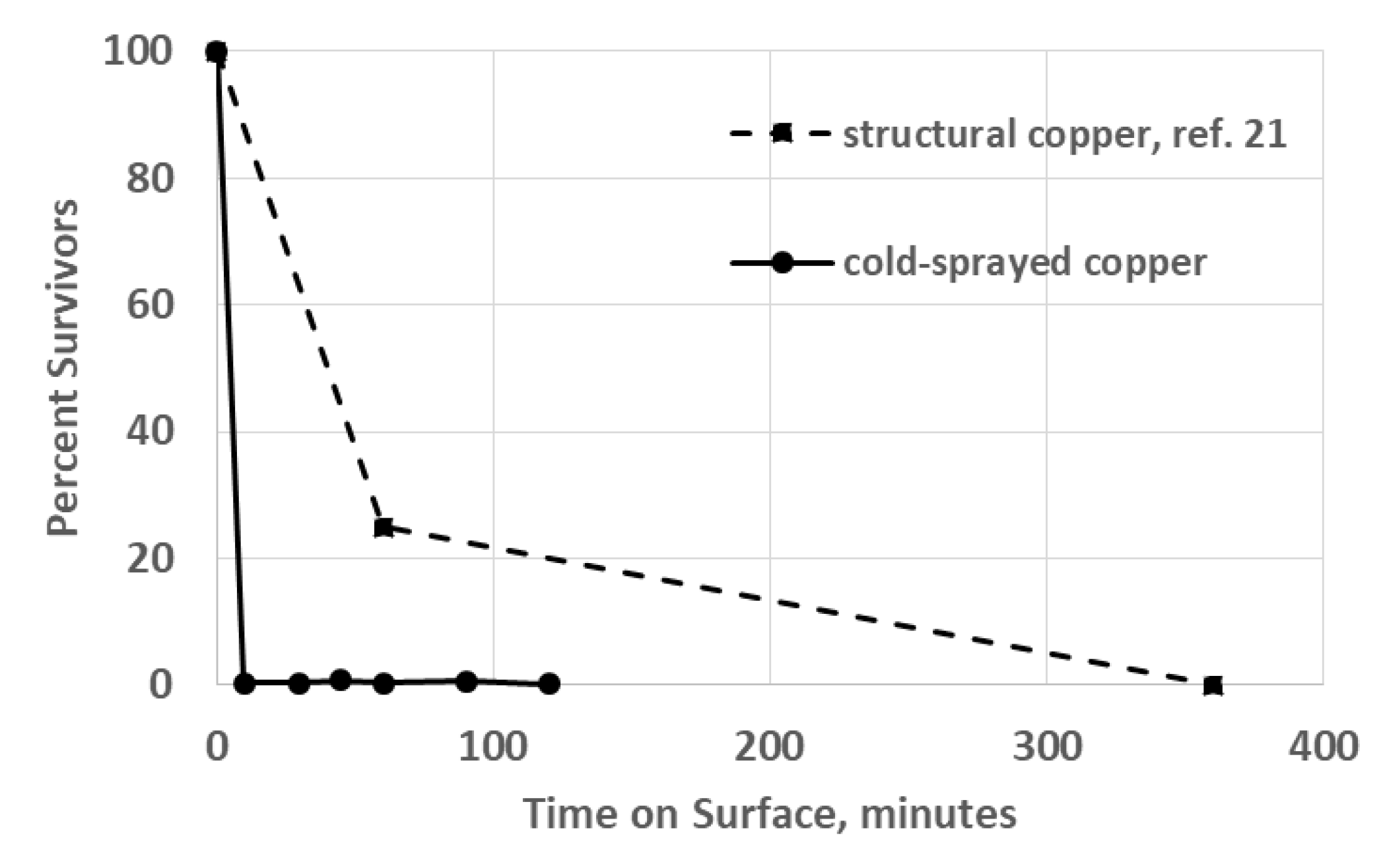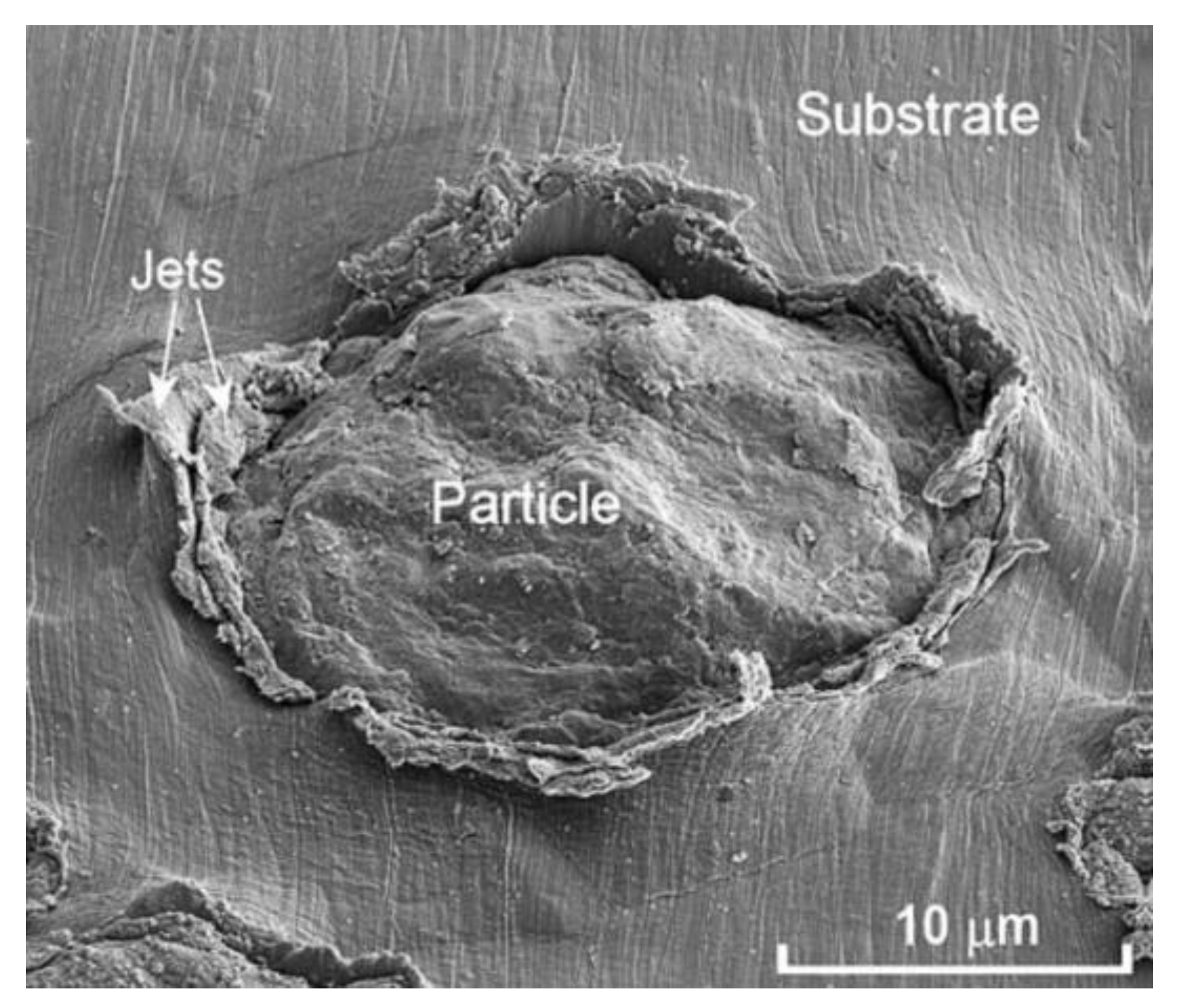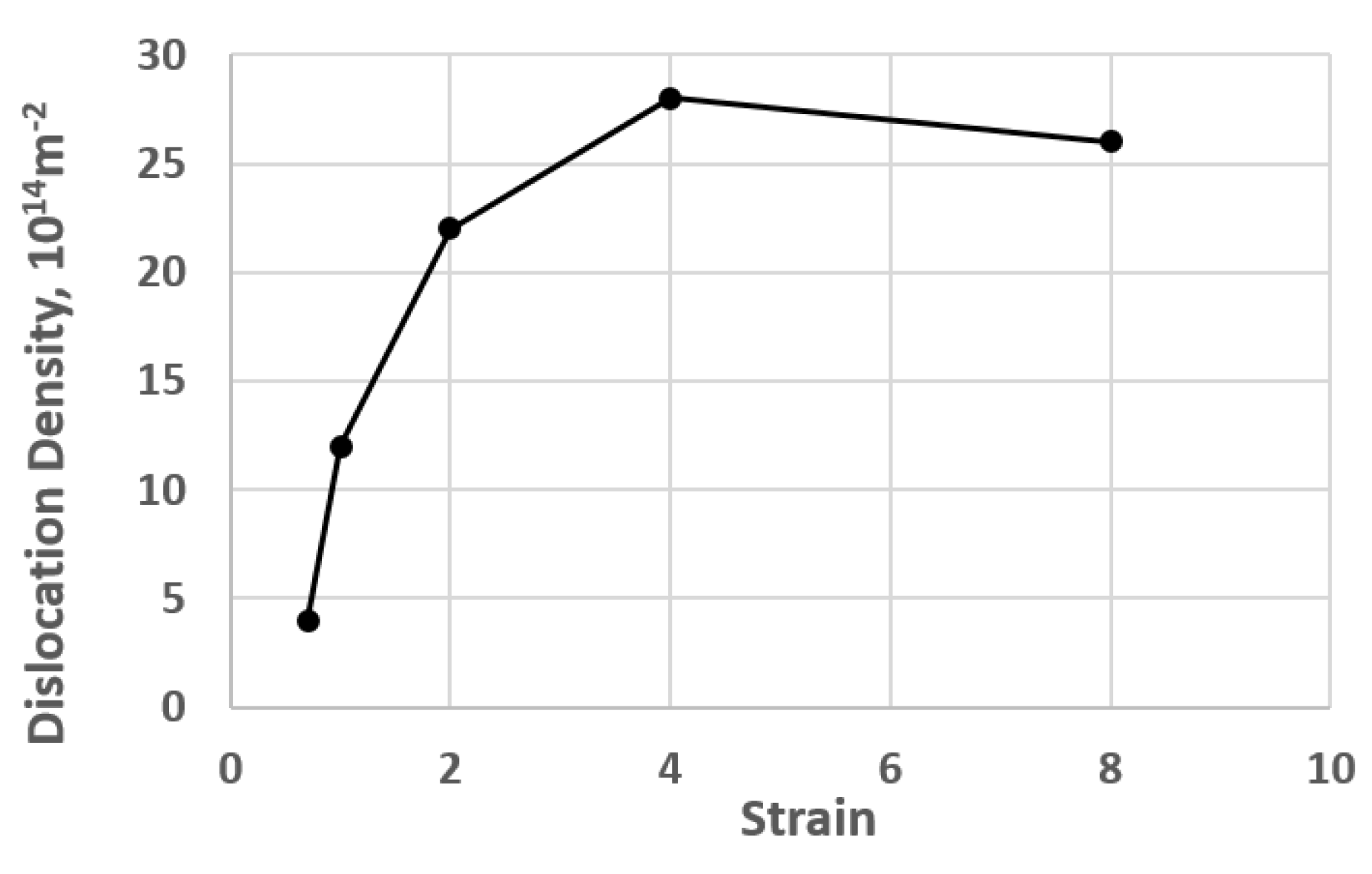 | Spray/Property | Temperature °C | Velocity m/s | Porosity % | Oxides % |
| --- | --- | --- | --- | --- |
| Plasma Arc | 1500–2500 | 100–400 | ~5 | ~2 |
| Wire Arc | 1500–2500 | 50–100 | ~10 | ~15 |
| Cold Spray | 150–400 | 500–1000 | <1 | <1 |

© 2019 by the authors. Licensee MDPI, Basel, Switzerland. This article is an open access article distributed under the terms and conditions of the Creative Commons Attribution (CC BY) license (http://creativecommons.org/licenses/by/4.0/).