Silicon Phthalocyanines as Acceptor Candidates in Mixed Solution/Evaporation Processed Planar Heterojunction Organic Photovoltaic Devices
Department of Chemical Engineering, University of Ottawa, 161 Louis Pasteur, Ottawa, ON K1N 6N5, Canada
*
Author to whom correspondence should be addressed.
Received: 29 January 2019 / Revised: 12 March 2019 / Accepted: 19 March 2019 / Published: 21 March 2019
Abstract
Silicon phthalocyanines (SiPc) are showing promise as both ternary additives and non-fullerene acceptors in organic photovoltaics (OPVs) as a result of their ease of synthesis, chemical stability and strong absorption. In this study, bis(3,4,5-trifluorophenoxy) silicon phthalocyanine ((345F)
2
-SiPc)) and bis(2,4,6-trifluorophenoxy) silicon phthalocyanine ((246F)
2
-SiPc)) are employed as acceptors in mixed solution/evaporation planar heterojunction (PHJ) devices. The donor layer, either poly(3-hexylthiophene) (P3HT) or poly[N-9′-heptadecanyl-2,7-carbazole-alt-5,5-(4′,7′-di-2-thienyl-2′,1′,3′-benzothiadiazole)] (PCDTBT), was spin coated followed by the evaporation of the SiPc acceptor thin film. Several different donor/acceptor combinations were investigated in addition to investigations to determine the effect of film thickness on device performance. Finally, the effects of annealing, prior to SiPc deposition, after SiPc deposition, and during SiPc deposition were also investigated. The devices which performed the best were obtained using PCDTBT as the donor, with a 90 nm film of (345F)
2
-SiPc as the acceptor, followed by thermal annealing at 150 °C for 30 min of the entire mixed solution/evaporation device. An open-circuit voltage (
V
oc) of 0.88 V and a fill factor (FF) of 0.52 were achieved leading to devices that outperformed corresponding fullerene-based PHJ devices.
View Full-Text
►

▼

Figures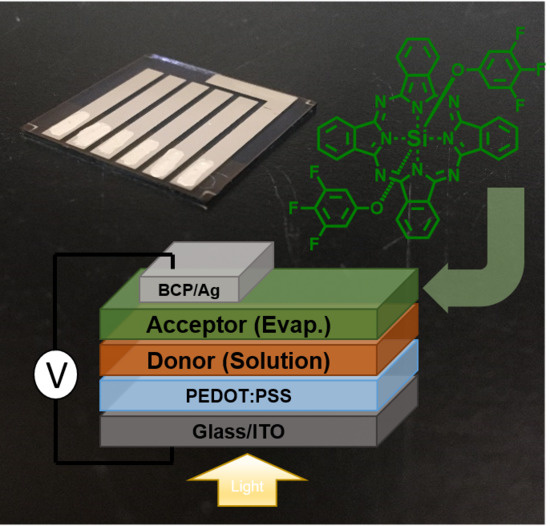 Graphical abstract
This is an open access article distributed under the
Creative Commons Attribution License
which permits unrestricted use, distribution, and reproduction in any medium, provided the original work is properly cited (CC BY 4.0).

Share & Cite This Article
MDPI and ACS Style
Faure, M.D.M.; Grant, T.M.; Lessard, B.H. Silicon Phthalocyanines as Acceptor Candidates in Mixed Solution/Evaporation Processed Planar Heterojunction Organic Photovoltaic Devices. Coatings 2019, 9, 203.
Note that from the first issue of 2016, MDPI journals use article numbers instead of page numbers. See further details here.
Related Articles
Comments
[Return to top]