Evolution of Nanostructure and Metastable Phases at the Surface of a HCPEB-Treated WC-6% Co Hard Alloy with Increasing Irradiation Pulse Numbers
1
School of Materials Science and Engineering, Shenyang University of Technology, Shenyang 110870, China
2
Key Laboratory of Materials Modification & School of Materials Science and Engineering, Dalian University of Technology, Dalian 116024, China
3
College of Materials Science and Engineering, Liaoning Technical University, Fuxin 123000, China
4
Laboratoire d'Etude des Microstructures et de Mécanique des Matériaux (LEM3), Université de Lorraine, CNRS UMR 7239, Ile du Saulcy, 57045 Metz, France
*
Authors to whom correspondence should be addressed.
Academic Editor: Alessandro Lavacchi
Received: 30 July 2017 / Revised: 7 October 2017 / Accepted: 17 October 2017 / Published: 26 October 2017
Abstract
This work investigates the mechanisms of the microstructure evolution in the melted surface layers of a WC-6% Co hard alloy when increasing the number of pulses of irradiation by high-current pulsed electron beam (HCPEB) treatment. After one pulse of irradiation, about 50% of the stable hcp WC phase was melted and resolidified into the metastable fcc form (WC
1−

x
). When increasing the numbers of pulse irradiation, the WC phase decomposed into ultrafine-grained WC
1−

x
plus nanosized graphite under our selected energy condition. Because of the rapidity of HCPEB carried under vacuum, the formation of the brittle W
2
C phase was avoided. In the initial Co-rich areas, where the Co was evaporated, melting and solidification led to the formation of nanostructures Co
3
W
9
C
4
and Co
3
W
3
C. The volume fraction of the nano domains containing WC
1−

x
, Co
3
W
9
C
4
, and Co
3
W
3
C phases reached its maximum after 20 pulses of irradiation. The improved properties after 20 pulses are therefore due to the presence of nano graphite that served as lubricant and dramatically decreased the friction coefficient, while the ultrafine-grained carbides and the nano domains contribute to the improvement of the surface microhardness and wear resistance.
View Full-Text
►

▼

Figures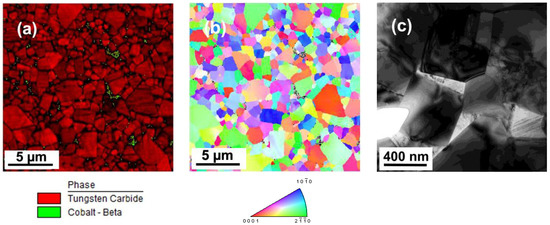 Figure 1
This is an open access article distributed under the
Creative Commons Attribution License
which permits unrestricted use, distribution, and reproduction in any medium, provided the original work is properly cited (CC BY 4.0).

Share & Cite This Article
MDPI and ACS Style
Zhang, Y.; Yu, F.; Hao, S.; Dong, F.; Xu, Y.; Geng, W.; Zhang, N.; Gey, N.; Grosdidier, T.; Dong, C. Evolution of Nanostructure and Metastable Phases at the Surface of a HCPEB-Treated WC-6% Co Hard Alloy with Increasing Irradiation Pulse Numbers. Coatings 2017, 7, 178.
Note that from the first issue of 2016, MDPI journals use article numbers instead of page numbers. See further details here.
Related Articles
Comments
[Return to top]