Electrochemical Behavior of Bilayer Thermal-Spray Coatings in Low-Temperature Corrosion Protection
Department of Engineering Science, University West, 46153 Trollhattan, Sweden
*
Author to whom correspondence should be addressed.
Academic Editor: Niteen Jadhav
Received: 9 August 2017 / Revised: 20 September 2017 / Accepted: 25 September 2017 / Published: 30 September 2017
Abstract
Cr
3
C
2
-NiCr coatings are greatly used to protect critical components in corrosive environments and to extend their lifetime and/or improve functional performance. However, the pores formed during spraying restrict the coating's applicability area for many corrosion protection applications. To overcome this technical challenge, bilayer coatings have been developed, in which an additional layer (the so-called "intermediate layer") is deposited on the substrate before spraying the Cr
3
C
2
-NiCr coating (the so-called "top layer"). The corrosion behavior of the bilayer coating depends on the composition and microstructure of each layer. In the present work, different single-layer coatings (i.e., Cr
3
C
2
-NiCr, Fe- and Ni-based coatings) were initially sprayed by a high-velocity air fuel (HVAF) process. Microstructure analysis, as well as electrochemical tests, for example, open-circuit potential (OCP) and polarization tests, were performed. The potential difference (Δ
E
) had a great influence on galvanic corrosion between the top and intermediate layers, and thus, the coatings were ranked based on the OCP values (from high to low) as follows: NiCoCrAlY > NiCr > Cr
3
C
2
-NiCr > NiAl > Fe-based coatings (alloyed with Cr) > pure Ni. The Ni-based coatings were chosen to be further used as intermediate layers with the Cr
3
C
2
-NiCr top layer due to their capabilities to show high OCP. The corrosion resistance (
R
p
) of the bilayer coatings was ranked (from high to low) as follows: NiCoCrAlY/Cr
3
C
2
-NiCr > NiCr/Cr
3
C
2
-NiCr > NiAl/Cr
3
C
2
-NiCr > Ni/Cr
3
C
2
-NiCr. It was shown that splat boundaries and interconnected pores are detrimental for corrosion resistance, however, a sufficient reservoir of protective scale-forming elements (such as Cr or/and Al) in the intermediate layer can significantly improve the corrosion resistance.
View Full-Text
►

▼

Figures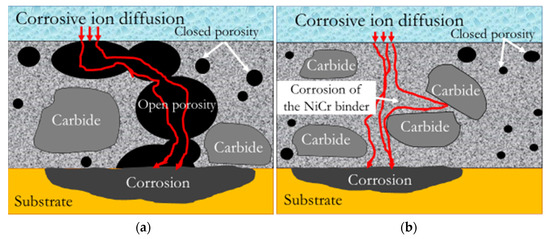 Figure 1
This is an open access article distributed under the
Creative Commons Attribution License
which permits unrestricted use, distribution, and reproduction in any medium, provided the original work is properly cited (CC BY 4.0).

Share & Cite This Article
MDPI and ACS Style
Sadeghimeresht, E.; Markocsan, N. Electrochemical Behavior of Bilayer Thermal-Spray Coatings in Low-Temperature Corrosion Protection. Coatings 2017, 7, 162.
Note that from the first issue of 2016, MDPI journals use article numbers instead of page numbers. See further details here.
Related Articles
Comments
[Return to top]