Open Access This article is
freely available
re-usable
Review
Concepts and Methods to Access Novel Antibiotics from Actinomycetes
1
Department Microbial Natural Products, Helmholtz-Institute for Pharmaceutical Research Saarland (HIPS), Helmholtz Centre for Infection Research (HZI) and Department of Pharmacy, Saarland University, Campus E8.1, 66123 Saarbrücken, Germany
2
German Center for Infection Research (DZIF), Partner Site Hannover-Braunschweig, 38124 Braunschweig, Germany
*
Author to whom correspondence should be addressed.
Received: 12 April 2018 / Accepted: 17 May 2018 / Published: 22 May 2018
Abstract
:
Actinomycetes have been proven to be an excellent source of secondary metabolites for more than half a century. Exhibiting various bioactivities, they provide valuable approved drugs in clinical use. Most microorganisms are still untapped in terms of their capacity to produce secondary metabolites, since only a small fraction can be cultured in the laboratory. Thus, improving cultivation techniques to extend the range of secondary metabolite producers accessible under laboratory conditions is an important first step in prospecting underexplored sources for the isolation of novel antibiotics. Currently uncultured actinobacteria can be made available by bioprospecting extreme or simply habitats other than soil. Furthermore, bioinformatic analysis of genomes reveals most producers to harbour many more biosynthetic gene clusters than compounds identified from any single strain, which translates into a silent biosynthetic potential of the microbial world for the production of yet unknown natural products. This review covers discovery strategies and innovative methods recently employed to access the untapped reservoir of natural products. The focus is the order of actinomycetes although most approaches are similarly applicable to other microbes. Advanced cultivation methods, genomics- and metagenomics-based approaches, as well as modern metabolomics-inspired methods are highlighted to emphasise the interplay of different disciplines to improve access to novel natural products.
Keywords:
metagenomics; rare actinomycetes; dereplication; metabolomics; genome mining; natural products
Funding
This research received no external funding.
Acknowledgments
We are thankful to Daniel Krug, Chengzhang Fu and Tadeja Lukezic for their scientific advice. J. Hug was supported by a PhD fellowship of the Boehringer Ingelheim Fonds.
Conflicts of Interest
The authors declare no conflict of interest.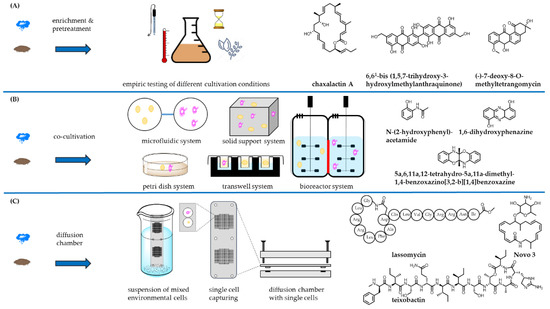 Figure 1.
Scheme of isolation strategies, partly adapted from Nichols et al. [
33
] and Goers et al. [
39
]. (
A
) Soil sample or marine sample undergoes enrichment and/or pretreatment to increase the chance to isolate new species and/or reduce undesirable background from previously isolated strains. In general, empirical established methods for fermentation varies in incubation time, media composition, additives, pH and temperature to enable growth of desirable strains. Chaxalactin A produced by
Streptomyces
sp. C34 [
26
,
27
], 6,6
1
-bis (1,5,7-trihydroxy-3-hydroxylmethylanthraquinone) produced by
Streptomyces
spp. ERI-26 [
29
,
30
] and (-)-7-deoxy-8-
O
-methyltetrangomycin from
Nocardiopsis
sp. HR-4 [
28
] are examples for novel metabolites found using this conventional method. (
B
) Soil sample or marine sample is co-cultivated with other microorganisms to promote culturable isolates or to stimulate the secondary metabolism. Co-cultivation is categorised in microfluidic systems, petri dish co-culture systems, co-cultures on solid supports, co-culture systems using bioreactors and transwell systems [
39
]. Co-cultivation of
Actinokineospora
sp. EG49 and
Nocardiopsis
sp. RV163 induces the biosynthesis of three natural products namely
N
-(2-hydroxyphenyl)-acetamide, 1,6-dihydroxyphenazine and 5a,6,11a,12-tetrahydro-5a,11a-dimethyl[
1
,
4
]benzoxazino[3,2-b][
1
,
4
]benzoxazine [
40
]. (
C
) Soil sample or marine sample is used to create a suspension of mixed environmental cells. The isolation chip (iChip) plate is immersed into this suspension to capture (on average) a single cell. Covered with an upper and lower plate, the assembled iChip provides a miniature diffusion chamber for each single cell [
33
]. NOVO 3 [
36
], the cyclic peptide lassomycin [
37
] and the antibiotic teixobactin [
38
] were isolated from strains obtained by the iChip technology.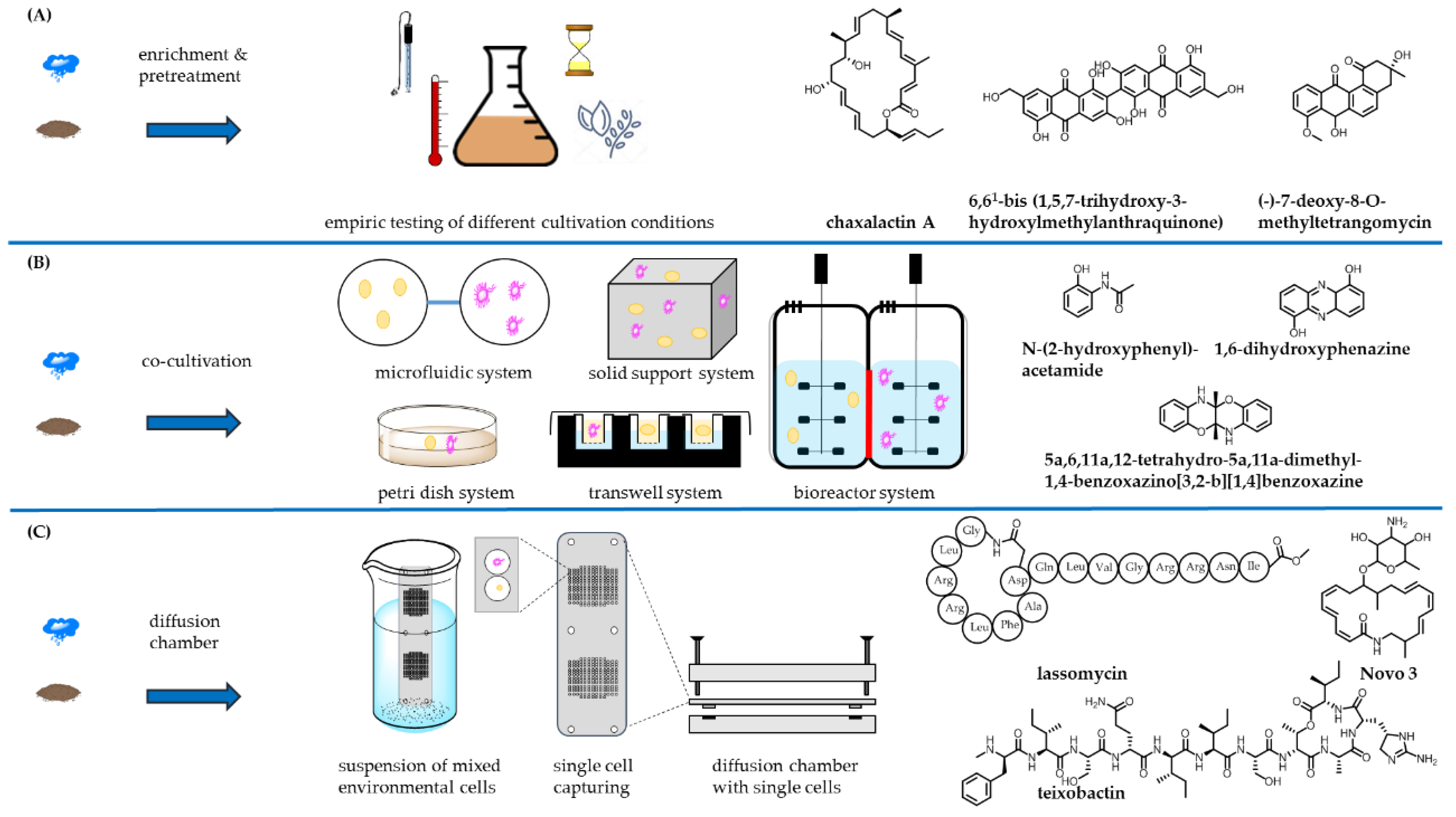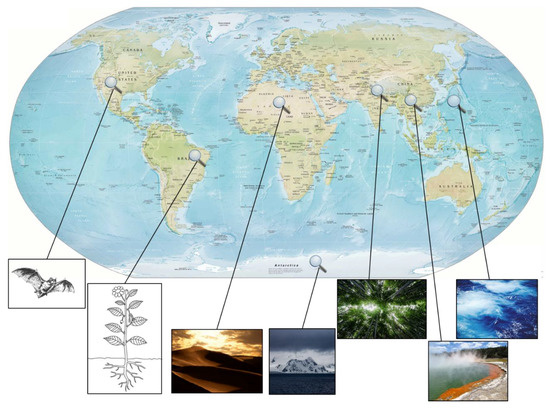 Figure 2.
Underexploited habitats of actinobacteria attracted more attention for microbial natural product discovery. Currently, oceans [
54
], deserts [
55
], mountains [
30
] and Antarctica [
56
] ranges together with hot springs [
57
] and endophytes [
58
] and symbionts [
59
] are focuses of the search for new bioactive compounds.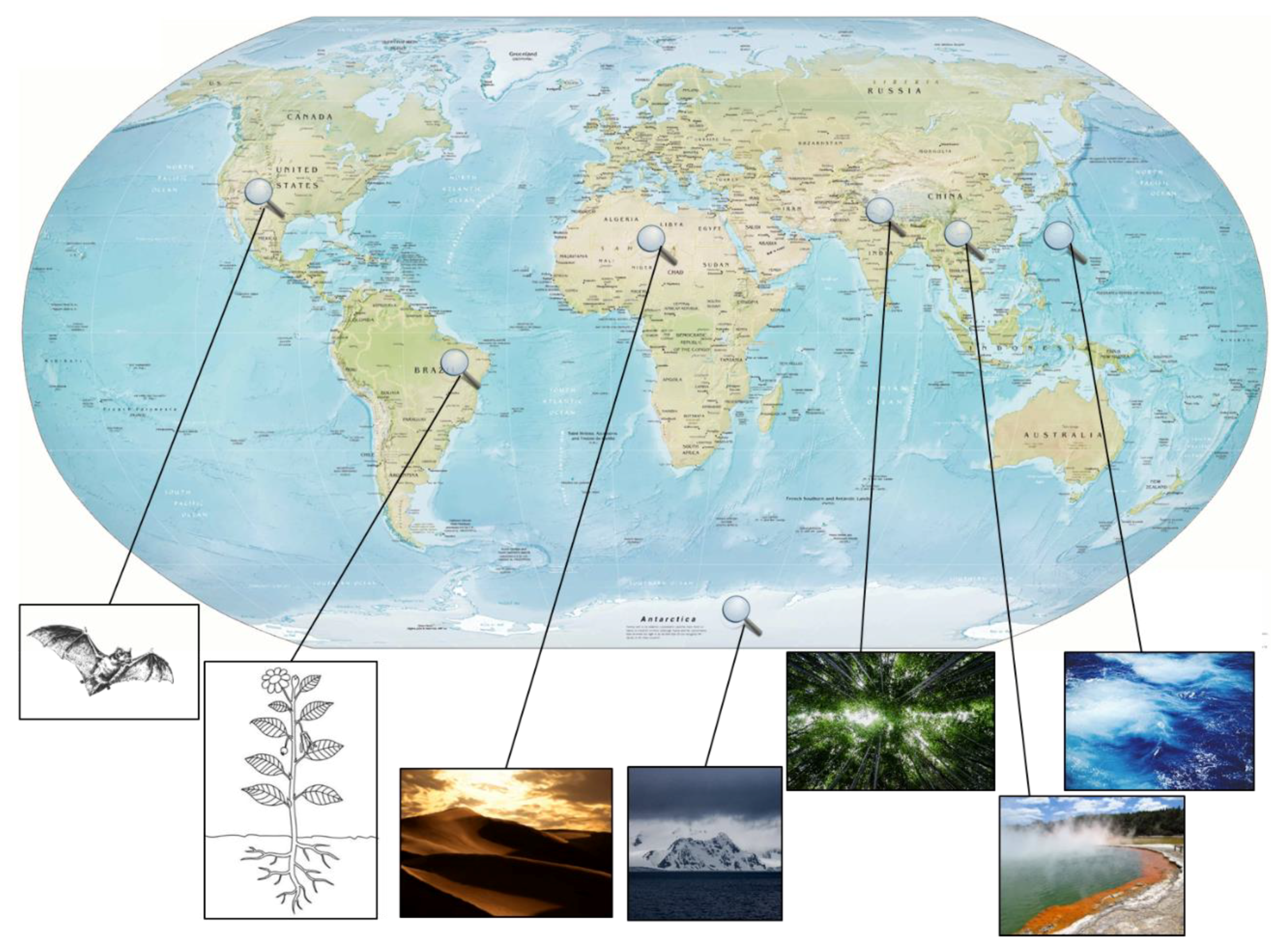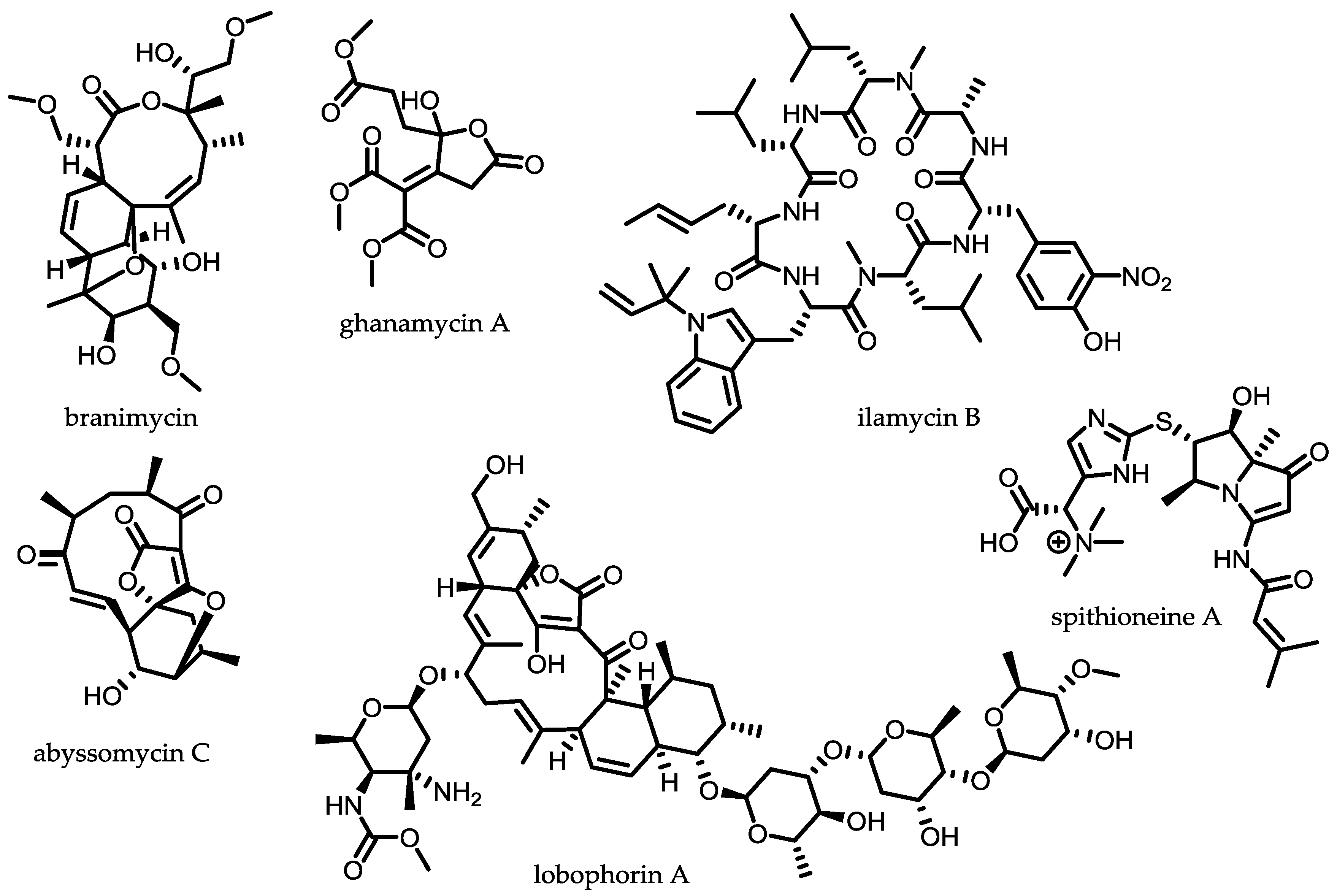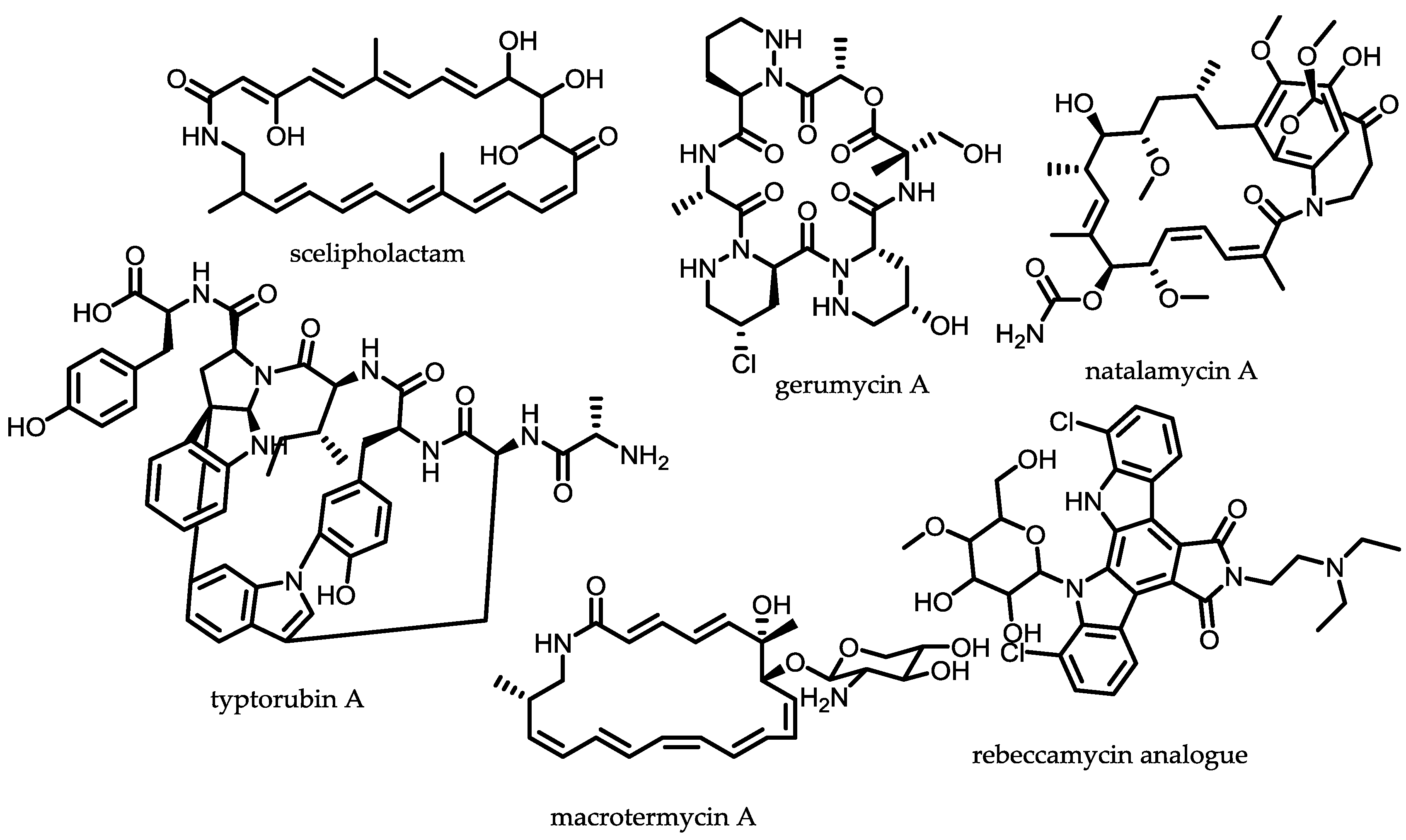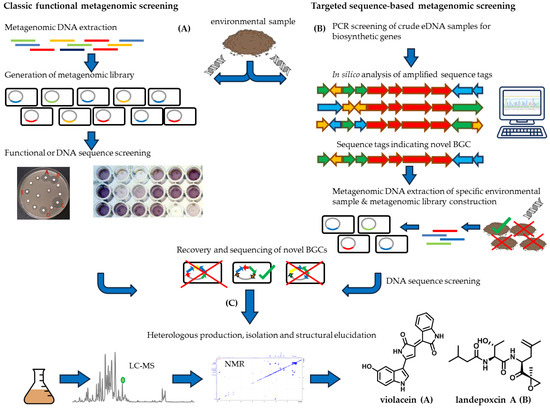 Figure 5.
Scheme of metagenomic discovery pipelines adapted from Katz et al. (2016) [
93
]. Environmental samples are collected from ecologically and geographically diverse environments. (
A
) The classical functional metagenomic screening is based on the generation of metagenomic libraries by using appropriate heterologous hosts. Afterwards the metagenomic library is screened either for observable phenotypes or for the presence of target DNA sequence. (
B
) Crude eDNA is obtained from environmental sample and screened by PCR amplicons specific for sequences within biosynthetic machinery. DNA sequences tags are used to obtain
in silico
reassembled biosynthetic gene clusters (BGCs). A metagenomic library is generated from environmental samples harbouring the
in silico
reassembled BGC of interest. Environmental DNA (eDNA) is extracted and screened for the specific sequence of interest. (
C
) Novel BGCs are finally assembled and modified for heterologous expression in appropriate host and the produced natural product is isolated and structurally elucidated. Violacein is a natural product obtained by the approach (
A
) [
91
], and landepoxin is a natural product obtained by approach (
B
) [
92
].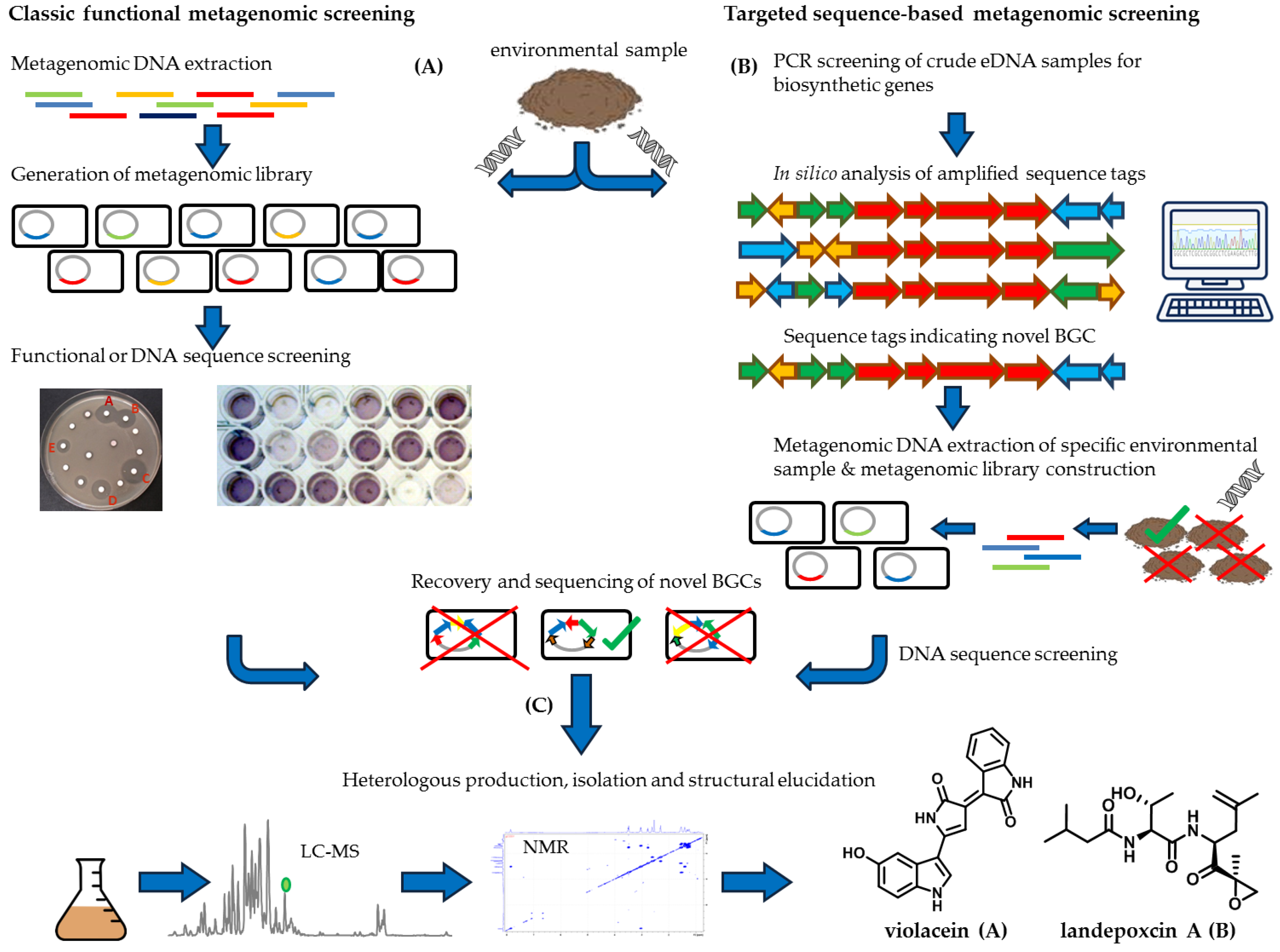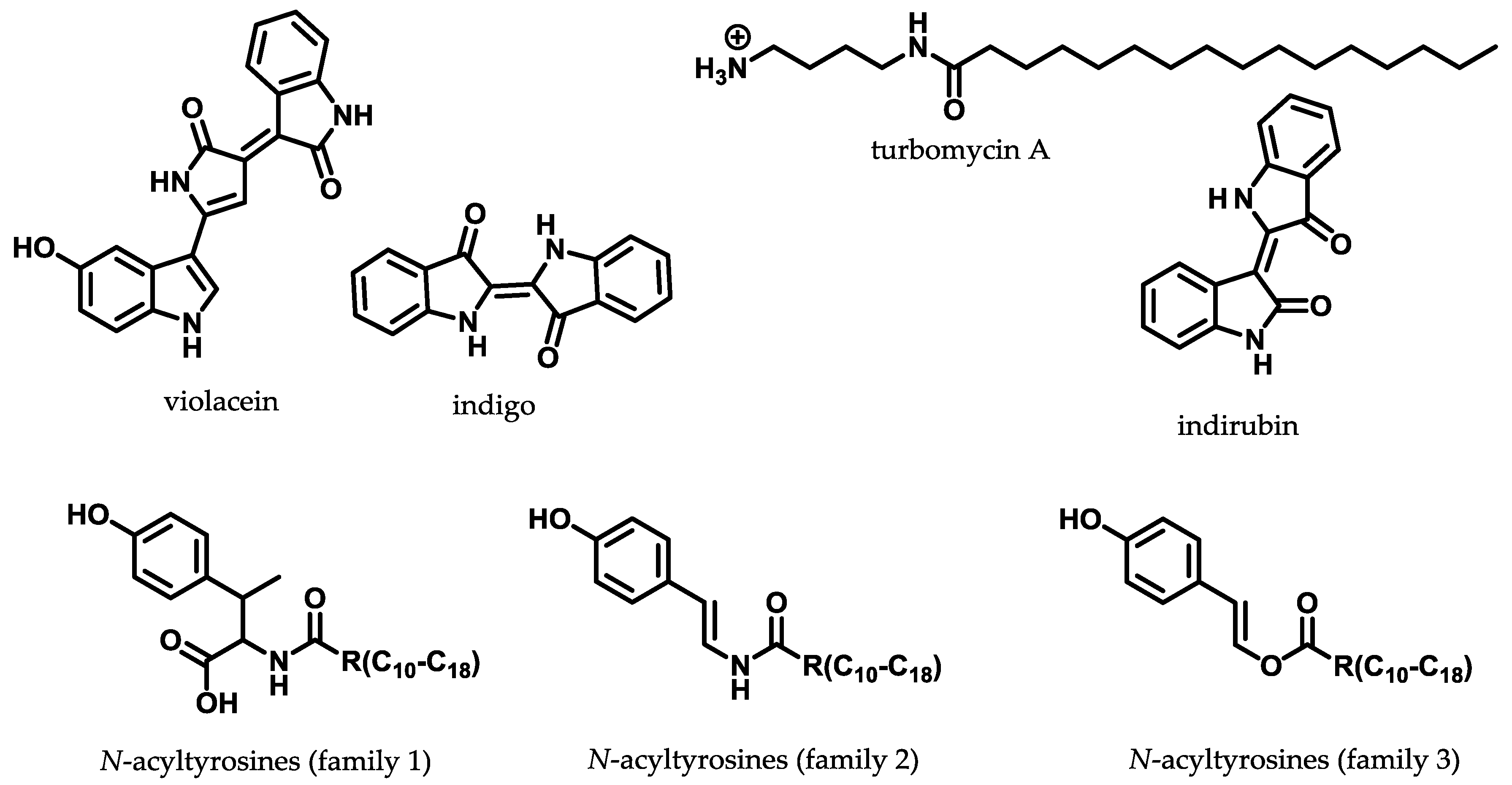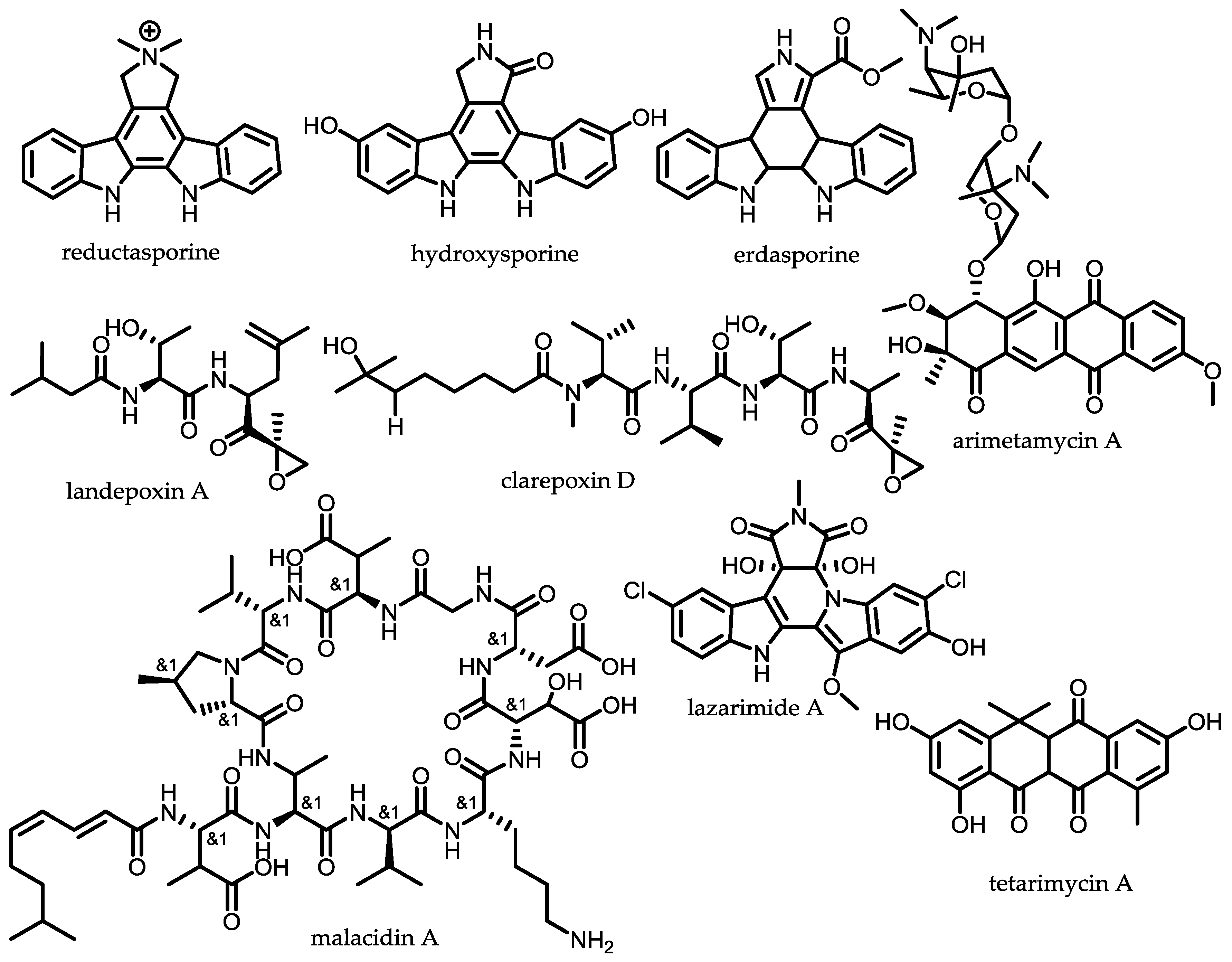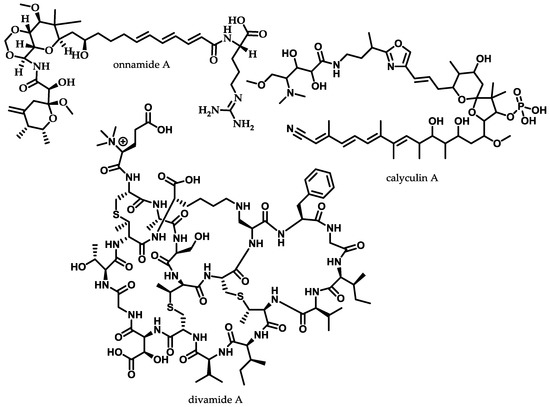 Figure 8. Example of marine natural products with elucidated biosynthesis achieved through metagenomic approach.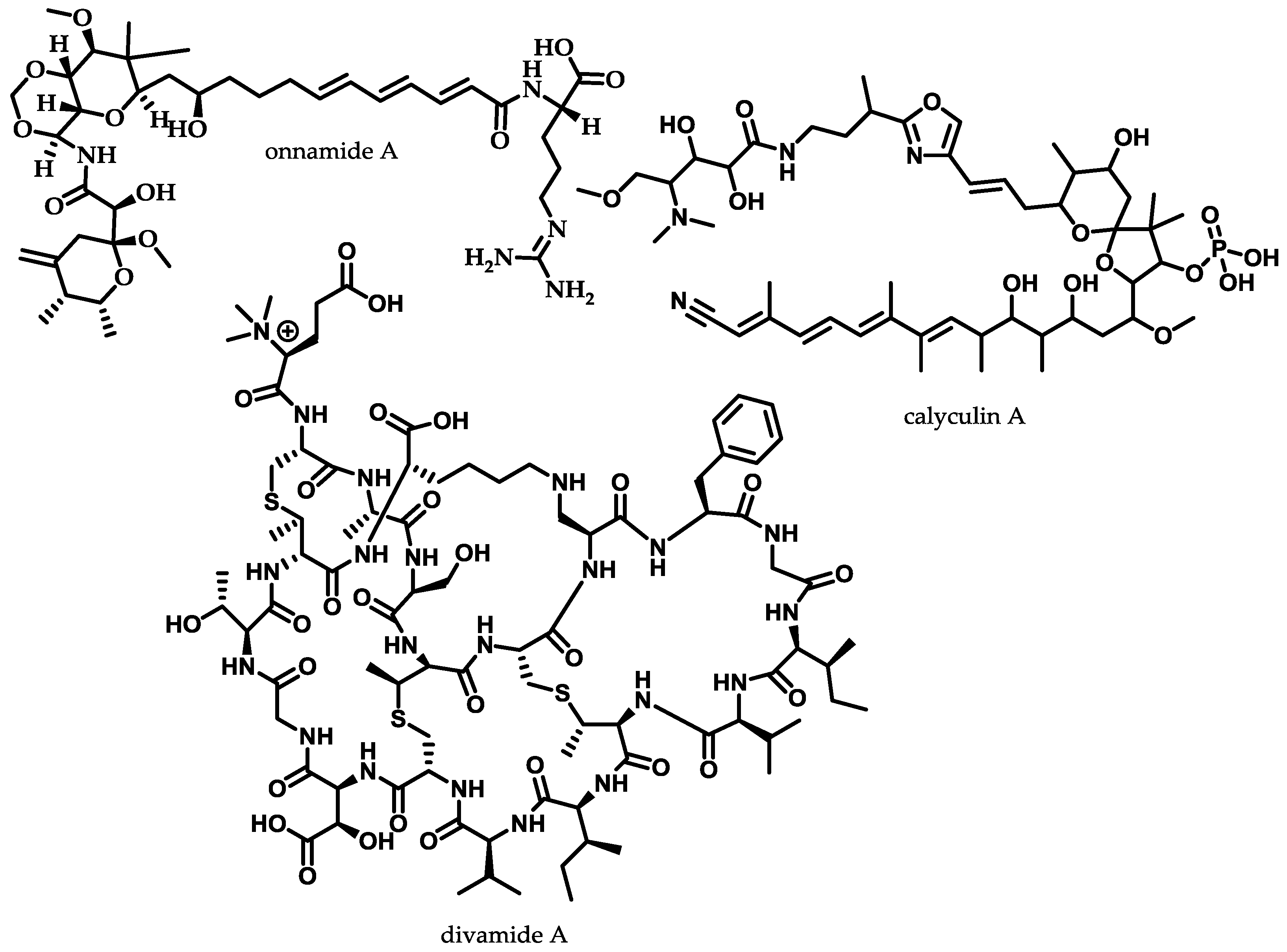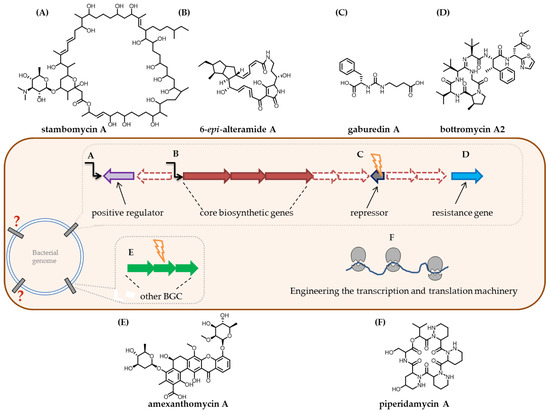 Figure 9.
Generic representation of BGC consisting of core biosynthetic genes, genes for tailoring enzymes (dashed line), positive and negative regulators and self-resistance conferring genes. Strategies can be employed in the native or heterologous host. (
A
) A promoter is either inserted in front of a positive regulator or an additional copy of the positive regulator with a promoter is inserted in the genome; consequently, a higher concentration of natural product is expected. The macrolide stambomycin A was obtained through constitutive expression of an LAL family regulator [
197
]. (
B
) Promoter is inserted in front of the operon of biosynthetic genes enhancing transcription and production of natural product. The polycyclic tetramate macrolactam 6-
epi
-alteramide A was obtained by introducing the
ermE
* promoter in front of the hybrid type I PKS-NRPS operon [
198
]. (
C
) Repressor gene is disrupted, production of natural product is enhanced. Inactivation of the repressor
gbn
R in
S. venezuelae
induced the production of gaburedin A [
196
]. (
D
) Resistance gene protects producer strain against its own natural product. During the heterologous expression of bottromycins in
S. coelicolor
, the replacement of the native promoter by the strong
ermE
* promoter in front of the efflux pump
bot
T, showed a 20-fold increased production concentration compared to the natively expressed resistance gene [
189
]. (
E
) In some cases, knocking out the biosynthetic genes of known compounds in producer strains enhances biosynthesis of other encoded natural products in the genome. Amexanthomycin A was found after knocking out PKS
rifA
gene responsible for rifampicin biosynthesis from
Amycolatopsis mediterranei
S699 [
190
]. (
F
) Targeted induction of mutation in RNA polymerase and ribosomal proteins by antibiotics can cause upregulation of BGC expression. Mutations in
rpsL
and
rpoB
genes activated the silent BGC of piperidamycins from
S. mauvecolor
, culminating in the isolation of the antibacterial piperidamycin A [
209
].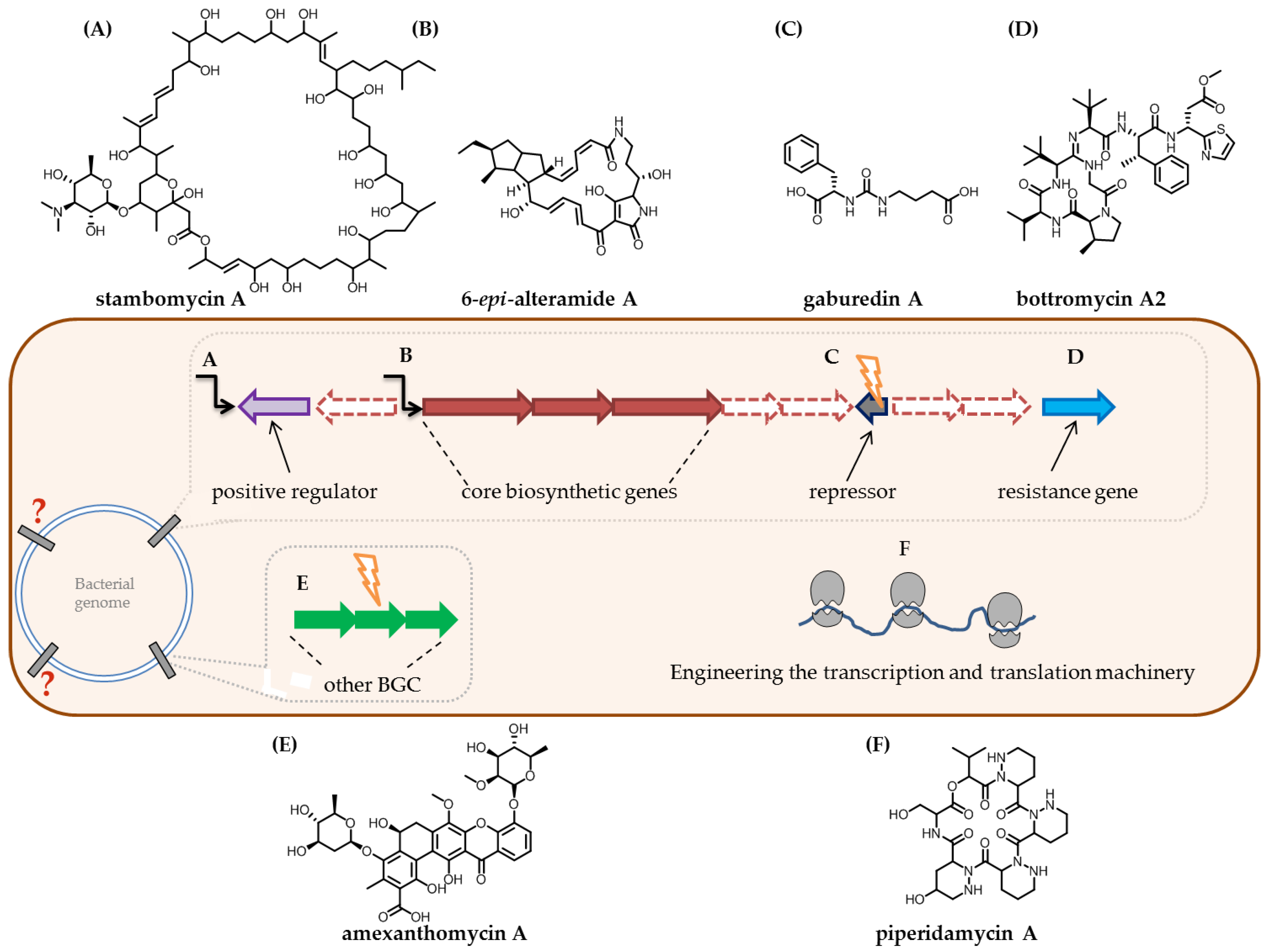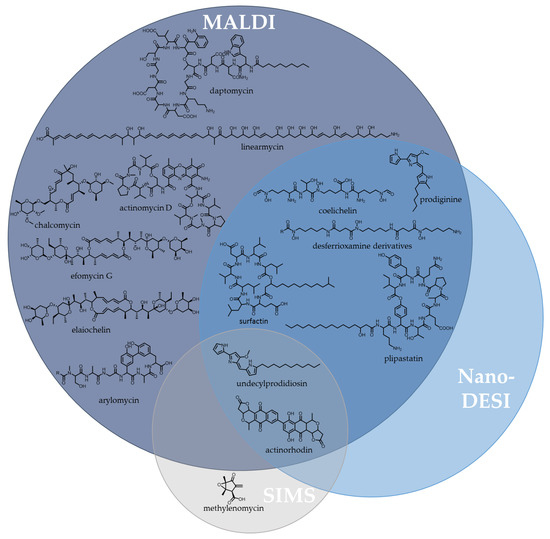 Figure 10.
Natural products produced by actinomycetes detected and annotated by IMS. Fifteen known bioactive compounds were identified in different co-cultivation experiments. Only methylenomycin [
239
] exclusively had been detected using SIMS, whereas all molecules identified with Nano-DESI were also detectable by MALDI-TOF. Undecylprodigiosin [
239
,
240
] and actinorhodin [
239
,
240
] could be identified by all of the three methods. Prodiginine [
240
], coelichelin [
240
], different desferrioxamine derivatives [
240
], surfactin and plipastatin [
241
,
242
] could be assigned by NanoDESI and MALDI-TOF. Chalcomycin [
243
], daptomycin [
243
], actinomycin D [
244
], efomycin G [
244
], elaiochelin [
244
], linearmycin [
243
,
245
] and arylomycin [
231
] were only detected by MALDI-TOF.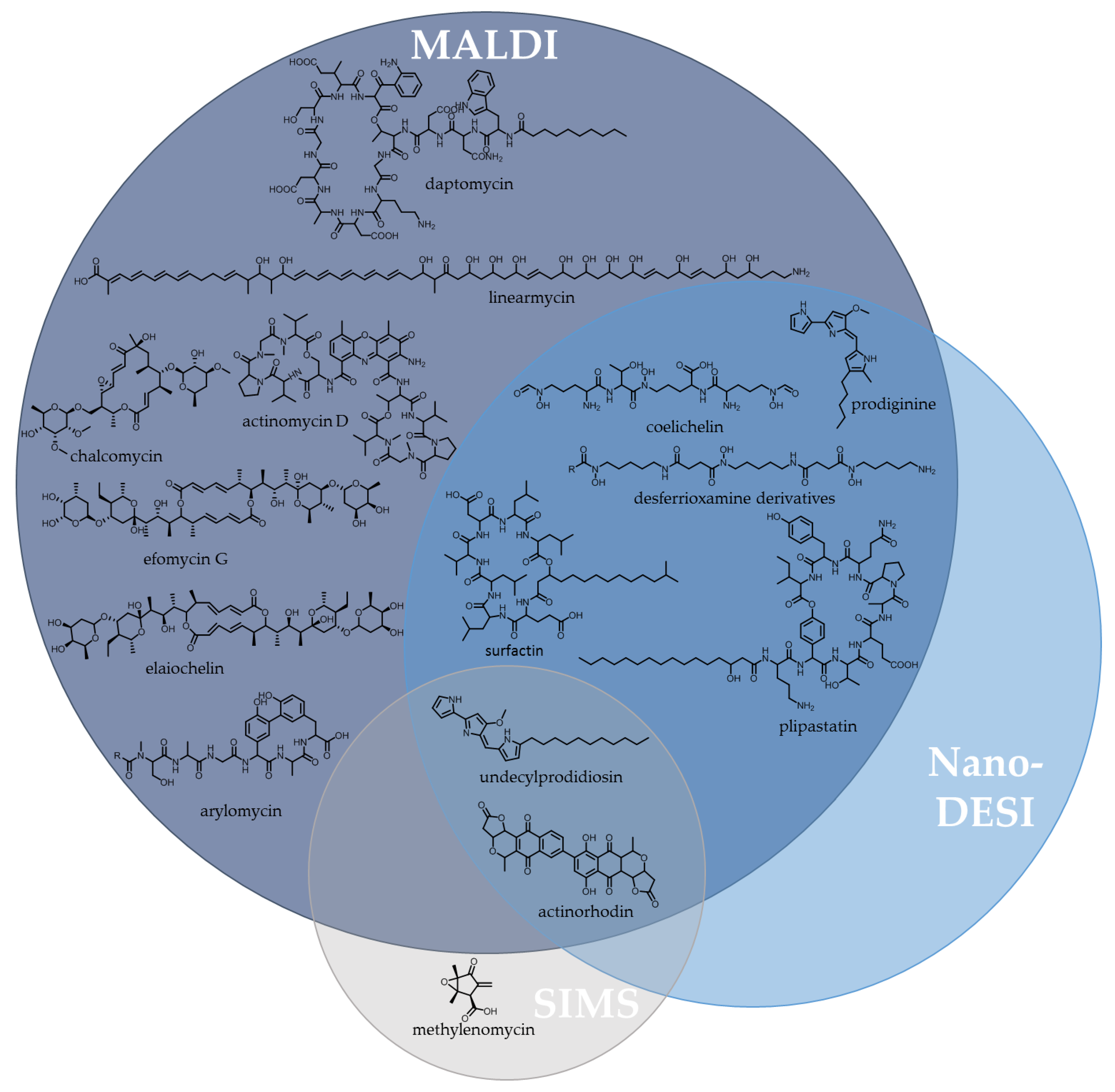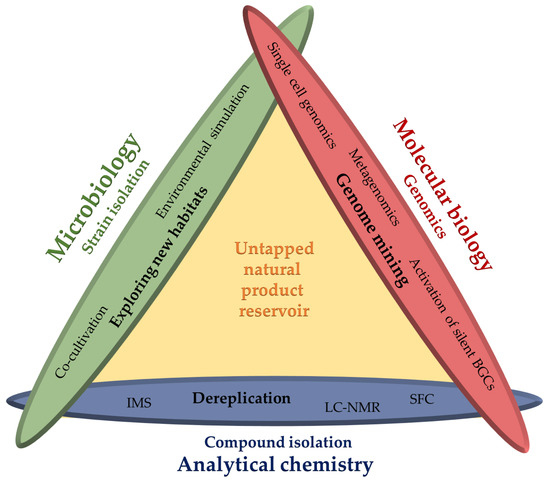 Figure 11. Interplay of disciplines for the exploitation of the untapped natural product reservoir with major developments in the past 10 years covered by this review.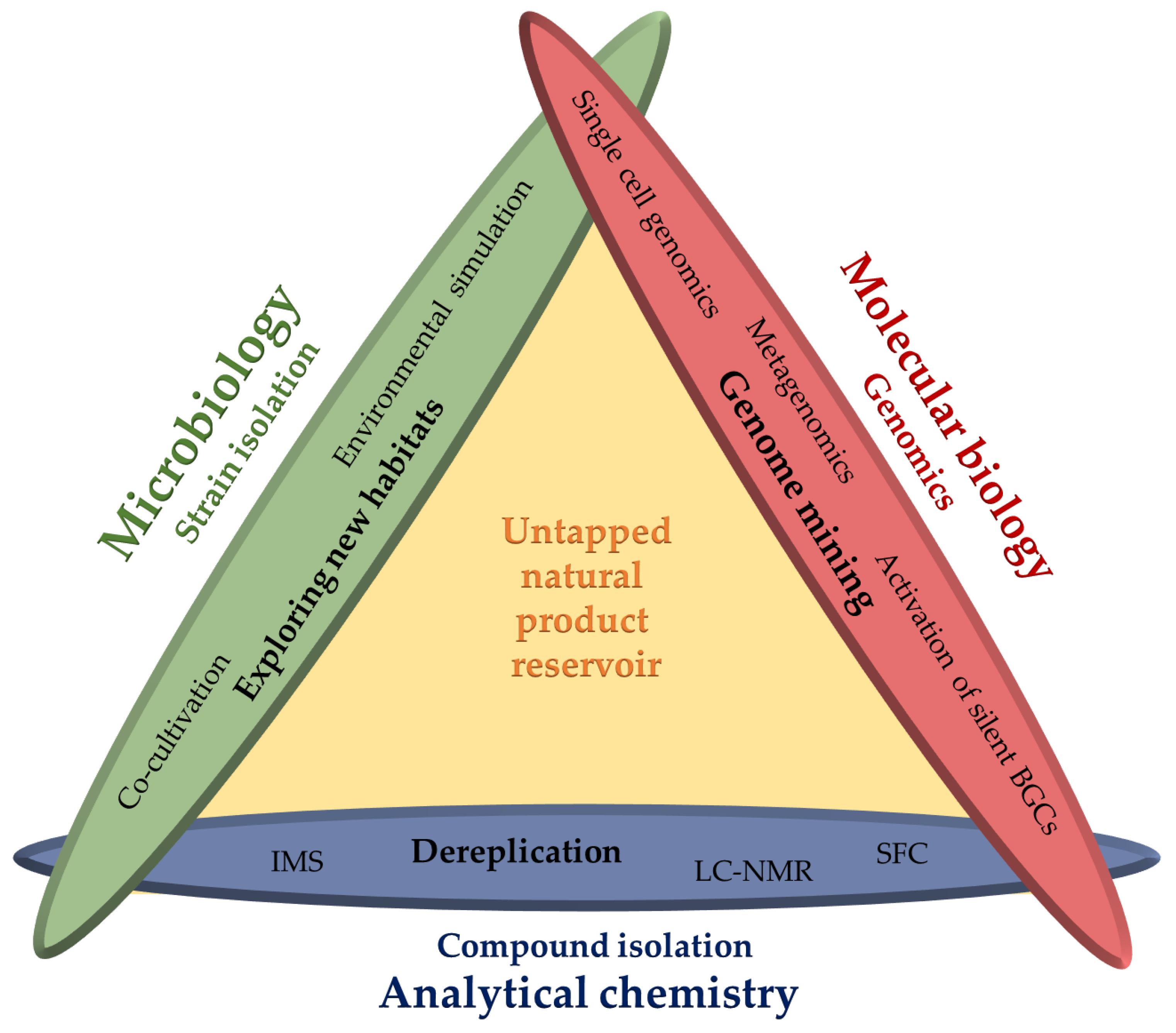 Table 1. Comparison of six different bioinformatic tools for structure prediction of chemical products derived from biosynthetic gene clusters: PRISM 3, SeMPI, antiSMASH 4.0, Pep2Path, RiPPquest and NRPquest. Tools with more than one software release were summarised with functions available in the newest version to date.
Acronym
Input
Output
Type of BGC
Highlights & Limitations
Accessibility
Source
PRISM 3
Genome sequence
Gene clusters
NRPS, PKS
Tailoring reactions implemented 1
Open-source web application
[184,185]
SeMPI
Genome sequence (

also raw DNA code

)
Domains and 10 best matching compounds
Type I PKS
Generation of the non-modified PKS products 1
Open-source web application
[291]
antiSMASH 4.0
Genome sequence
NRPS/PKS domains, chemical structure prediction, Cluster Blast
NRPS, PKS, RiPPs terpenes
Terpene prediction Trans AT PKS domain alignments 1
Open-source webserver
[121,122,292]
Pep2Path
Genome sequence mass shifts or amino acid-sequence
Tag-BGC alignment and scoring
NRPS, RiPPs
Automatic identification of BGC corresponding to mass shift sequence or amino acid-sequence tags 2
Open-source application
[293]
RiPPquest
Genome sequence MS/MS dataset
Peptide-spectrum match (

p

-value)
RiPPs
Molecular network analysis using input from various MS/MS datasets possible 3
Open-source application, (implemented in GNPS)
[294]
NRPquest
Genome sequence MS/MS dataset
Spectral network of matching peptides with

p

-values
NRPs
Molecular network analysis of various MS/MS datasets possible 4
Open-source application
[183]
1 No matching with experimental MS/MS data; 2 Limited to peptide natural products; 3 Limited to RiPPs; 4 Limited to NRPs.

© 2018 by the authors. Licensee MDPI, Basel, Switzerland. This article is an open access article distributed under the terms and conditions of the Creative Commons Attribution (CC BY) license (http://creativecommons.org/licenses/by/4.0/).