Open Access This article is
freely available
re-usable
Review
Complex Regulatory Networks Governing Production of the Glycopeptide A40926
1
Department of Biological, Chemical and Pharmaceutical Sciences and Technologies (STEBICEF), Università degli Studi di Palermo, Viale delle Scienze Bd.16, 90128 Palermo, Italy
2
Via Ortles 22/4, Naicons Srl, 20139 Milano, Italy
3
Via Ortles 22/4, Ktedogen Srl, 20139 Milano, Italy
*
Author to whom correspondence should be addressed.
Received: 9 March 2018 / Accepted: 3 April 2018 / Published: 5 April 2018
Abstract
:
Glycopeptides (GPAs) are an important class of antibiotics, with vancomycin and teicoplanin being used in the last 40 years as drugs of last resort to treat infections caused by Gram-positive pathogens, including methicillin-resistant
Staphylococcus aureus
. A few new GPAs have since reached the market. One of them is dalbavancin, a derivative of A40926 produced by the actinomycete
Nonomuraea
sp. ATCC 39727, recently classified as
N. gerenzanensis
. This review summarizes what we currently know on the multilevel regulatory processes governing production of the glycopeptide A40926 and the different approaches used to increase antibiotic yields. Some nutrients, e.g., valine,
l
-glutamine and maltodextrin, and some endogenous proteins, e.g., Dbv3, Dbv4 and RpoB
R
, have a positive role on A40926 biosynthesis, while other factors, e.g., phosphate, ammonium and Dbv23, have a negative effect. Overall, the results available so far point to a complex regulatory network controlling A40926 in the native producing strain.
Keywords:
glycopeptide antibiotics;
dbv
cluster; regulatory genes; StrR; LAL; LuxR solo; dalbavancin; A40926
2. Development of Dalbavancin
Dalbavancin is a second-generation glycopeptide derived from A40926 with an improved antibacterial activity over teicoplanin, the most closely correlated marketed GPA. The enhanced pharmaco-dynamic properties of the molecule and lipophilic anchoring to the bacterial cell membrane confer more potent in vitro and in vivo activity than teicoplanin. The most prominent peculiarity of dalbavancin is a significantly extended half-life in plasma, which allows once-a-week dosing by intravenous injection. The drug has been approved for treating complicated acute bacterial skin and skin structure infections. Its synthesis involves the deacetylation of the final biosynthetic intermediate A40926 (a process achieved during recovery from the fermentation broth), protection of the carboxyl group present in the aminosugar, conversion of the C-terminal carboxyl group into a (3-dimethylamino)-1-propylamide, and final deprotection of the aminosugar carboxyl group [
11
]. The main components of the A40926 complex differ mainly in the acyl chain attached to the sugar, with B
0
and B
1
as the major representatives, characterized respectively by an iso-C12:0 and a n-C12:0 acyl moiety bound to the aminoglucuronic acid moiety [
12
]. The structures of A40926 and of dalbavancin are shown in
Figure 1
.
Dalbavancin obtained market authorization in 2014 in the USA and the following year in Europe. This was a noteworthy success in view of the intricate history related to its development, which started back in the early 1990s and involved at least six different legal entities, as recently summarized [
13
].
In this review, we have organized the text into three separate sections: the first concerns the improvement of antibiotic yield by modifying the media components; the second describes the biosynthetic gene cluster and its transcriptional organization (
Figure 2
), along with the biosynthetic steps (
Figure 3
); and the last section deals with the cluster specific regulatory genes.
3. Improvement of A40926 Production
Improvement of glycopeptide production has very likely been achieved through several rounds of mutagenesis and screening, leading to the current industrial strains producing vancomycin, teicoplanin, chloroeremomycin and A40926. However, most of this work has not surfaced in the scientific literature, and we will limit ourselves to published reports on the A40926 process.
Initial work established the influence of growth conditions on A40926 production by
Nonomuraea
sp. ATCC 39727, recently classified as
N. gerenzanensis
[
14
]. In a chemically defined medium, low initial concentrations of phosphate and ammonium led to increased A40926 production, while glucose limitation did not (
Figure 4
). In particular, the level of residual ammonium and phosphate strongly influenced A40926 production rates and final titers, but not the initiation of production [
15
]. In a similar medium, A40926 production was repressed by calcium, but supported when
l
-glutamine or
l
-asparagine were added as nitrogen sources instead of ammonium salts (
Figure 4
) [
16
]. Since the catabolic products of branched chain amino acids represent biosynthetic precursors for the formation of the branched chain acyl moieties of A40926 [
17
], studies were undertaken on the influence of valine supplementation. Addition of 1 to 3 g/
l
-valine to complex media improved both the relative and absolute production of the B
0
congener with decrease of the B
1
component in the A40926 complex [
18
]. A40926 yields were found to also be controlled by stringent response in both complex and chemically defined media (
Figure 4
) [
19
].
It has also been recently reported that a
Nonomuraea
strain producing high levels of A40926 in an optimized production medium was isolated after UV mutagenesis. This mutant strain was used to study the effect of carbon and nitrogen sources and of different ions on antibiotic productivity; addition of the scarcely assimilated carbon source maltodextrin and the nitrogen source soybean meal strongly affected A40926 production, which reached 1 g/L in a 10-L fermenter. Furthermore, Cu
2+
stimulated A40926 biosynthesis while Co
2+
showed an inhibitory effect. As shown for valine, even
l
-leucine addition led to an increased production of total A40926 and changed the complex toward the B
0
compound (
Figure 4
) [
20
]. While the shift in complex composition after amino acid addition can be easily rationalized, there are currently no clues as to why certain carbon sources and metal ions stimulate or inhibit growth and/or A40926 production.
4. The
dbv

Gene Cluster: Main Features
5. Cluster-Specific Regulatory Genes
6. Future Perspectives
This review summarizes the main achievements in understanding A40926 biosynthesis in
N. gerenzanensis
in relation to other glycopeptide producers and model
Streptomyces
strains. While many studies have addressed antibiotic production in model streptomycetes, like
S. coelicolor
, we continuously learn new mechanisms and pathways as we extend these analyses to industrially relevant antibiotics and, especially, to actinomycetes other than
Streptomyces
spp. In this respect, strains belonging to the genus
Nonomuraea
represent complex systems, with limited genetic tools available. Current results suggest an interplay between nutrients, resistance determinants and the end product. Even if many factors and proteins have been found to control A40926 biosynthesis (
Figure 4
), further studies are necessary to fill the many gaps present in our understanding of the strain's physiology and of the interplay between A40926 production and resistance before this information can be applied for A40926 yield improvement.
Acknowledgments
Most of the research described in this report was supported by Fondo per il finanziamento delle attività base di ricerca 2017 (FFABR 2017) 2017 to Rosa Alduina.
Author Contributions
Rosa Alduina, Margherita Sosio and Stefano Donadio wrote, read and approved the final manuscript.
Conflicts of Interest
The authors declare no conflict of interest.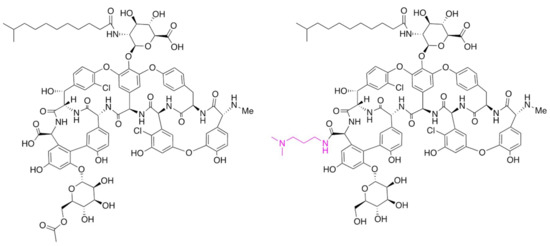 Figure 1.
Chemical structures of
O
-acetyl A40926 and of dalbavancin. Only the component B0 is shown for simplicity. The chemical modification present in dalbavancin is indicated in red type.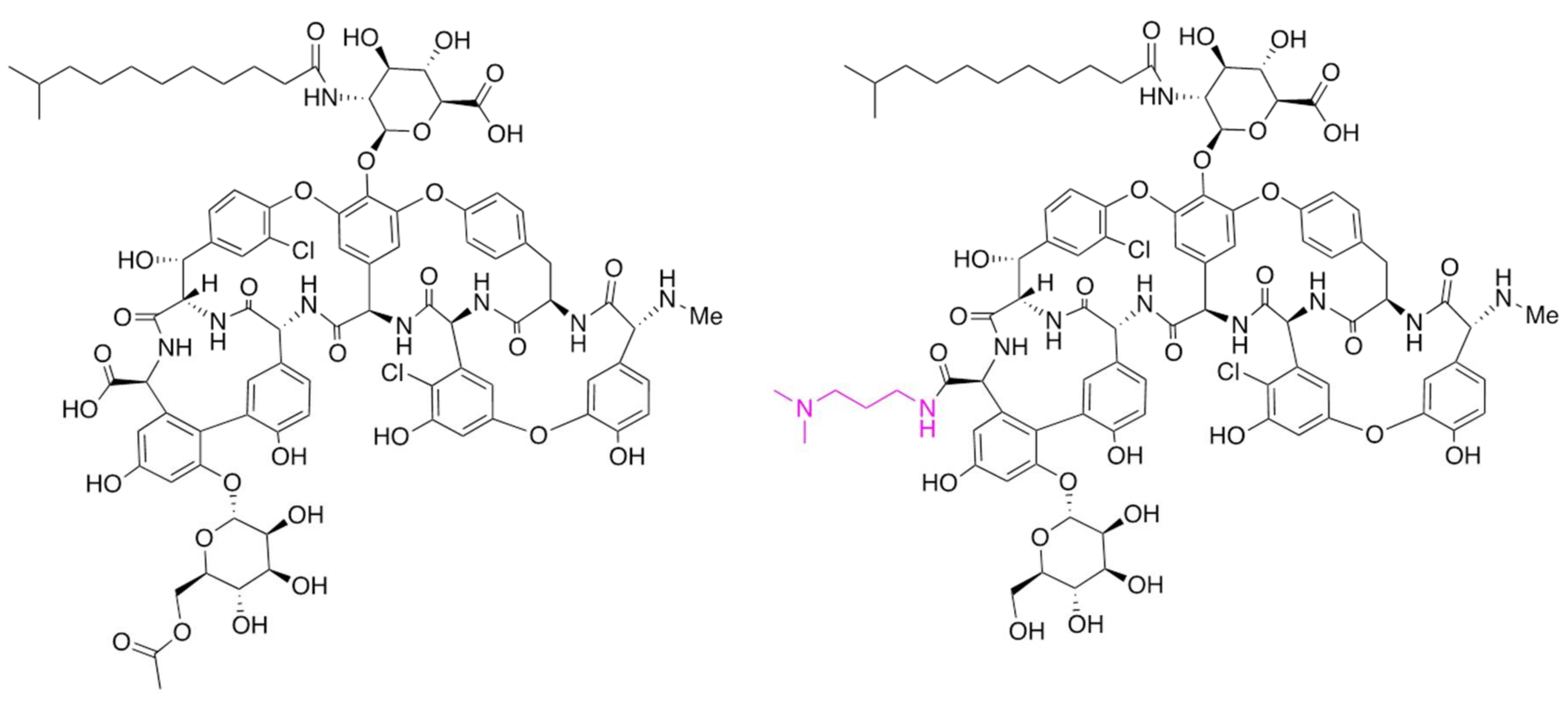 Figure 2.
Genetic organization of the
dbv
cluster. The thin black arrows indicate experimentally determined operons. Red triangles indicate experimentally determined Dbv4 binding sites, with the corresponding transcripts as red thick arrows; the thin green arrows represent the transcriptional units controlled by Dbv3. The
dbv
genes are grouped by functional category as indicated. See also
Table 1
.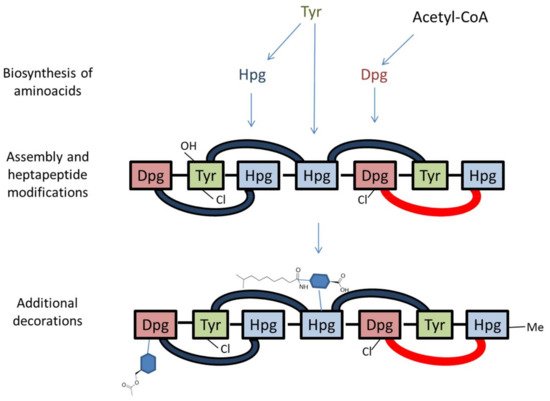 Figure 3.
Simplified model of
O
-acetyl A40926 biosynthesis. Note that the heptapeptide is drawn right (N-terminus) to left (C-terminus), consistent with
Figure 1
. Cross-links are indicated by blue (C–O–C) or red (C–C) arcs. Sugars are represented as blue hexagons. Refer to
Figure 2
and
Table 1
for details.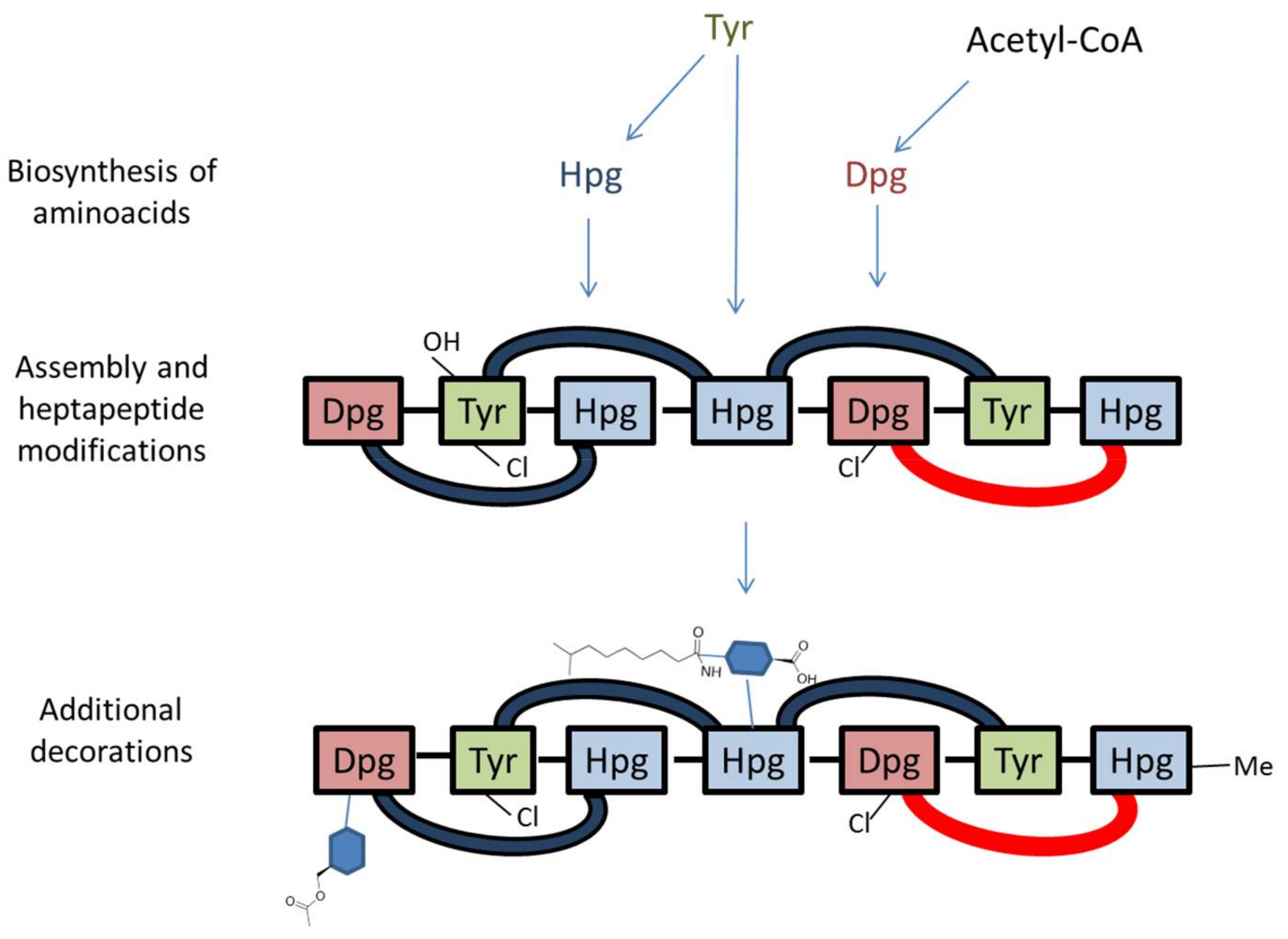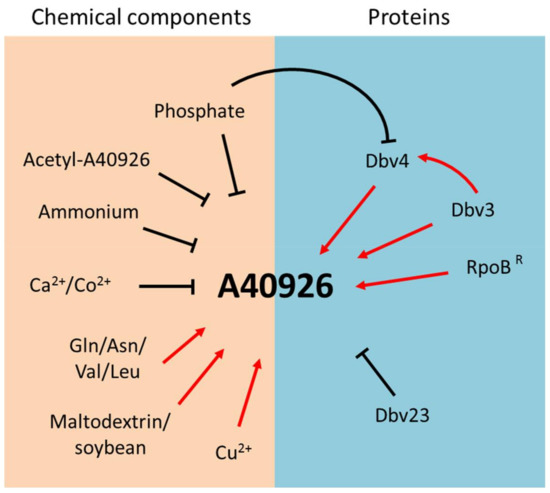 Figure 4.
Nutrients, biosynthetic products and proteins regulating A40926 production in
Nonomuraea gerenzanensis
.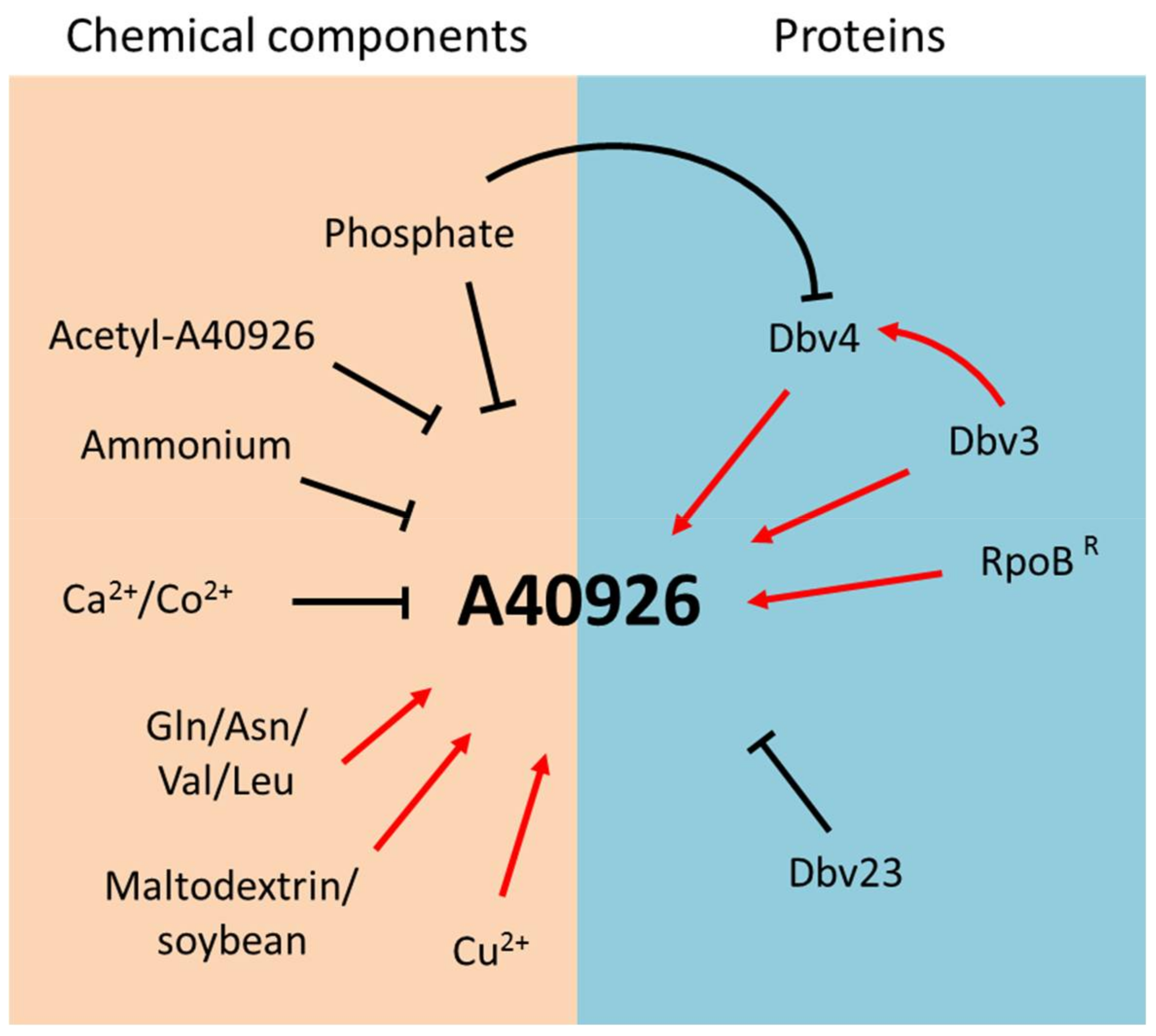 Transcriptional Unit
Function(s)

dbv1

-

dbv2

Hpg biosynthesis

dbv3

Regulation

dbv4

Regulation

dbv5

-

dbv7

Hpg biosynthesis; regulation; resistance

dbv8

-

dbv14

N

-Acylation; Halogenation; glycosylation; cross-links

dbv15

-

dbv17

NRPS

dbv18

-

dbv19

Export

dbv20

-

dbv21

Mannose addition;

N

-sugar deacetylation

dbv22

-

dbv23

Regulation; mannose

O

-acetylation

dbv24

-

dbv28

Export; NRPS; Tyr β-hydroxylation

dbv29

N

-sugar oxidation

dbv30

-

dbv35

Dpg biosynthesis

dbv36

NRPS accessory protein

dbv37

Hpg and Dpg biosynthesis

© 2018 by the authors. Licensee MDPI, Basel, Switzerland. This article is an open access article distributed under the terms and conditions of the Creative Commons Attribution (CC BY) license (http://creativecommons.org/licenses/by/4.0/).