Enhancing the Electrochemical Performance of SbTe Bimetallic Anodes for High-Performance Sodium-Ion Batteries: Roles of the Binder and Carbon Support Matrix
1
Department of Organic Material Science and Engineering, Pusan National University, 2, Busandaehak-ro 63beon gil, Geumjeong-gu, Busan 46241, Korea
2
Department of Chemical and Biological Engineering, Gachon University, Seongnam-si, Gyeonggido 13120, Korea
3
Photo-electronic Hybrids Research Center, Korea Institute of Science and Technology, 5 Hwarang-ro 14-gil, Seongbuk Gu, Seoul 02729, Korea
*
Authors to whom correspondence should be addressed.
Received: 20 July 2019 / Revised: 2 August 2019 / Accepted: 6 August 2019 / Published: 7 August 2019
Abstract
Synergism between the alloy materials and the carbon support matrix, in conjunction with the binder and electrolyte additives, is of utmost importance when developing sodium-ion batteries as viable replacements for lithium-ion batteries. In this study, we demonstrate the importance of the binder and carbon support matrix in enhancing the stabilities, cyclabilities, and capacity retentions of bimetallic anodes in sodium-ion batteries. SbTe electrodes containing 20%, 30%, and 40% carbon were fabricated with polyvinylidene fluoride (PVDF) and polyacrylic acid (PAA) binders, and electrochemically evaluated at a current rate of 100 mA g
−1
using electrolytes with 0%, 2%, and 5% added fluoroethylene carbonate (FEC). The electrodes with the PVDF binder in cells with 5% FEC added to the electrolyte showed capacity retentions that increased with increasing carbon percentage, delivering reversible capacities of 34, 69, and 168 mAh g
−1
with 20%, 30%, and 40% carbon; these electrodes retained 8.1%, 17.4%, and 44.8% of their respective capacities after 100 cycles. However, electrodes composed of the PAA binder in cells with 5% FEC added to the electrolyte delivered reversible capacities of 408, 373, and 341 mAh g
−1
with 20%, 30%, and 40% carbon; 93.5%, 93.4%, and 94.4% of their respective capacities were retained after 100 cycles. The carbon support matrix plays a significant role in improving the stability, cyclability, and capacity retention of the electrode. However, when the tradeoff between capacity and cyclability associated with carbon percentage is considered, the binder plays a significantly more prominent role in achieving high capacities, high cyclabilities, and enhanced retention rates.
View Full-Text
►

▼

Figures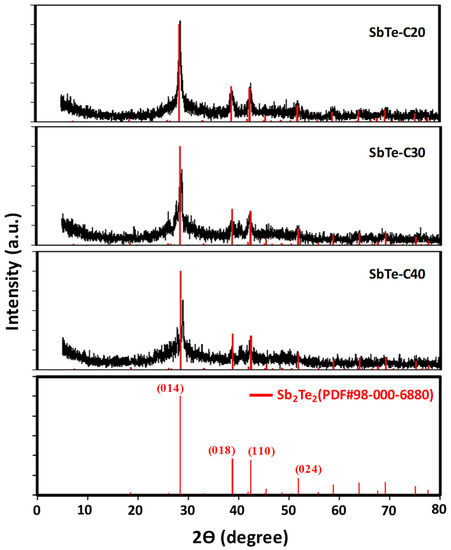 Figure 1
This is an open access article distributed under the
Creative Commons Attribution License
which permits unrestricted use, distribution, and reproduction in any medium, provided the original work is properly cited (CC BY 4.0).

Share & Cite This Article
MDPI and ACS Style
Nagulapati, V.M.; Kim, D.S.; Oh, J.; Lee, J.H.; Hur, J.; Kim, I.T.; Lee, S.G. Enhancing the Electrochemical Performance of SbTe Bimetallic Anodes for High-Performance Sodium-Ion Batteries: Roles of the Binder and Carbon Support Matrix. Nanomaterials 2019, 9, 1134.
Note that from the first issue of 2016, MDPI journals use article numbers instead of page numbers. See further details here.
Related Articles
Comments
[Return to top]