Ionic Nanocomplexes of Hyaluronic Acid and Polyarginine to Form Solid Materials: A Green Methodology to Obtain Sponges with Biomedical Potential
1
Advanced Center of Chronic Diseases (ACCDiS), Universidad de Chile, Santos Dumont 964, Independencia, Santiago 8380494, Chile
2
Departamento de Ciencias y Tecnología Farmacéuticas, Facultad de Ciencias Químicas y Farmacéuticas, Universidad de Chile, Santos Dumont 964, Independencia, Santiago 8380494, Chile
3
Instituto de Ciencias Químicas, Facultad de Ciencias, Universidad Austral de Chile, Isla Teja, Casilla 567, Valdivia 5090000, Chile
4
Laboratory of Cellular Communication, Program of Cell and Molecular Biology, Institute of Biomedical Sciences (ICBM), Faculty of Medicine, University of Chile, Av. Independencia 1027, Santiago 8380453, Chile
5
Instituto de Anatomía, Histología y Patología, Facultad de Medicina, Universidad Austral de Chile, Valdivia 5090000, Chile
6
Jeffrey Modell Center of Diagnosis and Research in Primary Immunodeficiencies. Faculty of Medicine, University of La Frontera, Temuco 4780000, Chile
7
NM MultiMat, Instituto de Ciencias Físicas y Matemáticas, Facultad de Ciencias, Universidad Austral de Chile, Valdivia 5090000, Chile
*
Authors to whom correspondence should be addressed.
Received: 11 May 2019 / Revised: 21 June 2019 / Accepted: 24 June 2019 / Published: 29 June 2019
Abstract
We report on the design, development, characterization, and a preliminary cellular evaluation of a novel solid material. This material is composed of low-molecular-weight hyaluronic acid (LMWHA) and polyarginine (PArg), which generate aqueous ionic nanocomplexes (INC) that are then freeze-dried to create the final product. Different ratios of LMWHA/PArg were selected to elaborate INC, the size and zeta potential of which ranged from 100 to 200 nm and +25 to −43 mV, respectively. Turbidimetry and nanoparticle concentration analyses demonstrated the high capacity of the INC to interact with increasing concentrations of LMWHA, improving the yield of production of the nanostructures. Interestingly, once the selected formulations of INC were freeze-dried, only those comprising a larger excess of LMWHA could form reproducible sponge formulations, as seen with the naked eye. This optical behavior was consistent with the scanning transmission electron microscopy (STEM) images, which showed a tendency of the particles to agglomerate when an excess of LMWHA was present. Mechanical characterization evidenced low stiffness in the materials, attributed to the low density and high porosity. A preliminary cellular evaluation in a fibroblast cell line (RMF-EG) evidenced the concentration range where swollen formulations did not affect cell proliferation (93–464 µM) at 24, 48, or 72 h. Considering that the reproducible sponge formulations were elaborated following inexpensive and non-contaminant methods and comprised bioactive components, we postulate them with potential for biomedical purposes. Additionally, this systematic study provides important information to design reproducible porous solid materials using ionic nanocomplexes.
View Full-Text
►

▼

Figures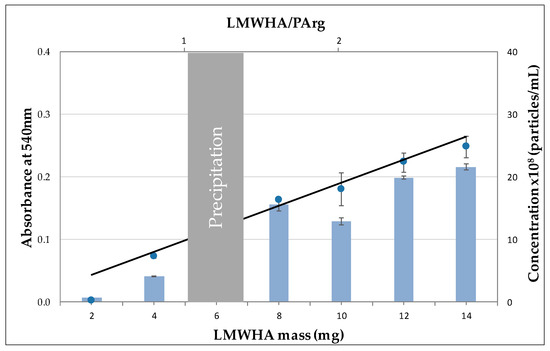 Figure 1
This is an open access article distributed under the
Creative Commons Attribution License
which permits unrestricted use, distribution, and reproduction in any medium, provided the original work is properly cited (CC BY 4.0).

Share & Cite This Article
MDPI and ACS Style
Villamizar-Sarmiento, M.G.; Moreno-Villoslada, I.; Martínez, S.; Giacaman, A.; Miranda, V.; Vidal, A.; Orellana, S.L.; Concha, M.; Pavicic, F.; Lisoni, J.G.; Leyton, L.; Oyarzun-Ampuero, F.A. Ionic Nanocomplexes of Hyaluronic Acid and Polyarginine to Form Solid Materials: A Green Methodology to Obtain Sponges with Biomedical Potential. Nanomaterials 2019, 9, 944.
Note that from the first issue of 2016, MDPI journals use article numbers instead of page numbers. See further details here.
Related Articles
Comments
[Return to top]