Open Access This article is
freely available
re-usable
Communication
Effect of the Order-Disorder Transition on the Seebeck Coefficient of Nanostructured Thermoelectric Cu2ZnSnS4
1
Department of Civil, Environmental and Mechanical Engineering, University of Trento, via Mesiano 77, 38123 Trento, Italy
2
Laboratory of Bio-Inspired and Graphene Nanomechanics, Department of Civil, Environmental and Mechanical Engineering, University of Trento, via Mesiano 77, 38123 Trento, Italy
3
National Research Council of Italy-Institute of Condensed Matter Chemistry and Technologies for Energy (CNR-ICMATE), Lecco Unit, via Previati 1/E, 23900 Lecco, Italy
4
Ket-Lab, Edoardo Amaldi Foundation, Via del Politecnico snc, 00133 Rome, Italy
5
School of Engineering and Materials Science, Queen Mary University of London, Mile End Road, London E1 4NS, UK
*
Author to whom correspondence should be addressed.
Received: 23 April 2019 / Accepted: 13 May 2019 / Published: 17 May 2019
Abstract
:
Bulk samples of kesterite (Cu
2
ZnSnS
4
, CZTS) were produced by cold-pressing and sintering of CZTS powders obtained via reactive ball-milling. An increase in the Seebeck coefficient of more than 100
μ
V/K, almost doubling the expected value, is noticed around a temperature of 260 °C. As pointed out by thermal analyses, this is due to a second order transition of kesterite from an ordered
I-4
to a disordered
I-42m
crystal structure. Conversely to what happens for solar cell materials, where the transition is considered to be detrimental for the performance, it appears to be beneficial for the thermoelectric Seebeck coefficient, suggesting that higher crystal symmetry and cation-disorder due to the transition lead to thermopower enhancement.
Keywords:
order-disorder transition; Seebeck coefficient; kesterite; CZTS; nanostructured materials; thermoelectric materials; crystal structure symmetry
Author Contributions
Conceptualization, P.S. and E.I.; methodology, P.S. and C.F.; XRD data modeling, E.I. and P.S.; data interpretation, C.F., P.S. and E.I.; experimental investigation, E.I. and C.F.; data curation, E.I. and C.F.; writing—original draft preparation, E.I.; writing—review and editing, P.S., C.F., N.M.P.; supervision, P.S., N.M.P.
Funding
This research was funded by the Autonomous Province of Trento, within the framework of the programmatic Energy Action 2015–2017. N.M.P. was supported by the European Commission under the Graphene Flagship Core 2 grant No. 785219 (WP14 "Composites") and FET Proactive "Neurofibres" grant No. 732344 as well as by the Italian Ministry of Education, University and Research (MIUR), under the "Departments of Excellence" grant L. 232/2016 and ARS01-01384-PROSCAN grant.
Acknowledgments
The authors would like to acknowledge the help of G. Ischia of Electron Microscopy Facility of the Laboratory of Micro & Structural Analysis (Department of Industrial Engineering, Trento) and Corrado Tomasi of CNR, Genova Unit, for useful discussions.
Conflicts of Interest
The authors declare no conflict of interest.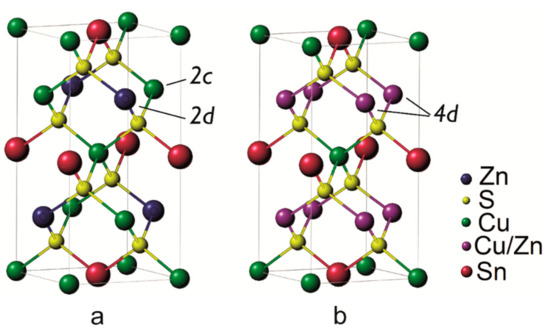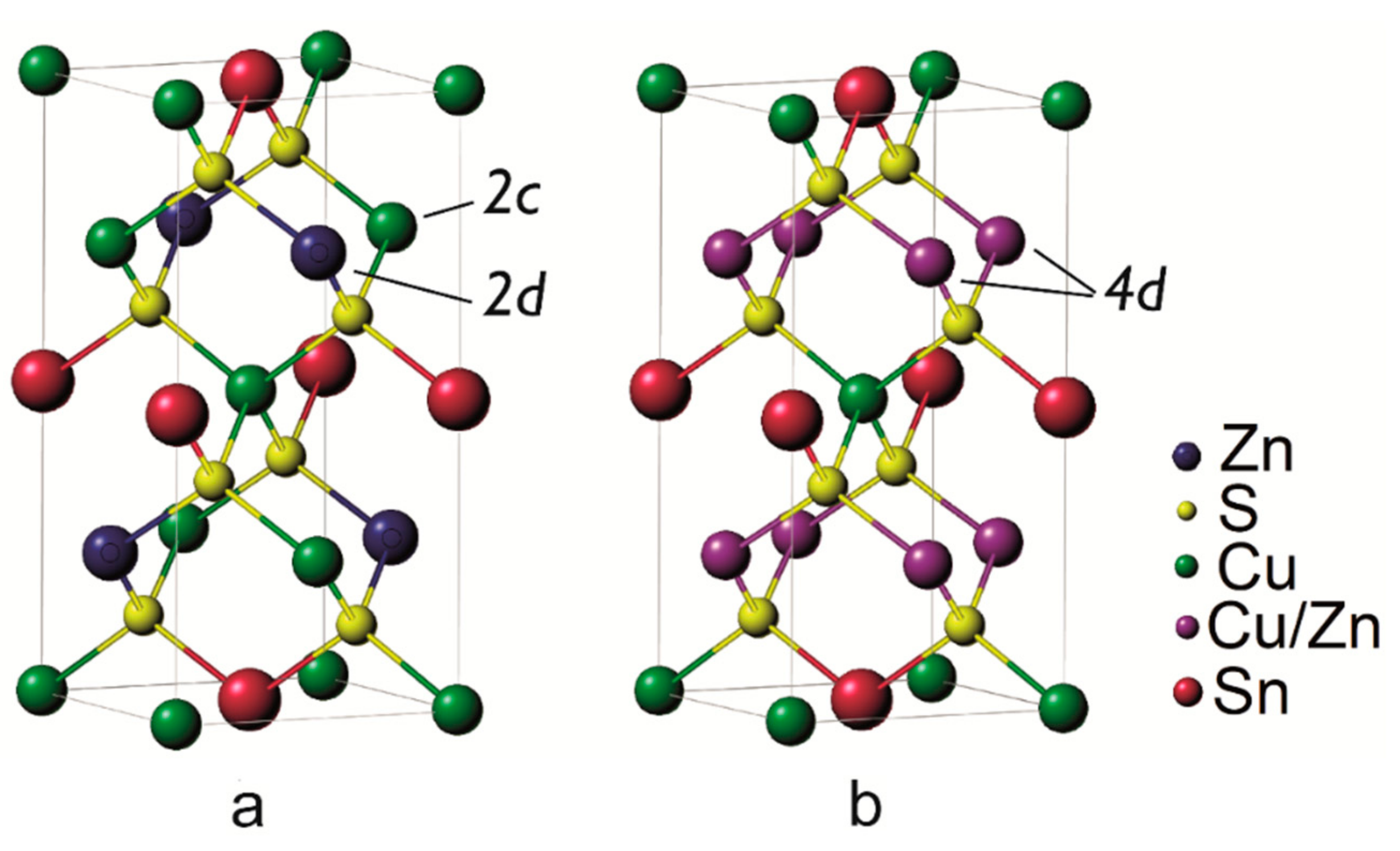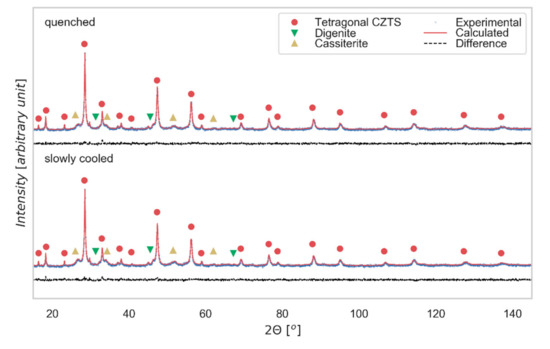 Figure 2. X-Ray Diffraction patterns. XRD data Rietveld refinement (performed with TOPAS 7) and phase identification for the slowly cooled and quenched samples. The difference between experimental data (blue) and model (red) is shown below (residual, black line).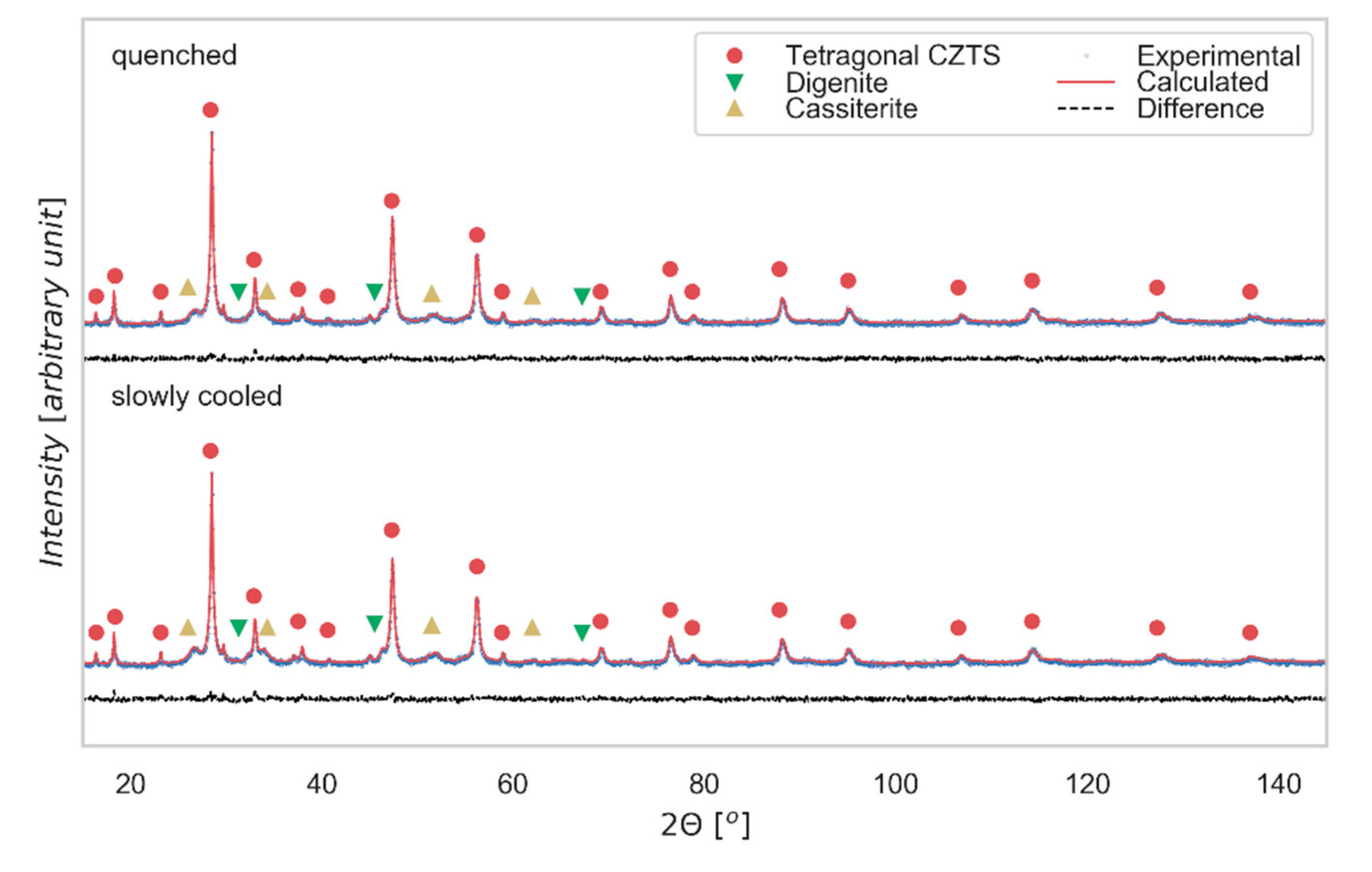 Figure 3.
TEM and SAED images: (
a
,
b
) TEM images of slowly cooled sample ground to powder; (
c
) SAED pattern of the area shown in
Figure 3
a, Miller indices of scattering planes corresponding to a tetragonal crystal structure are indicated.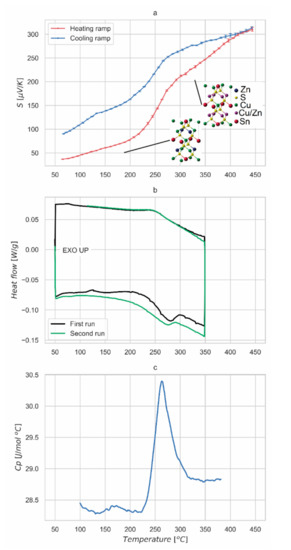 Figure 4.
Seebeck measurements and thermal analyses. Absolute Seebeck coefficient measured for the slowly cooled kesterite sample in heating and cooling ramp, with insets representing the relevant crystal structures. (
a
). Thermal analysis (DSC) curve measured for the slowly cooled sample. First and second runs are displayed in both heating and cooling ramp. (
b
). A second-order phase transition is clearly visible, especially in the trend of the constant-pressure heat capacity (
Cp
), in (
c
).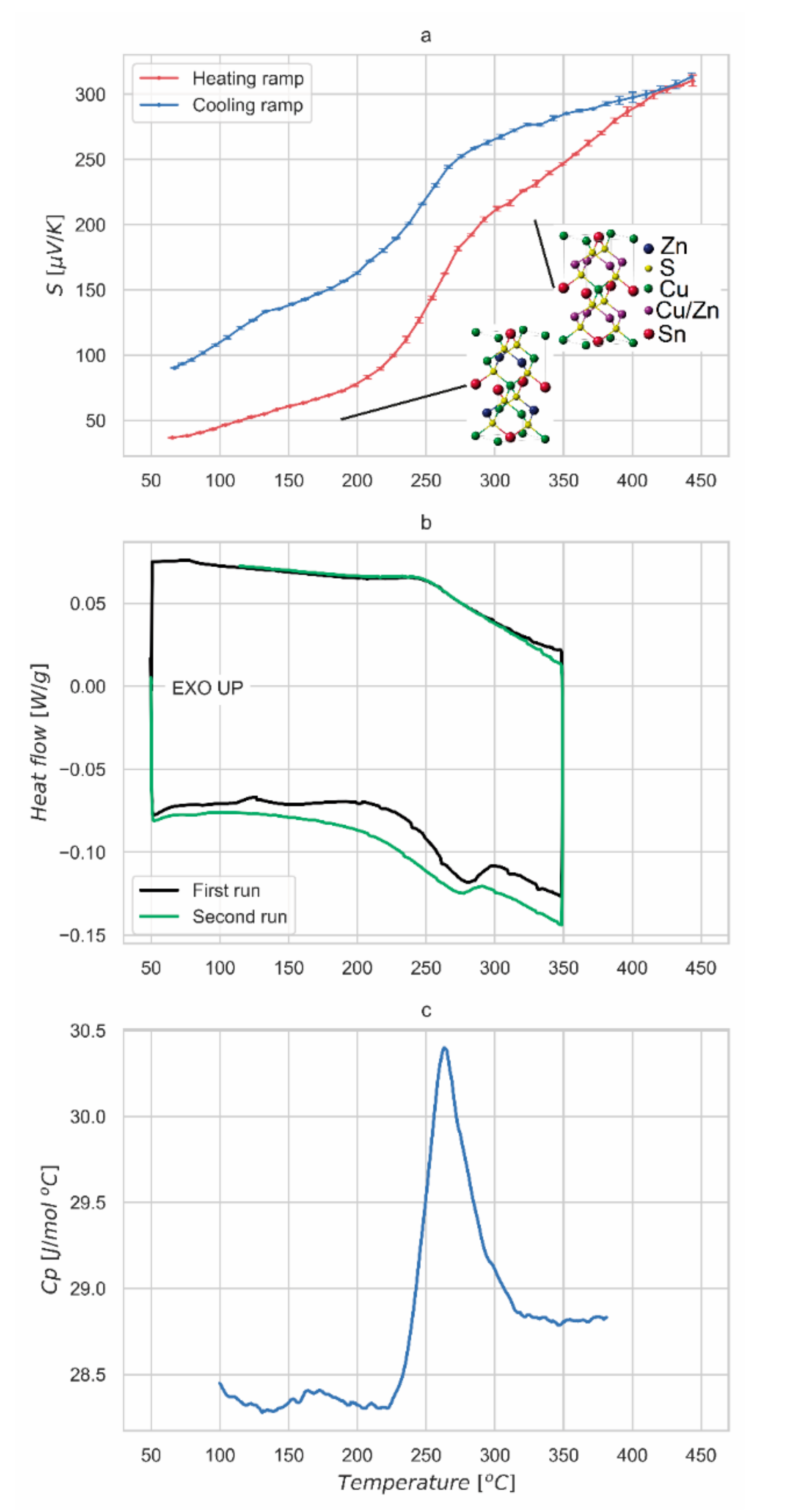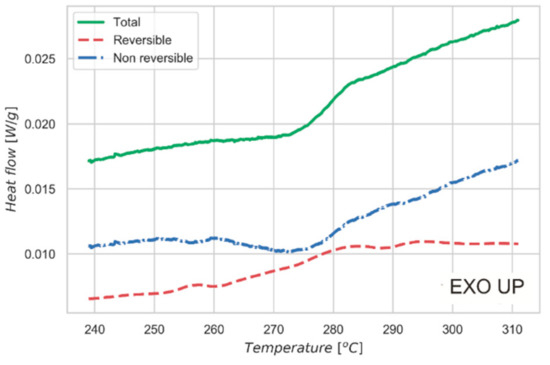 Figure 5. Modulated mode thermal analysis measurement (MDSC). MDSC is performed across the critical temperature to study the character of the order-disorder transition. MDSC allows us to separate the reversible (red) and the non-reversible (blue) contributions to the total heat flow in the sample (green). Ramp 2 K/min, modulation period 120 s, and semi-amplitude 0.5 °C.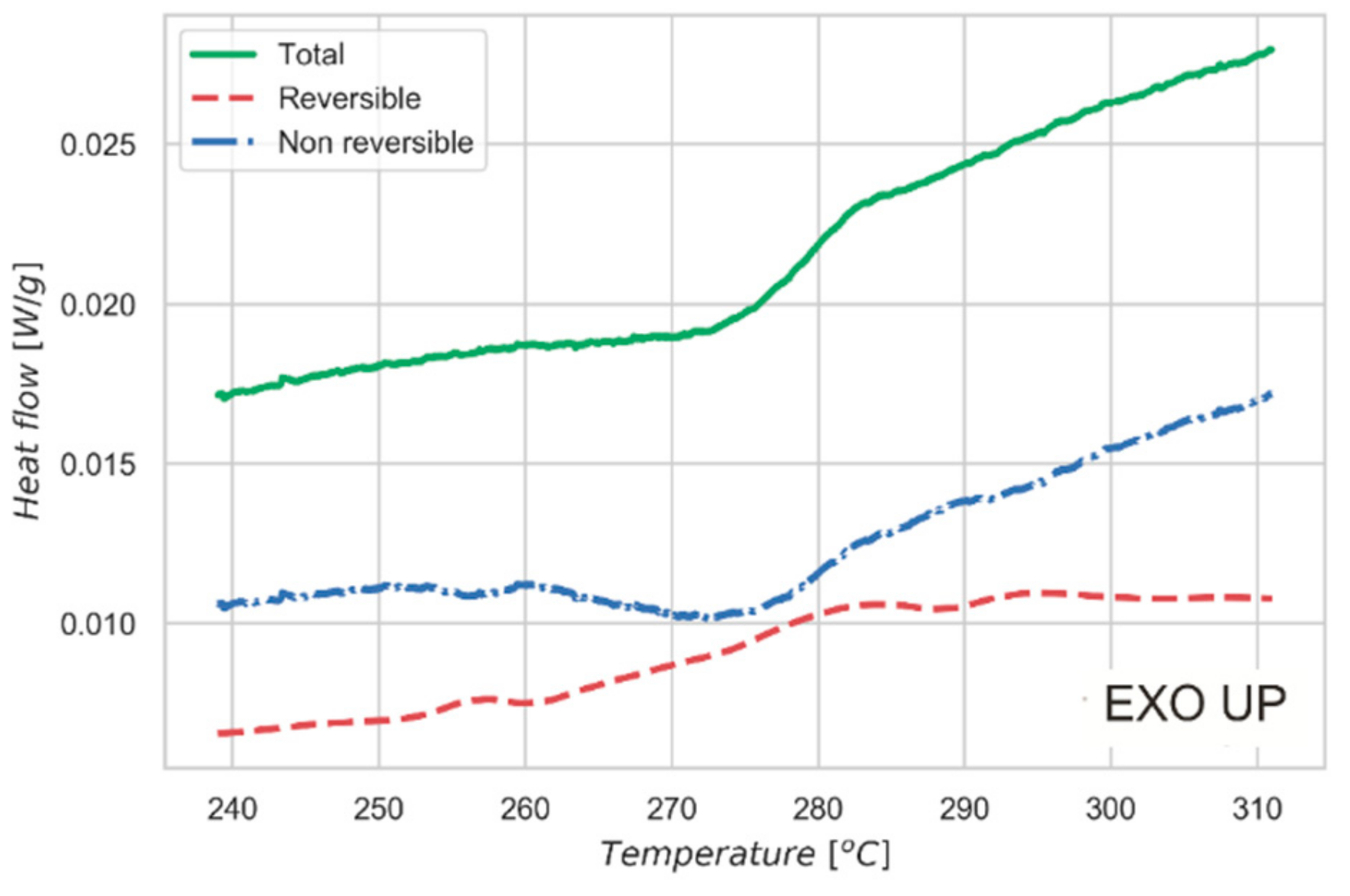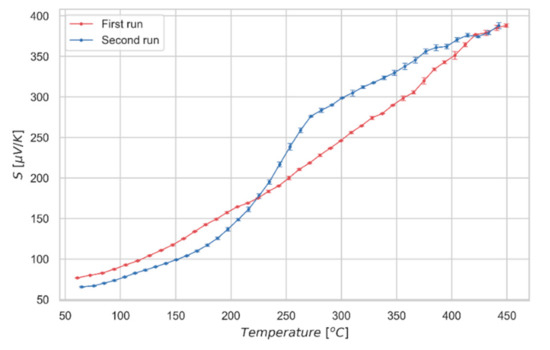 Figure 6. Absolute Seebeck coefficient measured for the quenched kesterite sample. First and second runs of the measurement are shown.

© 2019 by the authors. Licensee MDPI, Basel, Switzerland. This article is an open access article distributed under the terms and conditions of the Creative Commons Attribution (CC BY) license (http://creativecommons.org/licenses/by/4.0/).