Targeted Gold Nanoparticle–Oligonucleotide Contrast Agents in Combination with a New Local Voxel-Wise MRI Analysis Algorithm for In Vitro Imaging of Triple-Negative Breast Cancer
1
Department of Bioengineering, University of Louisville, Louisville, KY 40292, USA
2
Department of Pharmacology and Toxicology, University of Louisville, Louisville, KY 40202, USA
3
Department of Radiology, University of Louisville, Louisville, KY 40202, USA
4
Department of Medicine and James Graham Brown Cancer Center, University of Louisville, Louisville, KY 40202, USA
*
Authors to whom correspondence should be addressed.
†
These authors contributed equally to this paper.
‡
These authors contributed equally to this paper.
Received: 5 March 2019 / Revised: 26 April 2019 / Accepted: 28 April 2019 / Published: 7 May 2019
Abstract
Gold nanoparticles (GNPs) have tremendous potential as cancer-targeted contrast agents for diagnostic imaging. The ability to modify the particle surface with both disease-targeting molecules (such as the cancer-specific aptamer AS1411) and contrast agents (such as the gadolinium chelate Gd(III)-DO3A-SH) enables tailoring the particles for specific cancer-imaging and diagnosis. While the amount of image contrast generated by nanoparticle contrast agents is often low, it can be augmented with the assistance of computer image analysis algorithms. In this work, the ability of cancer-targeted gold nanoparticle–oligonucleotide conjugates to distinguish between malignant (MDA-MB-231) and healthy cells (MCF-10A) is tested using a T1-weighted image analysis algorithm based on three-dimensional, deformable model-based segmentation to extract the Volume of Interest (VOI). The gold nanoparticle/algorithm tandem was tested using contrast agent GNP-Gd(III)-DO3A-SH-AS1411) and nontargeted c-rich oligonucleotide (CRO) analogs and control (CTR) counterparts (GNP-Gd(III)-DO3A-SH-CRO/CTR) via in vitro studies. Remarkably, the cancer cells were notably distinguished from the nonmalignant cells, especially at nanomolar contrast agent concentrations. The T1-weighted image analysis algorithm provided similar results to the industry standard Varian software interface (VNMRJ) analysis of T1 maps at micromolar contrast agent concentrations, in which the VNMRJ produced a 19.5% better MRI contrast enhancement. However, our algorithm provided more sensitive and consistent results at nanomolar contrast agent concentrations, where our algorithm produced ~500% better MRI contrast enhancement.
View Full-Text
►

▼

Figures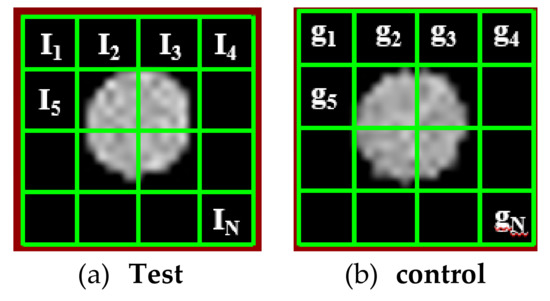 Figure 1
This is an open access article distributed under the
Creative Commons Attribution License
which permits unrestricted use, distribution, and reproduction in any medium, provided the original work is properly cited (CC BY 4.0).

Share & Cite This Article
MDPI and ACS Style
Chauhan, R.; El-Baz, N.; Keynton, R.S.; James, K.T.; Malik, D.A.; Zhu, M.; El-Baz, A.; Ng, C.K.; Bates, P.J.; Malik, M.T.; O'Toole, M.G. Targeted Gold Nanoparticle–Oligonucleotide Contrast Agents in Combination with a New Local Voxel-Wise MRI Analysis Algorithm for In Vitro Imaging of Triple-Negative Breast Cancer. Nanomaterials 2019, 9, 709.
Note that from the first issue of 2016, MDPI journals use article numbers instead of page numbers. See further details here.
Related Articles
Comments
[Return to top]