Open Access This article is
freely available
re-usable
Article
Optimization of the Split-Spinach Aptamer for Monitoring Nanoparticle Assembly Involving Multiple Contiguous RNAs
1
Department of Chemistry and Biochemistry, Seattle Pacific University, Seattle, WA 918119-1997, USA
2
Department of Chemistry and Biochemistry, Biomolecular Science and Engineering Program, University of California, Santa Barbara, CA 93106-9510, USA
*
Author to whom correspondence should be addressed.
Received: 14 February 2019 / Accepted: 4 March 2019 / Published: 6 March 2019
Abstract
:
The fact that structural RNA motifs can direct RNAs to fold and self-assemble into predictable pre-defined structures is an attractive quality and driving force for RNA's use in nanotechnology. RNA's recognized diversity concerning cellular and synthetically selected functionalities, however, help explain why it continues to draw attention for new nano-applications. Herein, we report the modification of a bifurcated reporter system based on the previously documented Spinach aptamer/DFHBI fluorophore pair that affords the ability to confirm the assembly of contiguous RNA strands within the context of the previously reported multi-stranded RNA nanoring. Exploration of the sequence space associated with the base pairs flanking the aptamer core demonstrate that fluorescent feedback can be optimized to minimize the fluorescence associated with partially-assembled RNA nanorings. Finally, we demonstrate that the aptamer-integrated nanoring is capable of assembling directly from transcribed DNA in one pot.
Keywords:
RNA nanotechnology; RNA self-assembly; light-up aptamer; RNA nanoparticle
Supplementary Materials
The following are available online at
https://www.mdpi.com/2079-4991/9/3/378/s1
, Figure S1: 2D diagram of aptamer integrated nanoring, Table S1: List of sequences tested, Figure S2: Predicted secondary structures. Figure S3: Fluorescent profile of partially-assembled nanorings.
Author Contributions
The authors of the study all participated and contributed substantially to the research article and their individual contributions are as follows: Conceptualization, L.J. and W.W.G.; Methodology, W.W.G.; Data Acquisition, J.M.O., D.M. and S.M.; Formal Analysis, J.M.O. and W.W.G.; Data Curation, J.M.O., D.M. and S.M.; Writing-Original Draft Preparation, J.M.O. and W.W.G.; Writing-Review & Editing, J.M.O., L.J., and W.W.G.; Visualization, J.M.O. and W.W.G.; Funding Acquisition, W.W.G.
Funding
This research was funded by MJ Murdock Charitable Trust; grant number 2014278:MNL:2/26/2015 and The APC was funded in part by Seattle Pacific University's Faculty Research Grant.
Conflicts of Interest
The authors declare no conflict of interest.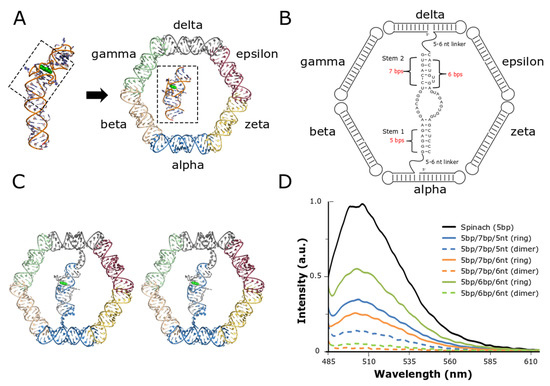 Figure 1.
Design and integration of the split-Spinach aptamer and RNA nanoring. (
A
) The central portion of the Spinach aptamer crystallized by Huang et al. (PDB ID: 3IVK) [
42
] was placed in the interior of the previously reported RNA nanoring and grafted onto two of the nanoring's opposing helical struts. Based on initial placement, the Spinach aptamer was modeled to contain two short stems and single-stranded linkers with variable lengths. (
B
) 2D diagram resulting from initial modification and modeling of the split-Spinach aptamer into the RNA nanoring. (
C
) Stereoview of split-aptamer integrated into RNA nanoring. (
D
) The variable stem and single-stranded linker lengths were tested via fluorescent spectroscopy in the presence of the light-up chromophore DFHBI. The combination containing 5- and 6-bp stems and 6-nt linkers (5bp/6p/6nt) showed the highest response and was therefore chosen as the initial base model for further refinement.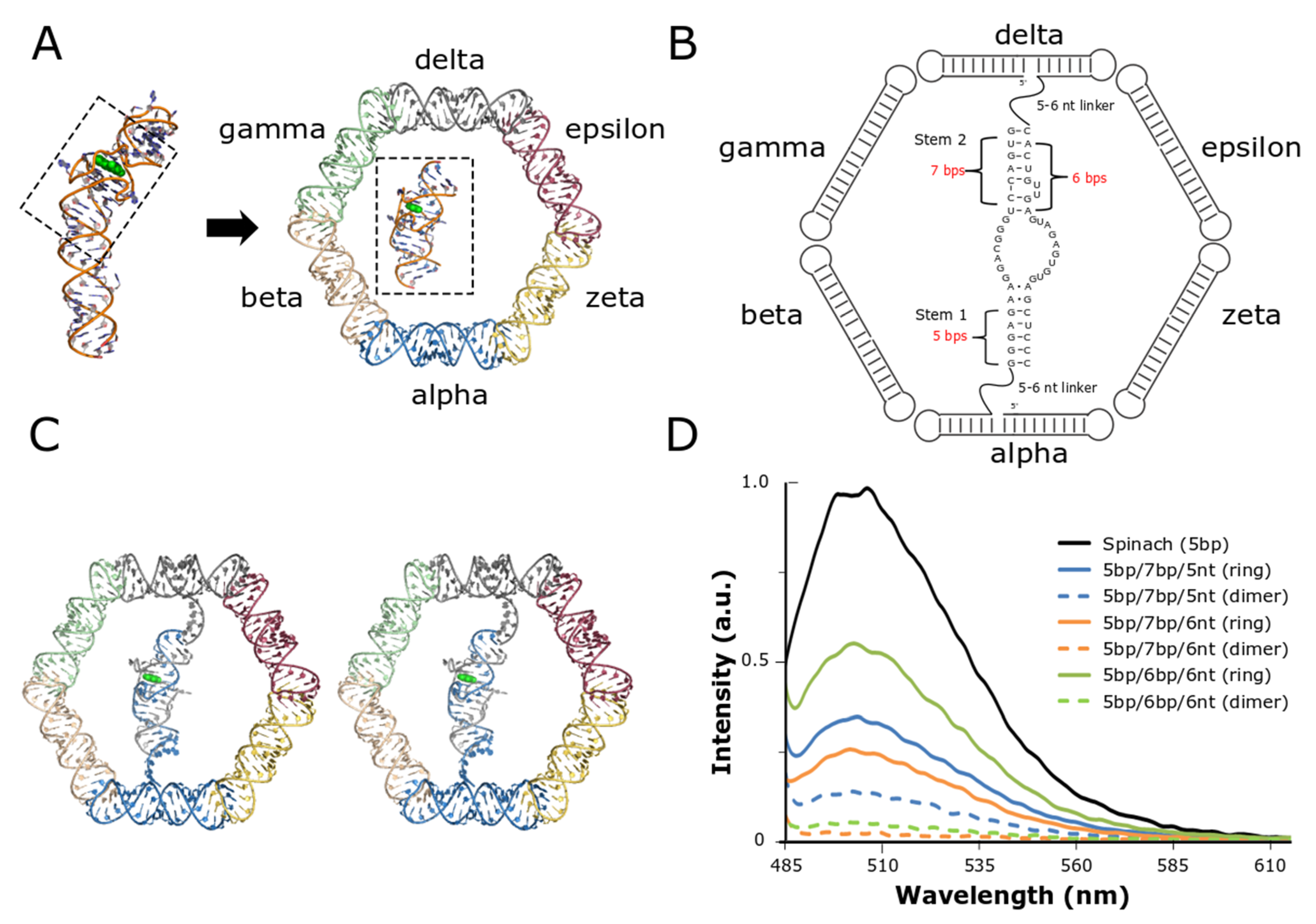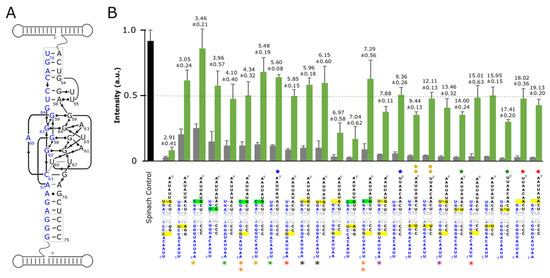 Figure 2.
Optimization of split-Spinach as reporter for RNA nanoring assembly. (
A
) 2D diagram of split-Spinach aptamer core (adapted from Ouellet Front. Chem. 2016) [
16
] (
B
) Fluorescent data of variant split-Spinach sequences tested normalized to unimolecular Spinach control (black bar). Green bars indicate fluorescence associated with the fully-assembled nanoring while grey bars represent fluorescence associated with the incubation of the alpha and delta strands containing the split aptamer alone. Variants are ranked according to their respective sensitivities (i.e.. ratio of fluorescence in ring/fluorescence of dimer shown above the green and grey bars). Split-Spinach variants that differ from each other in the linker sequences are identified by colored asterisks (alpha strand) or stars (delta strand). Pairs that differ by only a single linker are identified by the same color. The number of asterisks or stars indicate the identity of the particular linker strand used. Data is based on a minimum of three trials. The error bars represent the standard deviation associated with each collection of measurements.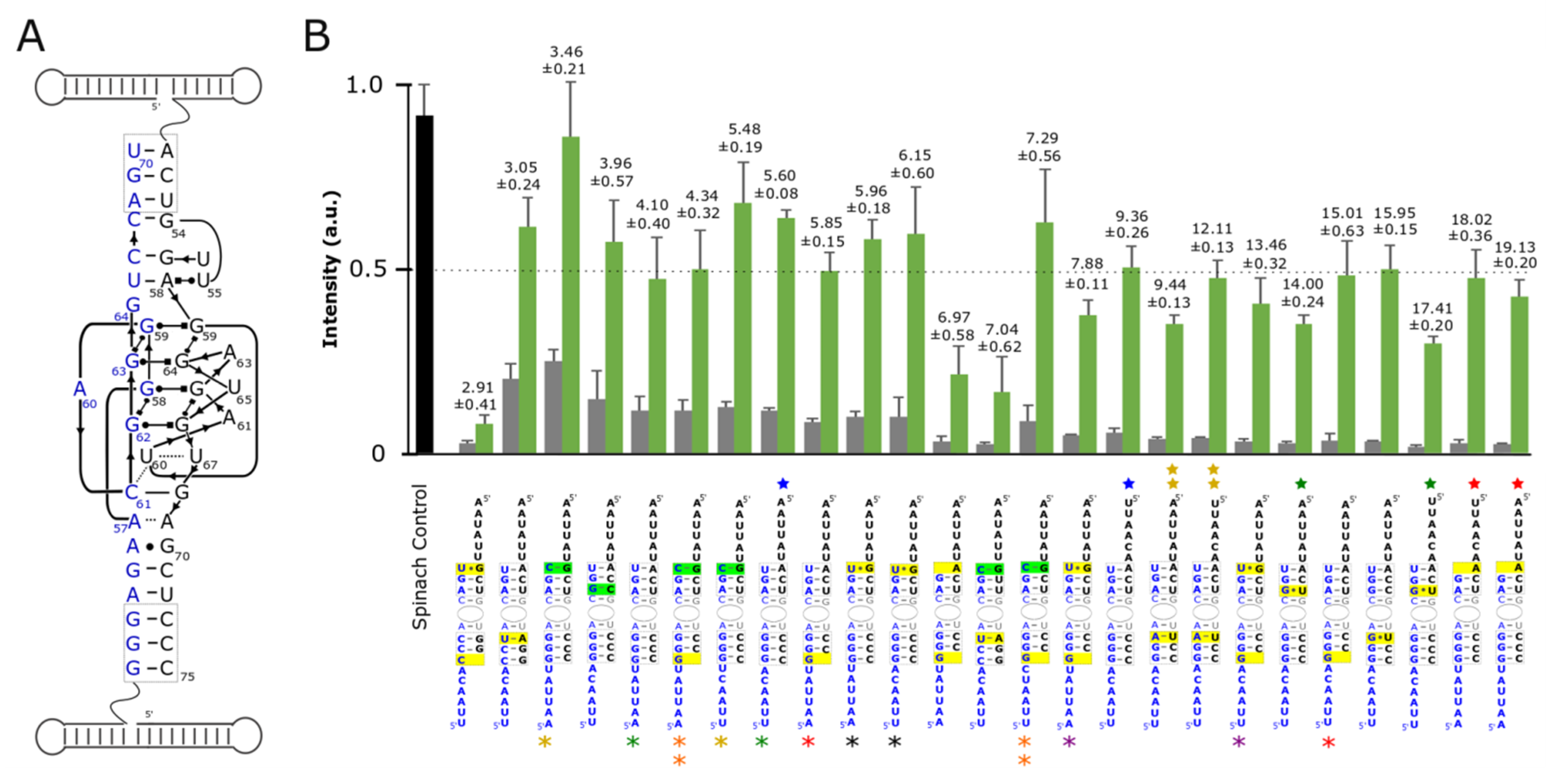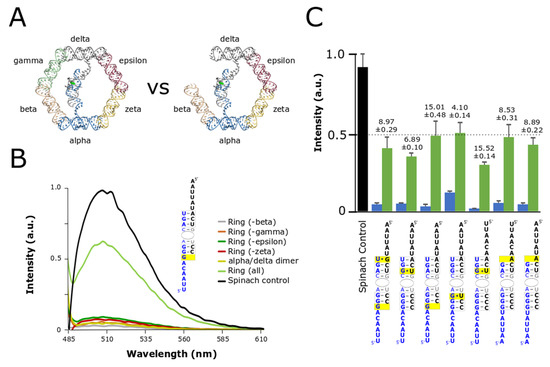 Figure 3. Comparison of fully- and partially-assembled nanorings. (A) In order to function as an effective tool for verifying and monitoring nanoring assembly the system needed to be able distinguish between whole and incomplete or partially-assembled nanorings. (B) Fluorescent data comparing fully-assembled to nanorings missing one of the four supporting struts (beta, gamma, epsilon, or zeta). (C) Summary of average fluorescent values for whole nanoring assemblies and partial assemblies compared to Spinach control where the green bar represents the complete nanoring and the blue bar represents the partially-assembled nanoring. The ratio of fluorescence of ring to partially-assembled (ring missing one strut) is shown above each plot. Data is based on a minimum of three trials. The error bars represent the standard deviation associated with each collection of measurements.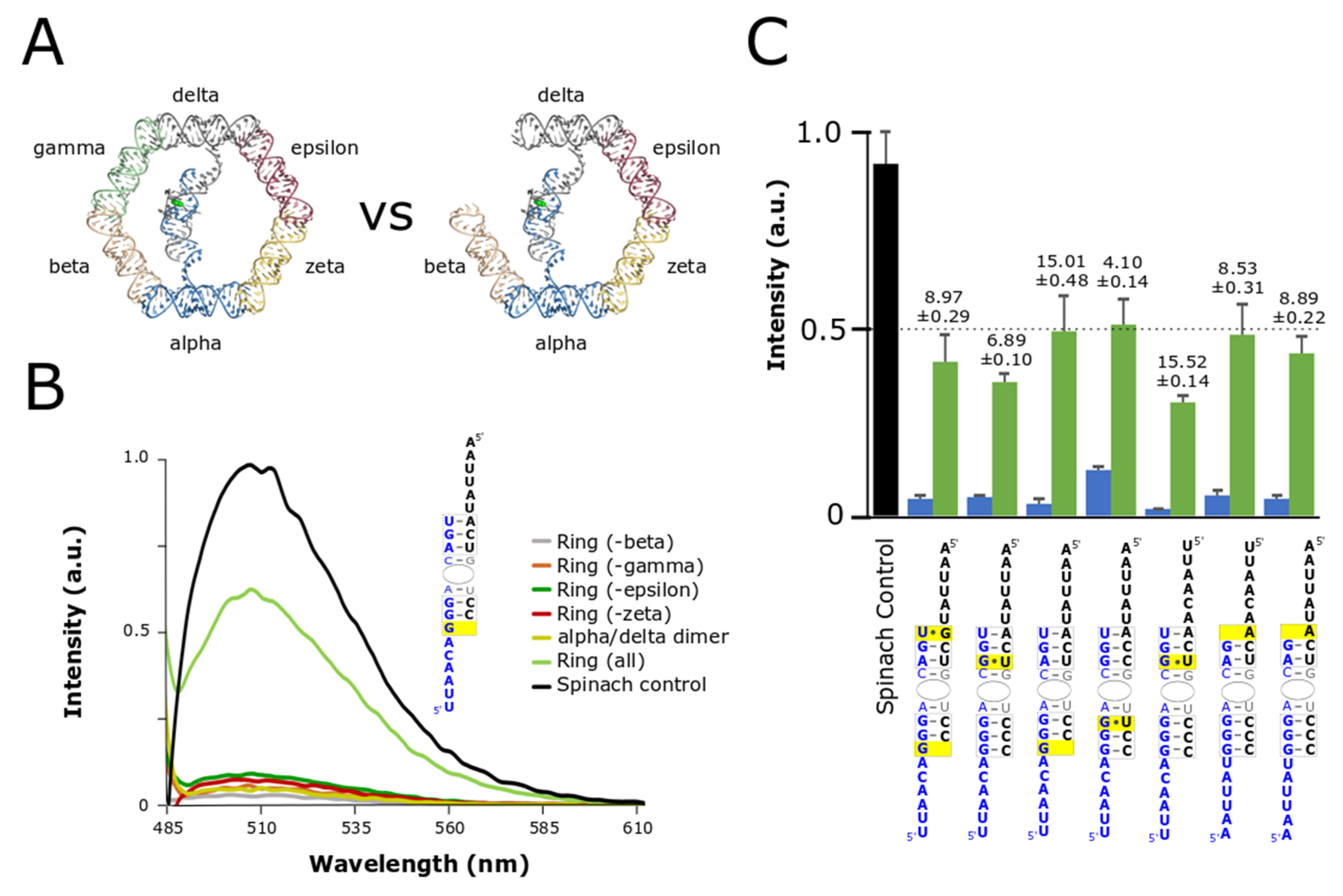 Figure 4. Co-ranscriptional assembly of nanorings monitored by native PAGE and fluorescent spectroscopy. (A) Native PAGE gel (1× HEPES and 2 mM Mg2+) was used to reveal the composition of nanoring assemblies formed in transcription mix as compared to an RNA ladder that was snapped cooled (top). Fluorescent values associated with the nanoring products were normalized to the Spinach control also formed via transcription (bottom). (B) Average fluorescent data for top split-Spinach variants assembled during transcription with ratio of fluorescent signal of fully-assembled ring (green bar) to partially-assembled ring (blue bar) and fully-assembled ring to dimer (grey bar). Data is based on a minimum of three trials. The error bars represent the standard deviation associated with each collection of measurements.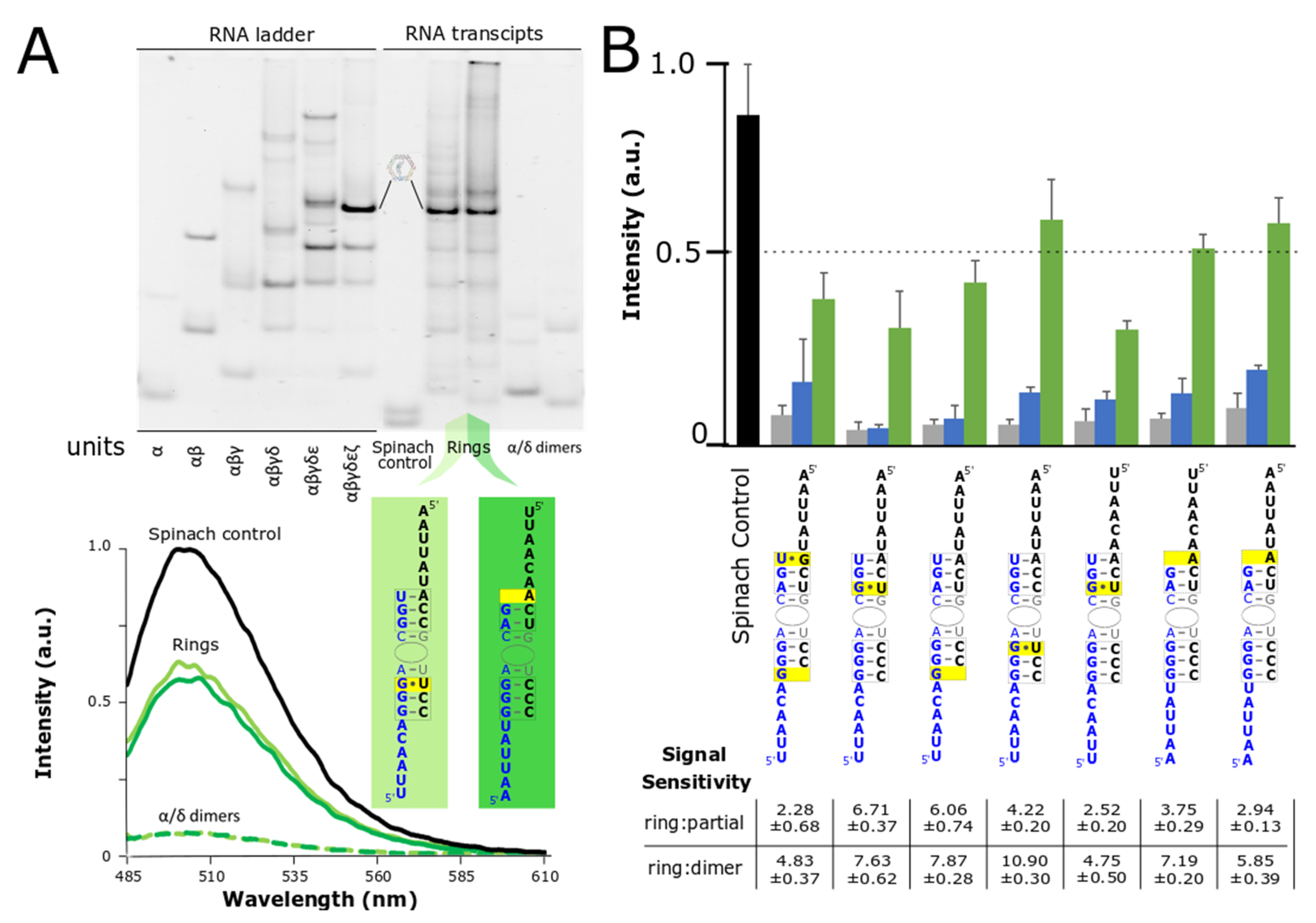 © 2019 by the authors. Licensee MDPI, Basel, Switzerland. This article is an open access article distributed under the terms and conditions of the Creative Commons Attribution (CC BY) license (http://creativecommons.org/licenses/by/4.0/).