Open Access This article is
freely available
re-usable
Article
Resorcinol Functionalized Gold Nanoparticles for Formaldehyde Colorimetric Detection
1
Instituto Interuniversitario de Investigación de Reconocimiento Molecular y Desarrollo Tecnológico (IDM), Universitat Politécnica de València, Universitat de València, Doctor Moliner 50, Burjassot, 46100 Valencia, Spain
2
Departamento de Química Orgánica, Universitat de València, Doctor Moliner 50, Burjassot, 46100 Valencia, Spain
3
CIBER de Bioingeniería, Biomateriales y Nanomedicina (CIBER-BBN), 28029 Madrid, Spain
*
Author to whom correspondence should be addressed.
Received: 8 January 2019 / Accepted: 18 February 2019 / Published: 22 February 2019
Abstract
:
Gold nanoparticles functionalized with resorcinol moieties have been prepared and used for detecting formaldehyde both in solution and gas phases. The detection mechanism is based on the color change of the probe upon the aggregation of the nanoparticles induced by the polymerization of the resorcinol moieties in the presence of formaldehyde. A limit of detection of 0.5 ppm in solution has been determined. The probe can be deployed for the detection of formaldehyde emissions from composite wood boards.
Keywords:
gold nanoparticles; colorimetric detection; formaldehyde; resorcinol
2. Materials and Methods
2.1. General Procedures
Chloroauric acid (HAuCl4·3H2O), sodium citrate dihydrate, α-lipoic acid, 3,5-dihydroxybenzyl alcohol, diisopropyl azodicarboxylate (DIAD), and triphenylphosphine (TPP) were commercially available and were used without purification. Anhydrous tetrahydrofuran (THF) was freshly distilled from sodium/benzophenone under argon. All the aqueous solutions were prepared with Milli-Q water (18.2 MΩ cm−1). A Bruker DPX300 300 MHz spectrometer (Billerica, MA, USA) was used to obtain the 1H-NMR spectrum, using tetramethylsilane as internal standard. UV-vis absorption spectra were performed on a Shimadzu UV-2101PC spectrophotometer (Kyoto, Japan). Fourier-transform infrared spectra (FT-IR) were recorded with an Agilent Cary 630 FT-IR spectrometer (Santa Clara, CA, USA). Transmission electron microscopy images were obtained with a JEOL JEM-1010 transmission electron microscope (Tokyo, Japan,) operating at 100 kV. A Malvern Instruments Zetasizer ZS was used for dynamic light scattering (DLS) measurements (Worcestershire, UK, 3 times in 10–25 cycles).
2.2. Synthesis of Compound 1
In this study, 3,5-dihydroxybenzyl alcohol (200 mg, 1.40 mmol) was dissolved in dry THF (20 mL). Then, TPP (374 mg, 1 eq.) and DIAD (280 µL, 1 eq.) were added, and the mixture was stirred at room temperature for 5 min under argon. Lipoic acid (294 mg, 1.40 mmol) in dry THF (5 mL) was then added and the mixture stirred at room temperature for 12 h. Solvent was evaporated, and the resulting crude was purified by column chromatography (hexane/AcOEt, 1:1) yielding
1
as a pale ochre solid (14%).
1
H NMR (300 MHz, CD
3
OD): δ = 1.41–1.53 (m, 2H), 1.59–1.75 (m, 4H), 1.80–1.94 (m, 1H), 2.38–2.51 (m, 3H), 3.03–3.22 (m, 2H), 3.52 (m, 1H), 4.96 (s, 2H), 6.21 (t,
J
= 2.2 Hz, 1H), and 6.28 (d,
J
= 2.2 Hz. 2H) ppm. IR: 3350 (OH), 2950 (Ar–H), 1710 (C=O), 1260 (C–O) cm
−1
.
2.3. Synthesis of Probe AuNP-1
All reactions were performed with thoroughly cleaned glassware using aqua regia. In a 250 mL flask, an aqueous solution of HAuCl4 (100 mL, 1 mM) was heated to reflux. Then, aqueous trisodium citrate (10 mL, 38.8 mM) was added and the resulting solution was boiled for ca. 30 min until the color of the solution turned red, indicating the formation of citrate-capped AuNPs. Finally, the solution was cooled to room temperature.
To 5 mL of the freshly prepared citrate-capped AuNP, 45 µL of aqueous NaOH 0.5 M was added. Then, resorcinol derivative 1 (50 µL, 0.01 M in MeOH) and lipoic acid (LA) (150 µL, 0.01 M in MeOH) were simultaneously added, and the solution was left at room temperature, with stirring overnight. Finally, the suspension was centrifuged (10,500 rpm, 18 min), the supernatants decanted, and the resulting gold nanoparticles were resuspended in water and stored at 4 °C until its use.
3. Results and Discussion
Once we demonstrated the selective response of the probe for aqueous formaldehyde, we decided to extend the probe applicability by detecting formaldehyde gas emission from formalin and from commercial wood boards.
4. Conclusions
In summary, a simple formaldehyde probe consisting of an aqueous dispersion of resorcinol functionalized gold nanoparticles (AuNP-1) has been synthesized and used for the direct colorimetric detection of formaldehyde both in aqueous media and in gas phases. The detection process is based on a condensation reaction between formaldehyde and the terminal resorcinol moieties of two different nanoparticles. This triggers the aggregation of the dispersed nanoparticles, resulting in a bathochromic shift of the SPR band in the UV-vis spectrum and a change, from red to blue, in the color of the solution, which can be observed by the eye. A remarkable enhancement of the response of the probe towards formaldehyde was observed in the presence of Tris-HCl. Probe AuNP-1 was able to detect formaldehyde in aqueous solution with a limit of detection of 0.5 ppm. The probe was also able to detect gaseous formaldehyde emitted from fiber and particleboard, giving a higher response for the particleboards with higher formaldehyde content.
Author Contributions
Conceptualization, A.M.C. and P.G.; methodology, C.M.-A. and P.G.; nanoparticles characterization, C.M.-A. and S.G.; formal analysis, A.M.C., S.G., and P.G.; investigation, C.M.-A.; writing-original draft preparation, C.M.-A.; writing-review and editing, A.M.C. and P.G.
Funding
This research received no external funding.
Acknowledgments
We thank the Spanish Government (projects MAT2015-64139-C4-4-R and AGL2015-70235-C2-2-R (MINECO/FEDER)) and the Generalitat Valenciana (project PROMETEOII/2014/047) for support. SCSIE (Universidad de Valencia) is gratefully acknowledged for all the equipment employed.
Conflicts of Interest
The authors declare no conflict of interest.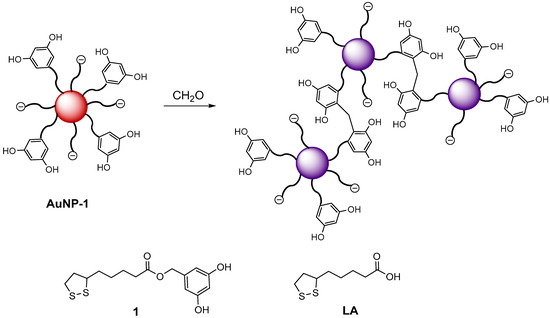 Figure 1. Proposed sensing mechanism and structure of the ligands used in AuNP-1 preparation. Reaction of the terminal resorcinol with formaldehyde induces cross-linking aggregation of the gold nanoparticles. AuNP: gold nanoparticles; LA: lipoic acid.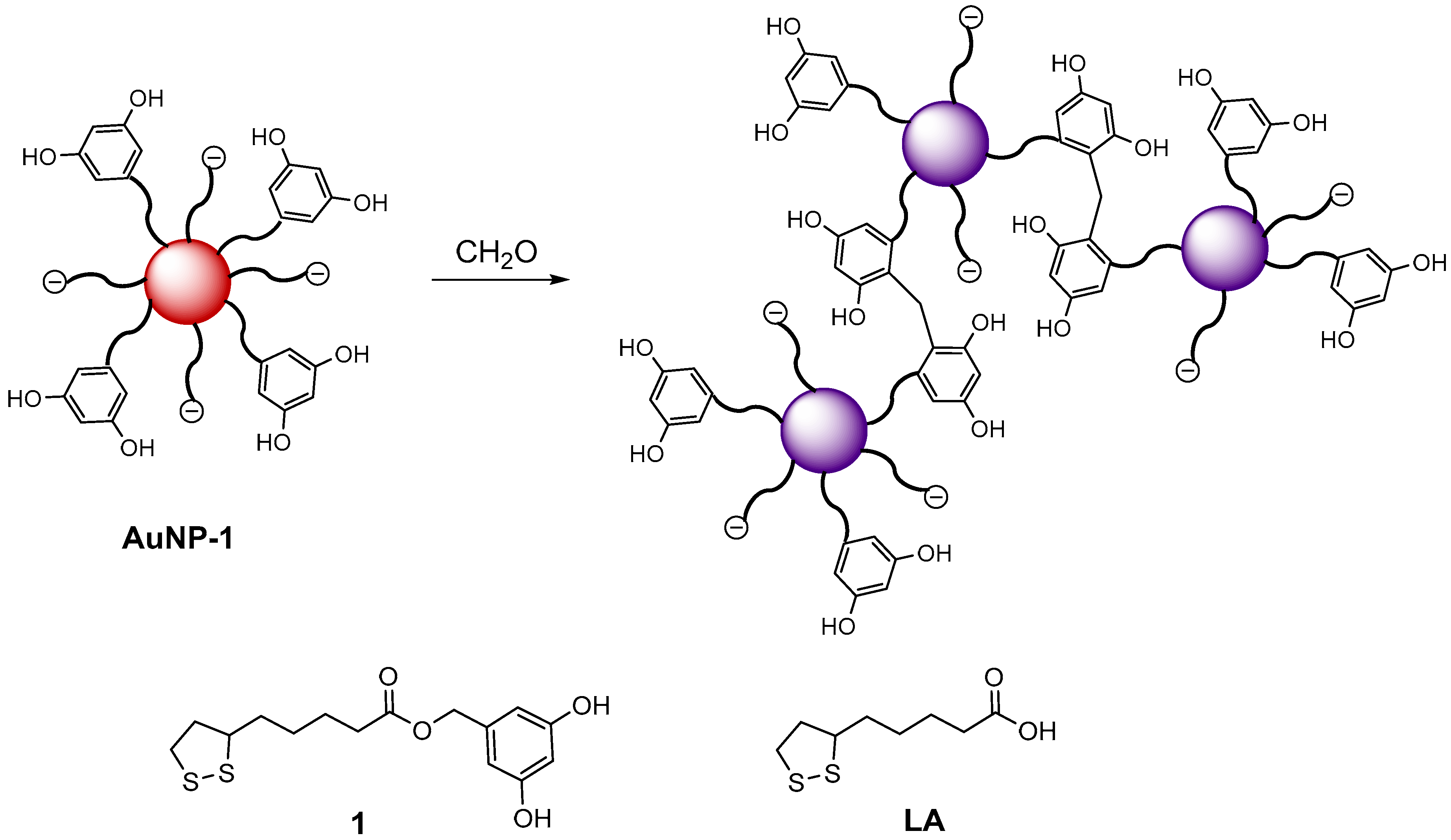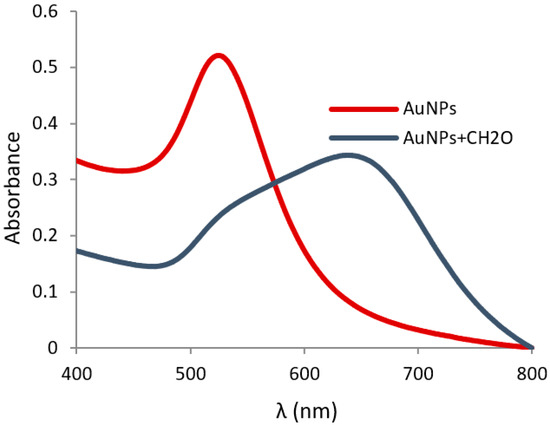 Figure 2. Absorption spectrum of the AuNP-1 in water at room temperature, in the presence and in the absence of excess (50 mM) formaldehyde.

Figure 3. TEM images of stabilized AuNP-1 dispersion (left) and their aggregates upon addition of excess of H2CO (right).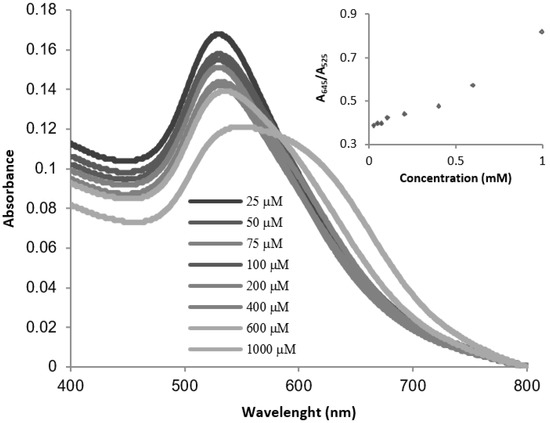 Figure 4. UV-vis absorption spectra of AuNP-1 (10−9 M, in Tris-HCl 0.01 M, pH 7) in the presence of increasing amounts of aqueous formaldehyde. Inset: Plot of the absorption ratio (A645/A525) versus aqueous formaldehyde concentration.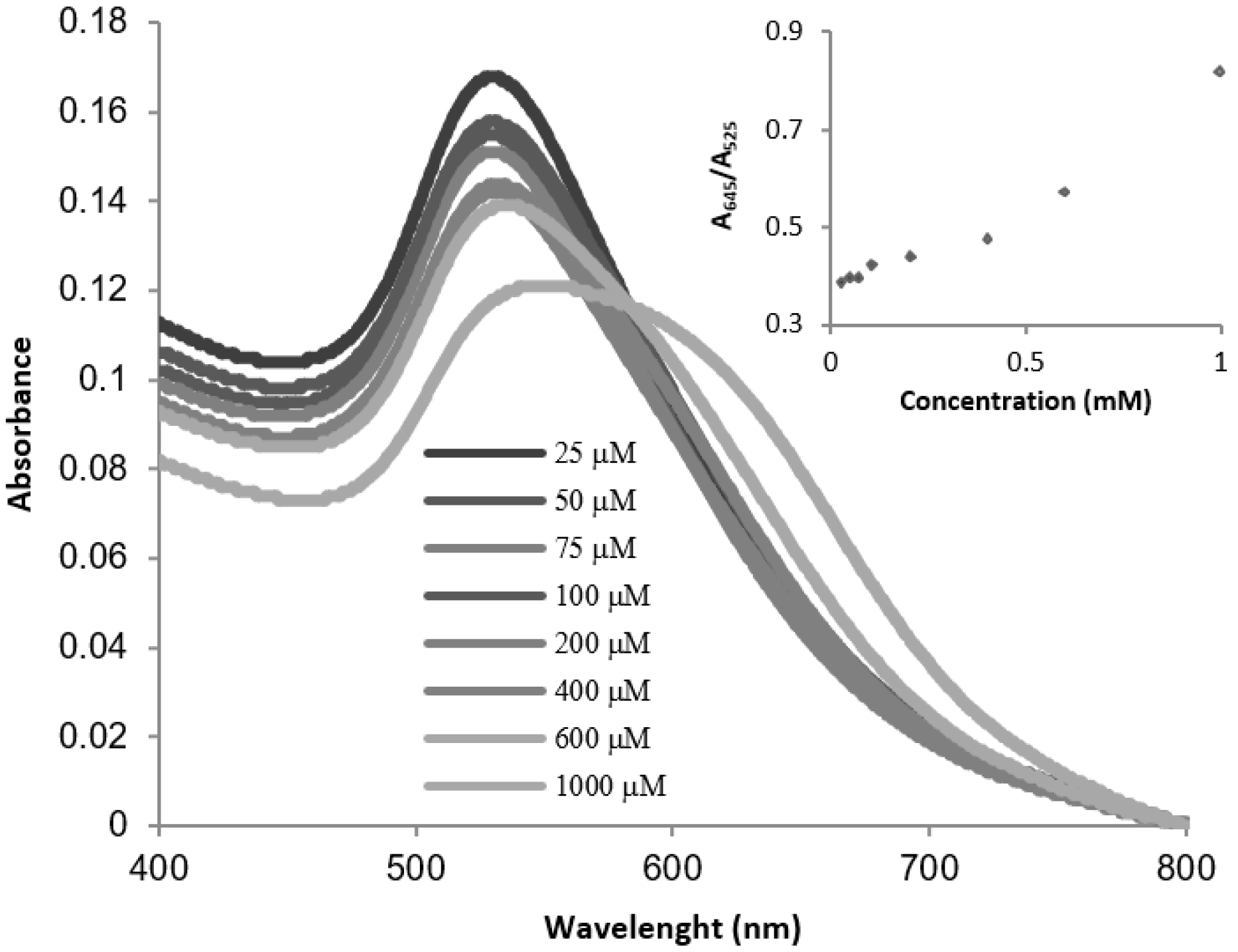 Figure 5. Color changes of AuNPs-1 suspension (Tris-HCl 0.01 M, pH 7) in the presence of increasing amounts of formaldehyde (from left to right, 0 µM, 25 µM, 50 µM, 75 µM, 100 µM, 200 µM, 400 µM, 600 µM, 1 mM, 10 mM).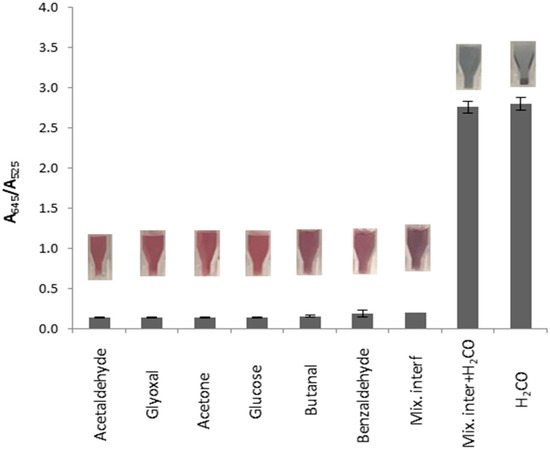 Figure 6. Color changes and UV-vis response of AuNP-1 in the presence of some possible interferents (100 mM) and a mixture of all and formaldehyde (two replicate experiments were performed).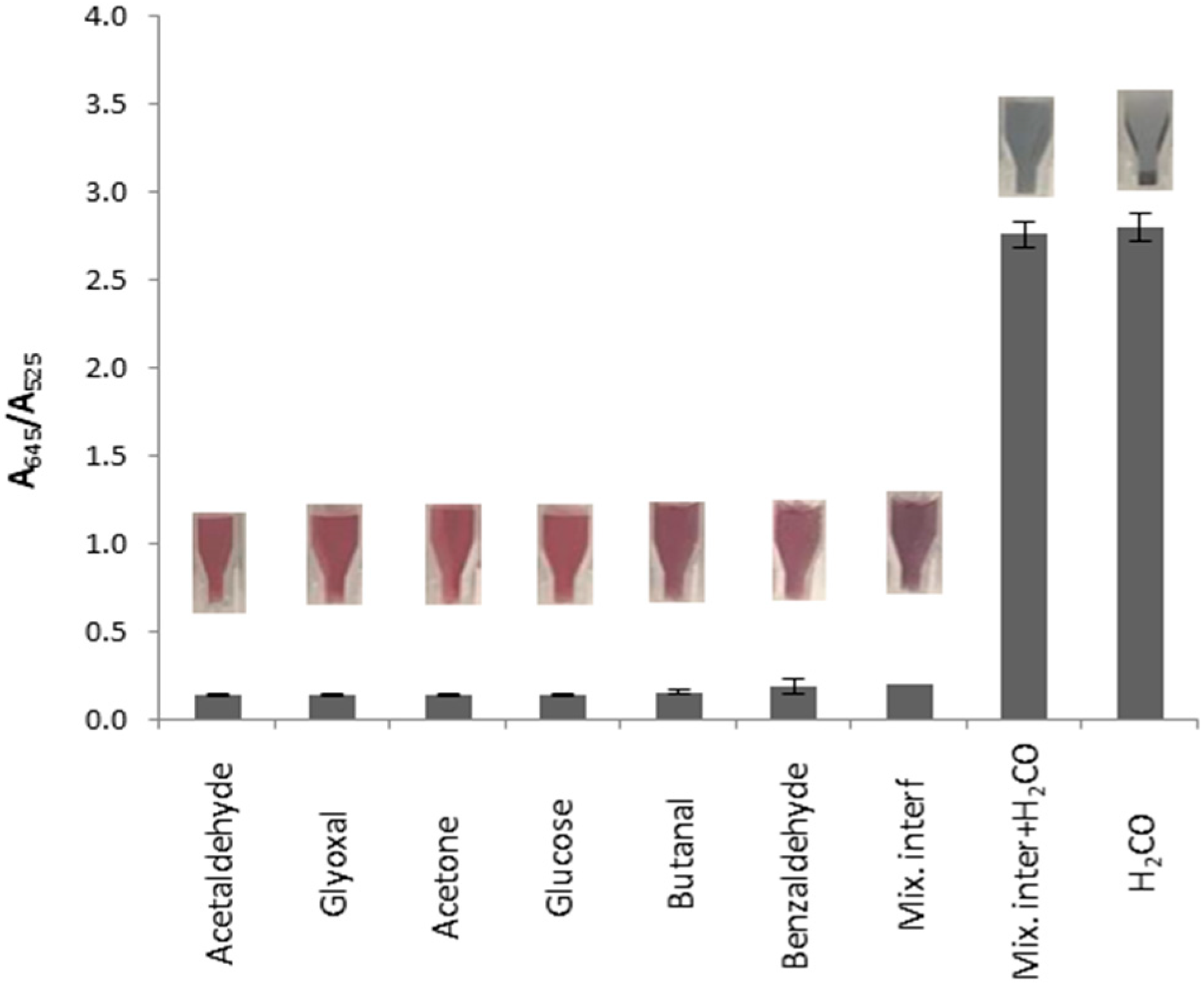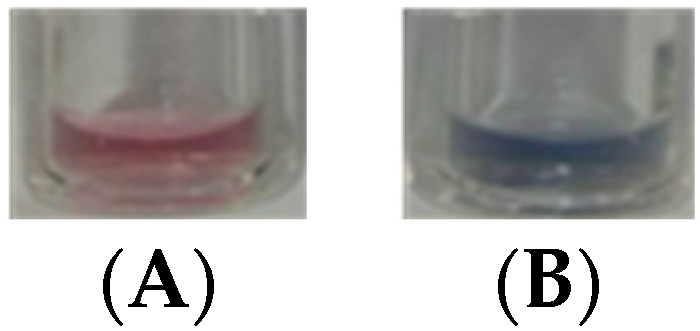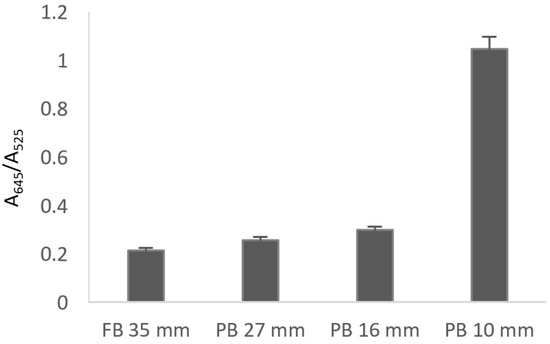 Figure 8. Comparison of formaldehyde emission between fibrous boards (FB) and different particle board (PB) using AuNP-1 (two replicate experiments were performed).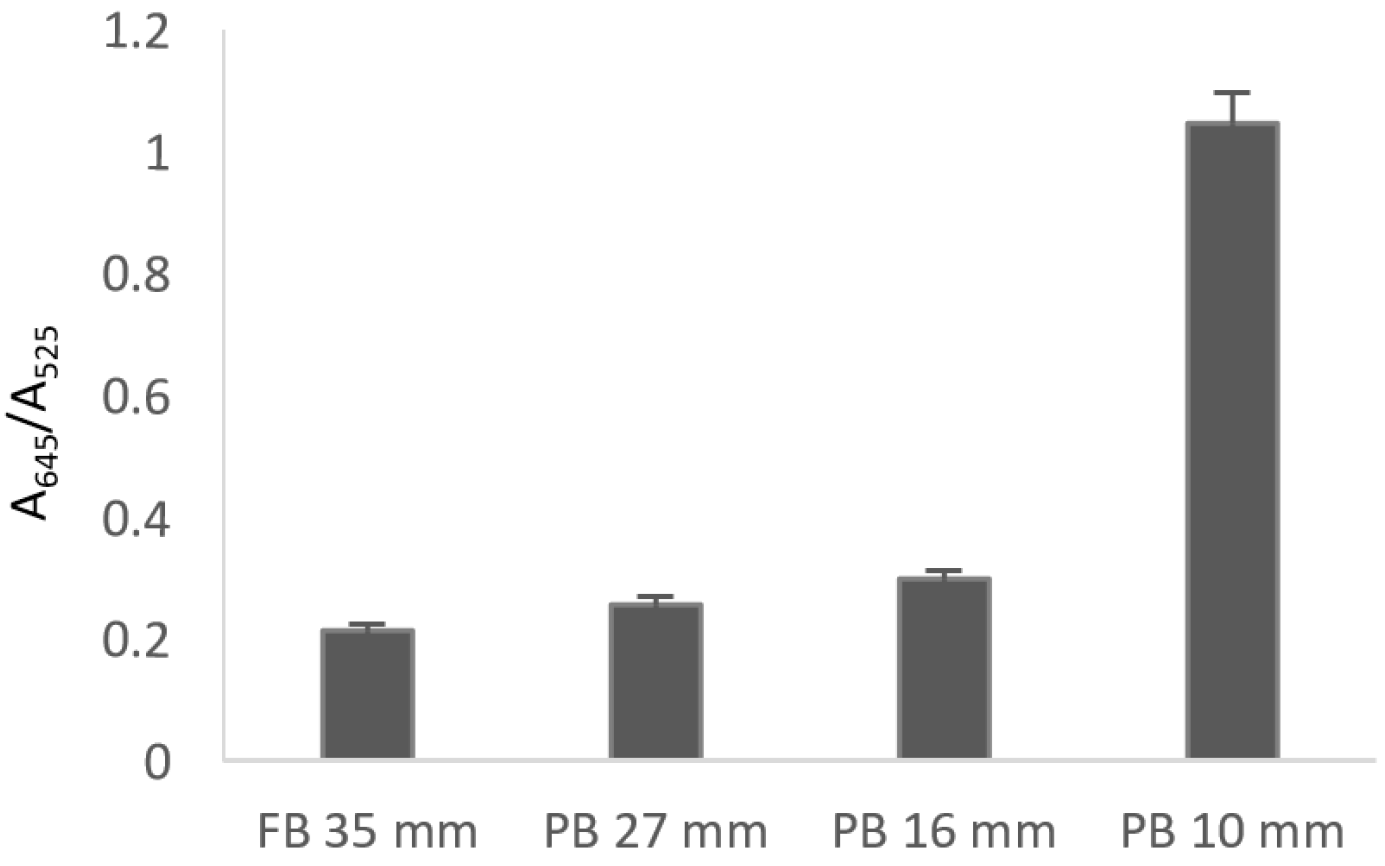 © 2019 by the authors. Licensee MDPI, Basel, Switzerland. This article is an open access article distributed under the terms and conditions of the Creative Commons Attribution (CC BY) license (http://creativecommons.org/licenses/by/4.0/).