Open Access This article is
freely available
re-usable
Article
Multi-Level Cell Properties of a Bilayer Cu2O/Al2O3 Resistive Switching Device
1
i3N/CENIMAT, Department of Materials Science, Faculty of Science and Technology, Universidade NOVA de Lisboa and CEMOP/UNINOVA, Campus de Caparica, 2829-516 Caparica, Portugal
2
Department of Materials and Earth Sciences, Technische Universität Darmstadt, Otto-Berndt-Straße 3, D-64287 Darmstadt, Germany
*
Author to whom correspondence should be addressed.
Received: 31 December 2018 / Accepted: 14 February 2019 / Published: 19 February 2019
Abstract
:
Multi-level resistive switching characteristics of a Cu2O/Al2O3 bilayer device are presented. An oxidation state gradient in copper oxide induced by the fabrication process was found to play a dominant role in defining the multiple resistance states. The highly conductive grain boundaries of the copper oxide—an unusual property for an oxide semiconductor—are discussed for the first time regarding their role in the resistive switching mechanism.
Keywords:
resistive switching memories; multi-level cell; copper oxide; grain boundaries; aluminum oxide
2. Materials and Methods
The device structure is schematically represented in
Figure 1
. Polycrystalline Cu
2
O (93 nm) was deposited by reactive magnetron sputtering from a metallic copper target (Kurt J. Lesker Company, Jefferson Hills, PA, USA) on commercial indium-tin oxide (ITO) on glass (Corning Inc., Corning, NY, USA). Subsequently, Al
2
O
3
(16 nm) was deposited by atomic layer deposition (ALD) using trimethylaluminum (SAFC Hitech Ltd., Bromborough, UK) and water as precursors. Metallic copper was located between the copper oxide and the aluminum oxide layer as a consequence of the ALD process. Detailed information on the preparation method of these layers can be found in Reference [
26
]. As top contacts, sputter-deposited platinum (Kurt J. Lesker Company, Jefferson Hills, PA, USA) was used with a diameter of 100 μm, patterned by a shadow mask, using a commercial sputter-coater (Quorum Technologies Ltd., Lewes, UK). The current–voltage (I–V) characteristics of the ITO/Cu
2
O/Al
2
O
3
/Pt devices were measured at room temperature in air using a Keithley 4200-SCS semiconductor parameter analyzer (Keithley Instruments LLC, Cleveland, OH, USA) connected to a Janis ST-500 probe station (Janis Research Company LLC, Woburn, MA, USA). The bias was applied to the top electrode. The delay time until forming was measured under application of a constant voltage in sampling mode with a sampling interval of 0.5 s, using a measurement speed optimized for low noise and high accuracy (delay factor 1.3, filter factor 3, automatic A/D integration time setting). Temperature-dependent measurements were done in vacuum using liquid nitrogen for cooling, controlled by a Lake Shore 336 temperature controller (Lake Shore Cryotronics Inc., Westerville, OH, USA).
5. Conclusions
The resistive switching mechanism of a bilayer system of Cu2O and Al2O3 was investigated. The main objective of this work was to discriminate between the contributions of each individual layer and to discuss how they affect each other. The outcome features valuable indications for future bilayer device design. The observed multi-level operation was controlled by the current compliance. A transition from a semiconducting filament to a metallic filament with increasing current compliance was observed. For the filament growth in Cu2O, a dual mechanism is proposed, which involves a valence change in the copper oxide at the anode and a metallization reaction at the cathode. The likely preferential filament rupture during reset in the Al2O3 layer confines the switching event to Al2O3. Consequently, the supply of the active metal is conditioned by the CC-dependent filament growth in the copper oxide during forming, which directly impacts cycling stability.
Author Contributions
Conceptualization, J.D. and A.K. (Asal Kiazadeh); methodology, A.K. (Asal Kiazadeh); validation, J.D. and A.K. (Asal Kiazadeh); formal analysis, A.K. (Asal Kiazadeh); investigation, J.D. and A.K. (Asal Kiazadeh); resources, A.K. (Andreas Klein), E.F. and R.M.; data curation, J.D. and A.K. (Asal Kiazadeh); writing—original draft preparation, J.D.; writing—review and editing, A.K. (Asal Kiazadeh), J.D. and E.F.; visualization, J.D and A.K. (Asal Kiazadeh); supervision, A.K. (Asal Kiazadeh) and E.F.; project administration, R.M. and E.F.; funding acquisition, A.K. (Andreas Klein), E.F. and R.M.
Funding
This research was funded by FEDER funds through the COMPETE 2020 Programme and National Funds through FCT—Portuguese Foundation for Science and Technology under project number POCI-01-0145-FEDER-007688, Reference UID/CTM/50025. J.D. acknowledges funding received from the European Union's Horizon 2020 Research and Innovation Programme through the project HERACLES (Project No. 700395) and the German Science Foundation through the collaborative research center SFB 595 (Electrical Fatigue of Functional Materials). A. Kiazadeh acknowledges FCT for the postdoctoral grant SFRH/BPD/99136/2013 and for funding received through the project NeurOxide (PTDC/NAN-MAT/30812/2017).
Conflicts of Interest
The authors declare no conflict of interest.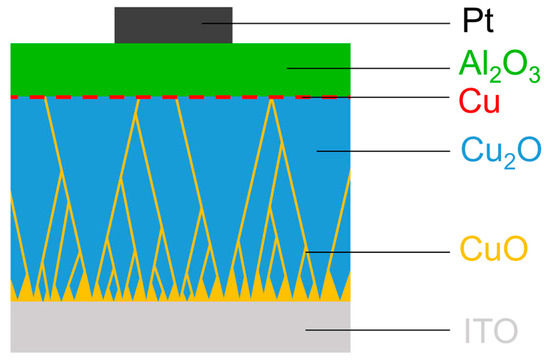 Figure 1. Device structure in cross-sectional view. The inhomogeneities in the copper oxide are schematically shown in orange (CuO-containing grain boundaries) and red (metallic copper at the interface between Al2O3 and Cu2O).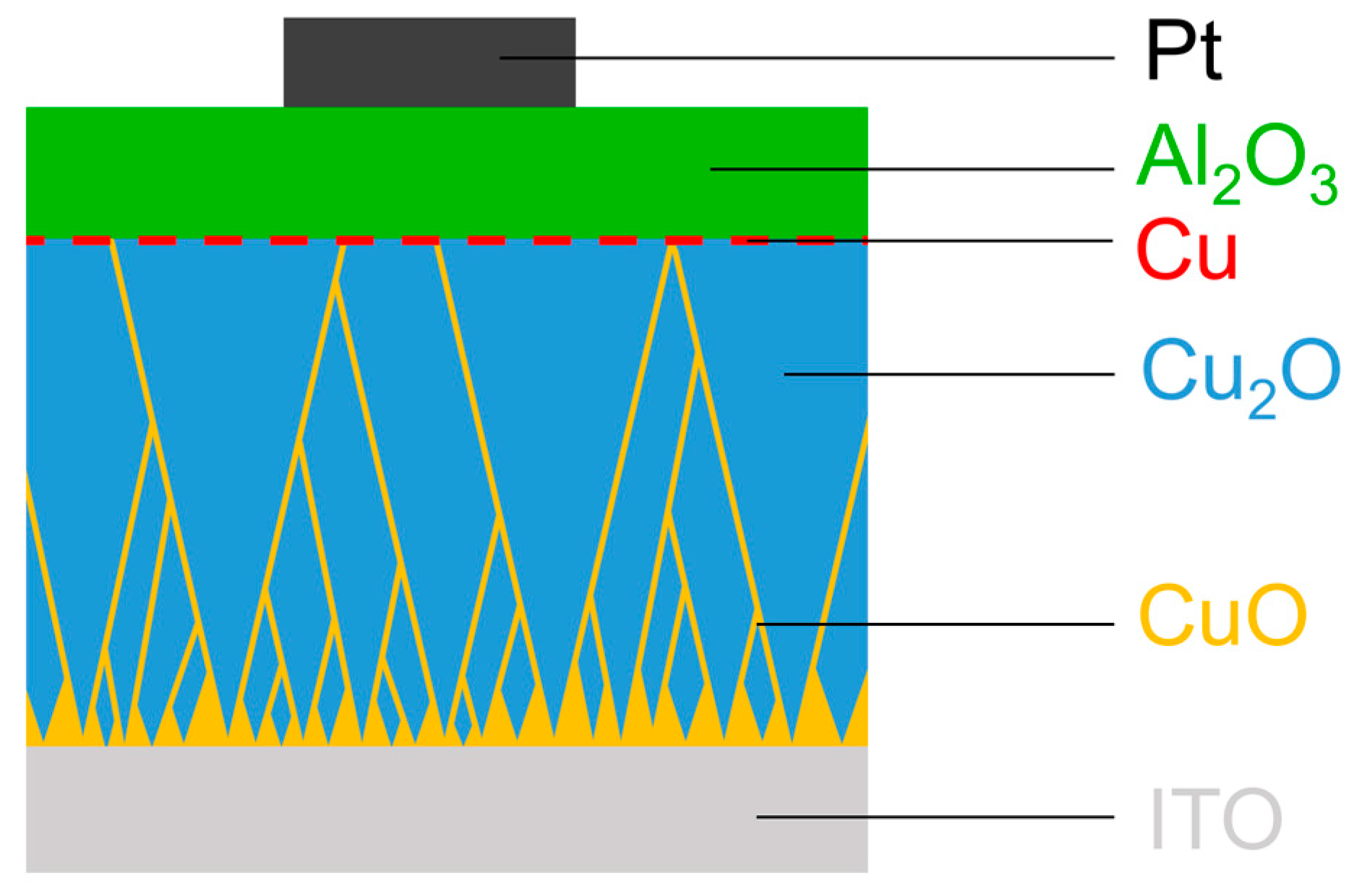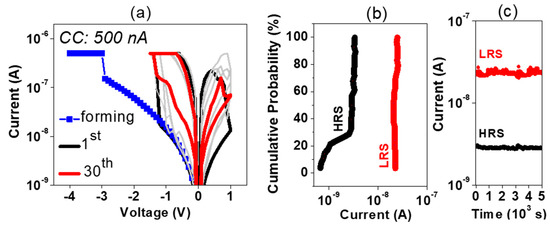 Figure 2. I–V sweeps of forming with a current compliance (CC) of 500 nA (blue squares) and 1st (black) and 30th (red) cycles, as well as a few intermediate cycles in grey (a), corresponding distribution of resistance states (b) and retention over 5 × 103 s (c).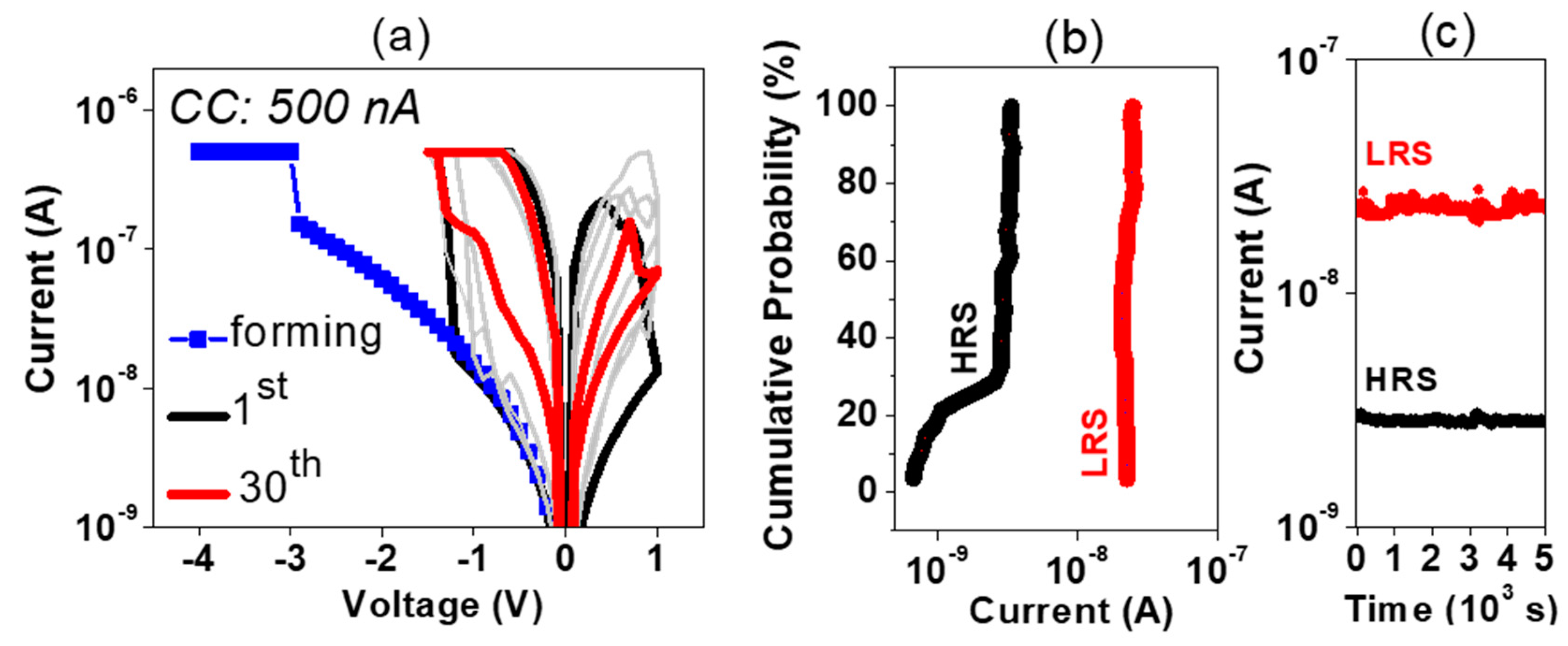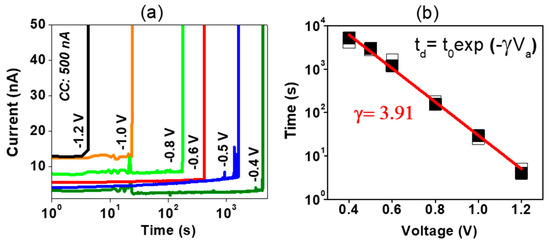 Figure 3. Current with respect to time under different constant voltage bias (a). Delay time to pre-forming with respect to voltage (b). Two individual measurements are shown by the filled and empty symbols. The exponential fit is shown in red.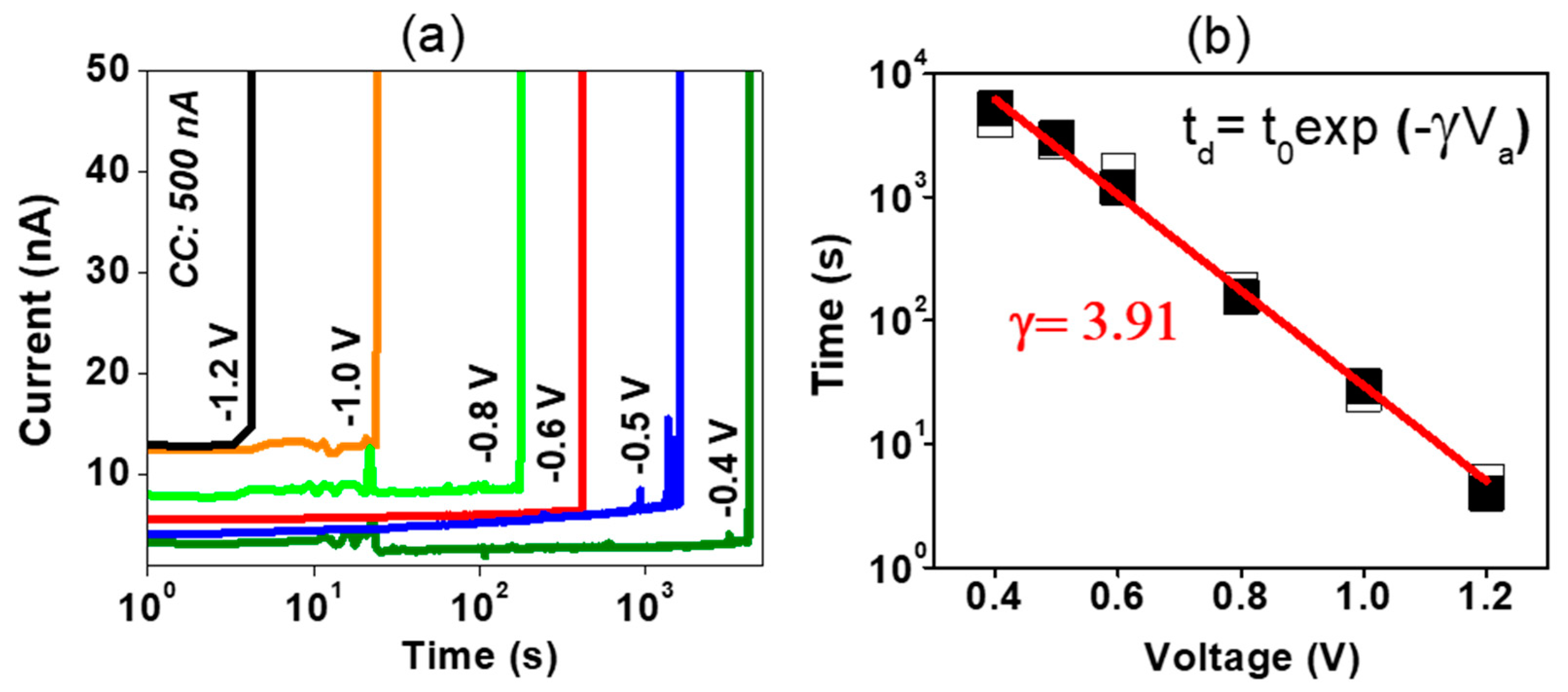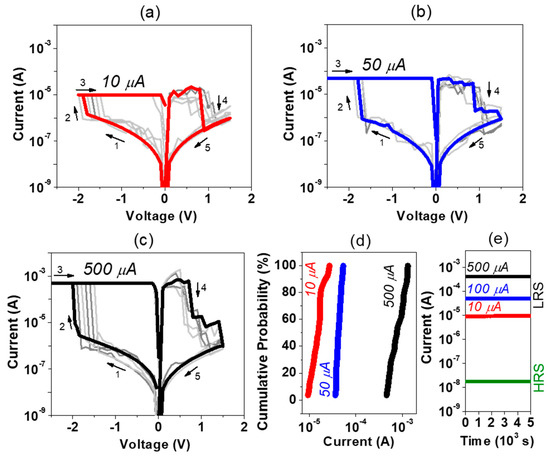 Figure 4. Typical I–V cycles of devices formed at CCs of 10 µA (a), 50 µA (b), and 500 µA (c), respectively, corresponding distribution of low resistance states (LRS) states (d) and retention over 5 × 103 s (e).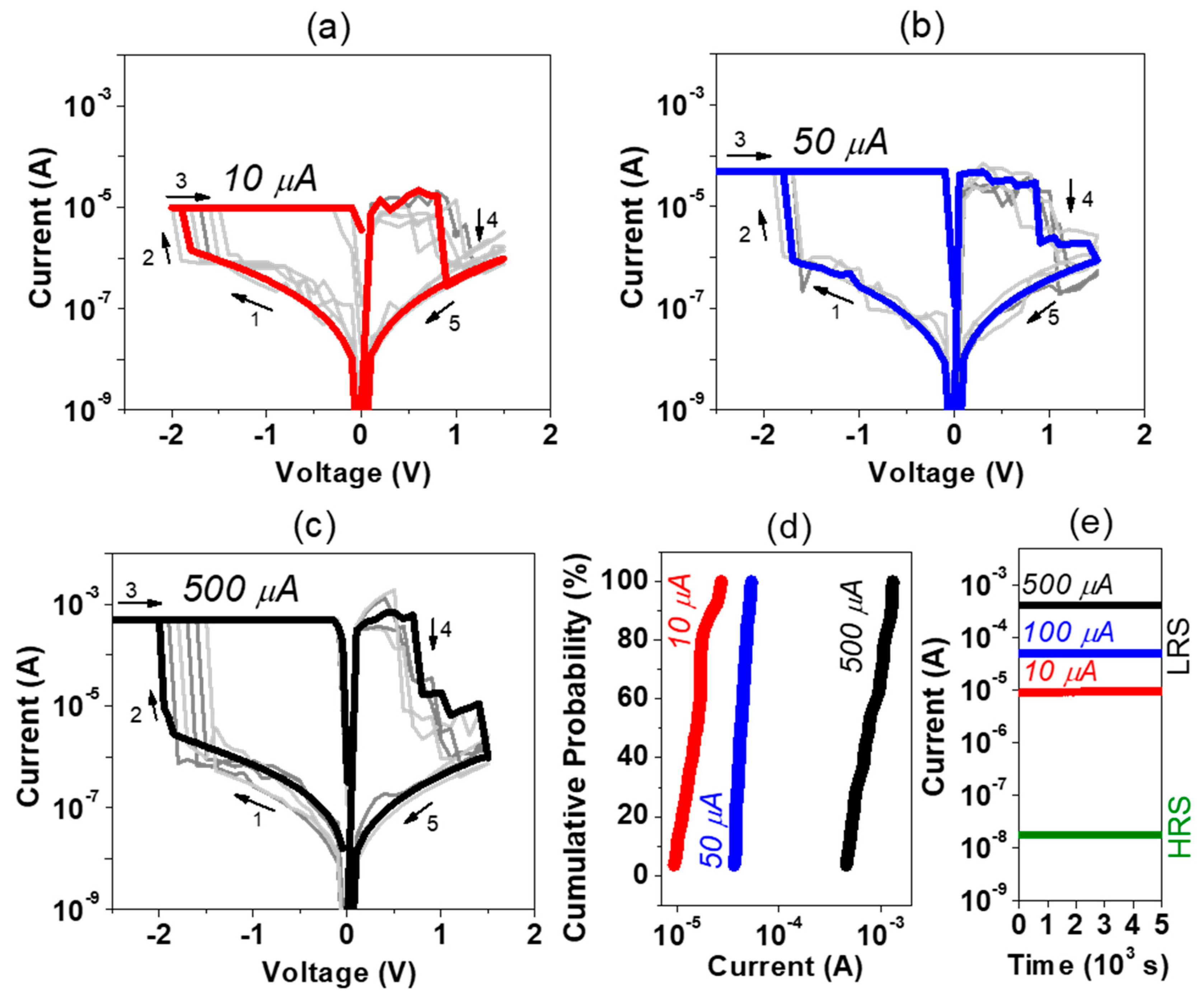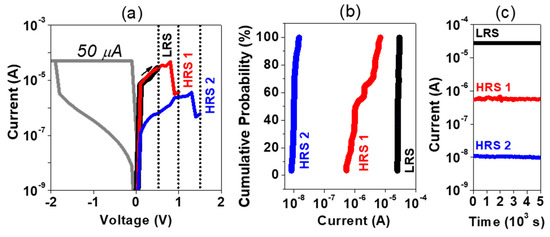 Figure 5. I–V sweeps of set at CC of 50 µA and reset to two distinct high resistance states (HRS), (a) with the corresponding distribution of resistance states (b) and retention over 5 × 103 s (c).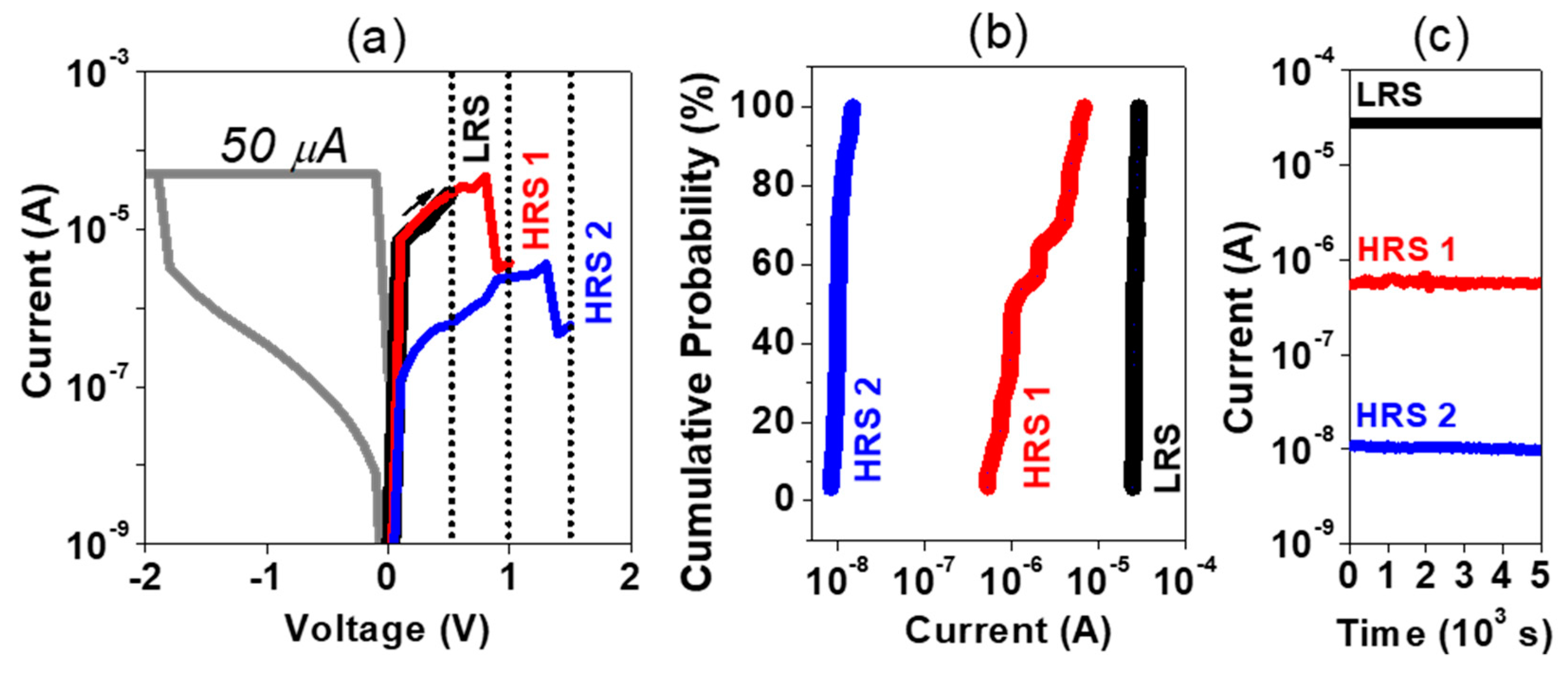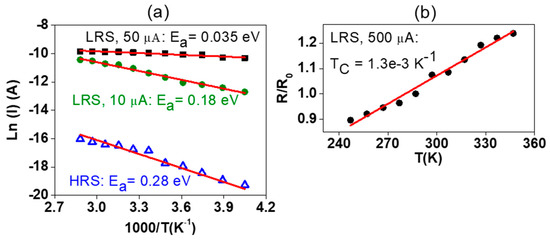 Figure 6. Arrhenius plots with corresponding fits (red lines) of the HRS (blue triangles) and the different LRS at CC of 10 µA (green circles) and 50 µA (black squares) (a), linear fit with respect to temperature (red line) of the LRS at CC of 500 µA (black circles) (b).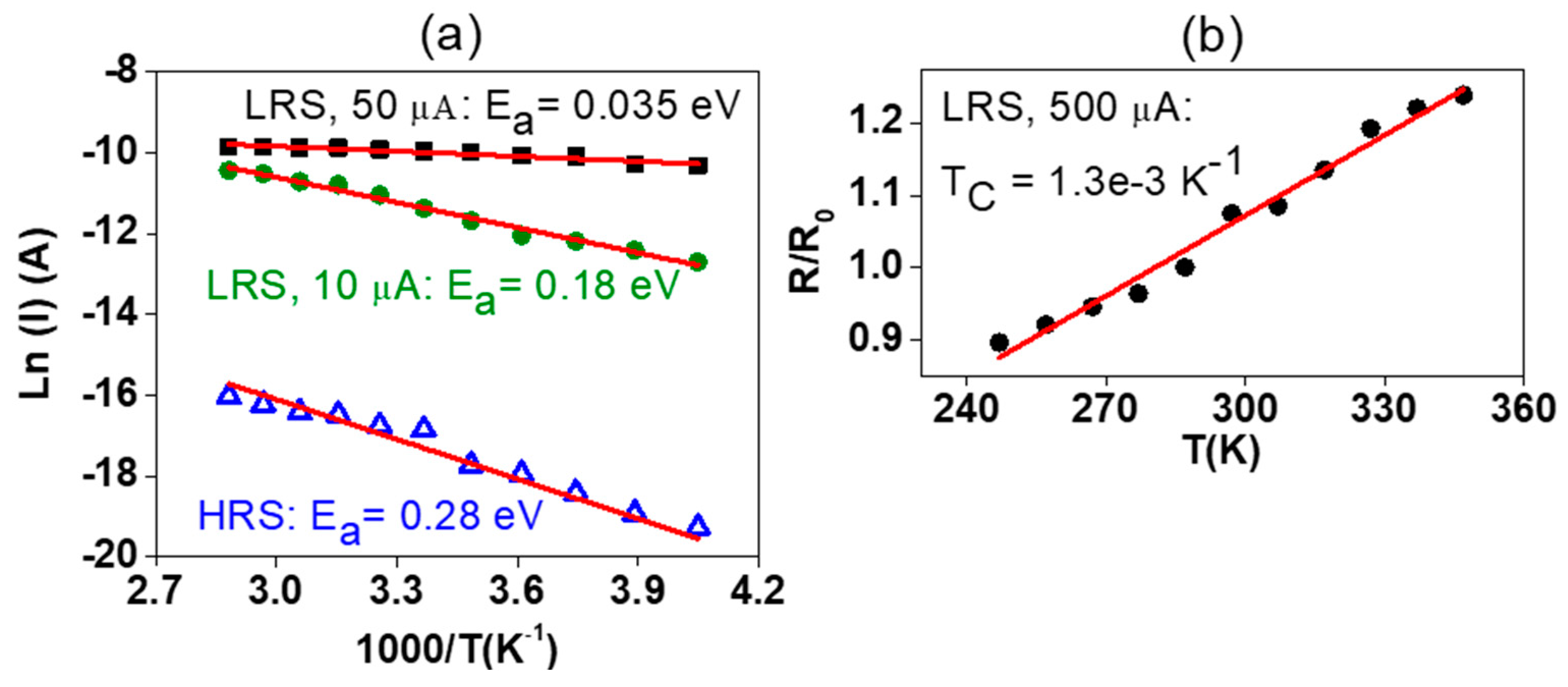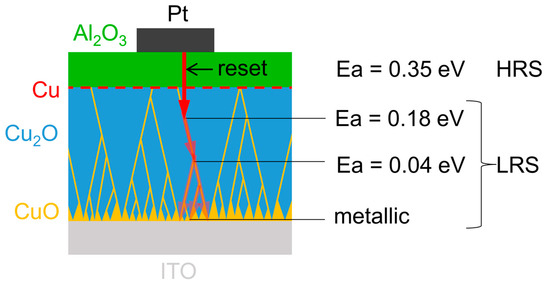 Figure 7. Schematic representation of the switching mechanism at different CCs. The varying extent of the filament inside the copper oxide with different CCs is illustrated by the red arrows.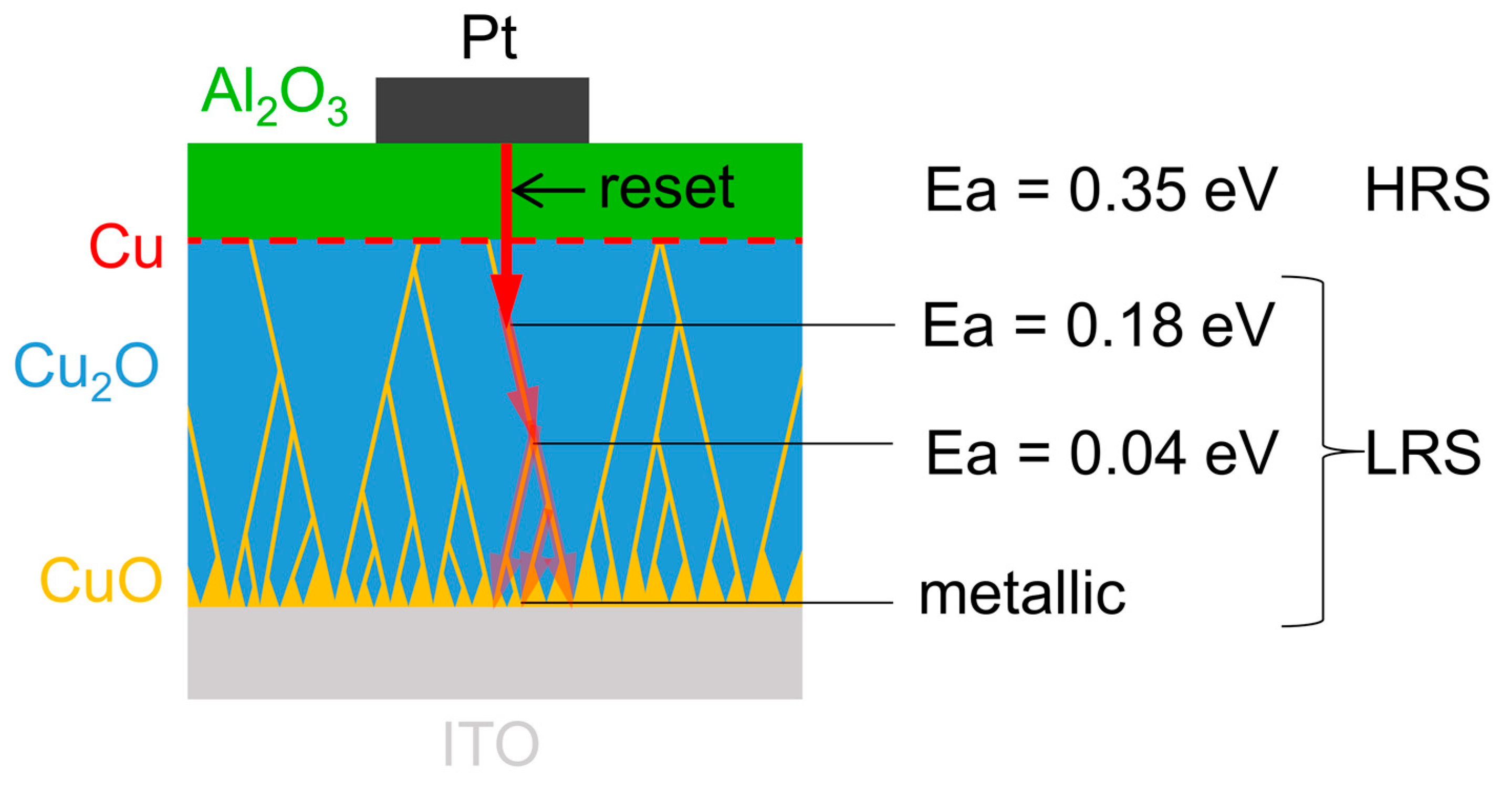 © 2019 by the authors. Licensee MDPI, Basel, Switzerland. This article is an open access article distributed under the terms and conditions of the Creative Commons Attribution (CC BY) license (http://creativecommons.org/licenses/by/4.0/).