Open Access This article is
freely available
re-usable
Article
Preparation of Self-Assembled Composite Films Constructed by Chemically-Modified MXene and Dyes with Surface-Enhanced Raman Scattering Characterization
1
State Key Laboratory of Metastable Materials Science and Technology, Yanshan University, Qinhuangdao 066004, China
2
Hebei Key Laboratory of Applied Chemistry, School of Environmental and Chemical Engineering, Yanshan University, Qinhuangdao 066004, China
3
Key Laboratory for Microstructural Material Physics of Hebei Province, School of Science, Yanshan University, Qinhuangdao 066004, China
*
Authors to whom correspondence should be addressed.
Received: 23 December 2018 / Accepted: 14 February 2019 / Published: 18 February 2019
Abstract
:
The effective functionalization and self-assembly of MXene are of crucial importance for a broad range of nanomaterial applications. In this work, we investigated the aggregates of sulfanilic acid-modified MXene (abbreviated as MXene-SO3H) with three model dyes at the air–water interface and demonstrated the morphological and aggregation changes of composite films, using Langmuir-Blodgett (LB) technology, as well as excellent uniformity and reproducibility by using surface-enhanced Raman scattering (SERS) spectra. This research has found that cationic dye molecules were adsorbed onto negatively charged MXene-SO3H particles mainly through electrostatic interaction and the particles induced dyes to form highly ordered nanostructures including H- and/or J-aggregates corresponding to monomers in bulk solution. The surface pressure-area isotherms from different dye sub phases confirmed that the stable composite films have been successfully formed. And the spectral results reveal that different dyes have different types of aggregations. In addition, the SERS spectra indicated that the optimal layers of MXene-SO3H/methylene blue (MB) films was 50 layers using rhodamine 6G (R6G) as probe molecule. And the formed 50 layers of MXene-SO3H/MB films (MXene-SO3H/MB-50) as SERS substrate were proved to possess excellent uniformity and repeatability.
Keywords:
Langmuir film; MXene; self-assembly; dyes aggregation; surface-enhanced Raman scattering
1. Introduction
The aggregation of dye molecules plays a crucial role in both human life and industrial engineering as well as material sciences. The performance of material relies not only on the molecular structure that constitutes it but also on its state of aggregation. For examples, Zhang et al. designed a reversible dye film switch [
1
]. The formed dye aggregates in the films could be reversibly switched by treating the cyanine dyes and gemini amphiphiles with rigid spacers and complex films with acidic and/or basic gases. Hansda et al. reported that the presence of J-type aggregates in the cationic dye acridine orange/graphene oxide (GO) solution slightly increased fluorescence lifetime, which could be proposed as a probe for biomolecular recognition as well as for detecting any local microenvironment [
2
]. In addition, the photosynthetic process of plants relied on the aggregation of chlorophyll and photodynamic therapies also depended on the aggregation of dyes [
3
]. Organic dyes, such as Methylene blue (MB), Rhodamine B (RhB), Safranine T (ST), with a large π-conjugated system, are one of the most attractive building blocks. The aggregation of dye molecules is also a very attractive topic in the field of colloid study. Generally, dye molecules adsorbed on solid substrates probably form two different arrangements, namely H-aggregates and J-aggregates, after forming dimers or multimers, which depend on solvent, temperature, concentration, molecular structure and intermolecular forces and so forth. [
4
,
5
,
6
]. One is the H-aggregate, head-to-head or parallel face-to-face packing of the monomer molecules, which shows a blue shift compared to monomer. The other is the J-aggregate, head-to-tail arrangement of the monomer molecules in the unit, which is characterized by a red shift of the absorption band in comparison with the monomer [
7
,
8
,
9
,
10
]. For example, Song et al. have investigated graphene oxide-dye composite films via facile and appropriate self-assembly methods [
10
]. The spectral results revealed that RhB or MB molecules assembled onto the surface of GO sheets were in the type of J-aggregate and H-aggregate, while Congo red combining with GO sheets mainly existed in the form of J-aggregate. In addition, when dye molecules are aggregated into ordered structures, they show some unique properties. For instance, J-aggregates can be used as photographic sensitizers because of their optical properties, while H-aggregates can act as antenna molecules to capture light energy [
11
]. The template has a very important influence on the aggregation of dye molecules, which can induce dyes to form different aggregation types. Sinoforoglu et al. used GO sheets as a platform for forming molecular assemblies on its surface and investigated the effects of different dye concentrations and GO dispersions on pyronin Y dye aggregation [
12
]. Therefore, it is necessary to design suitable amphiphilic molecules to construct organized aggregates.
Since 2011, a new type of two-dimensional transition metal nitride/carbide nanolayered material has received extensive attention [
13
,
14
]. At present, the most common method for preparing two-dimensional layered material MXene (abbreviated Ti
3
C
2
Tx for convenience, T is surface termination, x is number of surface groups per formula unit) is through HF etching MAX phase (Ti
3
AlC
2
) [
15
,
16
]. As a new class of 2D nanostructured materials, its unique structure and performance showed diverse applications such as catalysis, adsorption, sensors and lithium-ion batteries [
17
,
18
,
19
,
20
]. For instance, Zheng et al. used hot alkaline solution treatment method to expand the interlayer spacing of Ti
3
C
2
T
x
and to tune surface functional groups to faster adsorb methylene blue [
21
]. Kang et al. reported the Ti
3
C
2
T
x
/GO composite membrane for organic dyes treatment and molecular separations driven by hydraulic pressure. This method could be widely adopted for other 2D materials to enhance the separation performance [
22
]. For MXene materials, high cohesive Van der Waals forces between MXene sheets hide its availability. Thus, Na
+
was used as an intercalant to insert into stacked MXene flakes to modify the surface of MXene with sulfanilic acid diazonium salts making it an amphiphilic material [
20
]. The aryl groups grafted to the MXene surface can increase solubility in water and are very suitable for further applications. The presence of sulfonic groups provides more active sites for chemical modification. Apart from this, the delaminated MXene shows excellent electrochemical performance in comparison with multi-layered MXene [
23
,
24
,
25
]. Furthermore, the compounding of functionalized MXene with dye molecules has never been reported in other literature. From this point of view, it is a good proposal to choose sulfanilic acid diazonium salts functionalized MXene (MXene-SO3H) particles as the template in the aggregation process of dyes.
In addition, interfacial supramolecular self-assembly utilizing the noncovalent interactions, such as electrostatic interactions, π-π stacking, hydrogen-bond and hydrophobic, demonstrates an effective way to control the aggregation of the dyes, which provide nondestructive and reversible merit [
26
]. The air/water interface provides a good platform for preparing self-assembled films and we can better study how dyes are arranged on the surface of new two-dimensional materials [
27
]. There are many ways to prepare thin films, such as LB assembly, solvent evaporation, spraying and layer-by-layer self-assembly [
28
]. The LB technique provides precise control over preparing high quality ordered and thickness controlled films at the substrate [
29
]. Also, in the LB technique, it is revealed that ordered self-assembly nanostructures can be controlled by changing parameters, including temperature, barrier speed, pH of the sub phase, deposition pressure and density and material composition, as well as sub phase ionic strength [
30
]. In addition, surface-enhanced Raman scattering (SERS) is widely used in analytical chemistry, biosensing, biomedical detection and environmental monitoring fields due to its advantages of rapid response and nondestructive examination [
31
,
32
]. Due to nature vibration characteristics [
33
,
34
], R6G is used as probe molecule to study the SERS performance of different films in present work. Herein, this work is of crucial role for preparing composite films of MXene-SO3H with different dyes by LB method at the air-water interface to investigate aggregation of dye molecules and SERS performance of different films.
2. Materials and Methods
2.1. Materials
MXene (Ti
3
C
2
Tx) was prepared by adding Ti
3
AlC
2
powders into aqueous solution of 12 M LiF and 9 M HCl for 24 h to move an Al component in a polytetrafluoroethylene beaker. Then the suspension was washed using deionized water and centrifuged to separate the powders from the supernatant. After alkaline treatment with dilute NaOH solution for 2 h, the sample was washed by the deionized water and then placed in a vacuum oven at 60 °C to dry for 24 h. Finally, the products were treated by vacuum calcination at 600 °C [
35
,
36
]. Sulfanilic acid diazonium salts were synthetized according to literatures [
20
,
37
,
38
]. Methylene blue (MB) was purchased from Aladdin Reagent (Shanghai, China) and Alfa Aesar Chemicals (Tianjin, China). Rhodamine B (RhB), SafranineT (ST) and sodium hydroxide (NaOH) were obtained from Tianjin KaiTong Chemical Reagent (Tianjin, China). Methanol was analytical reagent grade. All chemicals were used without further purification and deionized (DI) water was used in all experiments. R6G was purchased from J&K scientific LTD.
2.2. Surface Modification of MXene
The used MXene-SO3H material was prepared as described in a previous report [
20
]. The specific experimental method is as follows: 0.05 g MXene powders were immersed in 100 mL deionized water under ultrasonication; 5 g sodium hydroxide was stir-mixed with MXene suspension for 2 h; then the suspension was centrifuged following a big amount of DI water until pH = 7. Subsequently, the obtained Na
+
intercalated MXene was chemical modification. The intercalated MXene was immersed in 10 mL DI water and next stir-mixed with above sulfanilic acid diazonium salts for around 6 h under ice-water mixture bath and then centrifuged for 15 min at 8000 rpm. The collected sediment was rinsed with DI water and subsequently centrifuged for 15 min at 5000 rpm to remove unexfoliated particles. The obtained nanoscale surface-modified MXene (abbreviated as MXene-SO3H) dispersion solution was filtered using 0.45 um membrane and finally mild ultrasonication before lyophilized to obtain the powder.
Figure 1
a demonstrated the measured lateral size of the particles was around 100 nm. The inserted photo represented a colloidal solution of MXene-SO3H particles that exhibited the Tyndall scattering effect when the beam passed through.
Figure 1
b demonstrated clearly that the representative MXene particles were thin and evenly distributed. The measured high-resolution TEM image of MXene-SO3H showed obvious crystal layer spacing along the c-axis about 1.51 nm. In addition, the zeta potential of MXene-SO3H was determined as −31.2 mV at a neutral pH of 7.0, which seemed similar to previous reported value (−30.6 mV) [
20
], indicating the good dispersibility of MXene-SO3H particles in water.
2.3. Preparation of Composite Langmuir Films
For the interfacial preparation and the deposited multilayer films, a commercially available KSV-NIMA LB trough (KN 2002, Biolin Scientific, Stockholm, Sweden) was carefully cleaned with ethanol as well as water and then filled with pure water, fresh stock MB, RhB or ST solutions with concentrations of 10
−3
mol/L to serve as sub phases, respectively. It was worth noting that the word "layer" films represented the performed number of transfer layers and were not related to MXene "layer." The as-prepared MXene-SO3H powder was dispersed in methanol/water (2/1 of
v
/
v
) as a spreading solvent to form stable dispersion and then 50 μL MXene-SO3H aqueous dispersion (0.7 mg/mL) was dropwise spread onto the sub phase surface by using a glass syringe at room temperature. Surface pressure was monitored by a tensiometer attached to a Wilhelmy plate. The spread film was left for about 20 min and the solvent (methanol) was evaporated to form a stable film before the barriers took place isothermal compression at a speed of 8 mm/min. When the monolayer film got compressed, a deep color layer at air-water interface was observed. In this process, surface pressure-area isotherms could be obtained. The prepared MXene-SO3H/dye composite films were also deposited onto different solid substrates (fresh cleaved mica, quartz, glass and CaF
2
plates for AFM, UV-vis, SEM and FT-IR spectral measurements, respectively) at pressure of 15 mN/m by vertically dipping the substrate into the trough and slowly pulling it up (2 mm/min) for next morphological and spectral characterization.
2.4. SERS Measurements
For the SERS measurement, all of the Raman spectra were measured by the Renishaw inVia Raman microscope with the 532 nm laser as excitation source. For the laser, the diameter of the light spot was ~1 µm and the incident power was 0.05 mW. In order to compare the SERS performance, four different layer substrates have been prepared to select the best substrate by R6G solution (10−3 M, 10 μL). The SERS performance such as uniformity and reproducibility was measured by the best substrate. In addition, the spectra were recorded by the 2 accumulations, the 10 s exposure time and the ×50 objective.
2.5. Characterization
The microstructure was characterized via transmission electron microscopy (TEM, HT7700, High-Technologies Corp., Ibaraki, Japan). High-resolution transmission electron microscopy (HRTEM, Tecnai-G2 F30 S-TWIN, Philips, Netherlands) were used to observe the morphologies and microstructures of the samples. Atomic force microscopy (AFM) measurements were carried out with a Nanoscope model Multimode 8 Scanning Probe Microscope (Veeco Instrument, Santa Barbara, CA, USA) to analyze the morphologies of the sample surface. The root-mean-square (rms) roughness of the obtained composite films was examined from the AFM images with a size of 10 × 10 μm2. FT-IR spectra was measured via a Fourier infrared spectroscopy (Thermo Nicolet Corporation, Madison, WI, USA) using the KBr tablet method. UV-vis spectra were obtained with a Shimadzu UV-2550 system (Shimadzu Corporation, Kyoto, Japan). Raman spectra for the experiment were measured by confocal micro-Raman spectrometer (inVia). The size distribution and zeta potential of present material was analyzed with the Nanozetasizer machine (ZEN 3690, Malvern Instruments, Malvern, UK). We obtained X-ray photoelectron spectroscopy (XPS) data by monitoring a Thermo Scientific ESCALab 250Xi (Netzsch Instruments Manufacturing Co., Ltd., Seligenstadt, Germany) equipped with 200 W of monochromatic AlKα radiation.
3. Results and Discussion
4. Conclusions
In summary, we have presented the successful preparation of composite Langmuir films via chemically-modified MXene-SO3H particles and model dyes at the air-water interface and investigated their interfacial self-assembly as well as aggregation behaviors. The compositions of MB and RhB molecules with MXene-SO3H particles induced dye molecules to form H- and J-aggregation, while ST molecules mainly formed H-aggregation on MXene-SO3H surface. Comparing to MB and ST, the obtained RhB composite films demonstrated denser and formed large aggregation clusters. In addition, for potential surface-enhanced Raman scattering application, the MXene-SO3H/MB-50 film substrate exhibited a reasonable EF (1.995 × 105), low RSD (<16%), good uniformity and repeatability. The present research work could provide a new clue that the suitable chemical modification and self-assembly of 2D inorganic materials (MXene, graphene oxide, et al.) could form organized composite nanostructures as new biosensor substrate and probe matrix with simple preparation process.
Author Contributions
T.J., M.W. and Q.P. conceived and designed the experiments; K.C., J.L. and X.Y. performed the experiments; K.C., T.J., C.C. and R.W. analyzed the data; G.Z., L.Z. and Q.P. contributed reagents/materials/analysis tools; K.C. and T.J. wrote the paper.
Funding
This research was funded by the National Natural Science Foundation of China (Nos. 21872119, 21473153), Support Program for the Top Young Talents of Hebei Province, China Postdoctoral Science Foundation (No. 2015M580214), Research Program of the College Science & Technology of Hebei Province (No. ZD2018091) and Scientific and Technological Research and Development Program of Qinhuangdao City (No. 201701B004).
Conflicts of Interest
The authors declare no conflict of interest.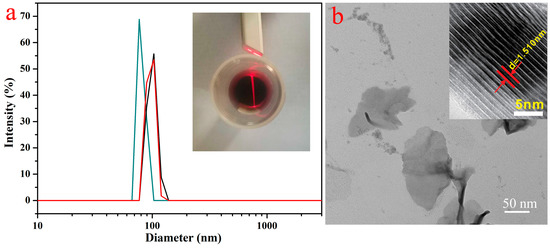 Figure 1. Size distribution (a) and typical transmission electron microscopy (TEM) image (b) of the obtained MXene-SO3H particles; the inset images denoted MXene-SO3H colloidal solution with Tyndall scattering effect and the high-resolution TEM image of MXene-SO3H.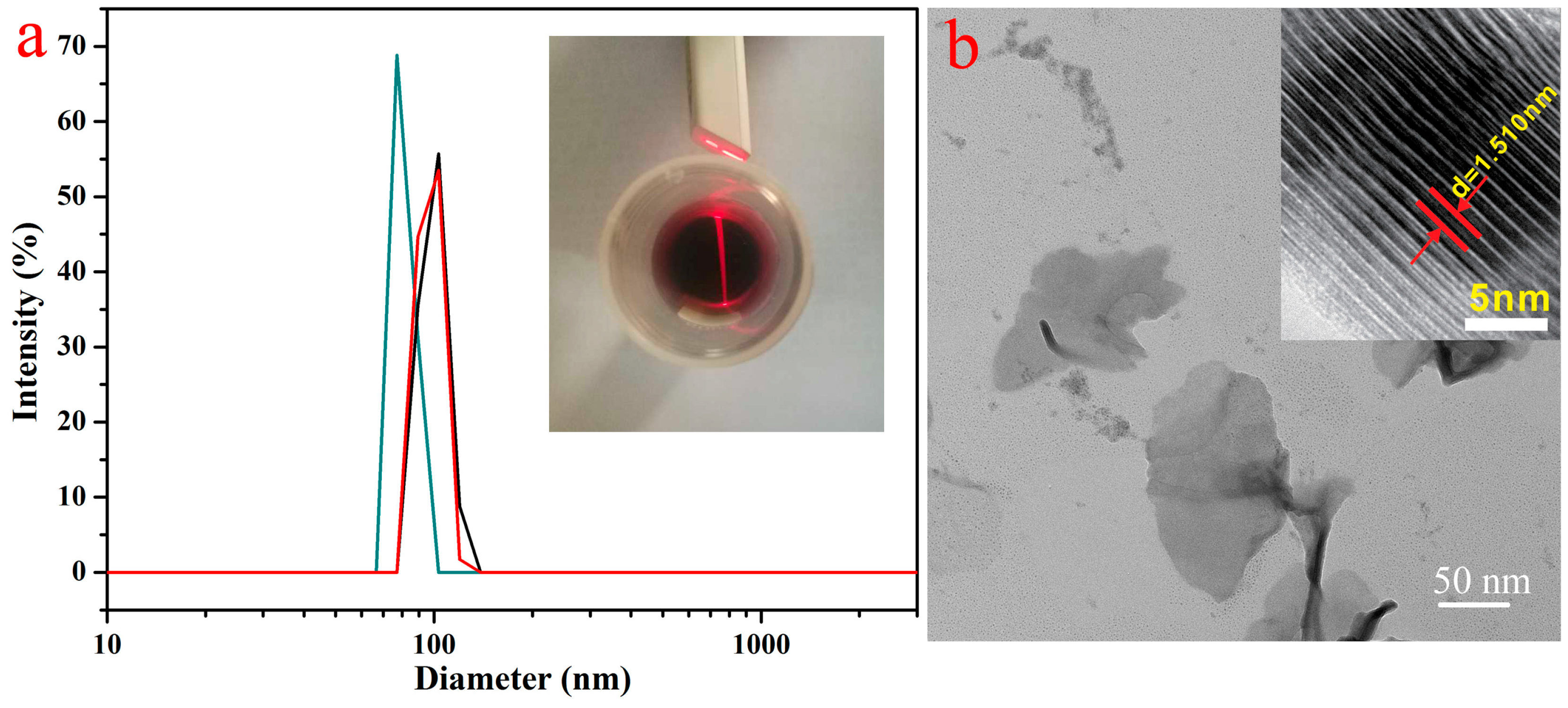 Figure 2.
Surface pressure-area isotherms of as-prepared MXene-SO3H Langmuir film spreading on: (
a
) RhB sub phase, different mixed solvent ratios; (
b
) different dye sub phases (methanol/water (
v
/
v
) of 2:1, volume of 50 μL and concentration of 0.7 mg mL
−1
).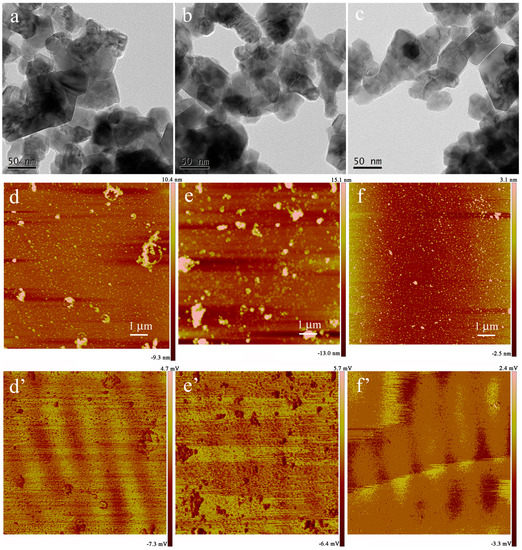 Figure 3. TEM images and tapping mode atomic force microscopy (AFM) images of the transferred films of MXene-SO3H/MB (a,d,d'), MXene-SO3H/RhB (b,e,e') and MXene-SO3H/ST (c,f,f') on copper grid or freshly cleaved mica surface, respectively.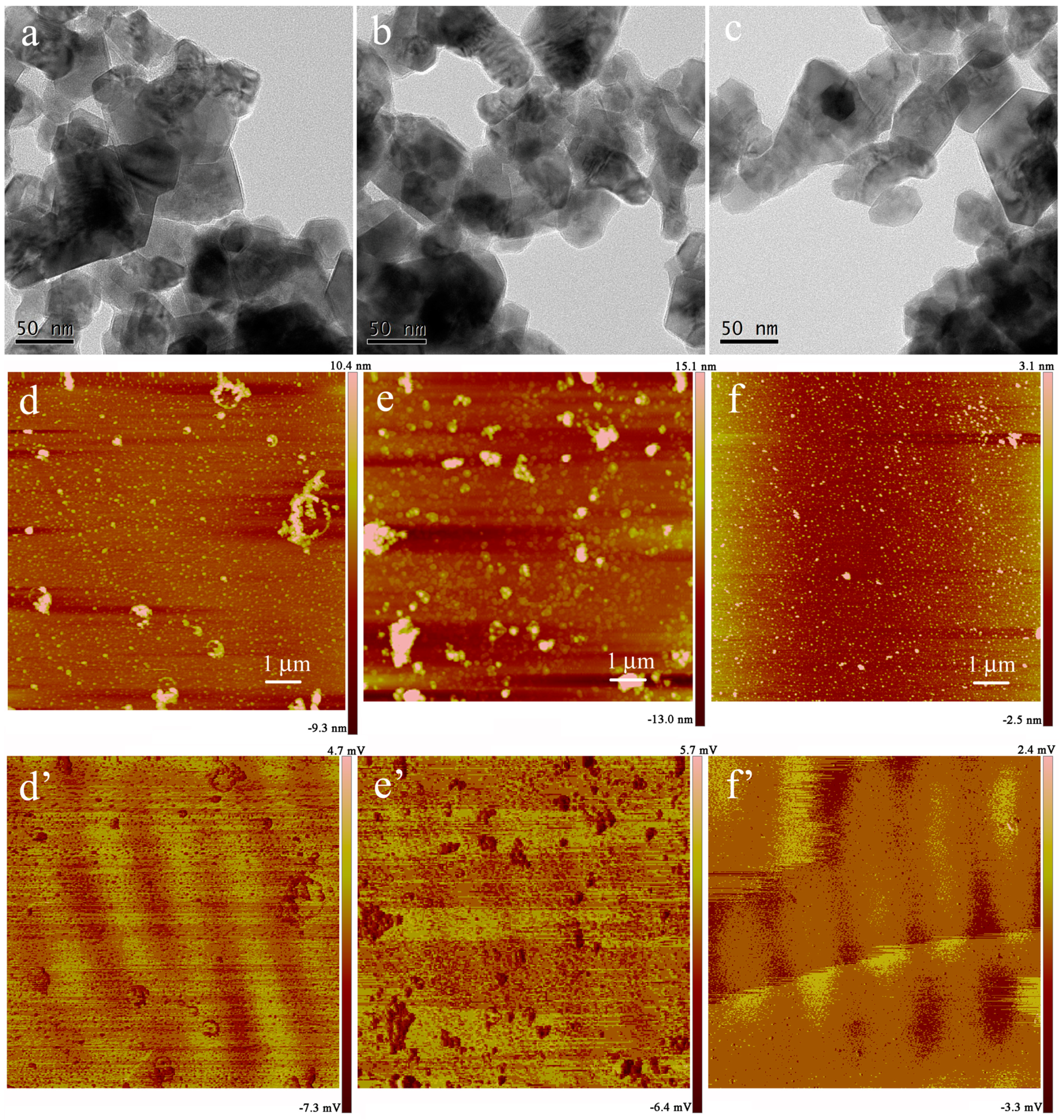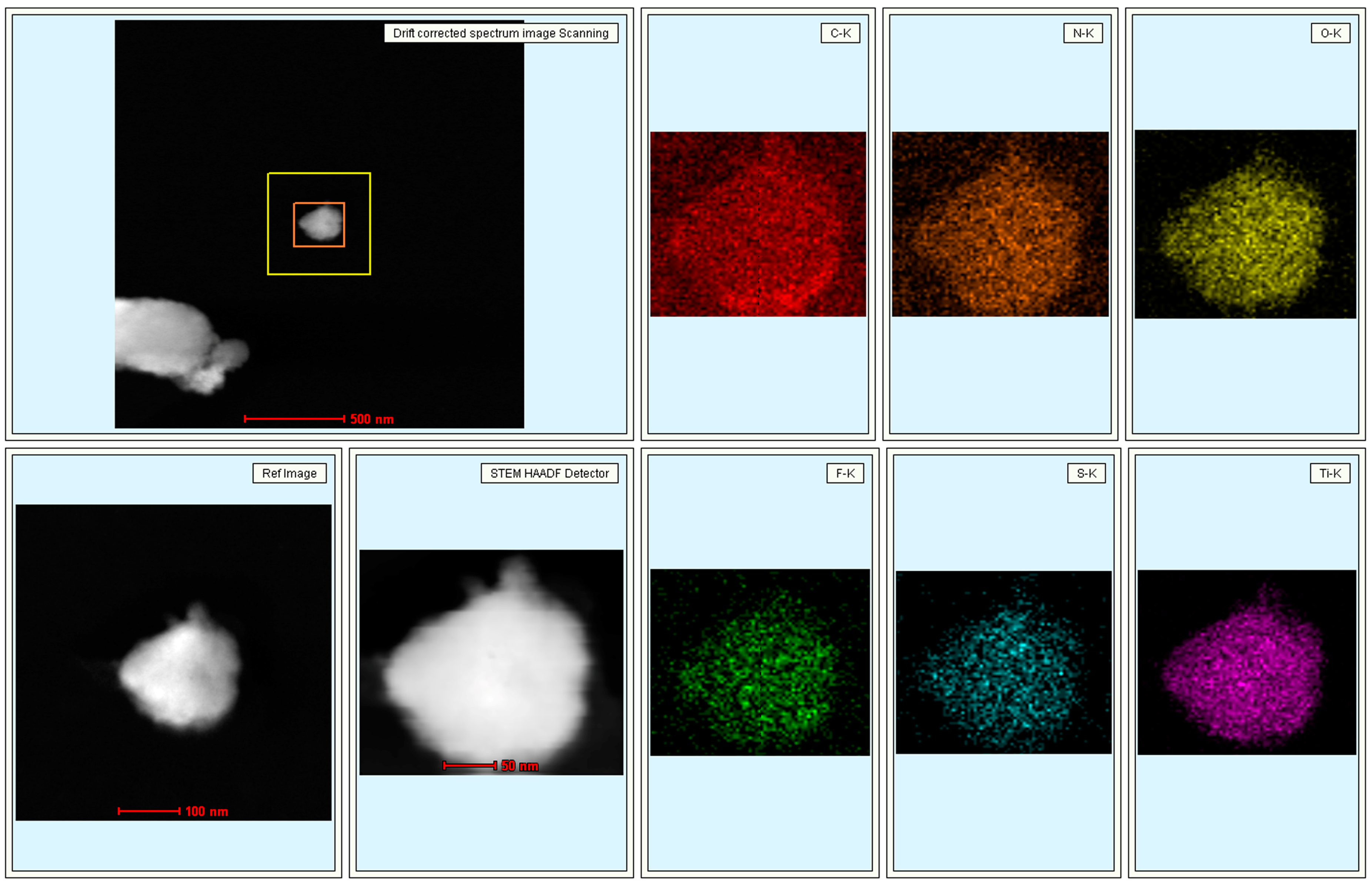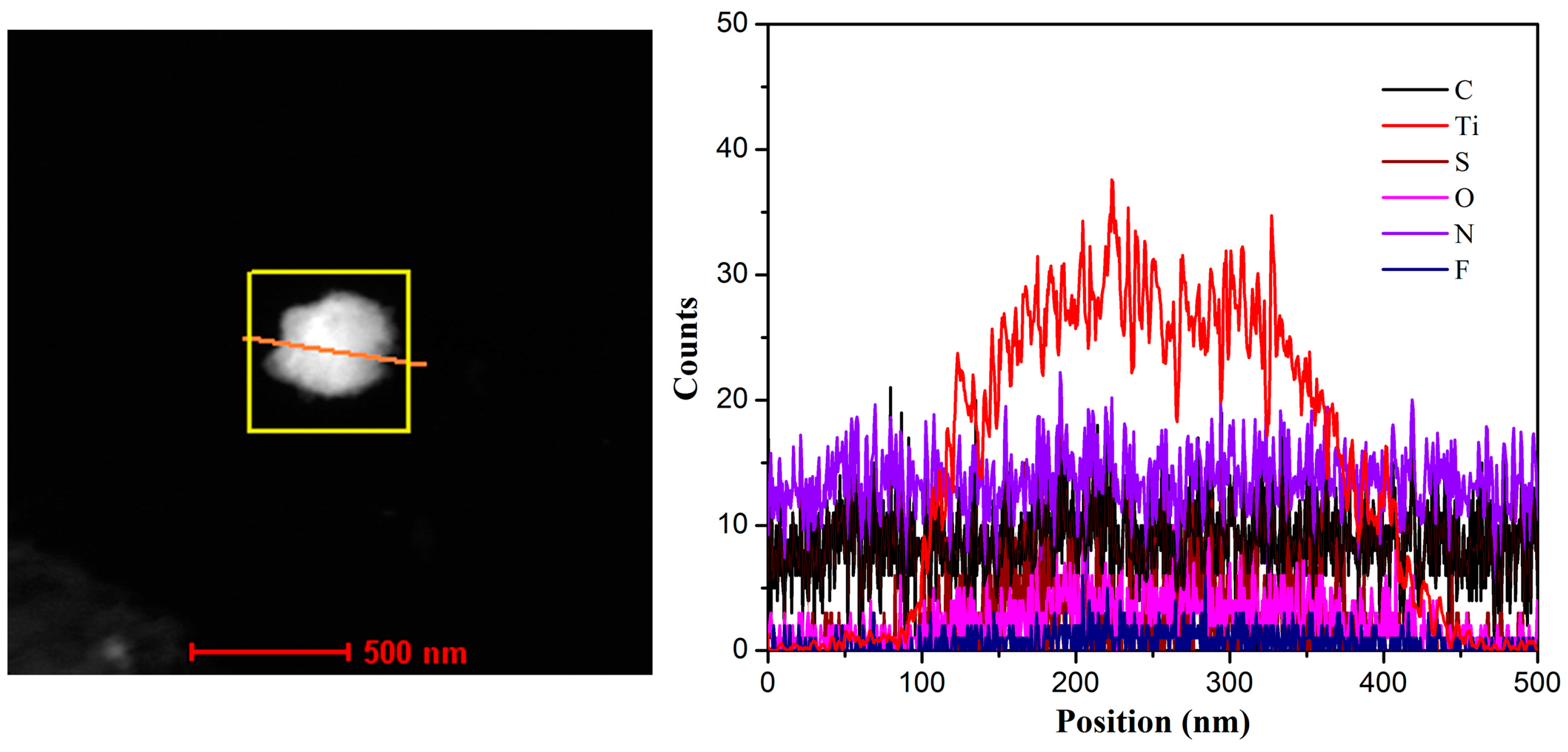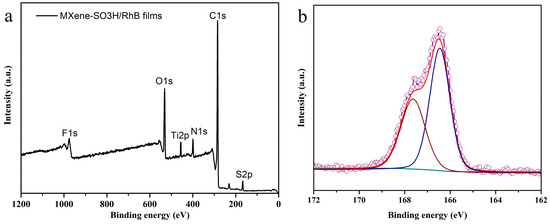 Figure 6. XPS profiles of the obtained MXene-SO3H/RhB composite films (a) and the S2p deconvolutions (b).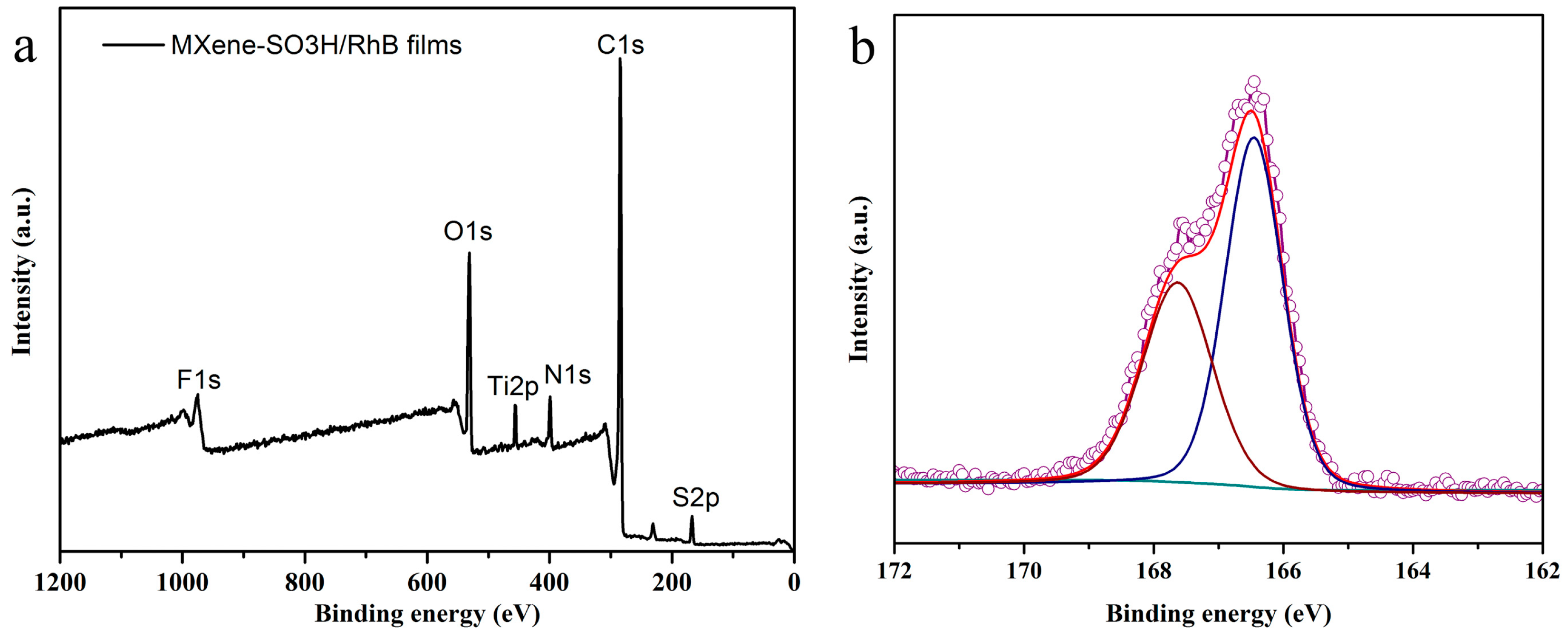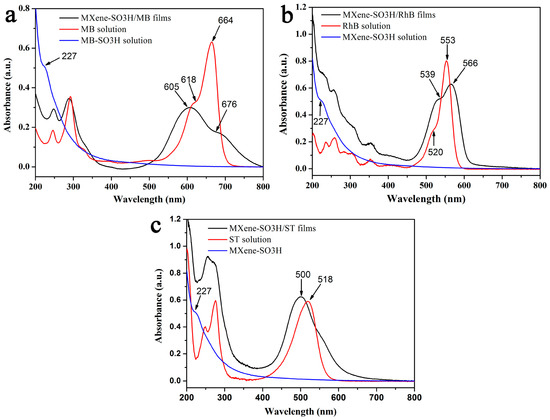 Figure 7. UV-Vis absorption spectra of the transferred multilayer MXene-SO3H/MB films (a), MXene-SO3H/RhB films (b), and MXene-SO3H/ST films (c).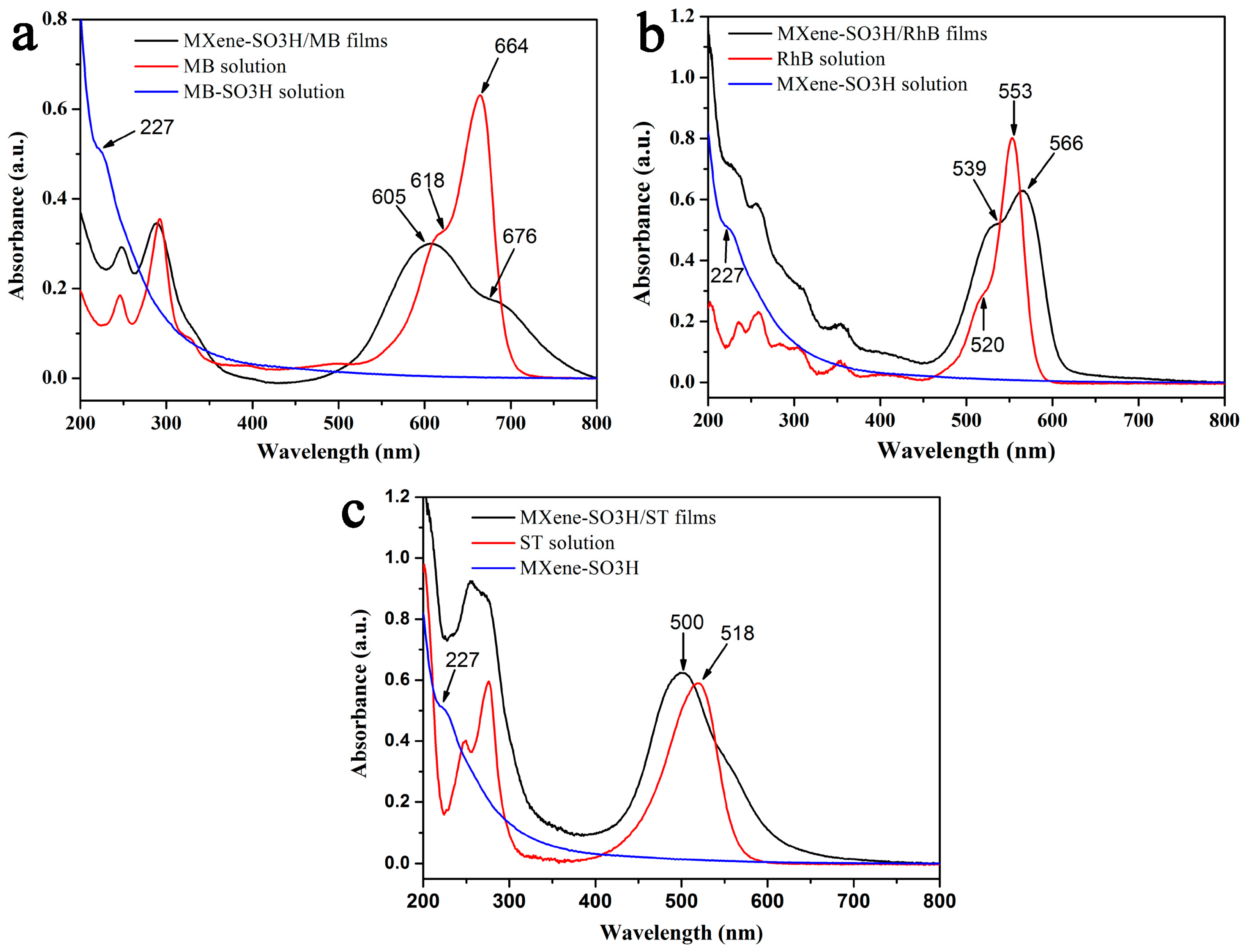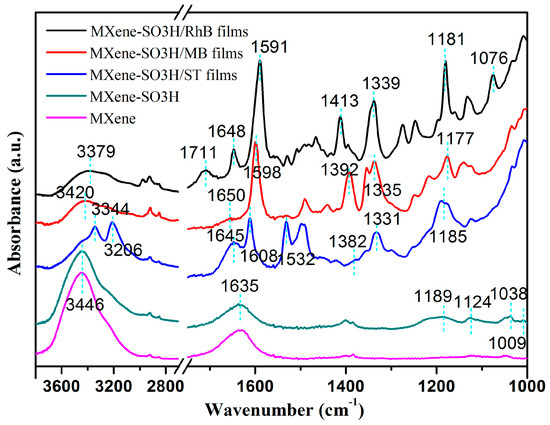 Figure 8. Fourier transform infrared (FT-IR) spectra of MXene and the obtained MXene/dye composite LB films.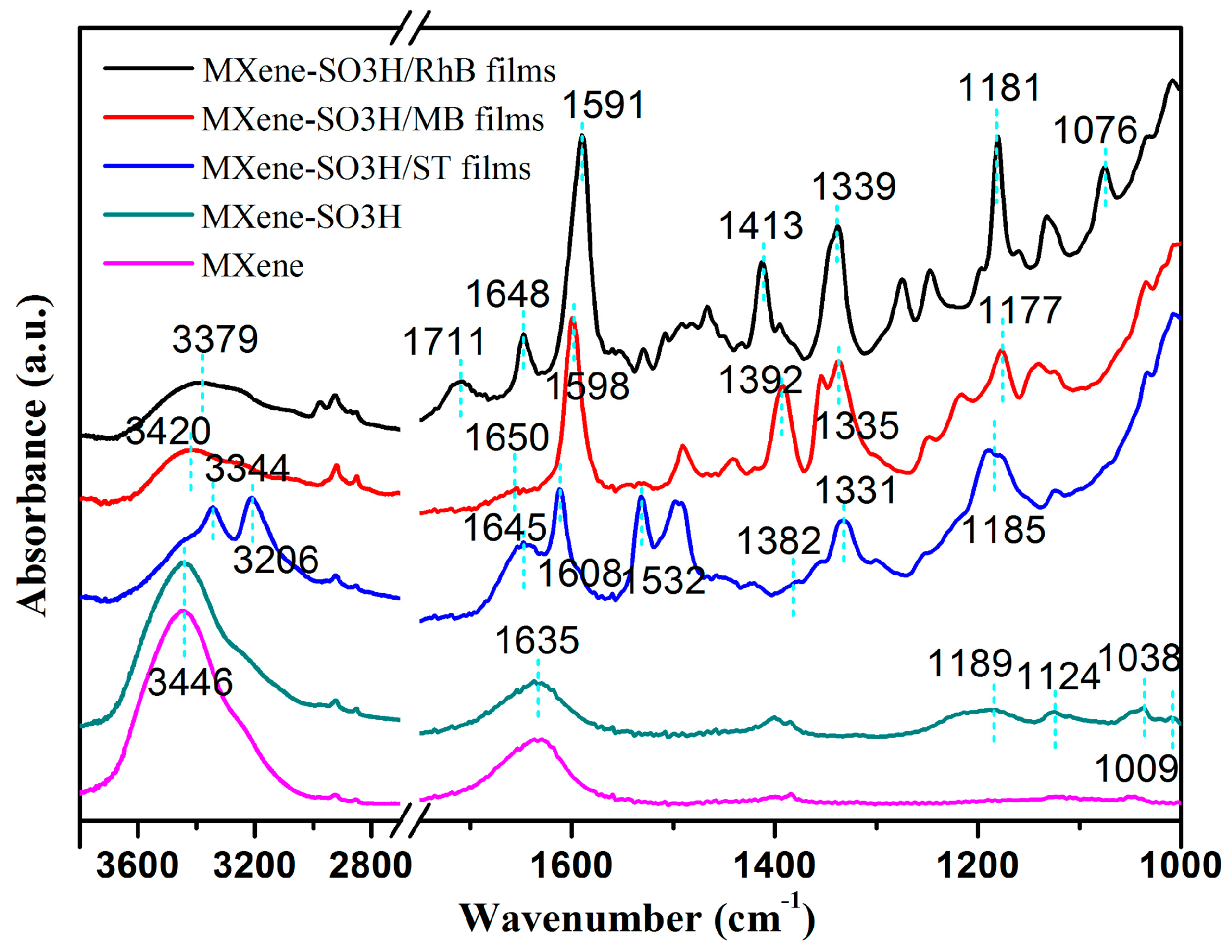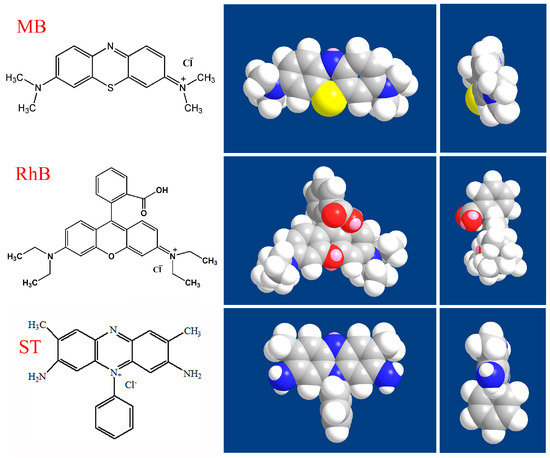 Figure 9. Chemical structures of three used model dyes along with the top and side views of their space-filling models.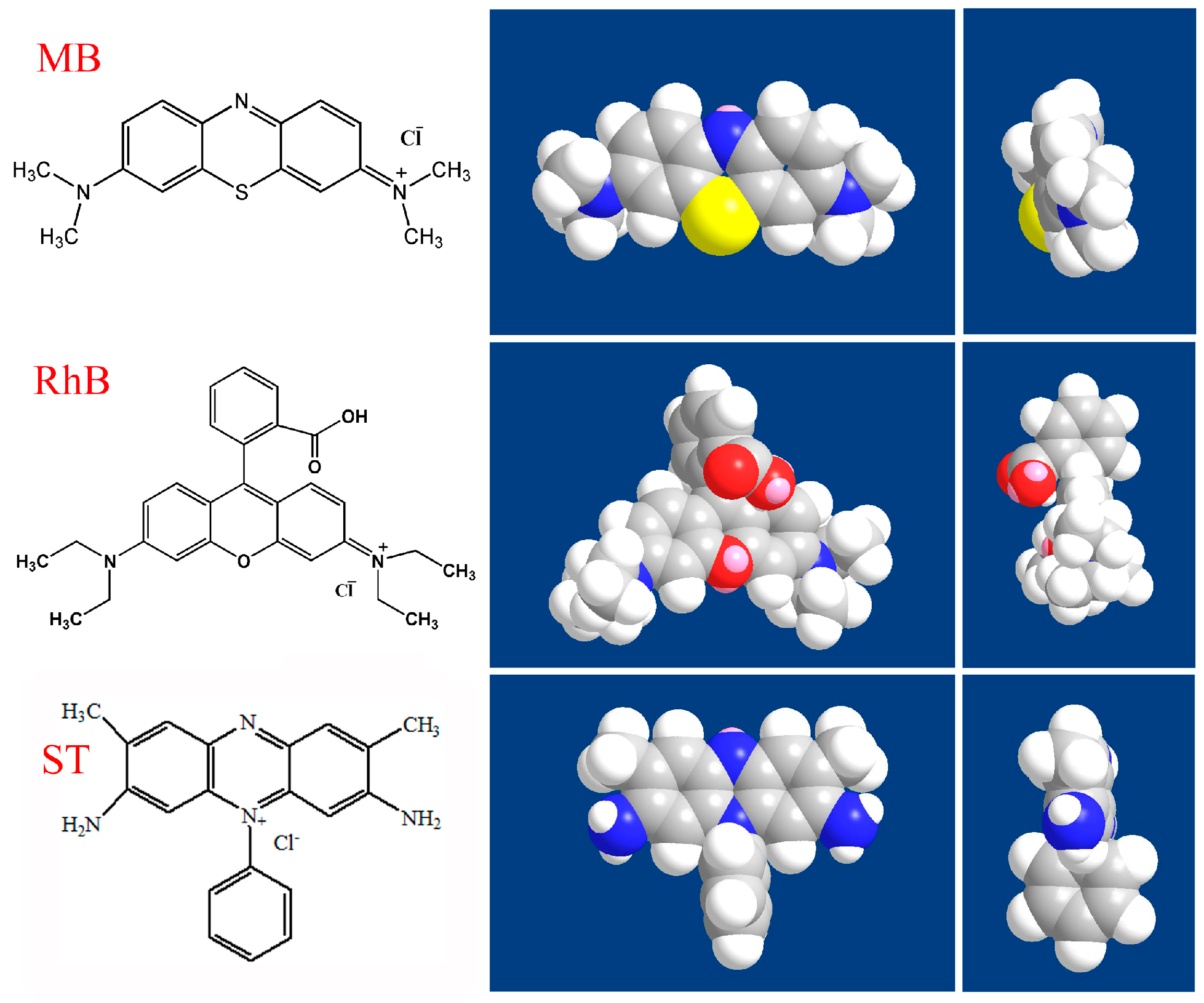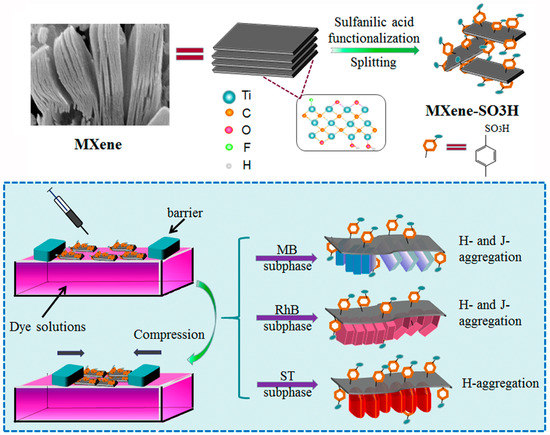 Figure 10. Schematic illustration of preparation of MXene-SO3H and interfacial self-assembly process of MXene-SO3H/dye composite Langmuir films as well as aggregation model of dye on MXene-SO3H surface.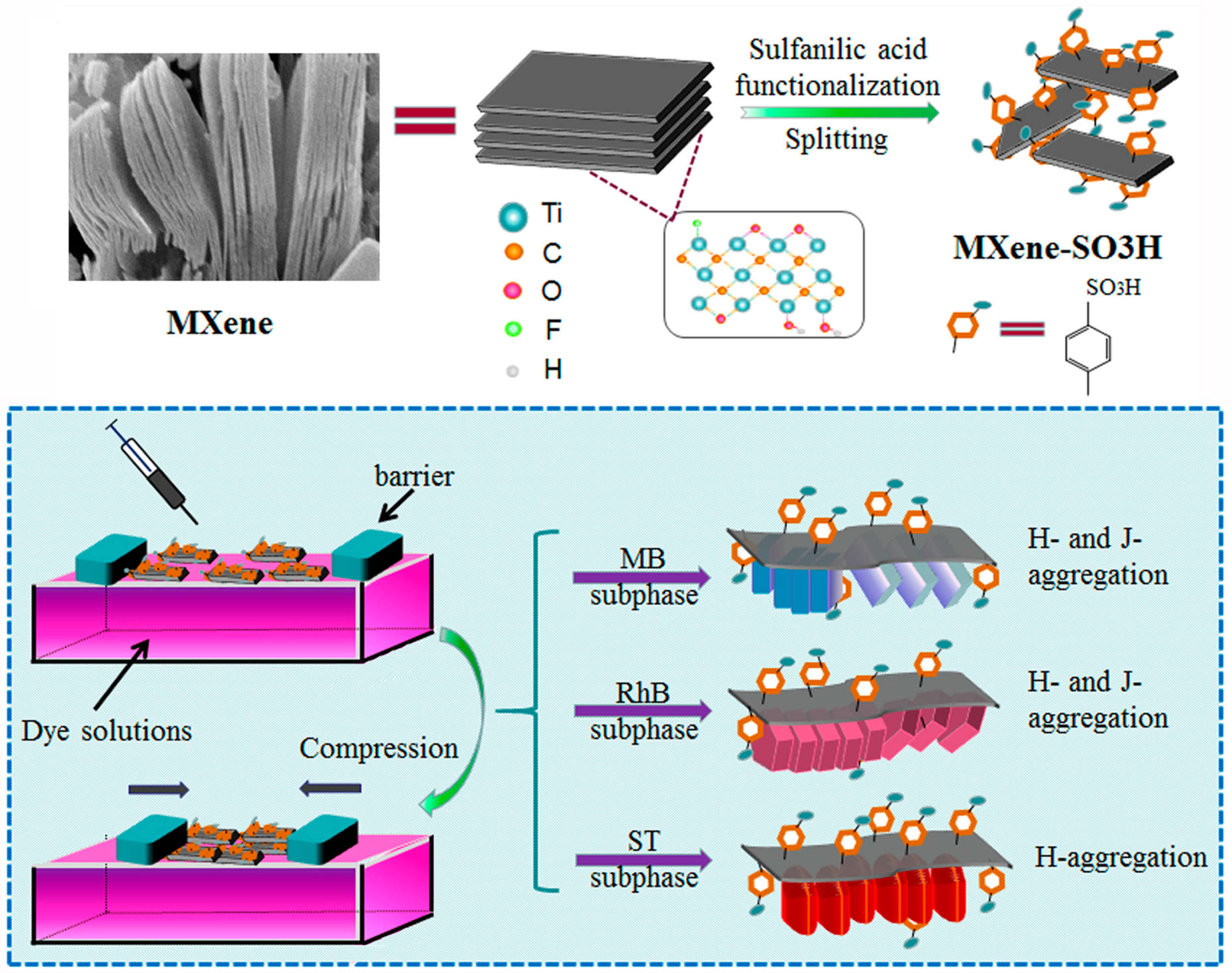 Figure 11. (a) Raman spectra of R6G molecules with 10−3 M concentration from the different layers film substrates. (b) SERS spectra of MB obtained on 36 random locations from 6 different MXene-SO3H/MB-50 film substrates. (c,e) Raman mapping image at 1396 and 1629 cm−1 of MB molecules with cover the area of 6 × 6 μm2 of the MXene-SO3H/MB-50 film substrate. (d,f) The corresponding bar plot of Raman intensity at 1396 and 1629 cm−1 in the above detection area of MXene-SO3H/MB-50 film substrate.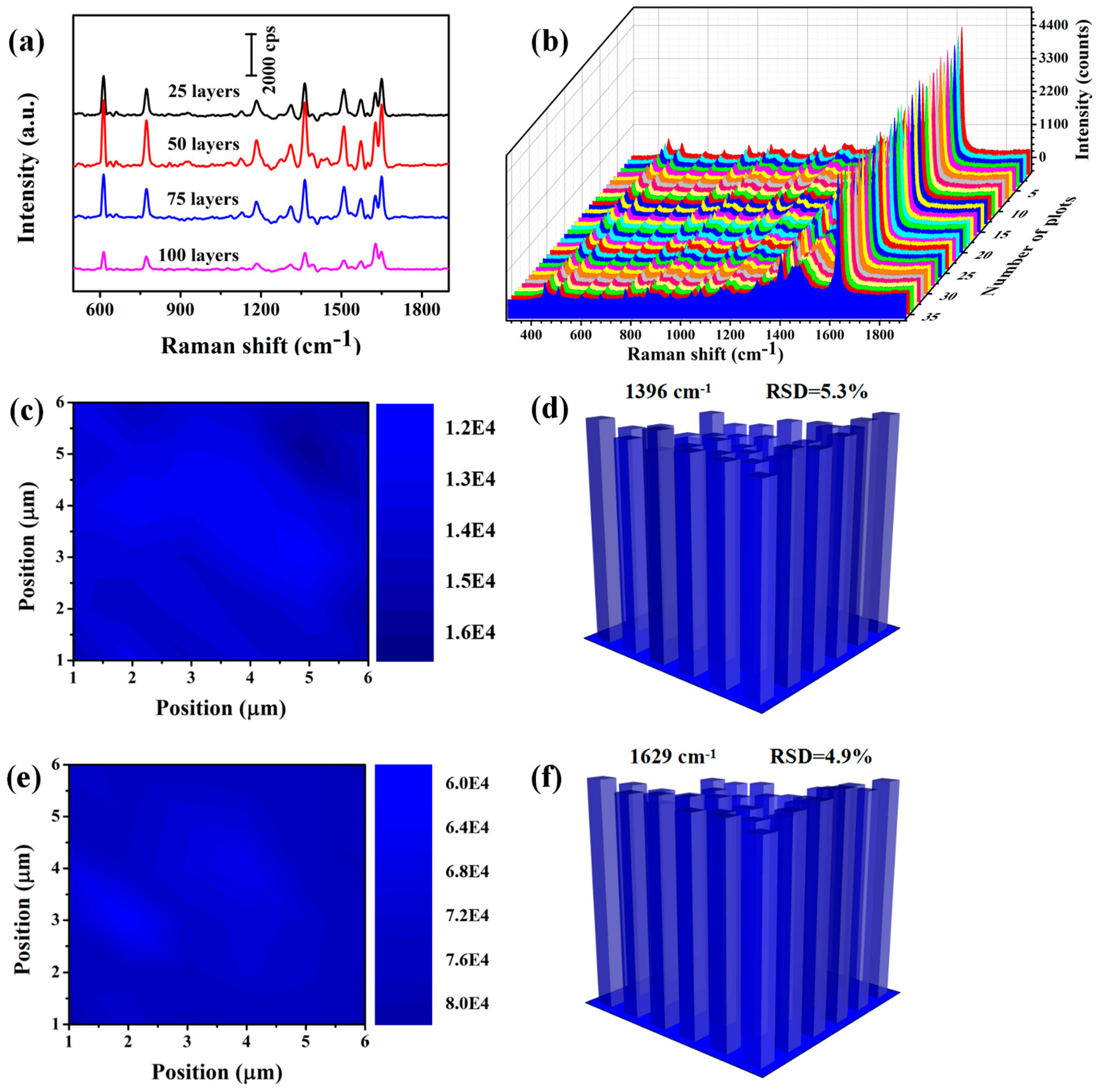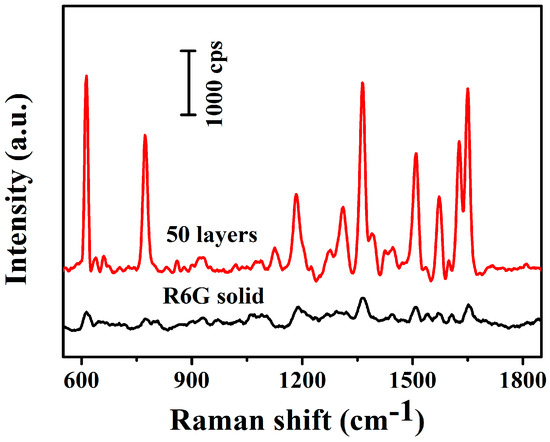 Figure 12. Surface enhanced Raman scattering (SERS) spectra of 10−3 M R6G on the MXene-SO3H/MB-50 films on silicon.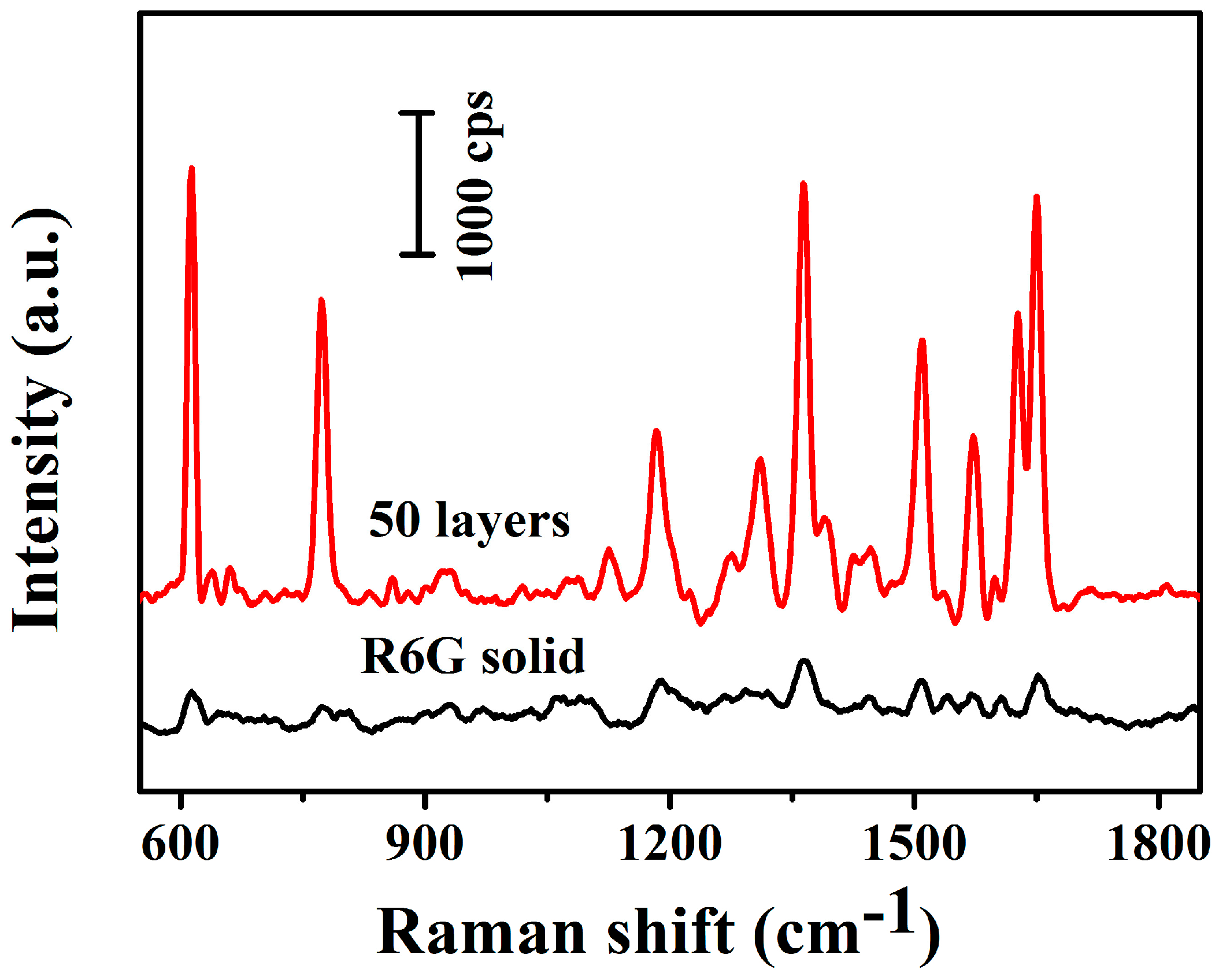 | Element | C | Ti | F | N | S | O |
| --- | --- | --- | --- | --- | --- | --- |
| Atomic percentage (%) | 71.30 | 4.39 | 1.65 | 5.53 | 2.24 | 14.9 |

© 2019 by the authors. Licensee MDPI, Basel, Switzerland. This article is an open access article distributed under the terms and conditions of the Creative Commons Attribution (CC BY) license (http://creativecommons.org/licenses/by/4.0/).