Electrospinning of Polystyrene/Polyhydroxybutyrate Nanofibers Doped with Porphyrin and Graphene for Chemiresistor Gas Sensors
1
Institute of Atmospheric Pollution Research–National Research Council (IIA-CNR), Research Area of Rome 1, Via Salaria km 29.300, 00016 Monterotondo, Italy
2
Department of Chemical Science and Technology, University of Tor Vergata, Via della Ricerca Scientifica 00133 Rome, Italy
3
Department of Electronic Engineering, University of Tor Vergata, Via del Politecnico 1, 00133 Rome, Italy
4
Institute of Materials for Electronics and Magnetism–National Research Council (IMEM-CNR), Parco Area delle Scienze 37/A, 43124 Parma, Italy
5
Department for Innovation in Biological, Agro-food and Forest Systems (DIBAF), Via S. Camillo de Lellis, 00100 Viterbo, Italy
*
Author to whom correspondence should be addressed.
Received: 17 January 2019 / Revised: 11 February 2019 / Accepted: 12 February 2019 / Published: 17 February 2019
Abstract
Structural and functional properties of polymer composites based on carbon nanomaterials are so attractive that they have become a big challenge in chemical sensors investigation. In the present study, a thin nanofibrous layer, comprising two insulating polymers (polystyrene (PS) and polyhydroxibutyrate (PHB)), a known percentage of nanofillers of mesoporous graphitized carbon (MGC) and a free-base tetraphenylporphyrin, was deposited onto an Interdigitated Electrode (IDE) by electrospinning technology. The potentials of the working temperature to drive both the sensitivity and the selectivity of the chemical sensor were studied and described. The effects of the porphyrin combination with the composite graphene–polymer system appeared evident when nanofibrous layers, with and without porphyrin, were compared for their morphology and electrical and sensing parameters. Porphyrin fibers appeared smoother and thinner and were more resistive at lower temperature, but became much more conductive when temperature increased to 60–70 °C. Both adsorption and diffusion of chemicals seemed ruled by porphyrin according its combination inside the composite fiber, since the response rates dramatically increased (toluene and acetic acid). Finally, the opposite effect of the working temperature on the sensitivity of the porphyrin-doped fibers (i.e., increasing) and the porphyrin-free fibers (i.e., decreasing) seemed further confirmation of the key role of such a macromolecule in the VOC (volatile organic compound) adsorption.
View Full-Text
►

▼

Figures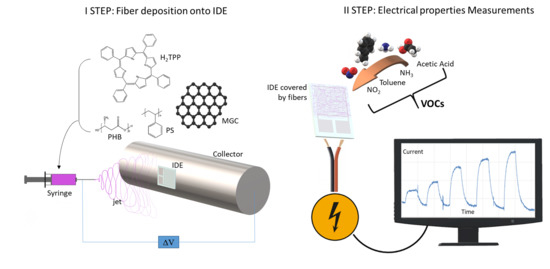 Graphical abstract
This is an open access article distributed under the
Creative Commons Attribution License
which permits unrestricted use, distribution, and reproduction in any medium, provided the original work is properly cited (CC BY 4.0).

Share & Cite This Article
MDPI and ACS Style
Avossa, J.; Paolesse, R.; Di Natale, C.; Zampetti, E.; Bertoni, G.; De Cesare, F.; Scarascia-Mugnozza, G.; Macagnano, A. Electrospinning of Polystyrene/Polyhydroxybutyrate Nanofibers Doped with Porphyrin and Graphene for Chemiresistor Gas Sensors. Nanomaterials 2019, 9, 280.
Note that from the first issue of 2016, MDPI journals use article numbers instead of page numbers. See further details here.
Related Articles
Comments
[Return to top]