Oil-in-Water Emulsions Stabilized by Cellulose Nanofibrils—The Effects of Ionic Strength and pH
1
Ugelstad Laboratory, Department of Chemical Engineering, Norwegian University of Science and Technology, N-7491 Trondheim, Norway
2
RISE PFI, N-7491 Trondheim, Norway
*
Author to whom correspondence should be addressed.
Received: 14 December 2018 / Revised: 2 February 2019 / Accepted: 13 February 2019 / Published: 14 February 2019
Abstract
Pickering o/w emulsions prepared with 40 wt % rapeseed oil were stabilized with the use of low charged enzymatically treated cellulose nanofibrils (CNFs) and highly charged 2,2,6,6-tetramethylpiperidine-1-oxyl (TEMPO)-oxidized CNFs. The emulsion-forming abilities and storage stability of the two qualities were tested in the presence of NaCl and acetic acid, at concentrations relevant to food applications. Food emulsions may be an important future application area for CNFs due to their availability and excellent viscosifying abilities. The emulsion characterization was carried out by visual inspection, light microscopy, viscosity measurements, dynamic light scattering and mild centrifugation, which showed that stable emulsions could be obtained for both CNF qualities in the absence of salt and acid. In addition, the enzymatically stabilized CNFs were able to stabilize emulsions in the presence of acid and NaCl, with little change in the appearance or droplet size distribution over one month of storage at room temperature. The work showed that enzymatically treated CNFs could be suitable for use in food systems where NaCl and acid are present, while the more highly charged TEMPO-CNFs might be more suited for other applications, where they can contribute to a high emulsion viscosity even at low concentrations.
View Full-Text
►

▼

Figures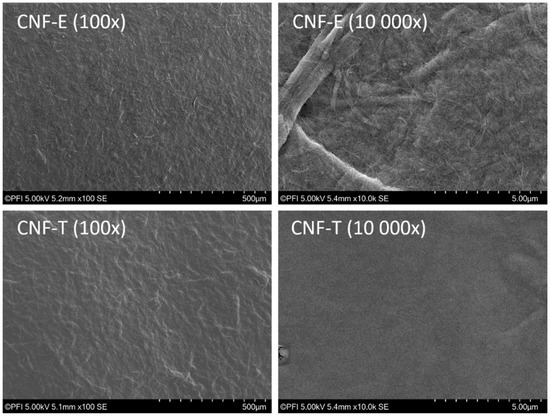 Figure 1
This is an open access article distributed under the
Creative Commons Attribution License
which permits unrestricted use, distribution, and reproduction in any medium, provided the original work is properly cited (CC BY 4.0).

Share & Cite This Article
MDPI and ACS Style
Aaen, R.; Brodin, F.W.; Simon, S.; Heggset, E.B.; Syverud, K. Oil-in-Water Emulsions Stabilized by Cellulose Nanofibrils—The Effects of Ionic Strength and pH. Nanomaterials 2019, 9, 259.
Note that from the first issue of 2016, MDPI journals use article numbers instead of page numbers. See further details here.
Related Articles
Comments
[Return to top]