A Microwave-Assisted Synthesis of Zinc Oxide Nanocrystals Finely Tuned for Biological Applications
1
Department of Applied Science and Technology, Politecnico di Torino, Corso Duca degli Abruzzi 24, 10129 Turin, Italy
2
Istituto Italiano di Tecnologia, Center for Sustainable Future Technologies, Via Livorno 60, 10144 Torino, Italy
3
King Abdullah University of Science and Technology (KAUST), Biological and Engineering (BESE) Division, NABLA Lab, Thuwal 23955, Saudi Arabia
*
Author to whom correspondence should be addressed.
Received: 14 January 2019 / Revised: 28 January 2019 / Accepted: 30 January 2019 / Published: 6 February 2019
Abstract
Herein we report a novel, easy, fast and reliable microwave-assisted synthesis procedure for the preparation of colloidal zinc oxide nanocrystals (ZnO NCs) optimized for biological applications. ZnO NCs are also prepared by a conventional solvo-thermal approach and the properties of the two families of NCs are compared and discussed. All of the NCs are fully characterized in terms of morphological analysis, crystalline structure, chemical composition and optical properties, both as pristine nanomaterials or after amino-propyl group functionalization. Compared to the conventional approach, the novel microwave-derived ZnO NCs demonstrate outstanding colloidal stability in ethanol and water with long shelf-life. Furthermore, together with their more uniform size, shape and chemical surface properties, this long-term colloidal stability also contributes to the highly reproducible data in terms of biocompatibility. Actually, a significantly different biological behavior of the microwave-synthesized ZnO NCs is reported with respect to NCs prepared by the conventional synthesis procedure. In particular, consistent cytotoxicity and highly reproducible cell uptake toward KB cancer cells are measured with the use of microwave-synthesized ZnO NCs, in contrast to the non-reproducible and scattered data obtained with the conventionally-synthesized ones. Thus, we demonstrate how the synthetic route and, as a consequence, the control over all the nanomaterial properties are prominent points to be considered when dealing with the biological world for the achievement of reproducible and reliable results, and how the use of commercially-available and under-characterized nanomaterials should be discouraged in this view.
View Full-Text
►

▼

Figures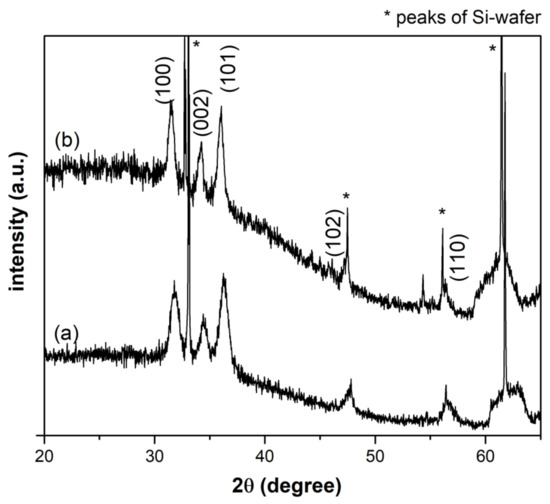 Figure 1
This is an open access article distributed under the
Creative Commons Attribution License
which permits unrestricted use, distribution, and reproduction in any medium, provided the original work is properly cited (CC BY 4.0).

Share & Cite This Article
MDPI and ACS Style
Garino, N.; Limongi, T.; Dumontel, B.; Canta, M.; Racca, L.; Laurenti, M.; Castellino, M.; Casu, A.; Falqui, A.; Cauda, V. A Microwave-Assisted Synthesis of Zinc Oxide Nanocrystals Finely Tuned for Biological Applications. Nanomaterials 2019, 9, 212.
Note that from the first issue of 2016, MDPI journals use article numbers instead of page numbers. See further details here.
Related Articles
Comments
[Return to top]