Efficient Copper Removal from an Aqueous Anvironment using a Novel and Hybrid Nanoadsorbent Based on Derived-Polyethyleneimine Linked to Silica Magnetic Nanocomposites
1
Laboratory for Characterization and Processing of Polymers, University of Maribor, Faculty of Mechanical Engineering, Smetanova 17, 2000 Maribor, Slovenia
2
Faculty of Chemistry and Chemical Engineering, University of Maribor, Smetanova 17, 2000 Maribor, Slovenia
3
Department for Materials` Synthesis, Jožef Stefan Institute, Jamova 39, 1000 Ljubljana, Slovenia
*
Author to whom correspondence should be addressed.
Received: 10 January 2019 / Revised: 28 January 2019 / Accepted: 30 January 2019 / Published: 6 February 2019
Abstract
Due to the extreme rise of sludge pollution with heavy metals (e.g. copper), the options for its disposal or treatment are decreasing. On the contrary, properly heavy metal-cleaned sludge can be used as an alternative sustainable energy and agriculture source. The aim of this study was to develop a novel nanoadsorbent, based on irreversibly linked amino-rich polymer onto previously silica-coated magnetic nanoparticles (MNPs) that can be applied efficiently for metal removal. MNPs were coated uniformly by 3 nm thick silica layer (core-shell structure), and were additionally modified with systematic covalent attachment of derived branched polyethyleneimine (bPEI). The formed structure of synthesized MNPs composite was confirmed with several analytical techniques. Importantly, nanoadsorbents exhibit high density of chelating amino groups and large magnetic force for easier separation. The importance of introduced bPEI, effect of pH, initial heavy metal concentration onto copper uptake efficiency and, further, nanoadsorbent regeneration, were studied and explained in detail. The adsorption isotherm was well fitted with Langmuir model, and the maximum adsorption capacity was shown to be 143 mg·g
−1
for Cu
2+
. The reusability and superior properties of silica-coated MNPs functionalized with derived-bPEI for copper adsorption underlie its potential for the removal application from heavy metals contaminated sludge
View Full-Text
►

▼

Figures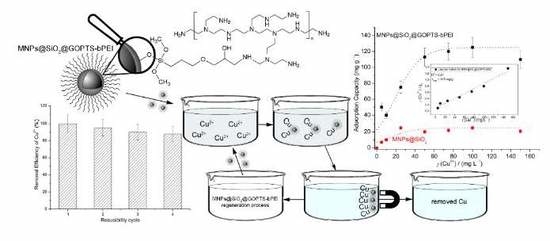 Graphical abstract
This is an open access article distributed under the
Creative Commons Attribution License
which permits unrestricted use, distribution, and reproduction in any medium, provided the original work is properly cited (CC BY 4.0).

Share & Cite This Article
MDPI and ACS Style
Plohl, O.; Finšgar, M.; Gyergyek, S.; Ajdnik, U.; Ban, I.; Zemljič, L.F. Efficient Copper Removal from an Aqueous Anvironment using a Novel and Hybrid Nanoadsorbent Based on Derived-Polyethyleneimine Linked to Silica Magnetic Nanocomposites. Nanomaterials 2019, 9, 209.
Note that from the first issue of 2016, MDPI journals use article numbers instead of page numbers. See further details here.
Related Articles
Comments
[Return to top]