Microstructures and Photodegradation Performance toward Methylene Orange of Sputtering-Assisted Decoration of ZnFe2O4 Crystallites onto TiO2 Nanorods
Institute of Materials Engineering, National Taiwan Ocean University, Keelung 20224, Taiwan
*
Author to whom correspondence should be addressed.
Received: 9 January 2019 / Revised: 30 January 2019 / Accepted: 1 February 2019 / Published: 5 February 2019
Abstract
In this study, TiO
2
–ZnFe
2
O
4
(ZFO) core-shell nanorods with various ZFO crystallite thicknesses were synthesized through sputtering-deposited ZFO thin films onto the surfaces of TiO
2
nanorods. By coupling the ZFO narrow bandgap oxide with TiO
2
, an enhanced photodegradation efficiency of methylene orange under irradiation was achieved. Structural analyses revealed that ZFO crystallites fully covered the surfaces of the TiO
2
nanorods. The sputtering-deposited ZFO crystallites on the head region of the composite nanorods were markedly thicker than those covering the lateral region of the composite nanorods. The coverage of ZFO crystallites on the TiO
2
nanorods led to an improved light harvesting, a decrease in the hole–electron recombination rate, as well as the enhanced photodegradation activity of the TiO
2
–ZFO heterostructures under irradiation. The optimized ZFO thickness on the head region of the composite nanorods was approximately 43 nm on average and that at the lateral region of the composite nanorods was 15 nm, which exhibited superior photodegradation ability to methylene orange and retained a stable photodegradation efficiency of approximately 97% after cycling tests. The results herein demonstrate that sputtering deposition of ZFO crystallite with tunable thickness is a promising approach to designing TiO
2
–ZFO composite nanorods with various ZFO coverage sizes and to adjust their photodegradation ability toward organic dyes.
View Full-Text
►

▼

Figures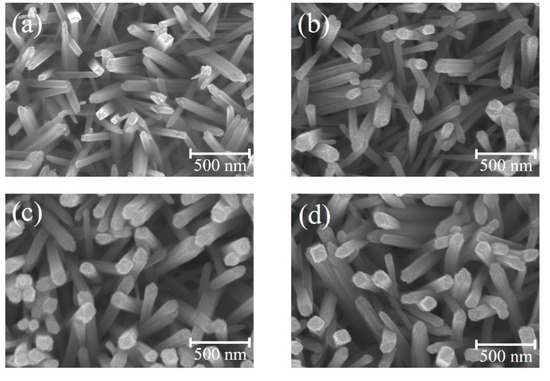 Figure 1
This is an open access article distributed under the
Creative Commons Attribution License
which permits unrestricted use, distribution, and reproduction in any medium, provided the original work is properly cited (CC BY 4.0).

Share & Cite This Article
MDPI and ACS Style
Liang, Y.-C.; Liu, Y.-C. Microstructures and Photodegradation Performance toward Methylene Orange of Sputtering-Assisted Decoration of ZnFe2O4 Crystallites onto TiO2 Nanorods. Nanomaterials 2019, 9, 205.
Note that from the first issue of 2016, MDPI journals use article numbers instead of page numbers. See further details here.
Related Articles
Comments
[Return to top]