Open Access This article is
freely available
re-usable
Communication
Methane-Mediated Vapor Transport Growth of Monolayer WSe2 Crystals
1
School of Advanced Materials Science and Engineering and SKKU Advanced Institute of Nanotechnology (SAINT), Sungkyunkwan University (SKKU), 2066, Seobu-Ro, Jangan-Gu, Suwon-Si, Gyeonggi-Do 16419, Korea
2
Department of Energy Systems Research and Department of Materials Science and Engineering, Ajou University, Suwon, Gyeonggi-Do 16499, Korea
3
Department of Physics, Mokpo National University, Muan-gun, Jeollanam-Do 58554, Korea
†
These authors contributed equally to this work.

Received: 28 October 2019 / Accepted: 13 November 2019 / Published: 19 November 2019
Abstract
:
The electrical and optical properties of semiconducting transition metal dichalcogenides (TMDs) can be tuned by controlling their composition and the number of layers they have. Among various TMDs, the monolayer WSe2 has a direct bandgap of 1.65 eV and exhibits p-type or bipolar behavior, depending on the type of contact metal. Despite these promising properties, a lack of efficient large-area production methods for high-quality, uniform WSe2 hinders its practical device applications. Various methods have been investigated for the synthesis of large-area monolayer WSe2, but the difficulty of precisely controlling solid-state TMD precursors (WO3, MoO3, Se, and S powders) is a major obstacle to the synthesis of uniform TMD layers. In this work, we outline our success in growing large-area, high-quality, monolayered WSe2 by utilizing methane (CH4) gas with precisely controlled pressure as a promoter. When compared to the catalytic growth of monolayered WSe2 without a gas-phase promoter, the catalytic growth of the monolayered WSe2 with a CH4 promoter reduced the nucleation density to 1/1000 and increased the grain size of monolayer WSe2 up to 100 μm. The significant improvement in the optical properties of the resulting WSe2 indicates that CH4 is a suitable candidate as a promoter for the synthesis of TMD materials, because it allows accurate gas control.
Keywords:
TMD; 2D material; WSe
2
; monolayer; methane promoter; single-crystal
1. Introduction
The discovery of graphene and its unique properties has triggered the development of various types of layered materials [
1
]. In particular, transition metal dichalcogenides (TMDs), atomically thin semiconductors of the type MX
2
(M = Mo, W; X = S, Se), have attracted considerable attention as their physical and electrical properties are tunable. Depending on their composition and thickness, two-dimensional (2D) TMDs have a variety of electrical properties ranging from metal, to insulator, to semiconductor, which could lead to a new dimension of atomic thickness for future device applications [
2
,
3
]. TMD materials have useful device characteristics, such as a high on/off ratio, a wide range of photoluminescence, and a low subthreshold voltage, making them suitable for spintronics and optoelectronics [
4
]. Among the numerous TMD materials, WSe
2
has been extensively studied because its electrical transport properties can be easily adjusted from p-type to bipolar behavior depending on the type of contact metal [
5
,
6
,
7
]. Bulk WSe
2
crystallizes in the "2H'' or trigonal prismatic structure (space group
P
6
3
/
mmc
;
a
= 0.330 nm,
c
= 1.298 nm), in which each W atom is surrounded by six Se atoms, defining two triangular prisms. It was also reported that the energy band structure of WSe
2
can be altered according to its layer number. WSe
2
shows a direct bandgap of 1.65 eV in the monolayer, compared to an indirect bandgap of 1.2 eV in the multilayered bulk [
8
,
9
]. Similar to another 2D layered material, TMD is typically prepared using a mechanical exfoliation method. However, this top-down approach is not suitable for practical high-performance device applications, so bottom-up approaches for large-scale and mass-production have been extensively studied. The chemical vapor deposition (CVD) method is one of the bottom-up approaches that allows the synthesis of large-area TMDs. The CVD growth of TMDs has largely been studied using two different approaches. The first approach is to pre-deposit transition metal sources such as MoO
3
, WO
3
, etc., on the growth substrate and convert them to TMD by sulfidation (or selenization) [
10
,
11
,
12
,
13
,
14
,
15
,
16
,
17
,
18
]. The second is a noncatalytic growth method, in which a transition metal source and sulfur (or selenium) are heat-treated in a growth tube and flowed in a gaseous state to synthesize the TMD layer on a target substrate [
19
,
20
]. However, these CVD approaches have not been successful in uniform, high-quality TMD synthesis because it is difficult to control the thickness and nucleation density of TMDs [
21
]. Recently, to overcome such problems, many researchers have studied various types of promoters and methods applied for CVD-based TMD synthesis to control gas-phase transport of precursors and the reaction of TMD on the growth substrate [
22
,
23
,
24
,
25
,
26
]. Ling et al. reported the synthesis of highly- crystalline MoS
2
at a relatively low growth temperature (650 °C) using various aromatic molecules as seeding promoters [
13
]. In particular, domain size of MoS
2
increased up to 60 µm through vaporized aromatic-molecule catalysts such as perylene-3,4,9,10- tetracarboxylic acid tetrapotassium salt (PTAS) and F
16
CuPc. They also reported that uniform monolayer MoS
2
can be synthesized on the entire area of the SiO
2
/Si substrate; however, the use of such an organic catalyst leaves a residue on the growth substrate that acts as a defect of the synthesized TMD. Another limitation of this method is that it is not applicable to the growth of WS
2
and WSe
2
, which require high growth temperatures. In addition, inorganic materials were also reported in assisted WSe
2
growth methods [
15
,
27
]. Liu et al. demonstrated a Cu-assisted self-limited growth (CASLG) method that allowed the synthesis of a high-quality, uniform WSe
2
monolayer while maintaining a balance between high crystallinity and fast growth rates. They explained that Cu atoms, which occupy the hexagonal sites positioned at the center of the six-membered rings of the WSe
2
surface, induce self-limited growth of WSe
2
and prevent unwanted reactions [
15
]. However, this approach also had disadvantages, for example, the synthesized WSe
2
had small grain sizes with multilayered regions and the vapor pressure of the solid catalyst could not be precisely controlled.
Herein, we report a catalytic growth of the large-area monolayer WSe2 by utilizing CH4 (methane) with precisely controlled pressure as t promoter. Through a systematic investigation, it is confirmed that grain size and the nucleation density of WSe2 can be controlled according to the ratio of carrier gases (Ar/CH4). The gas promoter leads to synthesis of about 100 µm size domains of WSe2 and significantly reduces nucleation density from 1.6 × 105 to 1.5 × 102 mm−2. Various analytical tools such as Raman, photoluminescence (PL), X-ray photoelectron spectroscopy (XPS), and atomic force microscopy (AFM) analysis are used to demonstrate the properties of synthesized monolayer WSe2.
2. Materials and Methods
2.1. Preparation
The WSe2 precursor powders (Alfa Aesar, Ward Hill, MA, U.S., 99.8%; metal basis, 10 microns) were placed on the cleaned alumina boat. Prior to the growth, the SiO2/Si wafer (thermal oxide wafer: 300 nm SiO2 layer on Si (100), MTI Inc., Richmond, CA, U.S.) substrate was washed by acetone, ethyl alcohol, and deionized (DI) water, for 5 min, to remove the organic residue and was then treated with oxygen plasma (100 sccm, 100 W). High-purity Ar gas (99.999%, JC gas Inc.) and methane gas diluted in Ar (1% CH4, 99% Ar, JC gas Inc., Suwon-si, Gyeonggi-do, Korea) were used as carrier gases.
2.2. Synthesis of WSe2
The homemade CVD system was designed to flow gas in both directions with a three-zone furnace and a double-quartz tube (outer: 34 mm diameter, inner: 15 mm diameter tube). The WSe2 powders were placed in an alumina boat located at the center furnace of the homemade CVD. The SiO2/Si substrate was cut to 1 cm × 5 cm size and then placed in the left furnace, about 10 cm from the alumina boat. The CVD system was pumped to the base pressure (2 × 10−3 torr) by a rotary pump for 10 min and then filled with Ar gas to 760 torr. In the process of increasing the temperature to the WSe2 growth temperature, the flow direction of the carrier gas (Ar 200 sccm) was reversed to prevent unwanted deposition. After the temperature reached 1050 °C, the flow direction of the carrier gas was reversed again to allow the evaporated precursor to reach the growth substrate. In the synthesis process, the experiment was carried out by flowing a different ratio of Ar and CH4 (1% diluted at Ar) for 60 min at atmospheric pressure. After the reaction, the furnace was quenched down to room temperature while maintaining the gas flow, and the samples were collected for characterization.
2.3. Characterzaion of Synthesized WSe2
The morphology and size of synthesized WSe2 samples were characterized using optical microscopy (OM, Olympus DX51, Tokyo, Japan) and a SEM (JEOL JSM-7401F, JEOL, LTD, Tokyo, Japan) operating at 5 kV and 10 µA. The nucleation density and grain size of WSe2 were analyzed using the Image J program tool. The thickness and surface potential of the WSe2 monolayer were confirmed by atomic force microscopy and Kelvin probe force microscopy (KPFM) using Park NX10 (Park system, Suwon-si, Gyeonggi-do, Korea) with a Si cantilever Pt-coated tip. X-ray photoelectron spectroscopy analysis was carried out by ESCA2000 spectrometry (Termo Fisher Scientific, Walthan, Massachusetts, U.S.) using monochromatic Al-Kα radiation (1468.6 eV). Raman and photoluminescence spectra were collected with micro-Raman spectroscopy (WITEC Raman system, Ulm, Germany) using a 532 nm laser.
3. Results and Discussion
4. Conclusions
In summary, we developed a CH4-assisted vapor transport growth method to obtain high-quality monolayer WSe2 crystals with large domain sizes. Unlike other promoter s or growth promoters previously reported (polymer, halide, and metal), CH4 only acts as a promoter for WSe2 growth without producing any residue. Moreover, the nucleation density of WSe2 was tuned (from 1.6 × 105 to 1.5 × 102 mm−2) by using the gas-phase CH4 promoter with precise flow control. The characterization of the synthesized monolayer WSe2 by Raman, PL, and KPFM confirmed that CH4 is a suitable candidate as a promoter for the growth of high-quality monolayer WSe2. Finally, our CH4-assisted growth approach may be applicable for the controlled growth of high-quality single crystals of other TMDs.
Supplementary Materials
The following are available online at
https://www.mdpi.com/2079-4991/9/11/1642/s1
: Figures S1–S4—The SEM results at each synthesis condition for statistical analysis, Figure S5—Distribution of grain sizes in WSe
2
according to carrier gas ratios, Figure S6—Raman spectrum of synthesized monolayer WSe
2
, Figure S7—The work function of Pt-coated AFM tip and reference HOPG, and Figure S8—XPS wide-range spectra of synthesized WSe
2
.
Author Contributions
H.-S.J. and J.-Y.L. contributed equally to this work. H.-S.J. and S.-G.K. synthesized the samples. J.-Y.L. and S.-K.S. analyzed and performed the scanning electron microscopy, aAFM, KPFM, and XPS. H.-S.J. and S.-H.H. measured the optical properties (Raman and PL). J.-H.L. and D.W. guided the project and analyzed the results. H.-S.J., J.-Y.L., S.S., J.-H.L., and D.W. wrote the paper. All authors participated in reviewing the manuscript. All authors approved the final version of the manuscript.
Funding
This work was supported by the Korea Basic Science Institute (KBSI) National Research Facilities and Equipment Center (NFEC) grant funded by the Korean government (Ministry of Education) (No. 2019R1A6C1010031) and the National Research Foundation of Korea (NRF) grant funded by the Korean government (MSIP) (NRF-2019R1F1A1062330) and the Ajou University research fund.
Conflicts of Interest
The authors declare no conflict of interest.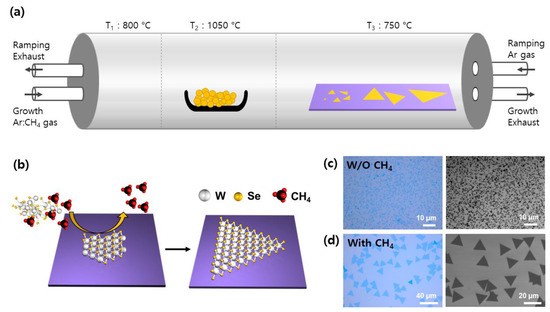 Figure 1. The schematic illustration of methane-mediated WSe2 synthesis. (a) Sketch of homemade tube-type chemical vapor deposition (CVD) setup. (b) Schematic image of WSe2 crystal growth by vapor-solid transport mechanism and its growth morphology difference between (c) without and (d) with methane (CH4) gas.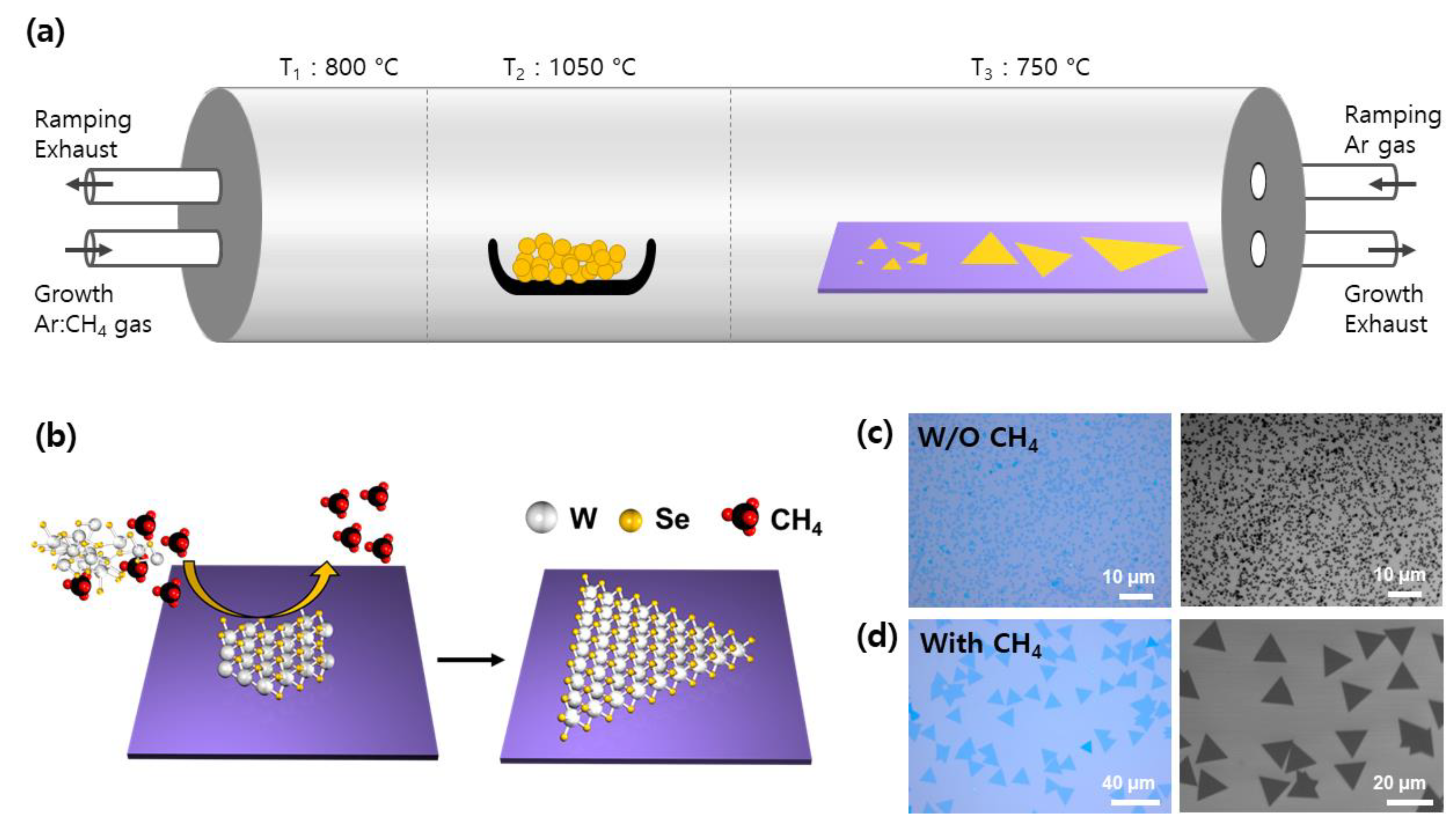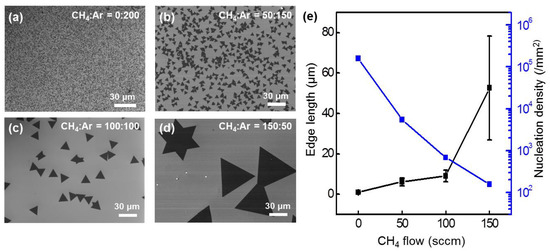 Figure 2. Size control of the WSe2 domain by tuning the methane carrier gas ratio. Typical SEM images of WSe2 grains synthesized on a SiO2/Si substrate with a flow of (a) CH4:Ar = 0:200, (b) CH4:Ar = 50:150, (c) CH4:Ar = 100:100, and (d) CH4:Ar = 150:50 sccm. (e) Edge length (black) and nucleation density (blue) of WSe2 domains as a function of the CH4 gas ratio. The error bars represent the edge length variations of WSe2 domains obtained at the same CH4 gas flow.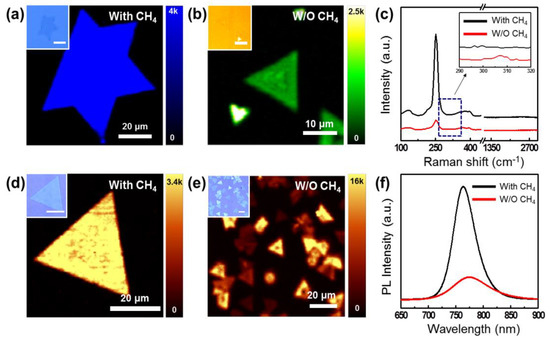 Figure 3. Raman and photoluminescence (PL) investigation of the synthesized WSe2 according to the catalytic effects of methane. Raman mapping results of (a) CH4:Ar = 150:50 sccm, (b) Ar gas only as carrier gas, and (c) representative Raman spectrum of each mapping result. PL mapping results of (d) CH4:Ar = 150:50 sccm, (e) Ar gas only as carrier gas, And (f) representative PL spectrum of each mapping result. Raman and PL results were obtained from a micro-Raman instrument with a wavelength of 532 nm laser. Inset is an OM image corresponding to each mapping region.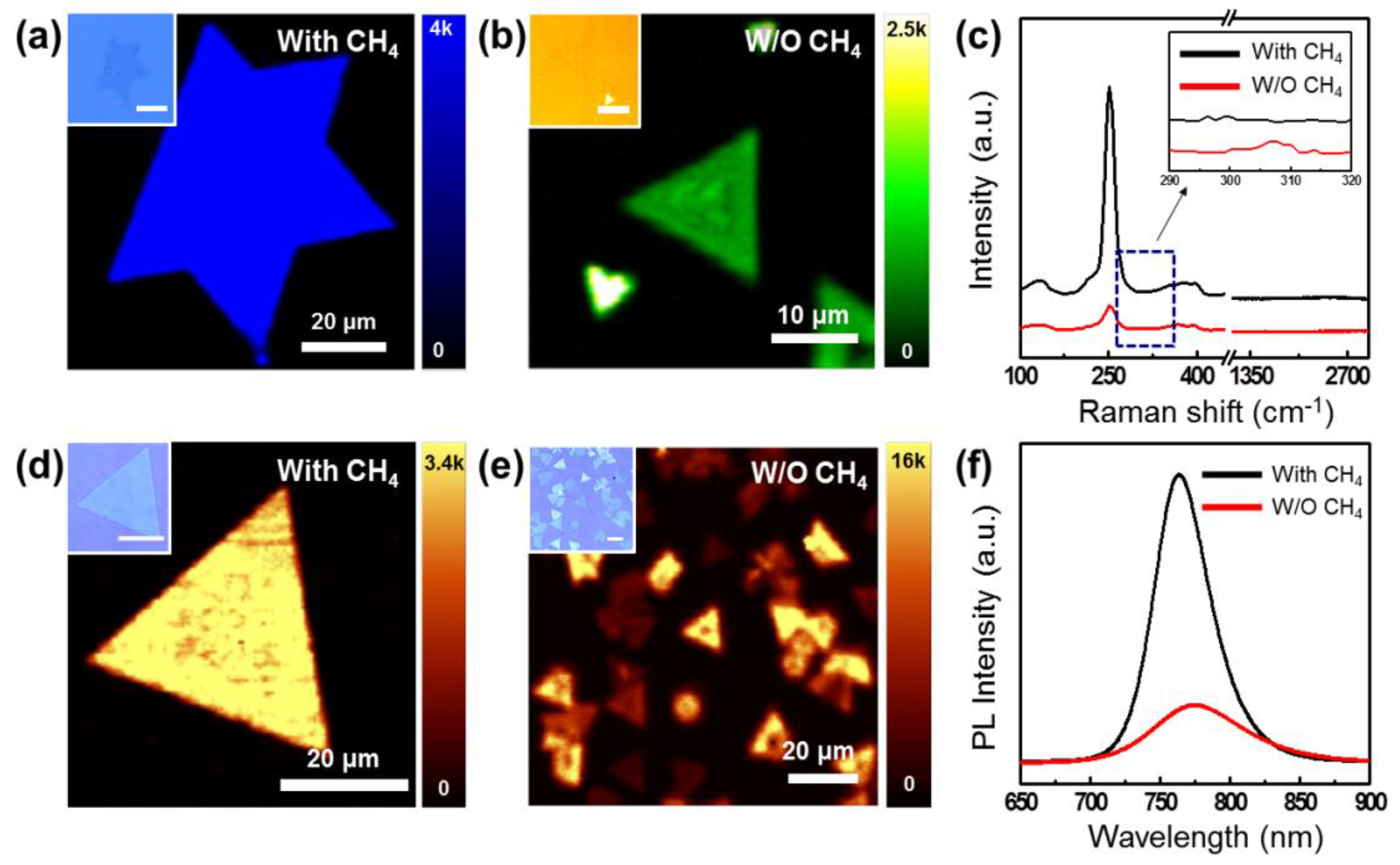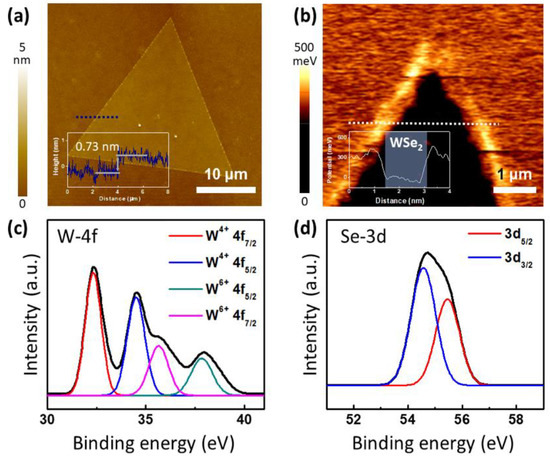 Figure 4. (a) Atomice force microscopy (AFM) image of the synthesized monolayer WSe2. The inset graph is the height profile corresponding to the blue dot line. (b) Surface potential mapping image of WSe2 by Kelvin probe force microscopy (KPFM). The inset graph is the surface potential profile corresponding to the white dot line. X-ray photoelectron spectroscopy (XPS) analysis of (c) W-4f and (d) Se-3d of synthesized WSe2.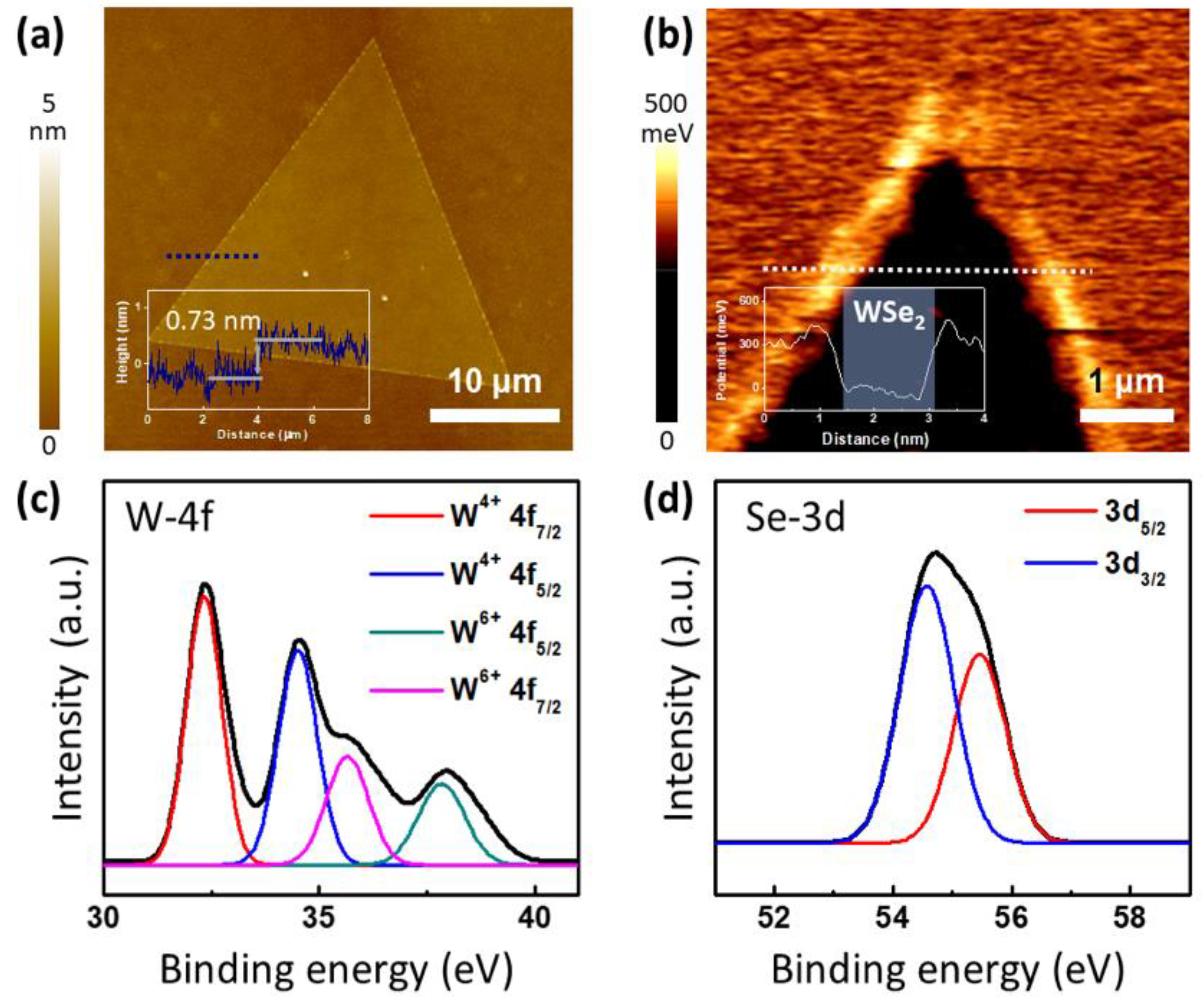 © 2019 by the authors. Licensee MDPI, Basel, Switzerland. This article is an open access article distributed under the terms and conditions of the Creative Commons Attribution (CC BY) license (http://creativecommons.org/licenses/by/4.0/).