Open Access This article is
freely available
re-usable
Article
Fabrication of Interconnected Plasmonic Spherical Silver Nanoparticles with Enhanced Localized Surface Plasmon Resonance (LSPR) Peaks Using Quince Leaf Extract Solution
1
Prof. Hameeds Advanced Polymeric Materials Research Lab., Department of Physics, College of Science, University of Sulaimani, Qlyasan Street, Sulaimani 46001, Iraq
2
Komar Research Center (KRC), Komar University of Science and Technology, Sulaimani 46001, Iraq
3
Department of Physics, University of Kurdistan, Sanandaj, Kurdistan, Iran
4
Department of Manufacturing and Materials Engineering, Faculty of Engineering, International Islamic University of Malaysia, Kuala Lumpur, Gombak 53100, Malaysia
5
Department of Chemistry, College of Science, University of Sulaimani, Qlyasan Street, Sulaimani 46001, Iraq
6
Charmo Research Center, Charmo University, Peshawa Street, Chamchamal, Sulaimani 46001, Iraq
*
Author to whom correspondence should be addressed.
Received: 29 September 2019 / Accepted: 31 October 2019 / Published: 2 November 2019
Abstract
:
Interconnected spherical metallic silver nanoparticles (Ag NPs) were synthesized in the current study using a green chemistry method. The reduction of silver ions to Ag NPs was carried out with low-cost and eco-friendly quince leaves. For the first time, it was confirmed that the extract solution of quince leaves could be used to perform green production of Ag NPs. Fourier transform infrared spectroscopy (FTIR) was conducted to identify the potential biomolecules that were involved in the Ag NPs. The results depicted that the biosynthesis of Ag NPs through the extract solution of quince leaf was a low-cost, clean, and safe method, which did not make use of any contaminated element and hence, had no undesirable effects. The majority of the peaks in the FTIR spectrum of quince leaf extracts also emerged in the FTIR spectrum of Ag NPs but they were found to be of less severe intensity. The silver ion reduction was elaborated in detail on the basis of the FTIR outcomes. In addition, through X-ray diffraction (XRD) analysis, the Ag NPs were also confirmed to be crystalline in type, owing to the appearance of distinct peaks related to the Ag NPs. The creation of Ag NPs was furthermore confirmed by using absorption spectrum, in which a localized surface plasmon resonance (LSPR) peak at 480 nm was observed. The LSPR peak achieved in the present work was found to be of great interest compared to those reported in literature. Field emission scanning electron microscopy (FESEM) images were used to provide the morphology and grain size of Ag NPs. It was shown from the FESEM images that the Ag NPs had interconnected spherical morphology.
Keywords:
quince leave; silver nanoparticles; UV–Vis absorption; FTIR study; XRD analysis; FESEM study
2. Experimental Methodology
2.1. Synthesis of Silver Nanoparticles (Ag NPs)
In this work, Ag NPs were fabricated using the green method. In this regard, quince leaves were employed to attain natural colorants that were included through phenolic compounds. The quince is the sole
Cydonia
group member in the Rosaceae family and is a deciduous tree that develops a pome fruit that is identical to a pear, and has an intense yellow colour when it has grown [
33
]. Unfermented quince leaves were used to achieve the objectives of the current study. The provided green quince leaves were washed using distilled water. They were then dried at ambient temperature, after which they were kept safe from being exposed to sunlight for seven days. The quince leaves were then extracted of their natural colourant. This was carried out by adding 4g of quince leaf to 400 mL distilled water at 80 °C, while not allowing them to be under sun exposure. The steady temperature was maintained for the solution. Filtration was carried out to eliminate the residues, and for this Whatman filter paper with a 20 µm pore size was employed. Following this, 0.1 g of dissolved silver nitrate (AgNO
3
) in distilled water (30 mL) was added to the extracted solution of quince leaves for approximately six minutes. The creation of Ag NPs was evident when the solution colour became dark brown. There silver ions reduced to Ag NPs within the medium of conjugated double bonds of phenolic compounds in the leaves of quince. The reaction occurred between the Ag
+1
cations and quercetin as reducing agent in the quince leaves extract solution at a temperature around 80 °C to synthesize Ag NPs as demonstrated in
Section 3.1
in detail. Once the solution temperature reached room temperature, a centrifuge machine was used for Ag NPs separation and precipitation. The precipitated Ag NPs were washed around five times using distilled water repetitively. The end process was Ag NPs dispersed in 50 mL of distilled water. The suspended Ag NPs pH was 6.
2.2. X-ray Diffraction
An X-ray diffractometer (Empyrean XRD-Panalytical, Netherland) was used to record the X-ray diffraction (XRD) at ambient temperature, with a working voltage of 40 kV and current of 45 mA. A monochromatic beam, X-ray radiation, with a wavelength λ = 1.5406 Å was employed to examine the deposited Ag NPs on a glass slide and the glancing angles were between 5° ≤ 2θ ≤ 90°, with a 0.05° step size.
2.3. Fourier Transform Infrared (FTIR) Spectroscopy
The silver nanoparticles and quince leaves were examined using FTIR spectrophotometer (Thermo Fischer Scientific, Waltham, MA, USA), in the wavenumber range between 4000 and 400 cm−1 and 2 cm−1 resolution. The dry powders of quince leaves and Ag NPs were used for FTIR study.
2.4. Ultraviolet–Visible (UV-Vis) Measurement
A Jasco V-570 UV–Vis-NIR spectrophotometer (Jasco SLM-468, Tokyo, Japan) operating in the absorbance mode was used to study the Ag NPs UV–Vis absorption spectra. The diluted solution of Ag NPs was inserted into the cuvette for UV–Vis measurement.
3. Results and Discussion
4. Conclusions
In conclusion metallic Ag NPs were created via the green method. Silver ions reduction to Ag NPs was attained with eco-friendly and costless quince leaves and it can be considered as a clean, low-cost, and safe method which did not use any toxic elements and therefore, has no side effects. The current work verifies the capability of extract solution of quince leaves for the green creation of Ag NPs. These nanoparticles may possibly be used in photonics and optoelectronic devices like ultrafast optical switches. The broad absorption of Ag NPs that covered almost the entire region of visible light in the present work is crucial from the viewpoint of plasmonic solar cells. FTIR examination was performed to recognize potential biomolecules that were accountable for silver ions reduction. Most of the peaks emerged in FTIR pattern of quince leave extract emerged again in the FTIR pattern of Ag NPs but with low intensity. Based on FTIR outcomes schematically silver ion reduction was discussed in detail. In addition, XRD investigation proved the crystalline type of the Ag NPs through the emergence of definite peaks related to Ag NPs. The SPR peak emerged at 480 nm verified the Ag NPs synthesis. The morphology and Ag NPs grain size were attained from FESEM images. Moreover, FESEM images displayed that Ag NPs have interconnected spherical morphology with some aggregations. Intense peaks because of the Ag element emerged at about 3 and 3.7 keV in the EDAX spectrum.
Author Contributions
Conceptualization, S.B.A.; formal analysis, S.B.A., G.H., M.A.B., S.J.M., and R.T.A.; investigation, G.H. and S.J.M.; methodology, S.B.A., G.H., M.A.B., and R.T.A.; project administration, S.B.A.; supervision, S.B.A.; validation, S.R.S. and A.H.; writing—original draft, S.B.A.; writing—review and editing, M.A.B., R.T.A., S.R.S., and A.H.
Funding
This research was funded by Ministry of Higher Education and Scientific Research—Kurdish National Research Council (KNRC), Kurdistan—Iraq. The financial support from the University of Sulaimani and Komar Research Center (KRC), Komar University of Science and Technology is very much appreciated.
Acknowledgments
The authors appreciatively acknowledge the Ministry of Higher Education and Scientific Research, Kurdistan—Iraq, University of Sulaimani and Komar Research Center (KRC), Komar University of Science and Technology for supporting this research project.
Conflicts of Interest
The authors declare no conflict of interest.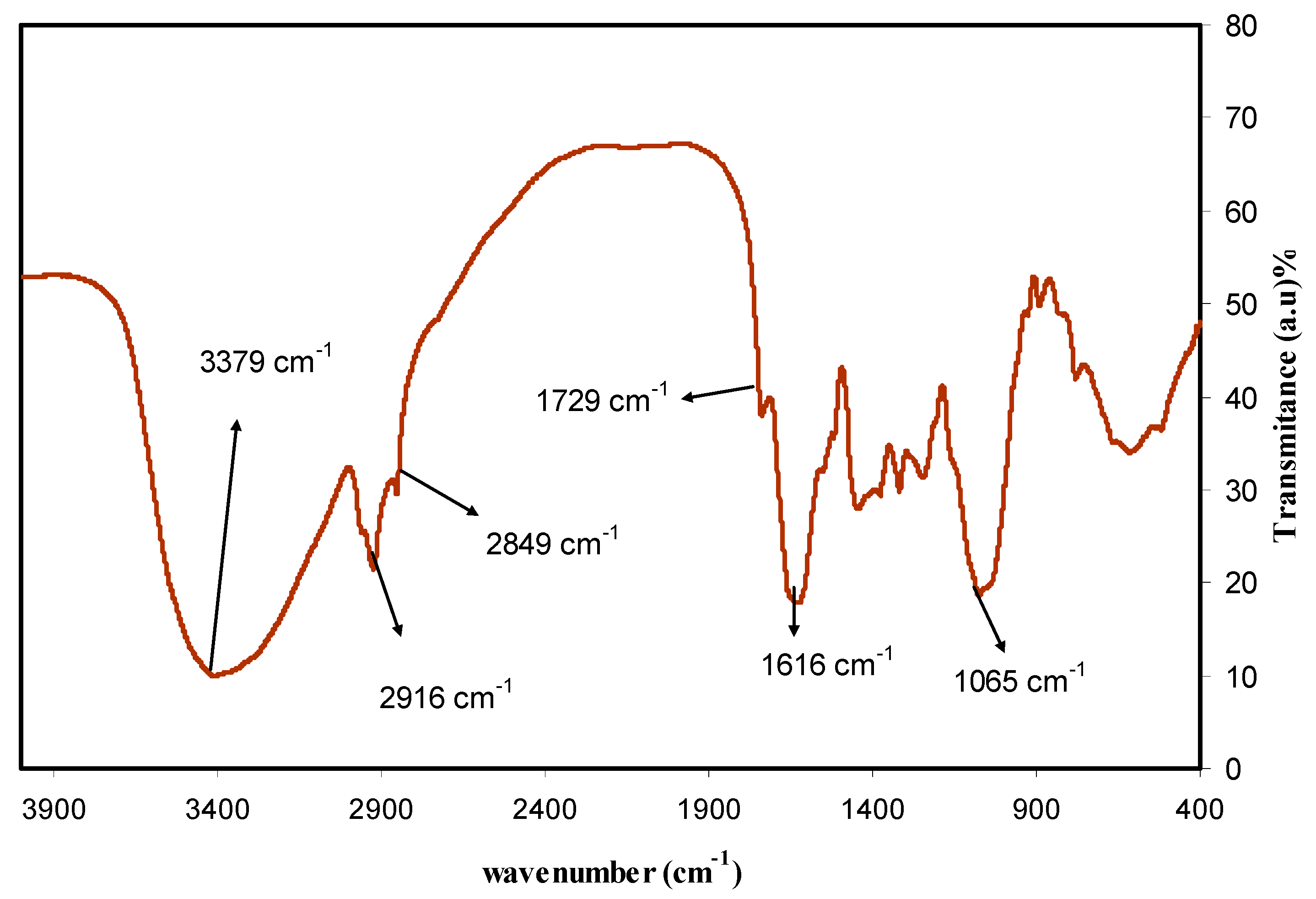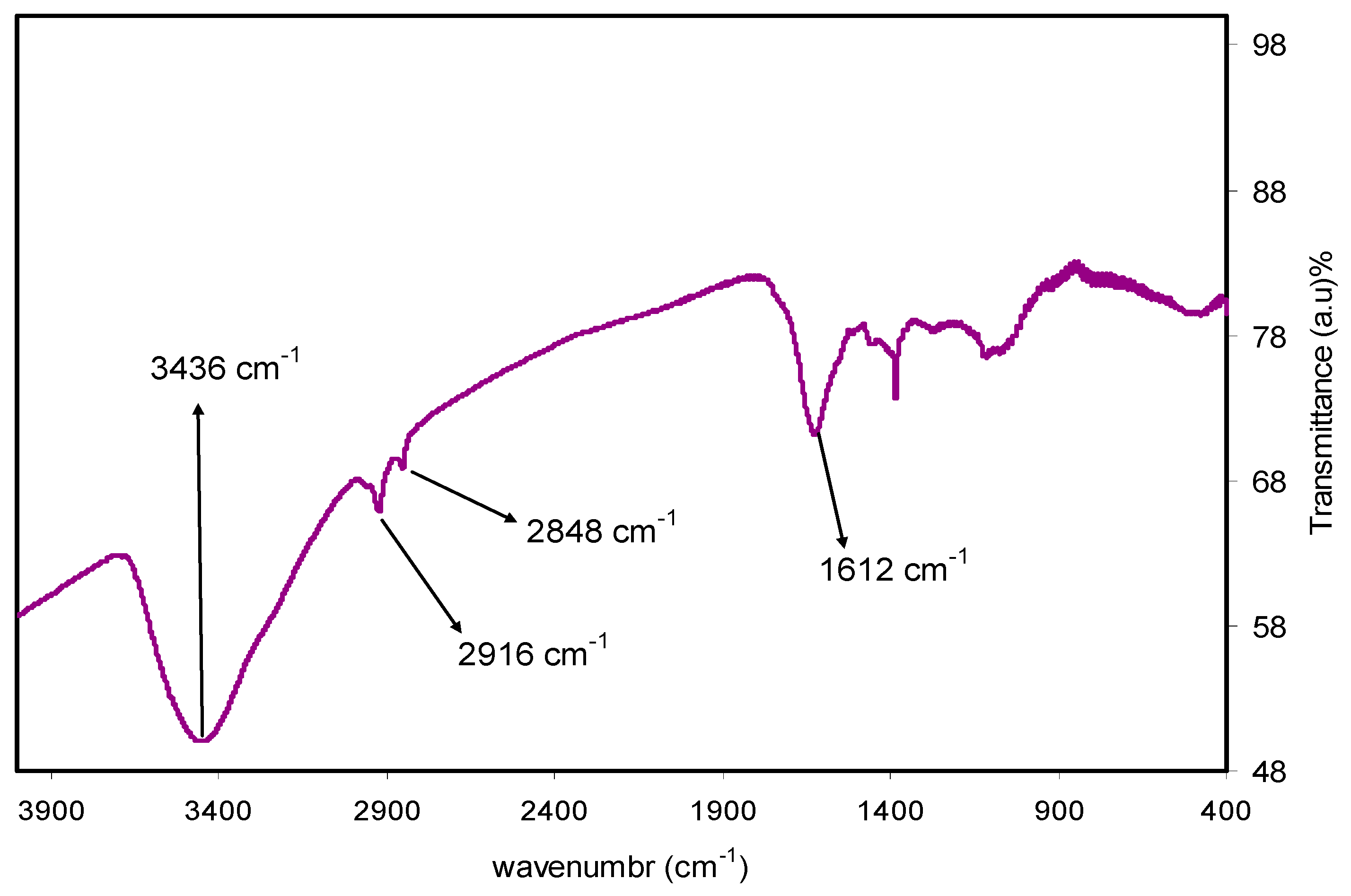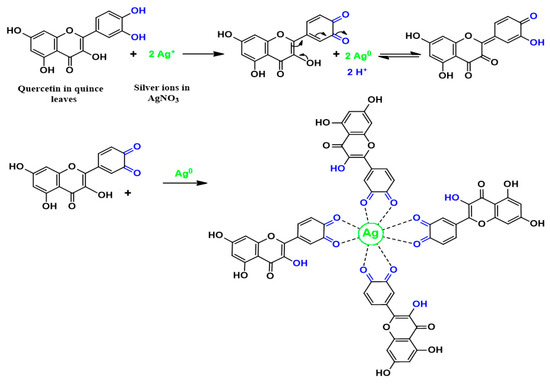 Figure 3. Mechanism for the silver ions reduction to metallic silver nanoparticles via quercetin as reducing agent in quince leaves extract solution.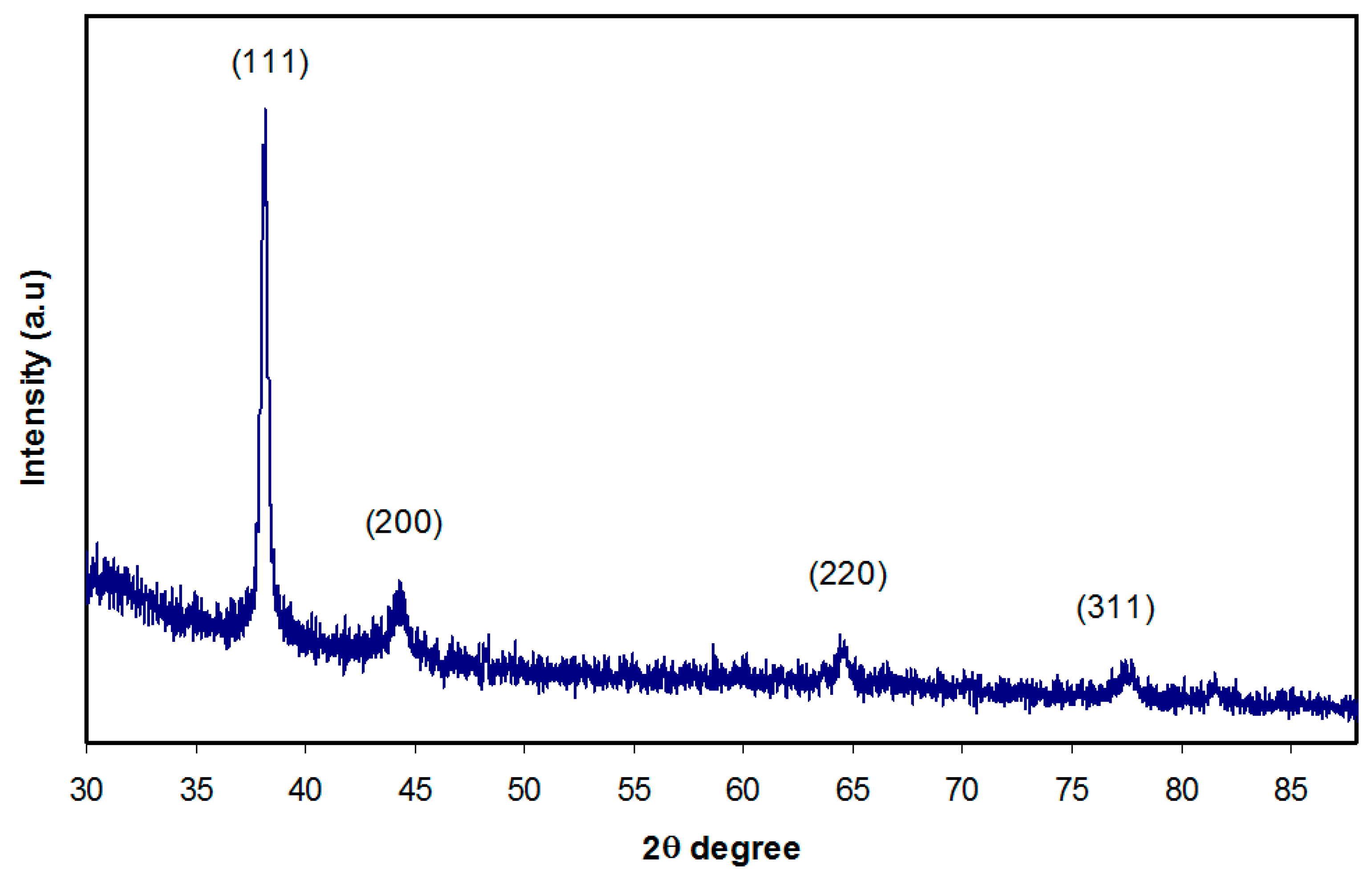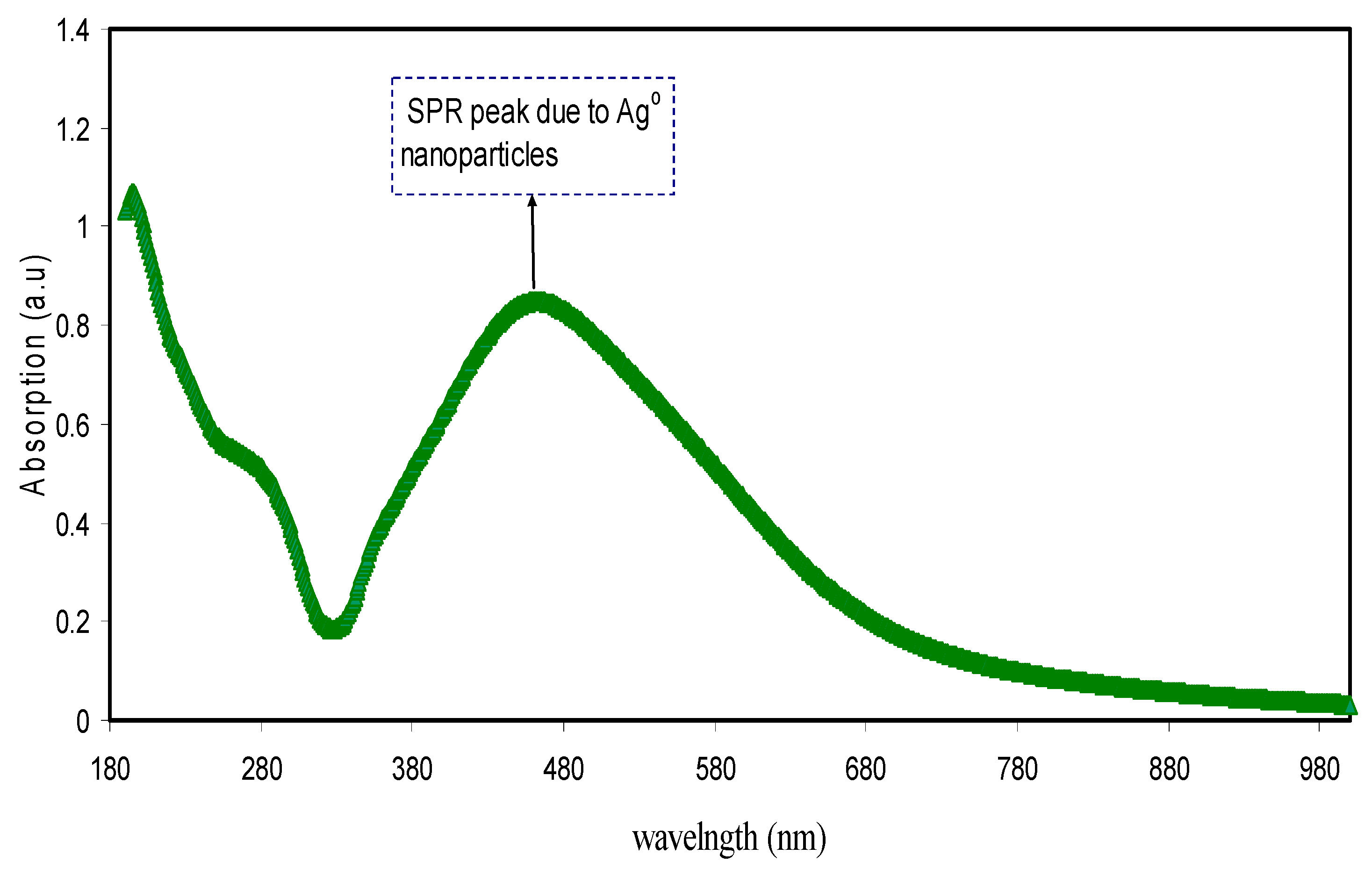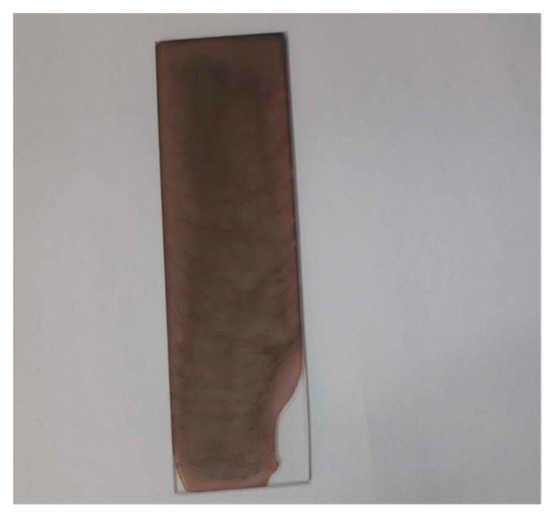 Figure 6. Photograph for deposited silver nanoparticles. The intense brown colour confirms the formation of Ag nanoparticles (NPs).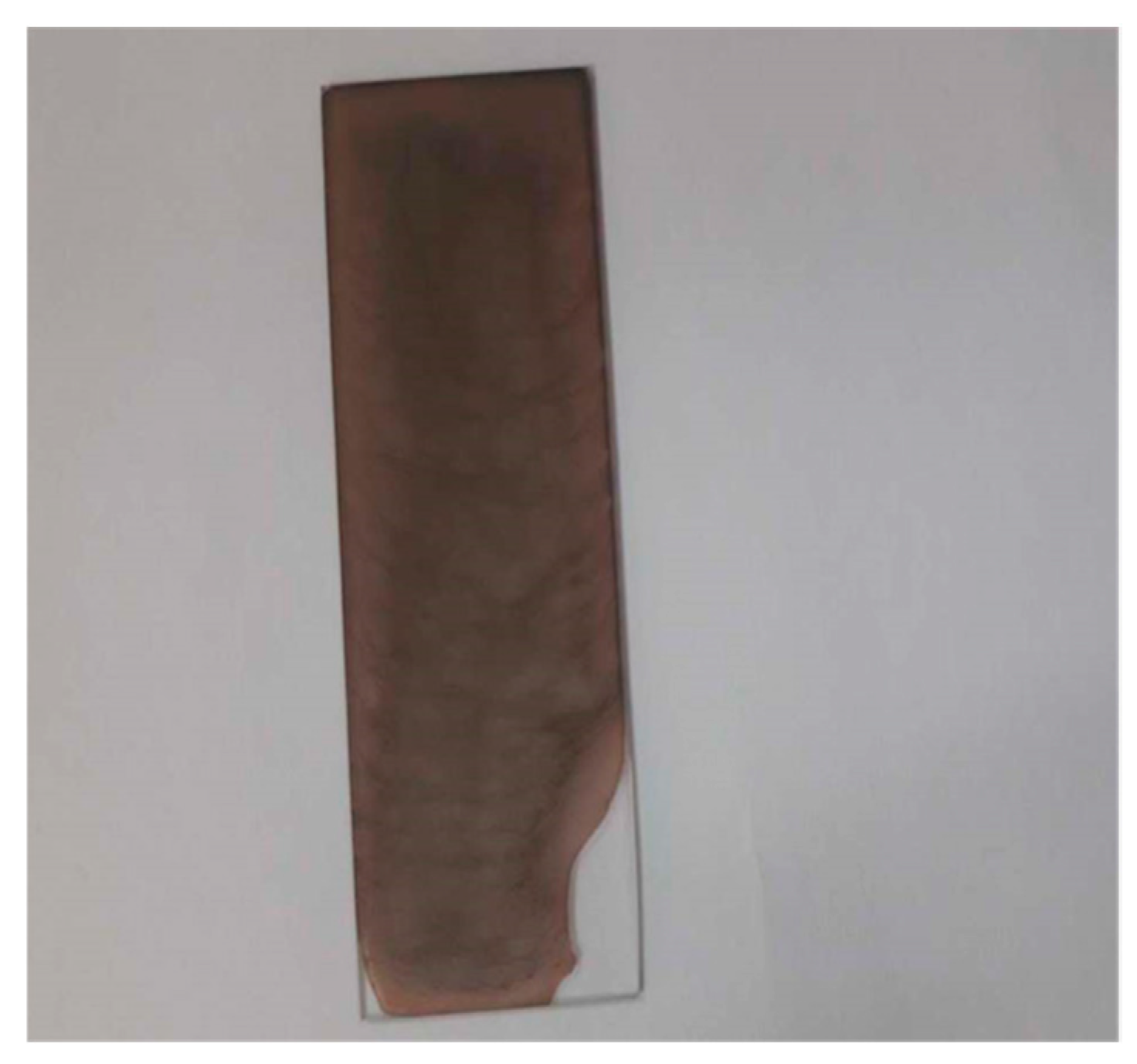 Figure 7. Emission scanning electron microscopy images (FESEM) for (a) magnification (MAG): 98.7 kx, (b) MAG: 207 kx, (c) size of Ag NPs at MAG: 207 kx, and (d) energy dispersive analysis of X-rays.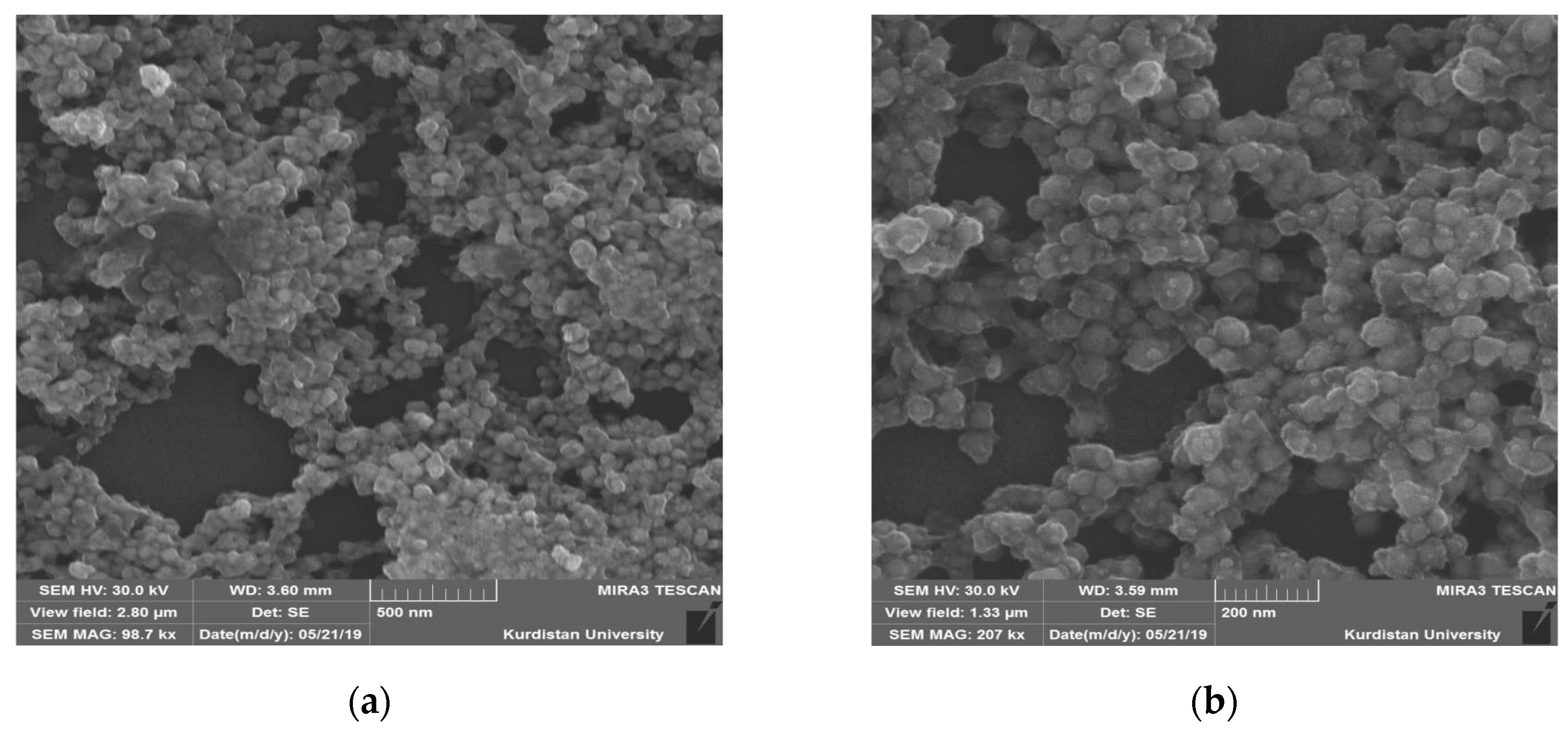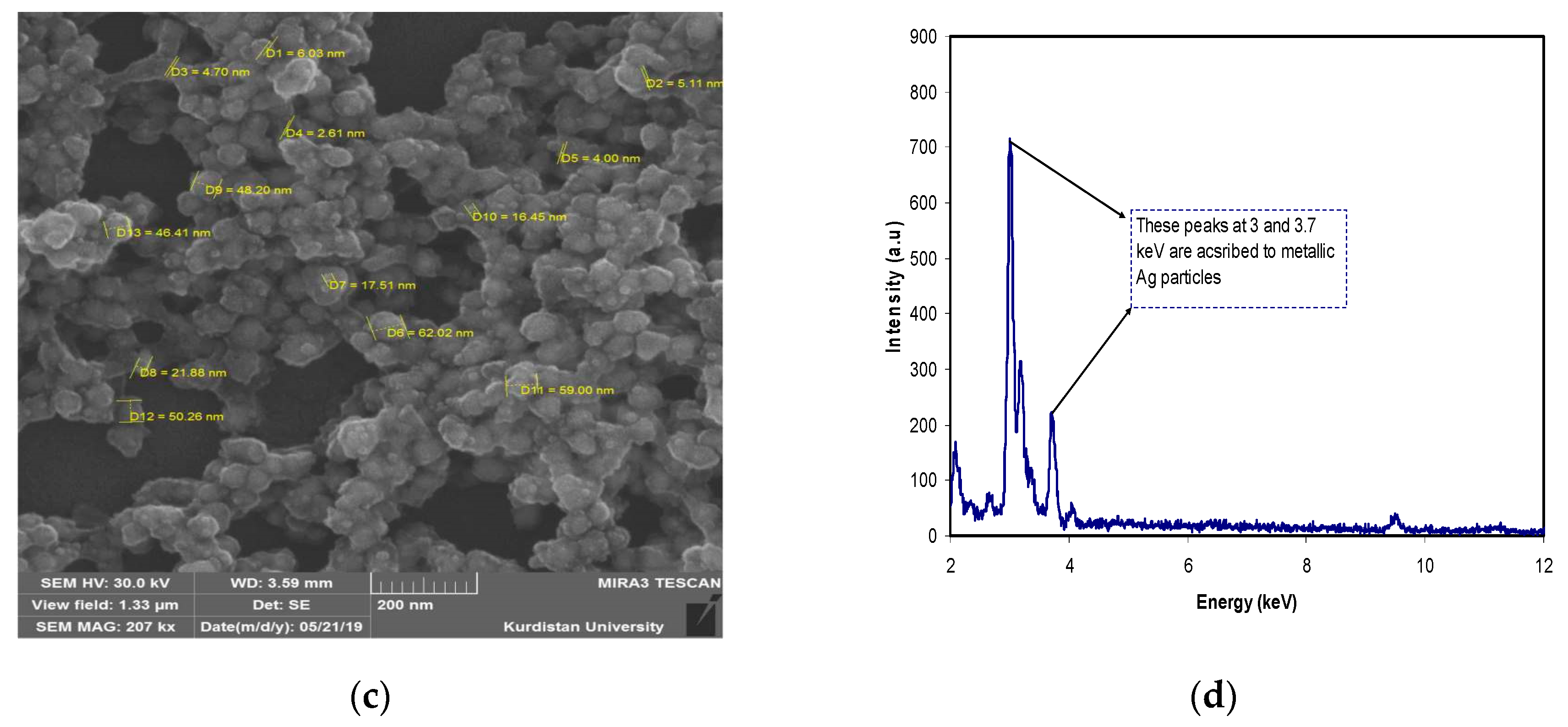 © 2019 by the authors. Licensee MDPI, Basel, Switzerland. This article is an open access article distributed under the terms and conditions of the Creative Commons Attribution (CC BY) license (http://creativecommons.org/licenses/by/4.0/).