Optical Properties, Synthesis, and Potential Applications of Cu-Based Ternary or Quaternary Anisotropic Quantum Dots, Polytypic Nanocrystals, and Core/Shell Heterostructures
School of Chemistry and CRANN Institute, Trinity College Dublin, Dublin 2, Dublin, Ireland
*
Author to whom correspondence should be addressed.
Received: 11 December 2018 / Revised: 28 December 2018 / Accepted: 31 December 2018 / Published: 10 January 2019
Abstract
This review summaries the optical properties, recent progress in synthesis, and a range of applications of luminescent Cu-based ternary or quaternary quantum dots (QDs). We first present the unique optical properties of the Cu-based multicomponent QDs, regarding their emission mechanism, high photoluminescent quantum yields (PLQYs), size-dependent bandgap, composition-dependent bandgap, broad emission range, large Stokes' shift, and long photoluminescent (PL) lifetimes. Huge progress has taken place in this area over the past years, via detailed experimenting and modelling, giving a much more complete understanding of these nanomaterials and enabling the means to control and therefore take full advantage of their important properties. We then fully explore the techniques to prepare the various types of Cu-based ternary or quaternary QDs (including anisotropic nanocrystals (NCs), polytypic NCs, and spherical, nanorod and tetrapod core/shell heterostructures) are introduced in subsequent sections. To date, various strategies have been employed to understand and control the QDs distinct and new morphologies, with the recent development of Cu-based nanorod and tetrapod structure synthesis highlighted. Next, we summarize a series of applications of these luminescent Cu-based anisotropic and core/shell heterostructures, covering luminescent solar concentrators (LSCs), bioimaging and light emitting diodes (LEDs). Finally, we provide perspectives on the overall current status, challenges, and future directions in this field. The confluence of advances in the synthesis, properties, and applications of these Cu-based QDs presents an important opportunity to a wide-range of fields and this piece gives the reader the knowledge to grasp these exciting developments.
View Full-Text
►

▼

Figures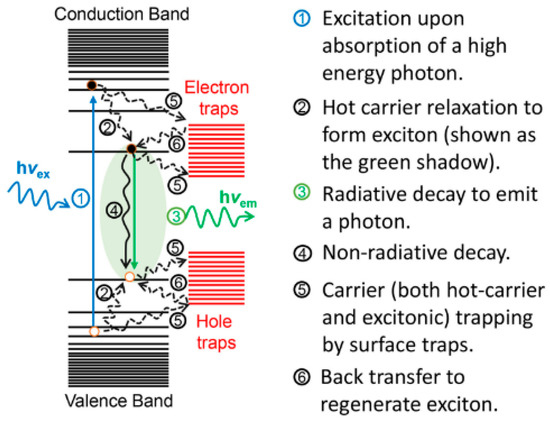 Figure 1
This is an open access article distributed under the
Creative Commons Attribution License
which permits unrestricted use, distribution, and reproduction in any medium, provided the original work is properly cited (CC BY 4.0).

Share & Cite This Article
MDPI and ACS Style
Bai, X.; Purcell-Milton, F.; Gun'ko, Y.K. Optical Properties, Synthesis, and Potential Applications of Cu-Based Ternary or Quaternary Anisotropic Quantum Dots, Polytypic Nanocrystals, and Core/Shell Heterostructures. Nanomaterials 2019, 9, 85.
Note that from the first issue of 2016, MDPI journals use article numbers instead of page numbers. See further details here.
Related Articles
Comments
[Return to top]