Distribution of Paramagnetic Fe2O3/SiO2–Core/Shell Nanoparticles in the Rat Lung Studied by Time-of-Flight Secondary Ion Mass Spectrometry: No Indication for Rapid Lipid Adsorption
1
Tascon GmbH, Mendelstraße 17, 48149 Münster, Germany
2
IBE R&D Institute for Lung Health gGmbH, Mendelstraße 11, 48149 Münster, Germany
3
Department of Chemistry & Biology, University of Siegen, Adolf-Reichwein-Str. 2, 57076 Siegen, Germany
*
Author to whom correspondence should be addressed.
Received: 10 July 2018 / Revised: 23 July 2018 / Accepted: 24 July 2018 / Published: 26 July 2018
Abstract
Amorphous silica nanoparticles comprise a class of widely used industrial nanomaterials, which may elicit acute inflammation in the lung. These materials have a large specific surface to which components of the pulmonary micro-milieu can bind. To conduct appropriate binding studies, paramagnetic Fe
2
O
3
/SiO
2
core/shell nanoparticles (Fe-Si-NP) may be used as an easy-to-isolate silica surrogate, if several prerequisites are fulfilled. To this end, we investigated the distribution of Fe, Si, protein and phosphatidylcholine (PC) by Time-of-Flight secondary ion mass spectrometry (ToF-SIMS) in cryo-sections from the rat lungs to which Fe-Si-NP had been administered for 30 min. Regions-of-interest were identified and analyzed with incident light and enhanced dark-field microscopy (DFM). Fe-Si-NP particles (primary particle size by electron microscopy: 10–20 nm; aggregate size by tracking analysis: 190 ± 20 nm) and agglomerates thereof were mainly attached to alveolar walls and only marginally internalized by cells such as alveolar macrophages. The localization of Fe-Si-NP by DFM was confirmed by ToF-SIMS signals from both, Fe and Si ions. With respect to an optimized signal-to-noise ratio, Fe
+
, Si
+
, CH
4
N
+
and the PC head group (C
5
H
15
NO
4
P
+
) were the most versatile ions to detect iron, silica, protein, and PC, respectively. Largely congruent Fe
+
and Si
+
signals demonstrated that the silica coating of Fe-Si-NP remained stable under the conditions of the lung. PC, as a major lipid of the pulmonary surfactant, was colocalized with the protein signal alongside alveolar septa, but was not detected on Fe-Si-NP, suggesting that silica nanoparticles do not adsorb lipids of the lung surfactant under native conditions. The study shows that ToF-SIMS is a valuable technique with adequate spatial resolution to analyze nanoparticles together with organic molecules in the lung. The paramagnetic Fe-Si-NP appear well suited to study the binding of proteins to silica nanomaterials in the lung.
View Full-Text
►

▼

Figures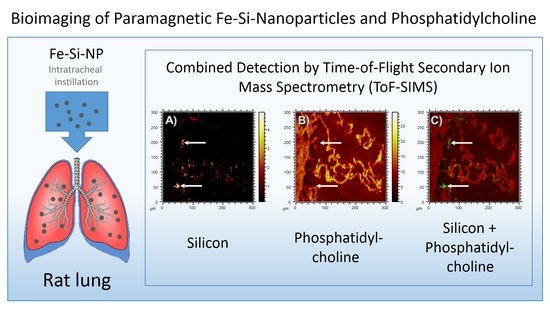 Graphical abstract
This is an open access article distributed under the
Creative Commons Attribution License
which permits unrestricted use, distribution, and reproduction in any medium, provided the original work is properly cited (CC BY 4.0).

Share & Cite This Article
MDPI and ACS Style
Veith, L.; Vennemann, A.; Breitenstein, D.; Engelhard, C.; Hagenhoff, B.; Wiemann, M. Distribution of Paramagnetic Fe2O3/SiO2–Core/Shell Nanoparticles in the Rat Lung Studied by Time-of-Flight Secondary Ion Mass Spectrometry: No Indication for Rapid Lipid Adsorption. Nanomaterials 2018, 8, 571.
Note that from the first issue of 2016, MDPI journals use article numbers instead of page numbers. See further details here.
Related Articles
Comments
[Return to top]