Applications of Nanomaterials Based on Magnetite and Mesoporous Silica on the Selective Detection of Zinc Ion in Live Cell Imaging
1
Department of Chemistry, Isfahan University of Technology, Isfahan 84156-83111, Iran
2
Departamento de Biología y Geología, Física y Química Inorgánica, ESCET, Universidad Rey Juan Carlos, Calle Tulipán s/n, E-28933 Móstoles, Madrid, Spain
3
National Research Centre for Cardiovascular Disease (CNIC), Melchor Fernández Almagro, 3, 28029 Madrid, Spain
4
Department of Chemistry in Pharmaceutical Sciences, Faculty of Pharmacy, Complutense University (UCM), Plaza Ramón y Cajal s/n, 28040 Madrid, Spain
5
Biomedical Research Networking Center for Respiratory Diseases (CIBERES), Melchor Fernández Almagro, 3, 28029 Madrid, Spain
6
Departamento de Química Inorgánica, Facultad de Ciencias, Campus de Fuentenueva. Avda. Fuentenueva s/n, 18071 Granada, Spain
7
Departamento de Química Orgánica I, E. U. Óptica, Universidad Complutense de Madrid, Arcos de Jalón, s/n, 28037 Madrid, Spain
*
Authors to whom correspondence should be addressed.
Received: 7 May 2018 / Revised: 24 May 2018 / Accepted: 12 June 2018 / Published: 14 June 2018
Abstract
Functionalized magnetite nanoparticles (FMNPs) and functionalized mesoporous silica nanoparticles (FMSNs) were synthesized by the conjugation of magnetite and mesoporous silica with the small and fluorogenic benzothiazole ligand, that is, 2(2-hydroxyphenyl)benzothiazole (
hpbtz
). The synthesized fluorescent nanoparticles were characterized by FTIR, XRD, XRF,
13
C CP MAS NMR, BET, and TEM. The photophysical behavior of FMNPs and FMSNs in ethanol was studied using fluorescence spectroscopy. The modification of magnetite and silica scaffolds with the highly fluorescent benzothiazole ligand enabled the nanoparticles to be used as selective and sensitive optical probes for zinc ion detection. Moreover, the presence of
hpbtz
in FMNPs and FMSNs induced efficient cell viability and zinc ion uptake, with desirable signaling in the normal human kidney epithelial (Hek293) cell line. The significant viability of FMNPs and FMSNs (80% and 92%, respectively) indicates a potential applicability of these nanoparticles as in vitro imaging agents. The calculated limit of detections (LODs) were found to be 2.53 × 10
−6
and 2.55 × 10
−6
M for Fe
3
O
4
[email protected]
and MSN-Et
3
N-IPTMS-hpbtz-f1, respectively. FMSNs showed more pronounced zinc signaling relative to FMNPs, as a result of the more efficient penetration into the cells.
View Full-Text
►

▼

Figures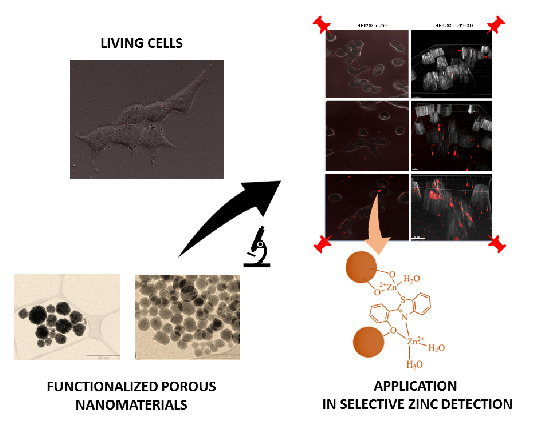 Graphical abstract
This is an open access article distributed under the
Creative Commons Attribution License
which permits unrestricted use, distribution, and reproduction in any medium, provided the original work is properly cited (CC BY 4.0).

Share & Cite This Article
MDPI and ACS Style
Erami, R.S.; Ovejero, K.; Meghdadi, S.; Filice, M.; Amirnasr, M.; Rodríguez-Diéguez, A.; De La Orden, M.U.; Gómez-Ruiz, S. Applications of Nanomaterials Based on Magnetite and Mesoporous Silica on the Selective Detection of Zinc Ion in Live Cell Imaging. Nanomaterials 2018, 8, 434.
Note that from the first issue of 2016, MDPI journals use article numbers instead of page numbers. See further details here.
Related Articles
Comments
[Return to top]