NIR-Emitting Alloyed CdTeSe QDs and Organic Dye Assemblies: A Nontoxic, Stable, and Efficient FRET System
1
Centro de Graduados e Investigación, Instituto Tecnológico de Tijuana, A.P. 1166, 22500 Tijuana, BC, Mexico
2
Facultad de Odontología, Universidad Autónoma de Baja California, Calzada Universidad 14418, Parque Industrial Internacional, 22390 Tijuana, BC, Mexico
3
Instituto de Ortopedia y Banco de Tejidos Musculoesqueléticos, Universidad de Santiago de Compostela, Campus Sur S/N, E-15782 Santiago de Compostela, Spain
4
CONACyT—Instituto Tecnológico de Tijuana, Centro de Graduados e Investigación en Química, Blvd. Alberto Limón Padilla S/N, 22510 Tijuana, BC, Mexico
5
Centro de Investigación en Materiales Avanzados S. C., Departamento de Física de Materiales, Av. Miguel de Cervantes 120, Complejo Industrial Chihuahua, CP 31109 Chihuahua, Chih., Mexico
6
Grupo de Física de Coloides y Polímeros, Departamento de Física de Materia Condensada, Facultad de Física, Universidad de Santiago de Compostela, Campus Sur S/N, E-15782 Santiago de Compostela, Spain
*
Author to whom correspondence should be addressed.
Received: 28 February 2018 / Revised: 23 March 2018 / Accepted: 30 March 2018 / Published: 11 April 2018
Abstract
In the present work, we synthesize Near Infrared (NIR)-emitting alloyed mercaptopropionic acid (MPA)-capped CdTeSe quantum dots (QDs) in a single-step one-hour process, without the use of an inert atmosphere or any pyrophoric ligands. The quantum dots are water soluble, non-toxic, and highly photostable and have high quantum yields (QYs) up to 84%. The alloyed MPA-capped CdTeSe QDs exhibit a red-shifted emission, whose color can be tuned between visible and NIR regions (608–750 nm) by controlling the Te:Se molar ratio in the precursor mixtures and/or changing the time reaction. The MPA-capped QDs were characterized by UV-visible absorption spectroscopy, fluorescence spectroscopy, transmission electron microscopy (TEM), energy dispersive X-ray spectroscopy (EDS), and zeta potential measurements. Photostability studies were performed by irradiating the QDs with a high-power xenon lamp. The ternary MPA-CdTeSe QDs showed greater photostability than the corresponding binary MPA-CdTe QDs. We report the Förster resonance energy transfer (FRET) from the MPA-capped CdTeSe QDs as energy donors and Cyanine5 NHS-ester (Cy5) dye as an energy acceptor with efficiency (
E
) up to 95%. The distance between the QDs and dye (
r
), the Förster distance (
R
0
), and the binding constant (
K
) are reported. Additionally, cytocompatibility and cell internalization experiments conducted on human cancer cells (HeLa) cells revealed that alloyed MPA-capped CdTeSe QDs are more cytocompatible than MPA-capped CdTe QDs and are capable of ordering homogeneously all over the cytoplasm, which allows their use as potential safe, green donors for biological FRET applications.
View Full-Text
►

▼

Figures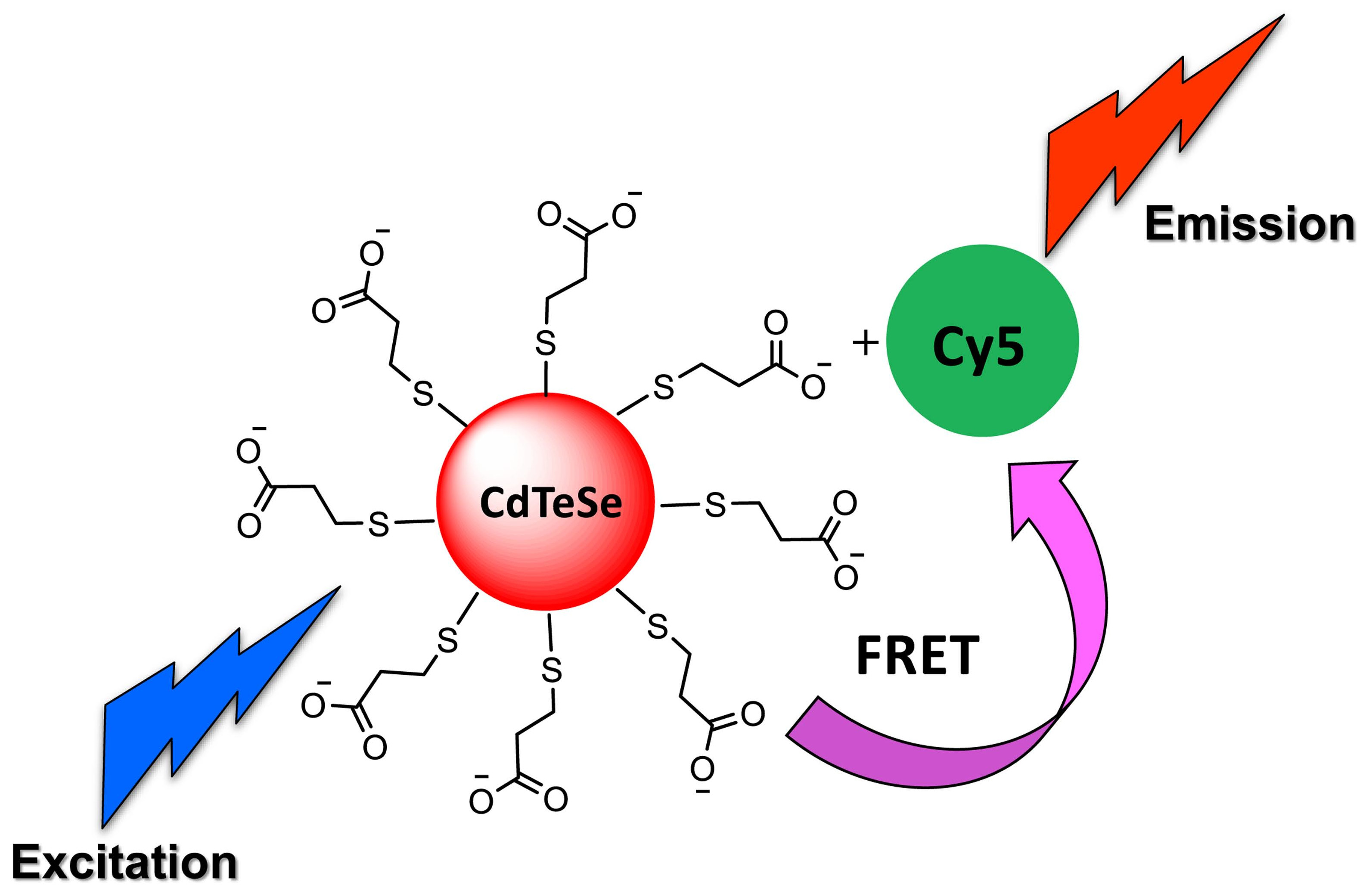 Graphical abstract
This is an open access article distributed under the
Creative Commons Attribution License
which permits unrestricted use, distribution, and reproduction in any medium, provided the original work is properly cited (CC BY 4.0).

Share & Cite This Article
MDPI and ACS Style
Ramírez-Herrera, D.E.; Rodríguez-Velázquez, E.; Alatorre-Meda, M.; Paraguay-Delgado, F.; Tirado-Guízar, A.; Taboada, P.; Pina-Luis, G. NIR-Emitting Alloyed CdTeSe QDs and Organic Dye Assemblies: A Nontoxic, Stable, and Efficient FRET System. Nanomaterials 2018, 8, 231.
Note that from the first issue of 2016, MDPI journals use article numbers instead of page numbers. See further details here.
Related Articles
Comments
[Return to top]