A Modular Coassembly Approach to All-In-One Multifunctional Nanoplatform for Synergistic Codelivery of Doxorubicin and Curcumin
1
Department of Polymer Science and Technology, Key Laboratory of Systems Bioengineering (Ministry of Education), School of Chemical Engineering and Technology, Tianjin University, Tianjin 300072, China
2
Collaborative Innovation Center of Chemical Science and Engineering (Tianjin), Tianjin 300072, China
3
State Key Laboratory for Marine Corrosion and Protection, Luoyang Ship Material Research Institute (LSMRI), Qingdao 266101, China
4
Tianjin Key Laboratory of Membrane Science and Desalination Technology, Tianjin University, Tianjin 300072, China
*
Author to whom correspondence should be addressed.
Received: 21 February 2018 / Revised: 12 March 2018 / Accepted: 13 March 2018 / Published: 15 March 2018
Abstract
Synergistic combination therapy by integrating chemotherapeutics and chemosensitizers into nanoparticles has demonstrated great potential to reduce side effects, overcome multidrug resistance (MDR), and thus improve therapeutic efficacy. However, with regard to the nanocarriers for multidrug codelivery, it remains a strong challenge to maintain design simplicity, while incorporating the desirable multifunctionalities, such as coloaded high payloads, targeted delivery, hemodynamic stability, and also to ensure low drug leakage before reaching the tumor site, but simultaneously the corelease of drugs in the same cancer cell. Herein, we developed a facile modular coassembly approach to construct an all-in-one multifunctional multidrug delivery system for the synergistic codelivery of doxorubicin (DOX, chemotherapeutic agent) and curcumin (CUR, MDR modulator). The acid-cleavable PEGylated polymeric prodrug (DOX-
h
-PCEC), tumor cell-specific targeting peptide (CRGDK-PEG-PCL), and natural chemosensitizer (CUR) were ratiometrically assembled into in one single nanocarrier (CUR/DOX-
h
[email protected]
NPs). The resulting CUR/DOX-
h
[email protected]
NPs exhibited several desirable characteristics, such as efficient and ratiometric drug loading, high hemodynamic stability and low drug leakage, tumor intracellular acid-triggered cleavage, and subsequent intracellular simultaneous drug corelease, which are expected to maximize a synergistic effect of chemotherapy and chemosensitization. Collectively, the multifunctional nanocarrier is feasible for the creation of a robust nanoplatform for targeted multidrug codelivery and efficient MDR modulation.
View Full-Text
►

▼

Figures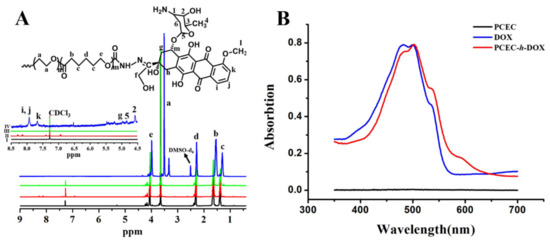 Figure 1
This is an open access article distributed under the
Creative Commons Attribution License
which permits unrestricted use, distribution, and reproduction in any medium, provided the original work is properly cited (CC BY 4.0).

Share & Cite This Article
MDPI and ACS Style
Yang, M.; Yu, L.; Guo, R.; Dong, A.; Lin, C.; Zhang, J. A Modular Coassembly Approach to All-In-One Multifunctional Nanoplatform for Synergistic Codelivery of Doxorubicin and Curcumin. Nanomaterials 2018, 8, 167.
Note that from the first issue of 2016, MDPI journals use article numbers instead of page numbers. See further details here.
Related Articles
Comments
[Return to top]