Open Access This article is
freely available
re-usable
Article
Influence of InAlN Nanospiral Structures on the Behavior of Reflected Light Polarization
Thin Film Physics Division, Department of Physics, Chemistry, and Biology (IFM), Linköping University, SE-581 83 Linköping, Sweden
*
Author to whom correspondence should be addressed.
Received: 14 February 2018 / Accepted: 9 March 2018 / Published: 12 March 2018
Abstract
:
The influence of structural configurations of indium aluminum nitride (InAlN) nanospirals, grown by reactive magnetron sputter epitaxy, on the transformation of light polarization are investigated in terms of varying structural chirality, growth temperatures, titanium nitride (TiN) seed (buffer) layer thickness, nanospiral thickness, and pitch. The handedness of reflected circularly polarized light in the ultraviolet–visible region corresponding to the chirality of nanospirals is demonstrated. A high degree of circular polarization (Pc) value of 0.75 is obtained from a sample consisting of 1.2 μm InAlN nanospirals grown at 650 °C. A film-like structure is formed at temperatures lower than 450 °C. At growth temperatures higher than 750 °C, less than 0.1 In-content is incorporated into the InAlN nanospirals. Both cases reveal very low Pc. A red shift of wavelength at Pc peak is found with increasing nanospiral pitch in the range of 200–300 nm. The Pc decreases to 0.37 for two-turn nanospirals with total length of 0.7 μm, attributed to insufficient constructive interference. A branch-like structure appears on the surface when the nanospirals are grown longer than 1.2 μm, which yields a low Pc around 0.5, caused by the excessive scattering of incident light.
Keywords:
InAlN; nanospiral; metamaterial; sputtering; chirality
1. Introduction
The DLW method, on the other hand, uses the multi-photon absorption and focused-point laser light with a high magnification objective to write directly into a photoresist. However, at the sharp focal point the intensity of the laser light may lead to local polymerization in areas over one hundred nanometers. This limits the sample size to tens of micrometers, and is thus not economical, both in terms of material usage and process time.
2. Experimental Details
An ultra-high-vacuum (UHV) MSE deposition chamber equipped with two 50 mm-diameter and two 75 mm-diameter targets was utilized to grow InAlN alloys [
20
,
23
,
24
]. The chamber was evacuated to a base pressure of <3 × 10
−9
Torr with a combination of turbomolecular and mechanical pumps. High-purity 75 mm-diameter Al (99.999%) and 50 mm-diameter In (99.999%) targets were used to co-sputter ternary InAlN under pure nitrogen ambient, supplied as pure nitrogen gas (99.999999%) achieved through a getter purifier. Prior to InAlN growth, a titanium nitride (TiN) seed layer was grown on
c
-plane-oriented sapphire substrates at 850 °C. Typical dc-magnetron powers provided for In, Al, and Ti targets were of 10, 300, and 250 W, respectively. During the sputtering process, a negative substrate bias of 30 V was applied to the sample holder to enhance growth by low-energy ion assistance. Reference [
23
] A temporal control of substrate rotating angles and the azimuthal orientation of the inclined deposition fluxes were used to tailor the twist-angle
θ
of segments and chirality of the nanospirals, respectively. Here,
θ
= 90° so that four segments completes one turn. More details of CLEG nanospiral growth can be found elsewhere [
20
].
The composition, crystal structure, and growth plane of the sample surface were determined by
θ
–2
θ
scan X-ray diffraction (XRD) using a Philips PW1820 powder diffractometer with a Cu-K
α
X-ray lab source. The morphology and surface geometry of the samples were characterized by a LEO-1550 field-emission scanning electron microscope (FE-SEM).
All optical measurements were done in the spectral range of 245–1000 nm at incident angles of 25° using a Mueller matrix spectroscopic ellipsometer (MMSE) produced by J.A. Woollam Co., Inc. (Lincoln, NE, USA) The CompleteEASE software was used to analyze the data measured by MMSE [
21
,
22
]. The light polarization state in MMSE measurement was obtained through [
11
,
21
], where and are the polarization states of outgoing and incident lights, respectively, described with the Stokes vector, and
M
is the full 16-element Mueller matrix. For an unpolarized incident light, , the outgoing Stokes vector, will be the same as the first column in the normalized Mueller matrix, (). An important aspect of the nanospirals in this report is their chirality and potential for transforming unpolarized light into circularly polarized light upon reflection. Thus, the total degree of circular polarization of the reflected light is presented.
3. Results and Discussion
4. Conclusions
This study reports on the analysis of the polarization behavior of light reflected from InAlN nanospirals grown on
c
-plane Al
2
O
3
substrates with a TiN buffer layer by reactive MSE with various structural configurations. The degree of circular polarization of the reflected light and the corresponding wavelength range were found to be highly dependent on the buffer thickness, pitch, and morphology of nanospirals. The handedness of the reflected light was also demonstrated to follow the structural chirality. A TiN buffer layer thicker than 30 nm was needed for sufficient reflection. In addition, a film-like structure formed at temperatures lower than 450 °C. When the growth temperature was raised to 750 °C, less than 0.1 In-content incorporated into the InAlN nanospirals. Both cases revealed very low |P
c
| values. A pitch ranging from 200 to 300 nm gave promising |P
c
| higher than 0.5 in the UV to blue region. A transformation of unpolarized to circularly polarized light followed from the circular Bragg condition. Control over the structural configuration and morphology was also demonstrated to be a determinant for obtaining high |P
c
| at a designed peak wavelength.
Acknowledgments
This work was supported by the Swedish Research Council (VR) under grants Nos. 621-2012-4420, 621-2013-5360, 621-2013-4018. The Swedish Government Strategic Research Area in Materials Science on Functional Materials at Linköping University (Faculty Grant SFO-Mat-LiU 2009-00971) and the Centre in Nano science and technology (CeNano) at Linköping University are also acknowledged for financial support.
Author Contributions
All authors conceived and designed the experiments; Y.-H.K. and C.-L.H. performed the growth of InAlN nanospirals; Y.-H.K., E.A.S., L.H. and C.-L.H. characterized sample morphology; R.M., Y.-H.K. and K.J. performed MMSE and analyzed the data together with L.H., J.B. and C.L.-H.; Y.-H.K., L.H. J.B., and C.-L.H. analyzed XRD data; Y.-H.K. and C.-L.H. wrote the manuscript with revision by R.M., E.A.S., P.S., K.J., L.H. and J.B. All authors agreed on the final version of the manuscript.
Conflicts of Interest
The authors declare no conflict of interest.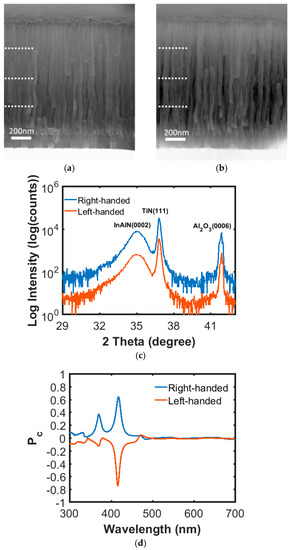 Figure 1. SEM images of (a) right-handed and (b) left-handed indium aluminum nitride (InAlN) nanospiral film; (c) X-ray diffraction (XRD) patterns of right- and left-handed nanospirals; (d) Pc versus wavelength of the light reflected from nanospirals with opposite handedness. The negative and positive Pc is referred to left- and right-handed circularly polarized light, respectively.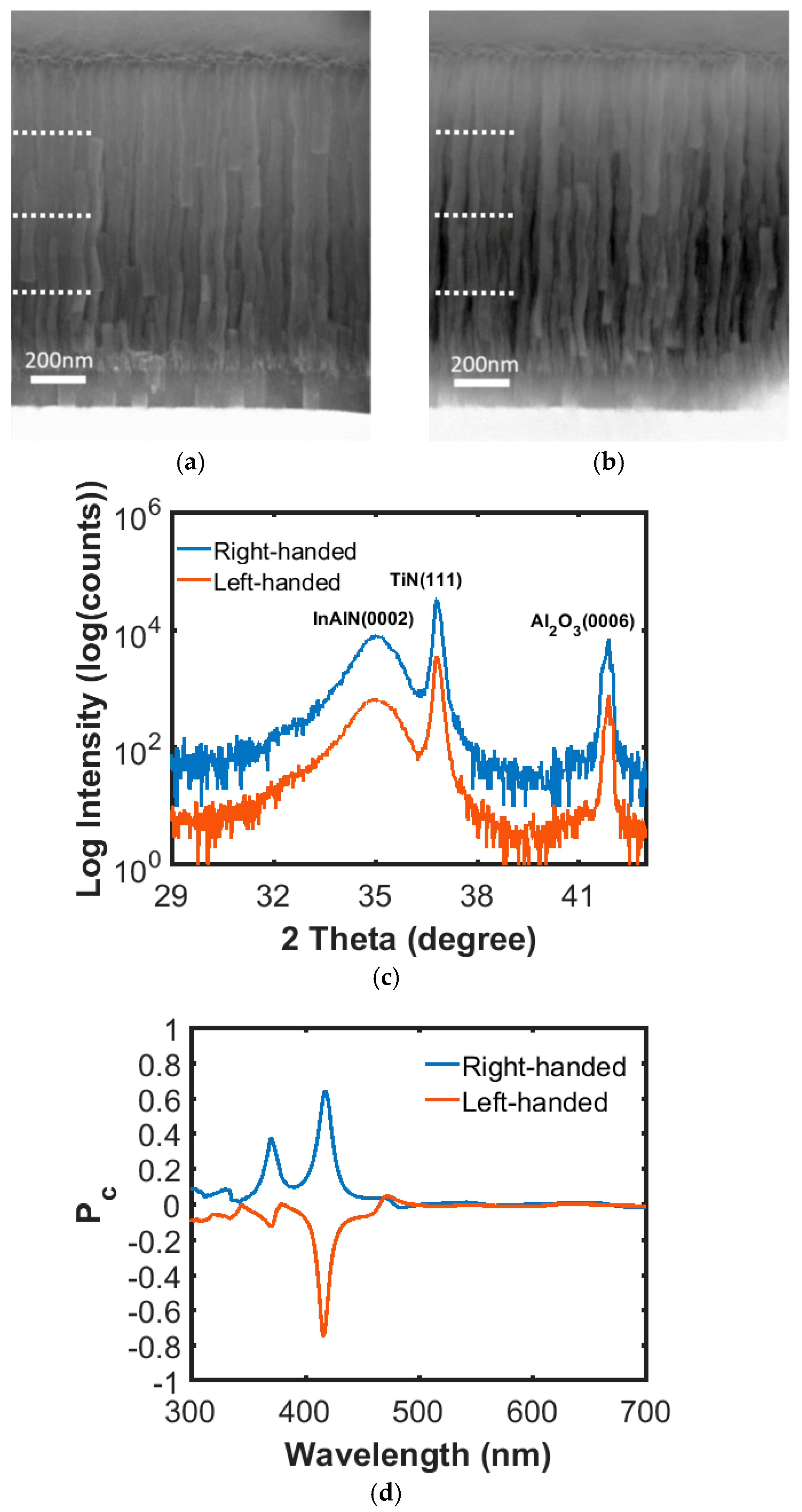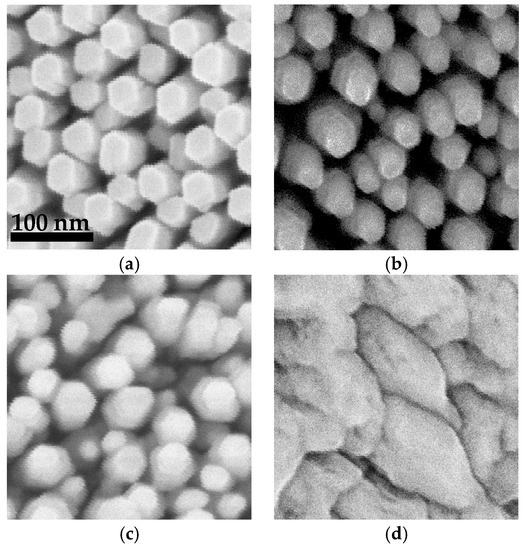 Figure 2.
Plan-view SEM images of InAlN nanospirals grown at (
a
) 750 °C; (
b
) 650 °C; (
c
) 550 °C; and (
d
) 450 °C, respectively. All images use the same scale bar as
Figure 2
a.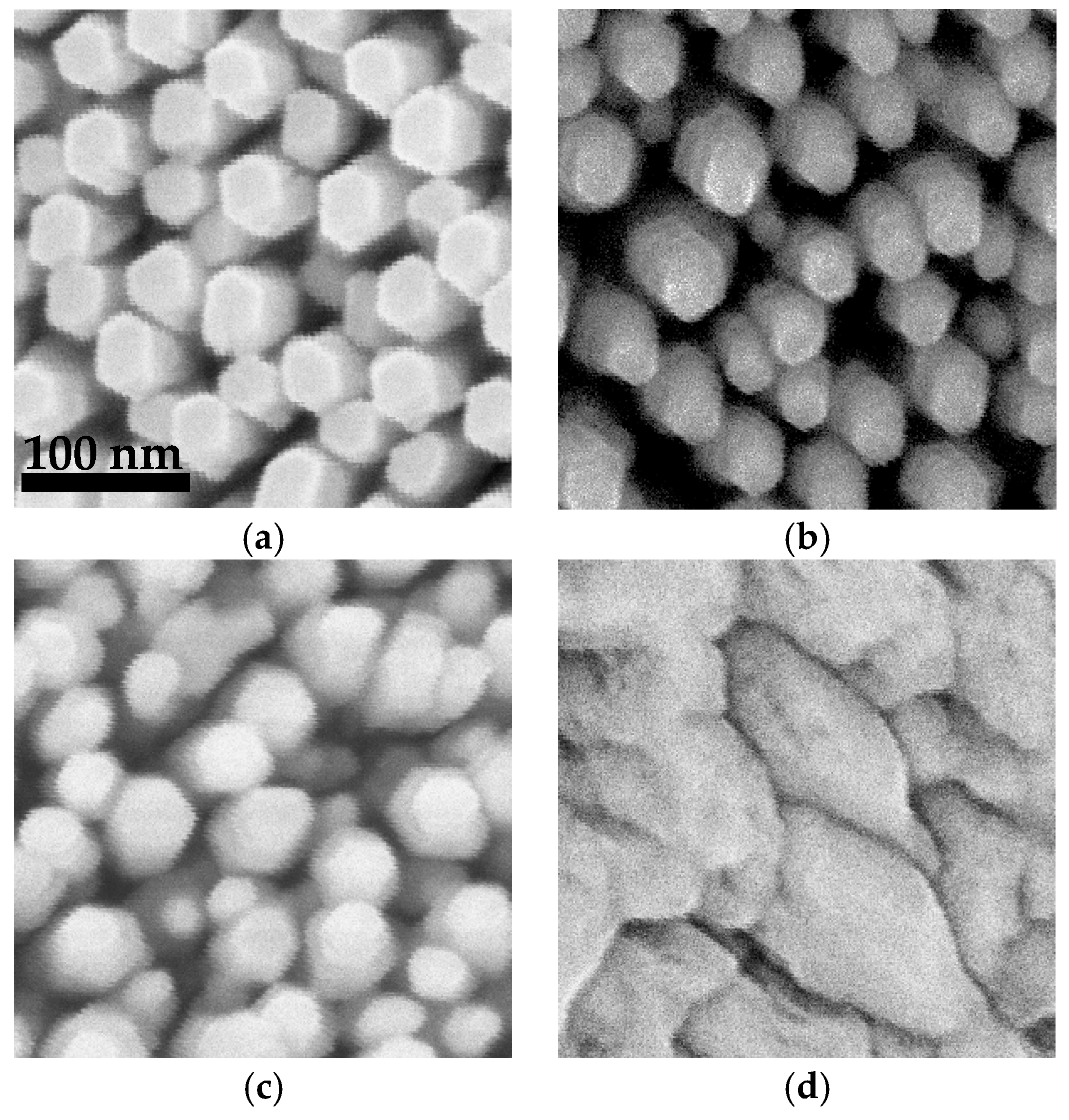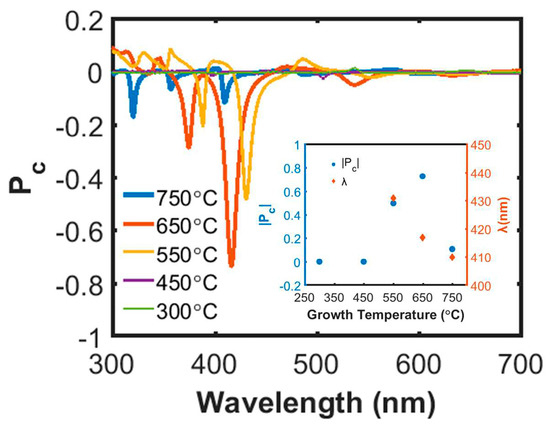 Figure 3. Effect of InAlN nanospiral growth temperature on Pc with respect to wavelength. The inset shows |Pc| and the corresponding peak wavelength versus growth temperature.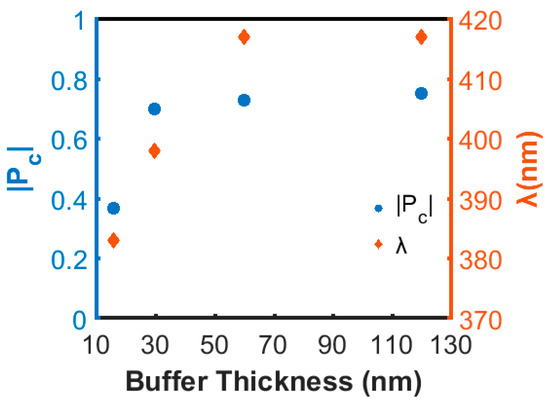 Figure 4. Plot of |Pc| and corresponding peak wavelength as a function of titanium nitride (TiN) buffer thickness.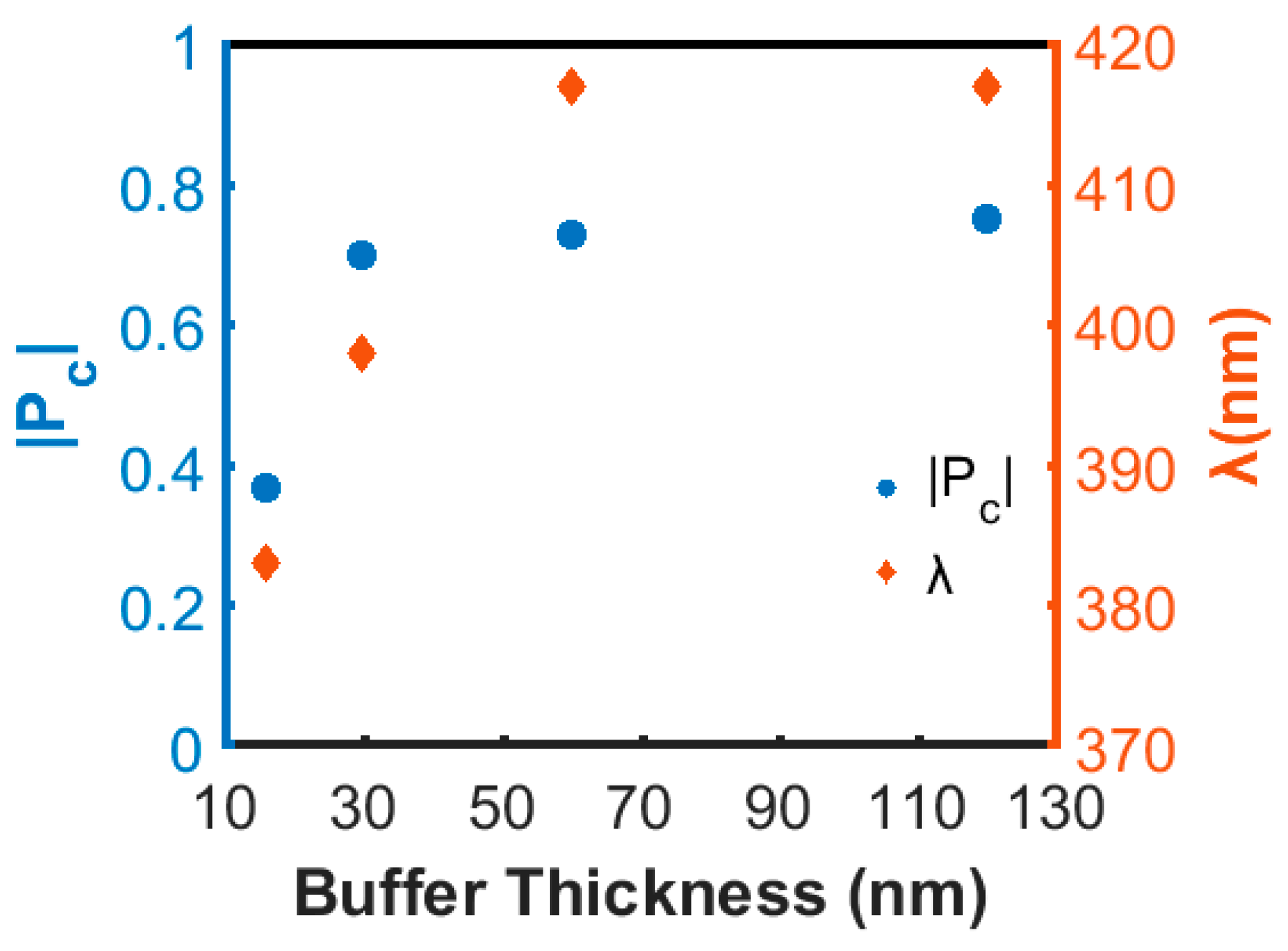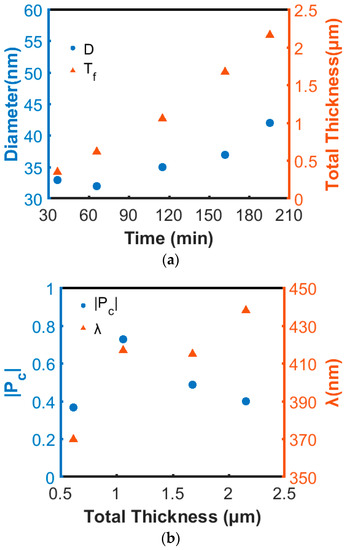 Figure 5. (a) Trend of nanospiral diameter (D) and thickness (Tf) with growth time; (b) |Pc| and λ for different total thicknesses.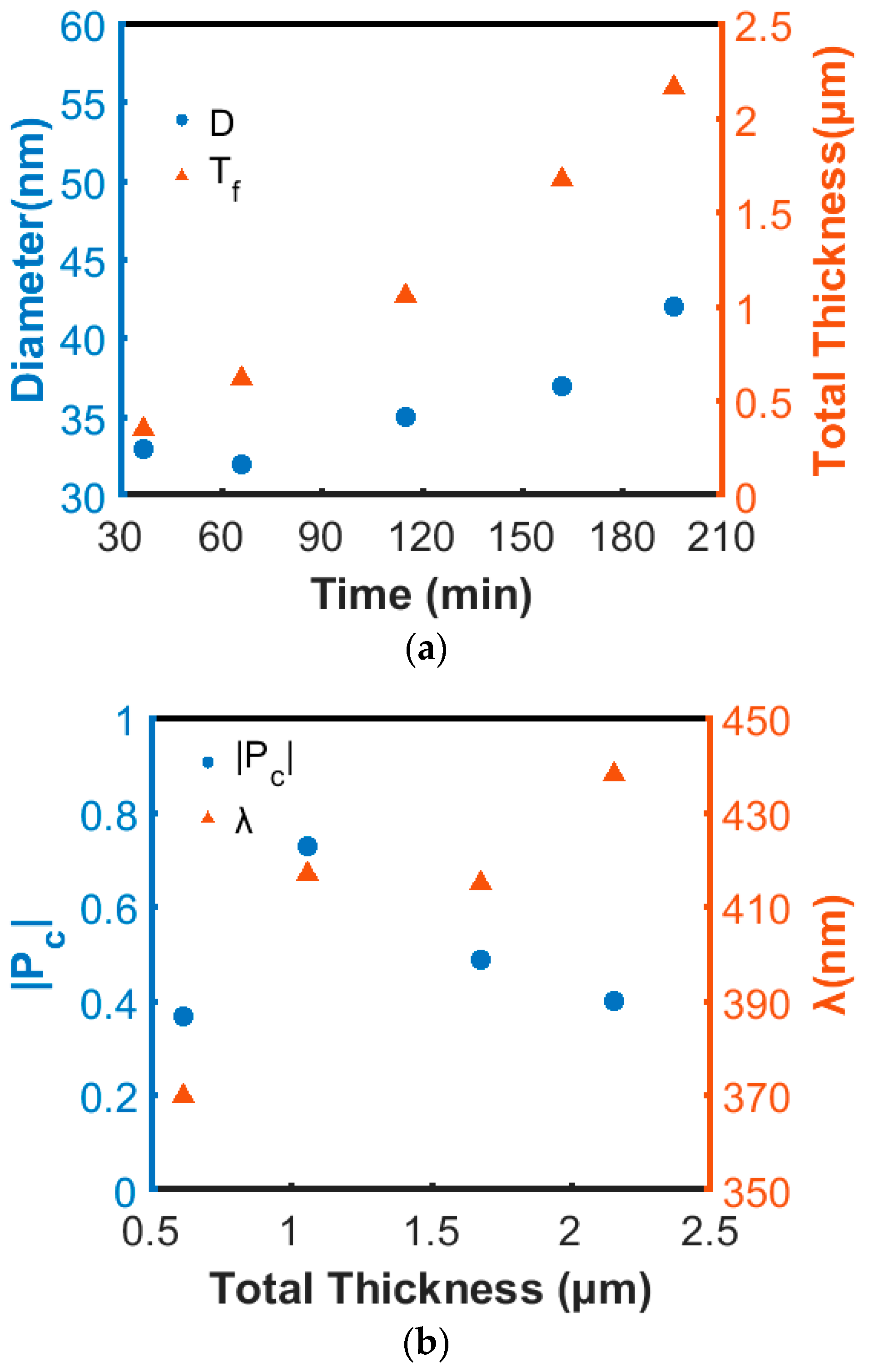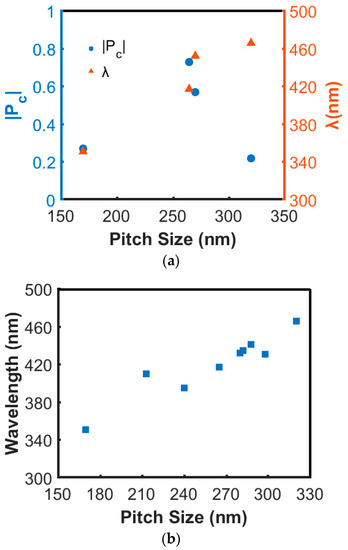 Figure 6. (a) The experimental results in Pc and λ for different pitch sizes while the total length was kept constant at around 1 um; (b) A plot of the relationship between pitch and peak wavelength summarized from all experiments.

© 2018 by the authors. Licensee MDPI, Basel, Switzerland. This article is an open access article distributed under the terms and conditions of the Creative Commons Attribution (CC BY) license (http://creativecommons.org/licenses/by/4.0/).