Boron Nitride as a Novel Support for Highly Stable Palladium Nanocatalysts by Atomic Layer Deposition
1
Institut Européen des Membranes, IEM, UMR-5635, Univ Montpellier, CNRS, ENSCM, 34095 Montpellier, France
2
Institut Universitaire de France, 1 rue Descartes, 75231 Paris, France
3
PSL Research University, Chimie ParisTech—CNRS, Institut de Recherche de Chimie Paris, 75005 Paris, France
4
Aix Marseille Univ, CNRS, CINAM, 13009 Marseille, France
*
Author to whom correspondence should be addressed.
Received: 24 September 2018 / Revised: 8 October 2018 / Accepted: 16 October 2018 / Published: 18 October 2018
Abstract
The ability to prepare controllable nanocatalysts is of great interest for many chemical industries. Atomic layer deposition (ALD) is a vapor phase technique enabling the synthesis of conformal thin films and nanoparticles (NPs) on high surface area supports and has become an attractive new route to tailor supported metallic NPs. Virtually all the studies reported, focused on Pd NPs deposited on carbon and oxide surfaces. It is, however, important to focus on emerging catalyst supports such as boron nitride materials, which apart from possessing high thermal and chemical stability, also hold great promises for nanocatalysis applications. Herein, the synthesis of Pd NPs on boron nitride (BN) film substrates is demonstrated entirely by ALD for the first time. X-ray photoelectron spectroscopy indicated that stoichiometric BN formed as the main phase, with a small amount of BN
x
O
y
, and that the Pd particles synthesized were metallic. Using extensive transmission electron microscopy analysis, we study the evolution of the highly dispersed NPs as a function of the number of ALD cycles, and the thermal stability of the ALD-prepared Pd/BN catalysts up to 750 °C. The growth and coalescence mechanisms observed are discussed and compared with Pd NPs grown on other surfaces. The results show that the nanostructures of the BN/Pd NPs were relatively stable up to 500 °C. Consequent merging has been observed when annealing the samples at 750 °C, as the NPs' average diameter increased from 8.3 ± 1.2 nm to 31 ± 4 nm. The results presented open up exciting new opportunities in the field of catalysis.
View Full-Text
►

▼

Figures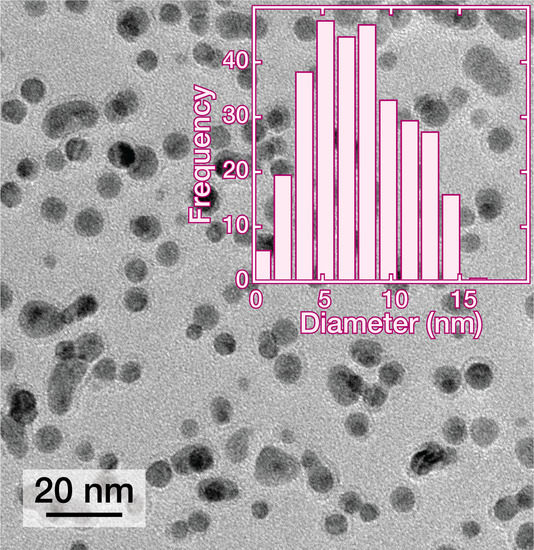 Graphical abstract
This is an open access article distributed under the
Creative Commons Attribution License
which permits unrestricted use, distribution, and reproduction in any medium, provided the original work is properly cited (CC BY 4.0).

Share & Cite This Article
MDPI and ACS Style
Weber, M.; Lamboux, C.; Navarra, B.; Miele, P.; Zanna, S.; Dufond, M.E.; Santinacci, L.; Bechelany, M. Boron Nitride as a Novel Support for Highly Stable Palladium Nanocatalysts by Atomic Layer Deposition. Nanomaterials 2018, 8, 849.
Note that from the first issue of 2016, MDPI journals use article numbers instead of page numbers. See further details here.
Related Articles
Comments
[Return to top]