Direct Exfoliation of Natural SiO2-Containing Molybdenite in Isopropanol: A Cost Efficient Solution for Large-Scale Production of MoS2 Nanosheetes
1
School of Chemistry and Chemical Engineering, Inner Mongolia University, Hohhot 010021, Inner Mongolia, China
2
School of Earth and Space Sciences, Peking University, Beijing 100871, China
3
School of Ecology and Environment, Inner Mongolia University, Hohhot 010021, Inner Mongolia, China
*
Authors to whom correspondence should be addressed.
Received: 20 September 2018 / Revised: 8 October 2018 / Accepted: 12 October 2018 / Published: 17 October 2018
Abstract
The cost-effective exfoliation of layered materials such as transition metal dichalcogenides into mono- or few- layers is of significant interest for various applications. This paper reports the preparation of few-layered MoS
2
from natural SiO
2
-containing molybdenite by exfoliation in isopropanol (IPA) under mild ultrasonic conditions. One- to six-layer MoS
2
nanosheets with dimensions in the range of 50-200 nm are obtained. By contrast, MoS
2
quantum dots along with nanosheets are produced using N-methyl-pyrrolidone (NMP) and an aqueous solution of poly (ethylene glycol)-block-poly (propylene glycol)-block-poly (ethylene glycol) (P123) as exfoliation solutions. Compared with molybdenite, commercial bulk MoS
2
cannot be exfoliated to nanosheets under the same experimental conditions. In the exfoliation process of the mineral, SiO
2
associated in molybdenite plays the role of similar superfine ball milling, which significantly enhances the exfoliation efficiency. This work demonstrates that isopropanol can be used to exfoliate natural molybdenite under mild conditions to produce nanosheets, which facilitates the preparation of highly concentrated MoS
2
dispersions or MoS
2
in powder form due to the volatility of the solvent. Such exfoliated MoS
2
nanosheets exhibit excellent photoconductivity under visible light. Hence, the direct mild exfoliation method of unrefined natural molybdenite provides a solution for low-cost and convenient production of few-layered MoS
2
which is appealing for industrial applications.
View Full-Text
►

▼

Figures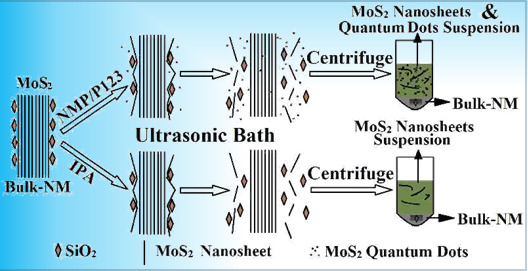 Graphical abstract
This is an open access article distributed under the
Creative Commons Attribution License
which permits unrestricted use, distribution, and reproduction in any medium, provided the original work is properly cited (CC BY 4.0).

Share & Cite This Article
MDPI and ACS Style
Zhao, W.; Jiang, T.; Shan, Y.; Ding, H.; Shi, J.; Chu, H.; Lu, A. Direct Exfoliation of Natural SiO2-Containing Molybdenite in Isopropanol: A Cost Efficient Solution for Large-Scale Production of MoS2 Nanosheetes. Nanomaterials 2018, 8, 843.
Note that from the first issue of 2016, MDPI journals use article numbers instead of page numbers. See further details here.
Related Articles
Comments
[Return to top]